Exxon Mobil (NYSE: XOM) is offering investors a very rare opportunity. The opportunity is so infrequent that it has occurred only 9.9% of the time since 1995. XOM is offering a dividend yield of 3.63% now, which historically has proven to be highly rewarding for the investors. Dividend income chasers are likely to swoop in any time now, so this yield might not last long.
As the reader can grasp from the multi-year yield chart below, spanning the period since September 1995 to present, a dividend yield of 3.50% or higher has been considered an "abnormally compelling yield." This is to say that investors have harvested such an opportunity to lock-in sustainable dividend incomes for themselves. The current yield is near the higher end of the range, and if the bulls become aggressive with their purchases, then this yield will quickly vanish.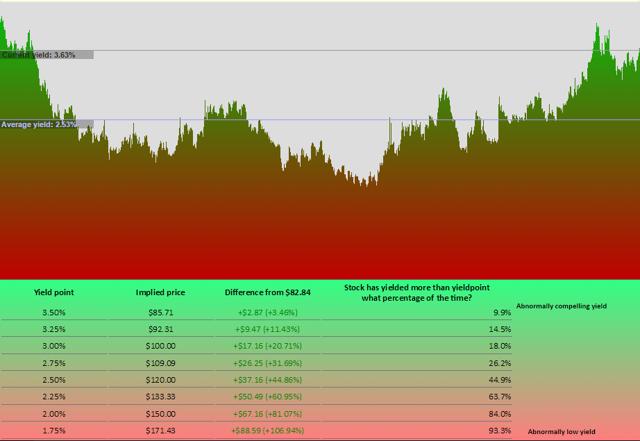 Source: YieldChart.com
Dividend income investors have their priorities set. They want a consistent stream of dividends, sometimes to be reinvested and other times to pay for expenses. They are less concerned with capital appreciation but want their investments to generate enough free cash flow to sustain the dividend payouts, and even grow them with time. XOM is one such opportunity that can take care of dividend payments as well as ensure decent capital appreciation given proper time.
For those who are curious, the highest yield in the two-decade long chart above is closer to 4%. Since the 4% yield is 10% higher from the current yield of 3.63% (4% = 3.63 + 10% of 3.63%), the stock price must drop by 10% to present that yield. This is barring any bonus dividend or a dividend hike in the immediate future. Given that the current stock price is $82.30, the stock price should then be closer to $74 for investors to fix 4% in annual dividend income.
A 10% drop might not seem worth the risk to miss out on a lucrative opportunity now. For if the stock immediately reverses from here on out, an investor will miss out on the 3.63% yield while waiting for 4%. But, for those investors who are heavily invested in XOM and want to boost their dividend incomes at extremely attractive levels only, the information discussed below may be of some help.
From the weekly XOM price chart below, it can be seen that Exxon has broken the uptrend, a confirmation of which was received only last week when the stock registered a lower low. Having already registered a lower high in December, the latest confirmation reveals that the game might slowly be shifting in the favor of the bears.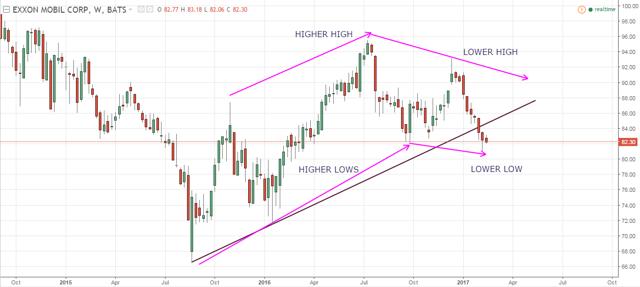 Source: TradingView
Interestingly, last week also saw Exxon violating the important support level of $83.50, which had supported the stock on several occasions earlier. The next important support level is in the range of $72-$74.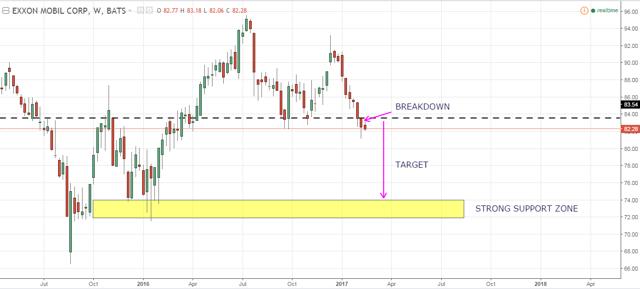 Source: TradingView
Even though technical analysis suggests that the breakdown should push down the stock to the next support zone, the current dividend yield is simply too compelling to let go of. If by any adverse action in the broader market or in the energy market the stock indeed plummets, then investors will do well to increase their exposure at low-risk points.
Another item that I want to address here is the concept of using the Relative Strength Index and the Money Flow Index. Many investors and analysts make this naive mistake of making purchases as soon as a stock hits the oversold territory. XOM recently touched the oversold territory. Take a look at the daily XOM price chart below.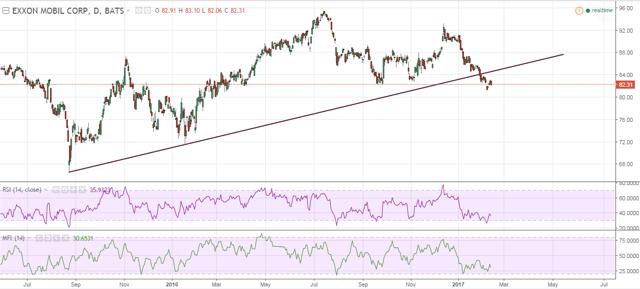 Source: TradingView
What I want to put out here is that the two technical indicators - RSI and MFI - are generally directional in nature. This means that these indicators will continue to head in the direction of the stock.
If the RSI reading has dropped below 30, an investor must not blindly make a purchase since the stock can continue to drop, pushing this reading further into the red. For XOM, one should not simply buy because the stock has dived into the oversold region. Rather, it should be used to book profits in the short positions since a technical rebound may occur anytime and wipe out the hard-earned profits.
These indicators are best used to find out divergences or to figure out the strength build-up (or a loss in strength) if the stock price weakens or consolidates. Investors must learn to use the technical indicators well or risk incurring massive losses due to easily avoidable mistakes.
Conclusion
Exxon Mobil is a really attractive buy now for a dividend income investor. The current yield of 3.63% is among the highest yields that the stock has offered in the last 20 years, and investors must lock-in this yield while they can.
While a case can be made for even better yields, the reward might not be worth the risk. A 4% dividend yield can be achieved if the stock follows through with its recent support breakdown and continues to decline to its next support zone of $72-$74. At these levels, the stock will offer a dividend yield of 4% or higher.
In my opinion, it is better to have a holding at an attractive level, rather than running the risk of completely missing out on sustainable income due to the expectation of further price depreciation.
Will you buy XOM now for its 3.63% yield or wait for $74?
Note: I cover several stocks in different sectors as well as the S&P 500, crude oil, gold and silver, U.S. dollar, etc. So, if you liked this update and would like to read more of such informative articles, please consider hitting the "Follow" button above. Thank you for reading.
Disclosure: I/we have no positions in any stocks mentioned, and no plans to initiate any positions within the next 72 hours.
I wrote this article myself, and it expresses my own opinions. I am not receiving compensation for it (other than from Seeking Alpha). I have no business relationship with any company whose stock is mentioned in this article.