The market was obviously disappointed by Johnson & Johnson's (NYSE:JNJ) most recent earnings announcement, as the shares dropped about 2% on the news. This is a strange reaction in my view, especially in light of the fact that revenues were up modestly and net income was up dramatically. This is an example of what happens when the market expects X and a company delivers slightly less than X. The shares are sent lower, in spite of innately positive results. This interplay between expectations and results generally impact investors in high-priced (overpriced?) names, but it can obviously impact companies that trade at a discount to the market, too.
In this article I want to talk briefly about why I am bullish on the company by reviewing the long-term financial health, identify some key risks, and attempt to model the future dividend by imposing "steady as she goes," "slight cut" and "severe cut" assumptions on the future dividend. Even under the most severe assumptions, the shares should still be reasonably higher by 2020.
The Financials
As I've said repeatedly, and probably tiresomely, the thing that matters most to investors is net income. The market seems to be as fixated on revenue growth, and that can cause it to misprice assets in the short term in my view. This attitude was on display very recently with Johnson & Johnson, when, in spite of an EPS "beat," the shares were taken lower because of a revenue "miss" of $170 million. In my view, this is silly as it is earnings that are the basis of all future returns.
When I review the long-term track record of Johnson & Johnson, I see what I look for in companies - namely a situation where the company can offer net income growth that is higher than revenue growth. So when revenue falls as it inevitably will, net income falls by less. Over time, companies that demonstrate this capacity are winners in my view. Add to this the fact that management has taken some of this growing income and returned just over $48 billion to shareholders since 2010 in the form of dividends (with a current payout ratio of ~39%).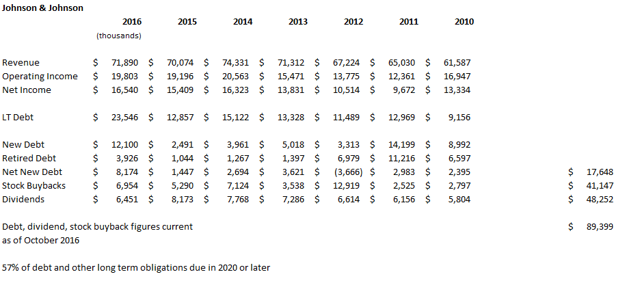 The one problem I have with the company is the high levels of debt present. Johnson & Johnson has added about $14 billion of long-term debt since 2010, and at some point this growth rate is unsustainable. I will be monitoring the debt closely, looking for any signs that the company is having greater difficulty accessing credit markets, or having higher rates of interest imposed upon it. On the plus side, fully 57% of long-term debt is due in 2020 or later, so there's no imminent threat from excess leverage.
Modeling The Dividend
Obviously Johnson & Johnson's price is largely a function of the dividend here. Although the share price hasn't grown as rapidly as the dividend over time, the former is quite certainly supported by the latter. Dividends per share have grown at a CAGR of about 11.5% since 1990. That is obviously a very steady, predictable ride, which demands a premium in my view, but in order to ascertain the risk associated with investing in this company, I'm obliged to "stress" the dividend thesis here somewhat. If dividends support the stock price, I want to make some assumptions about the sustainability of the dividend, model those, and then make some observations about current price relative to future likely dividends in good, mediocre, and awful scenarios.
Assuming the dividend continues at the rate it's grown at from 1991, and holding all else constant, the shares should be trading around $175 by late 2020. That's the most optimistic scenario. Under the most severely conservative scenario, where I assume dividend growth at 3% (slightly more than ¼ of its historical growth rate), the stock should be trading at a minimum of $130 by 2020. Even this "floor" return is a very reasonable return for such a bellwether of a stock.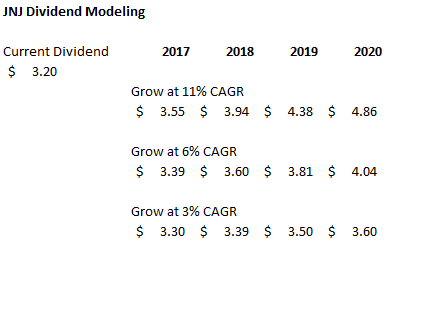 Technical Snapshot
As per our ChartMasterPro Daily Price Model, the trend for JNJ turned Bullish on February 9 when the stock broke above the Ascending Triangle bullish pattern that formed on the daily charts. As you know, we like to buy options in anticipation of a bullish breakout based on bullish fundamentals - unfortunately, we're a little late to the party for this trade. So, instead of buying call options, we will buy the shares of JNJ as our LONG trade.
From here we anticipate the shares to rise to the $119.00 level over the next six months. For longer-term investors (years not months) we believe that JNJ is a dividend growth holding that you can park and forget about till 2020.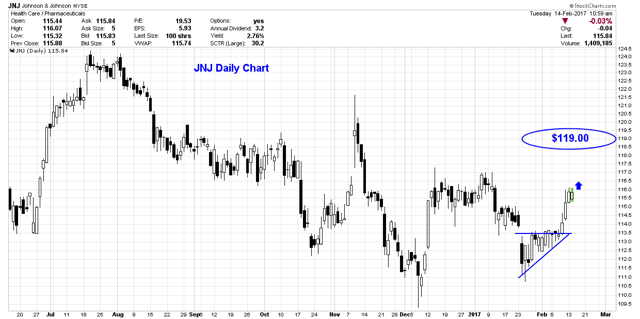 Conclusion
Even the best company can be a terrible investment if the shares are acquired at the wrong price. This is one of the iron laws of investing, and it was demonstrated by the interplay between Johnson & Johnson's earnings release and the price movement of the stock. Income went up, but the shares went down because expectations were not met. It's the nature of business that sooner or later expectations won't be met, as nothing in business (or in life) moves in a straight, predictable path forever. The way we can insulate ourselves from the vagaries of this fact of business life is to buy companies when they are trading at relative discounts. As demonstrated by this chart, JNJ is trading near the bottom of its PE range. In fact, it's down about 17% since its most recent peak in July of 2016. In addition, the stock is trading at a significant discount (~27%) to the overall market. Given the predictability and growth of the dividend stream here, this discount doesn't make sense to me and, thus, I recommend buying Johnson & Johnson.
Disclosure: I am/we are long JNJ.
I wrote this article myself, and it expresses my own opinions. I am not receiving compensation for it (other than from Seeking Alpha). I have no business relationship with any company whose stock is mentioned in this article.