TransDigm Group (NYSE:TDG) is a leading global designer, producer and supplier of highly engineered aircraft components for use on nearly all commercial and military aircraft in service today. The products TDG sells to its aerospace customers include: actuators, controls, ignition systems, pumps, valves, power conditioning devices, motors, generators, batteries, latching/locking devices, rods, connectors, elastomers, databus/power controls, cockpit security equipment, displays, audio, lavatory, seatbelts, restraints, interior surfaces, lighting, parachutes, hoists, winches, and cargo systems.
As shown in the Segment Information table below. Power & Control products are TDG's leading business followed closely by the Airframe segment. The best part of TDG's business, however, doesn't come from selling any one particular item. It's the aftermarket revenue derived from replacing all those aircraft components for decades after the original sale date. The top line is split fairly evenly. Commercial, regional, business jet and general aviation aftermarket service accounts for 37% of total sales; the commercial aerospace OEM market (mostly large commercial transport manufacturers and regional and business jet manufacturers) accounts for 29% of total sales; and the defense market accounts for 30% of total sales. Non-aerospace sales are the remaining 4%. However, the aftermarket business, which ran 57% of FY'16 revenue across all segments, accounts for a much higher share of consolidated EBITDA. Without providing a specific figure, CEO Nick Howley put it this way on the company's Q1'17 earnings conference call: "Over half our revenue and a much higher percent of our EBITDA comes from aftermarket sales. Aftermarket sales have historically produced higher margins and provided relative stability through the cycles."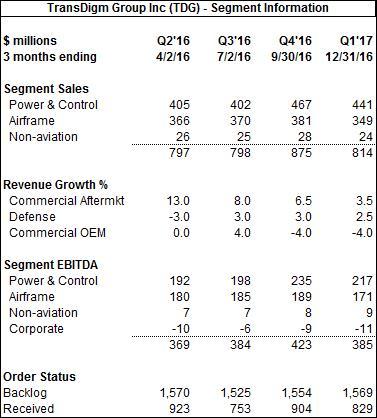 TDG has a diverse customer base, but its sales are concentrated. Customers include distributors of aerospace components; worldwide commercial airlines, including national and regional airlines; large commercial transport and regional and business aircraft OEMs; US and friendly foreign governments' armed forces; defense OEMs; system suppliers; and other industrial companies. On the other hand, in FY'16, Airbus SAS (OTCPK:EADSY) (which includes Satair A/S, a global distributor of commercial aftermarket parts to airlines) accounted for 13% of TDG's net sales and The Boeing Company (NYSE:BA) (which includes Aviall, Inc., also a global distributor of commercial aftermarket parts) accounted for 12% of net sales. Honeywell (NYSE:HON), Delta Air Lines (NYSE:DAL), and Deutsche Lufthansa (OTCQX:DLAKF) (OTCQX:DLAKY) are the other major customers within TDG's top 5. The top 10 customers account for 45% of net sales.
Products are sold into a wide array of aircraft types and programs. Active commercial production programs include the Boeing 737, 747, 767, 777 and 787, the Airbus A318/19/20/21 (including neo), A330/A340, A350 and A380, the Bombardier CRJs, Challenger and Learjets, the Embraer RJs, the Cessna Citation family, the Raytheon Premier and Hawker and most Gulfstream airframes. Military platforms include the Boeing C-17, F-15, F-18, P-8 and V-22, the Airbus A400M, the Lockheed Martin C-130J, F-16 and F-35 Joint Strikefighter, the Northrop Grumman E-2C Hawkeye, the Sikorsky UH-60 helicopter, CH-47 Chinook and AH-64 Apache helicopters, the General Atomics Predator Drone and the Raytheon Patriot Missile. TransDigm has won contracts to provide products for the Airbus A330neo, the Boeing 737 MAX and 777X, the Embraer 175/190/195 E2, the Sikorsky S-97 and JMR helicopter.
The markets in which TDG competes are cyclical. Demand for its commercial aftermarket parts and services depends on, among other things, the breadth of its installed OEM base, revenue passenger miles (or RPMs), the size and age of the worldwide aircraft fleet and, to a lesser extent, airline profitability. The demand for defense products is specifically dependent on government budget trends, military campaigns and political pressures. But if you were going to pick one of those factors, the single biggest impact on TDG's profitability is RPMs. RPMs are calculated by multiplying the number of paying passengers by the distance traveled. For example, an airplane with 100 passengers that flies 250 miles generates 25,000 RPMs. The graph below compares TDG's quarterly EBITDA to an index of US airlines' domestic and international monthly RPMs. Looking past the seasonality of RPMs, the correlation with TDG's cash flow is quite high and as RPMs increase, so does the company's EBITDA: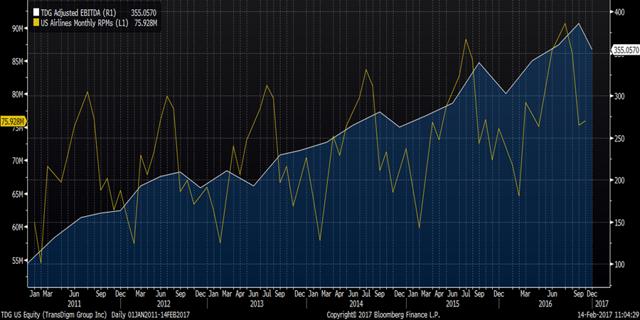 Hence the emphasis by management on finding additional product lines with installed bases that can be sold to again and again over decades. Howley made clear on the conference call that TDG intends to remain an active acquirer, stating flatly that the company has the ability to spend up to $1.5 billion on mid-cap M&A transactions - and that's not much of a stretch given the nearly $1 billion of cash on its December balance sheet. The announcement also fits with TDG's core strategies of buying profitable new businesses, cutting costs, and selling highly engineered value-added products to customers. The company has been primarily motivated by the profits it garners from recurring aftermarket revenue. A typical aircraft has a 25- to 30-year life during which component parts are repeatedly serviced, repaired or replaced.
See chart of TDG's M&A activities for the past 5 years below. TDG has averaged 3-4 significant acquisitions per year. During FY'16, the company acquired Young & Franklin Inc./Tactair Fluid Controls Inc. (electric and hydraulic guide vane actuators, dampers), Data Device Corp. (data bus components) and Breeze-Eastern Corp. (helicopter rescue hoists, cargo winches). The acquisitions expand TDG's ability to design, produce and supply highly engineered proprietary aerospace components in niche markets with significant aftermarket content: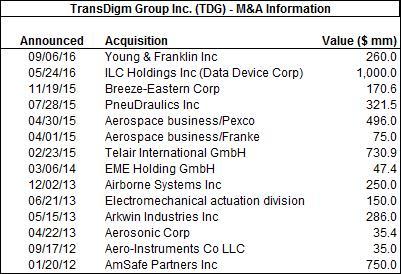 TDG got off to an excellent start on its FY'17 (ending September). Q1'17 (December 2016) net sales totaled $814.0 million, up 16.0% year over year. The newly acquired Breeze-Eastern, DDC and Y&F/Tactair acquisitions accounted for 12.5% of the 16.0% and organic sales the other 3.5%. Organic commercial aftermarket and defense sales increased by $9.8 million and $20.2 million, or 3.7% and 10.3%, respectively. Partly offsetting those improvements was a decrease in organic commercial OEM sales of $4.8 million, or 2.3%. Consolidated EBITDA of $385.0 million was up 20.5% and adjusted EPS of $2.57 was up 13.2%.
See Summary Financial Information below. Given the consistent revenue, EBITDA, cash flow, and net income gains, the sell side has been giving the company something akin to a standing ovation. Of the 19 equity research analysts tracking TDG, 14 have buy recommendations and the average target price for the common shares over the next 12 months is $295.50, roughly 17.5% higher than where the shares trade today, despite a big 42% run up in its price over the last year. That's left Andrew Left at Citron Research as the main dissenting voice - some would say, mad prophet - calling TDG "the Valeant of the aerospace" sector. In January, Citron released a report which claimed TDG stood out within the segment for "egregious price increases" and highlighted the potential backlash from President Donald Trump's verbal and Twitter assault on defense contractors (e.g., Boeing, Lockheed Martin (NYSE:LMT)). As proof, Citron cited TDG's gross margin of 54% vs. the 11% gross margin at Lockheed Martin and 14% gross margin at Boeing. Needless to say, the sell-side, having bought into the company's M&A strategy and aftermarket push, defended their recommendations forcefully: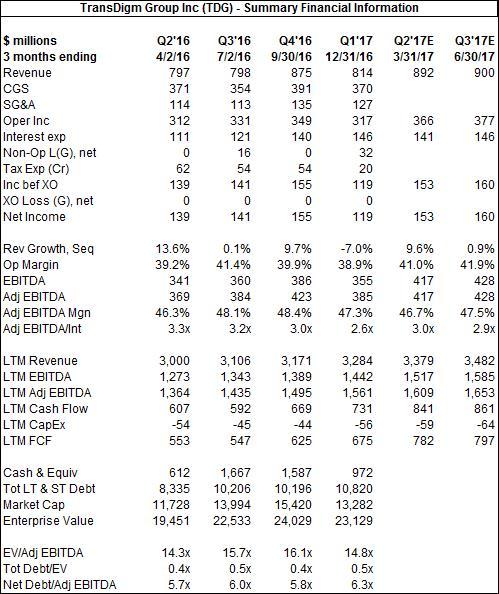 After such a stellar Q1'17, TDG increased its guidance. Expected net revenue was moved up to a range of $3.52-3.57 billion vs. $3.17 billion in FY'16. EBITDA is now anticipated to be in the range of $1.686-1.710 billion compared vs. $1.495 billion in FY'16. Expected net income was moved up to a range of $609-625 million vs. $586 million in FY'16. Adjusted EPS under the revised guidance will be in the range of $12.02 to $12.30 per share vs. $11.49 per share in FY'16.
With TDG common trading around $250 per share, the consensus target price of $296.47 per share implies an 18.5% potential equity return over the next 12 months. High guidance provides some support for that thesis but so do valuation comparisons within the aerospace segment. Per the table below, TransDigm common is valued right in line with its most direct peers based on a multiple of estimated EBITDA, but at a 15% discount to its peers based on its EBIT multiple and an 11% discount based on its current P/E multiple: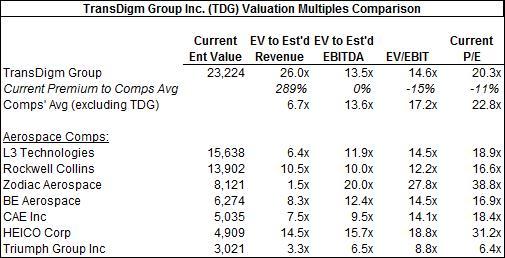 Looked at with respect to the broader universe of large aircraft parts manufacturing companies, the picture that emerges is a bit more nuanced. See graph below. In the top part, one can see that TDG's common stock price over the past year has underperformed the group, as the shares only recently rebounded after the Q1'17 earnings report and better forecast. On the other hand, per the bottom part of the graph, TDG's P/E multiple remained higher than the rest of the group throughout the last year. In other words, the company has been valued at a consistently higher level, but that hasn't led to a consistently higher stock price even after beating estimates and raising guidance:

TDG's loan and bond prices also reflect a more mixed investor attitude than the better earnings and guidance might have generated. This is partly a reflection of the different credit metrics within the company's debt capitalization. At the senior secured bank debt level, pro forma net leverage is already high at 3.5x. At the bondholder level, TDG's 6.2x net pro forma leverage is much higher than the 2.3x average for its peer group. BE Aerospace is the second most geared at 3.2x net leverage, but that's 3 turns lower. This explains the ratings differential. TDG's secured debt is rated Ba2/B while its unsecured, senior subordinated notes are rated B3/CCC+: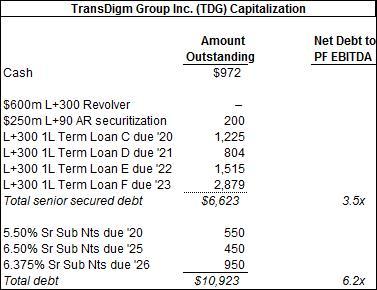 See graph below. The same message - that management remains on the hunt for acquisitions - was read differently by equity and debt investors. While TDG's common stock has enjoyed a higher valuation - and rebounded since the earnings conference call - spreads on the company's loans and bonds widened (i.e., their prices dropped). Loan spreads stayed wide even as the TDG unsecured note spreads subsequently tightened back with the higher stock price. This should come as no surprise. Debt investors looked at the bank credit agreement and realized management could easily increase the company's already high leverage. Specifically, the company's bank agreements allow up to a 4.25x Consolidated Secured Net Debt Ratio and up to a 7.25x Consolidated Net Leverage Ratio (that is, secured and unsecured in total). Using the mid-point of the company's FY'17 EBITDA guidance ($1.698 billion) and multiplying by 4.25, secured debt could be raised to $7.2 billion (without tripping the covenant) from the existing $6.6 billion figure above:

TDG's B3/CCC+ bond ratings from Moody's and S&P, respectively, were assigned in May 2016 with stable outlooks. The lower ratings appear warranted given existing high leverage and the intention of management to continue buying other companies. That's a strategy that works well for maintaining or improving the equity valuation, less well for improving TDG's credit metrics. The TDG senior subordinated notes trade with yields between 5.14% (on the TDG 6% Senior Subordinated Notes due 2022) and 6.16% (on the 6.375% Senior Subordinated Notes due 2026). Their Z-spreads are wide to most peer comparables, ranging from 309 basis points to 407 basis points. They also trade at premiums to par. Bond investors who want a cheaper substitute within the aerospace group can look at Triumph Group Inc. (NYSE:TGI) bonds instead. The TGI 4⅞ Senior Notes due 2021 are higher rank, higher rated at B1/B, and priced at 94 where they yield 6.56% (a Z-spread of +464 basis points). Net leverage at TGI is far more in line at 2.3x.
Citron's broadside against TDG is overstated. Not every acquisition intensive roll-up is a Valeant waiting to implode. The long tail of aftermarket sales TDG garners from its M&A activity is much different from a pharma company acquiring drug pipelines or existing drugs and then hiking up prices as patents expire. Instead, TDG's equity investors should continue to benefit from TDG's tack-on deal-making for product lines that grow along with its airline customers' increasing RPMs. The risk with TDG is more weighted toward debtholders facing high, continuing and possibly increasing leverage. Without periodic reductions in leverage, without occasional improvements in its credit metrics, TDG's loan and note holders may begin to wonder whether the credit they've extended has final maturities or is more or less perpetual. Recent pricing reflects that question.
Disclosure: I/we have no positions in any stocks mentioned, and no plans to initiate any positions within the next 72 hours.
I wrote this article myself, and it expresses my own opinions. I am not receiving compensation for it (other than from Seeking Alpha). I have no business relationship with any company whose stock is mentioned in this article.