A lot has happened at Valeant (NYSE:VRX) which caused its share price to fall dramatically from ~$250 a share to ~$14 a share at the time of writing. At current prices, I believe Valeant is an attractive speculative buying opportunity.
About Valeant
Valeant Pharmaceuticals is a multinational specialty pharmaceutical and medical device company with almost $10 billion in annual revenues and 22 thousand employees worldwide.
Valeant develops, manufactures and markets a range of branded and generic pharmaceuticals, over-the-counter products and medical devices in more than 100 countries.
VRX is mostly active in dermatology, gastrointestinal disorders, eye health (daughter company Bausch & Lomb is one of the largest manufacturers of contact lenses), neurology and branded generics.
The image below shows you where Valeant generates its revenue. From the 2016 annual investor meeting: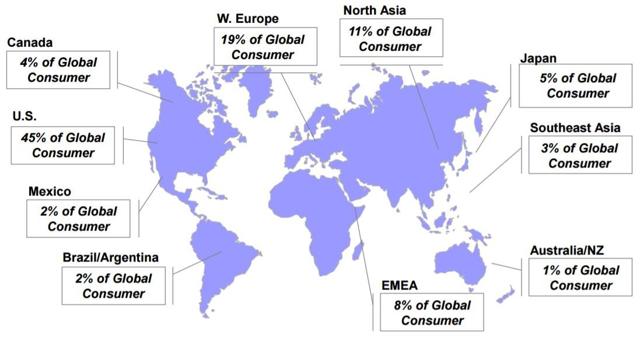 Reasons for Current Valuation
A lot has happened in the last couple of quarters, the most important drivers of Valeant's share price have been:
Failed takeover of Allergan (NYSE:AGN)
Valeant met a lot of resistance from Allergan as it believed VRX relied on aggressive "accounting tricks" a little bit too much. Even though Valeant earned $287 million as a result of the failed takeover, trust in the company had fallen.
Public scrutiny for hiking drug prices
After the incident of Martin Shkreli, who raised the price of Daraprim up to 5,000%, Valeant's tactic of increasing drug prices also came under close public scrutiny. As for Martin Shkreli, he did an interesting analysis on Valeant which you can find here.
Philidor fraud
Valeant supposedly used specialty pharmacy Philidor to boost its own results. As a result of the fraud, Valeant was not able to file its 2015 annual report on time. Rumors of a potential default were at large.
Decreasing results and multiple revised guidances
In late 2015, results went downhill real fast, multiple downward guidances came in through the course of 2016 which caused investors' trust and share price to plummet dramatically. As results deteriorated, Valeant's debt/EBITDA ratio ballooned from about 4.0 times to about 7.0 times. As 7.0 times is a very high leverage ratio for any company, investors began to worry about Valeant's ability to repay its debt.
As you can see in the chart below, 2017 estimates plummeted almost $5.0 billion.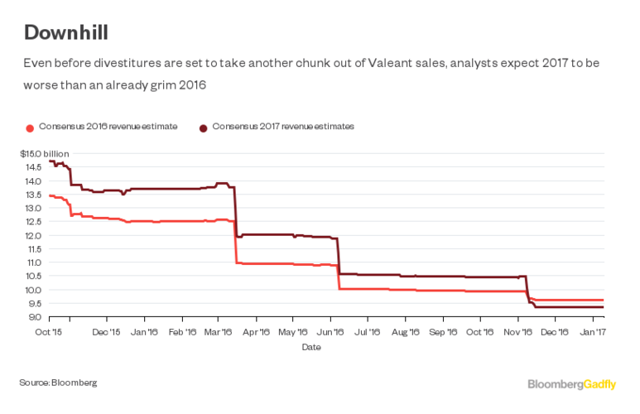 One of Valeant's largest shareholders, Pershing Square Holdings (OTCPK:PSHZF) (ASM:PSH), made a great summary of the events in its annual investor presentation, as you can see below: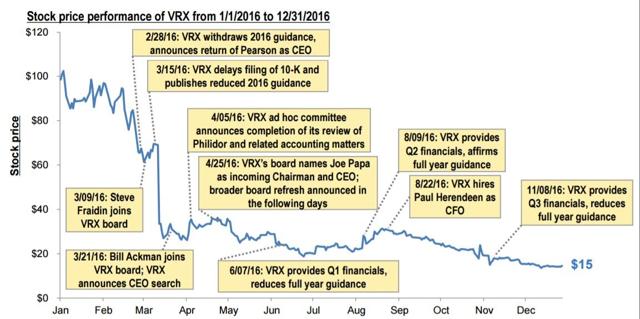 Valuation Versus Peers
To get a better understanding of Valeant's current valuation, I will compare the company to some of its peers in the same sector. I have chosen the following companies to compare Valeant with:
Takeda Pharmaceutical (OTCPK:TKPYY), a Japanese company that tried to buy Salix.
Allergan, the company Valeant tried to take over which probably makes it the most relevant peer. Note that the current Allergan is the merged entity of the former Allergan and Actavis.
Pfizer (NYSE:PFE), huge American pharmaceutical company.
Sanofi (NYSE:SNY), big French pharmaceutical company

As becomes clear from the comparison table, Valeant's valuation is depressed in comparison to its peers. A valuation of about 10 times EV/EBITDA would mean a share price of about $43. This depressed valuation is probably justified as Valeant carries significantly more risk than its peers. If risk subsides in the following quarters/years, there is plenty of upside potential.
Balance Sheet Health
Valeant's biggest worry is its net debt position of about $27.5 billion. As the results and guidance were continually lowered during 2016, its debt covenants were in danger. Valeant needed to earn 3 times more EBITDA than that it paid in interest, and was in danger of breaching that ratio.
In April 2016, VRX renegotiated its covenants to a 2.75 to 1 ratio at the cost of a one-time fee of $50 thousand per $10 million and an interest increase of 1% which may decrease again once financial metrics improve.
Valeant's debt covenants were in danger of being breached once again in August 2016. Valeant now renegotiated its covenant to a 2-to-1 ratio at the cost of a one-time fee of $50 thousand per $10 million and an interest increase of 0.5%.
As interest will amount to about ~$1.8-1.9 billion in 2016, EBITDA would need to drop below $3.8 billion to risk another covenant breach. Although it's not improbable EBITDA would fall to these levels, it's unlikely that it will as Papa has reiterated the current 2016 guidance and has raised prices by 9%. I think the risk of another covenant breach is relatively small.
Now let's take a look at Valeant's debt maturity schedule (You can find the entire debt maturity schedule on page 30 in here):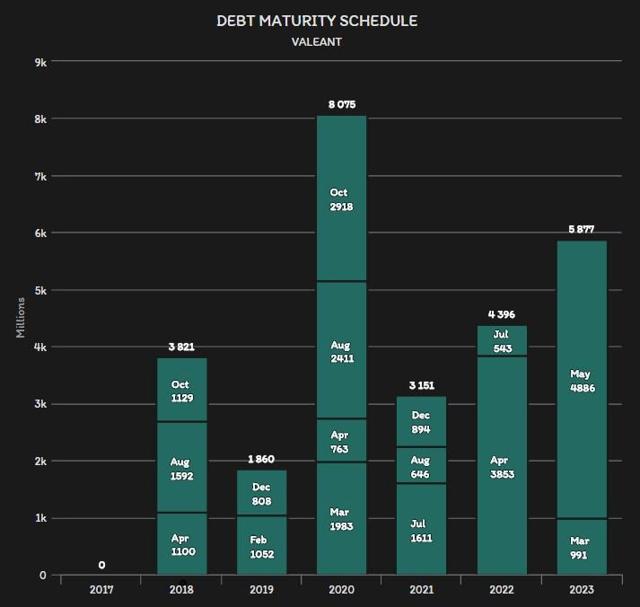 It becomes clear from the bar chart that Valeant has a challenging maturity schedule ahead of it. As the company has just sold assets for about ~$2.1 billion, it has a sizeable cash buffer going into 2017. With its current cash flow and cash position, Valeant theoretically does not need to refinance until October 2020. Its strong cash flow and solid cash position give Valeant plenty of time to sell more assets and negotiate refinancing deals.
As Papa has proven himself a capable deal-maker when renegotiating the debt covenants and selling non-core assets for a premium price, I expect no major problems when Valeant's debt needs to be refinanced.
Let's take a look at Valeant's current bond prices, bond prices are often a great indicator for a company's financial health. The chart below represents the 7% bond maturing in October 2020: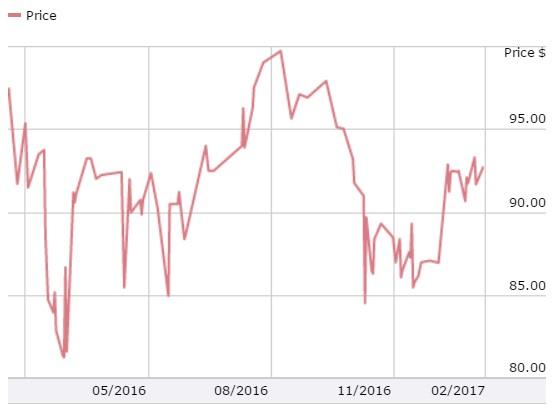 The price of this bond is around 92.5 at the time of writing, which indicates a yield of about 7.5%. A yield of 7.5% is not that bad to be honest, credit investors must be relatively certain that Valeant will be able to meet its obligations. Back in its glory days, this bond traded at about 105, which indicates a yield of 6.66% (it's in the numbers), which is only about 1% less than what it pays now. For more information on Valeant's current bond prices, you can look here.
Valuation Catalysts
We will now take a look at the possible catalysts that can trigger a movement towards a higher valuation.
Successful new product launches
80% of Valeant's new products will launch during the 2017-2019 time period.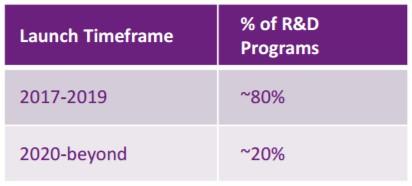 Some of the most promising include:
- Brodalumab
Brodalumab is a drug for psoriasis (terrible skin disease) which has been proven superior to competing drugs. Brodalumab's problem is that during its clinical trials about 6 out of 6,000 patients committed suicide. It's not certain that these suicides are caused by Brodalumab as fellow SA author Detroit Bear points out in his article. Approval of the drug is expected, but its labeling is uncertain. Brodalumab's former owner AstraZeneca (NYSE:AZN) claimed that Brodalumab could generate $1.5 billion in annual sales. Analysts estimate that Brodalumab could generate about $500 million annually. A decision about the drug will be made on 16 Feb. 2017.
- Vesneo
Vesneo is a drug for open angle glaucoma or ocular hypertension. Valeant believes Vesneo could generate peak sales of about $1 billion annually. Vesneo is poised to be approved shortly as Valeant addresses manufacturing issues.
Asset sales at accretive multiples
If Valeant manages to sell its assets at good multiples, more than 11 times EV/EBITDA, Valeant's deleveraging process will be accelerated significantly. A good example of this is the recent asset sale of three skincare brands and Dendreon which have been sold at a blended EV/EBITDA of about 13 times. More asset sales at these levels will not only relieve debt worries, but it will also increase the confidence in the value of Valeant's current assets.
Valeant might just announce more asset sales soon as it is rumored to be in the process of selling about ~$1 billion of assets in Eastern Europe and about ~$750 million of assets in Australia.
Valeant acquired the Eastern European assets (PharmaSwiss & Sanitas) for about $700 million (14.4 EV/EBITDA) in 2011. The Australian assets (iNova) were bought for about ~$700 million in 2011 and are said to currently have an EBITDA of about ~$100 million.
If Valeant manages to sell above assets at the mentioned prices, and the multiples of the Eastern European business haven't changed, this would imply a blended multiple of about 10-11 times EBITDA, which would be in line with expectations.
New CEO and management team
It's no surprise that Pearson had to leave Valeant after the dramatic share price crash. A lot of other board members have been replaced as well under the rule of the new CEO Joseph Papa. Is Papa the right man for the job? Hard to say, all we know is that he has plenty of experience from his nine years at Perrigo (NASDAQ:PRGO).
One of the more interesting details of Papa's employment at Valeant is his salary. Depending on the share price, Papa will earn a lot of money if things go well by the end of 2020. In addition to his base salary of about $1.5 million and some other goodies, Papa is also rewarded performance-based shares by the end of 2020. The amount of money Papa can potentially earn looks like this: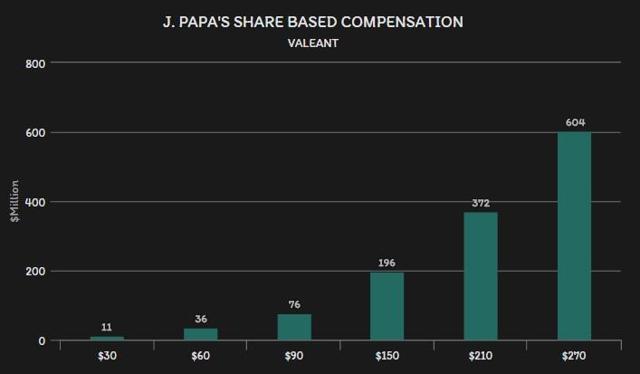 Papa basically gets more shares which are then worth more money whenever Valeant's share price passes a certain hurdle. You can read more about how that works here or in the official employment agreement.
I'm not all that excited about CEO's raking in a lot of money, but it does guarantee us that Papa is on the shareholders' side. Papa stands to make an incredible amount of money if he manages to stabilize Valeant. It also reduces the chances of a dilutive equity raise as Papa's potential payout would shrink a lot if that were to happen.
Successful deleveraging
If Valeant shows a disciplined approach towards paying down its debt and manages to significantly reduce its net debt, there will be a lot of upside for the equity. At the time of writing, net debt stands at about $27.5 billion while Valeant's market capitalization is about $5 billion for a total enterprise value of $32.5 billion.
Once Valeant's financial metrics improve, not only will the equity portion of the enterprise value increase, but Valeant will also command a higher valuation multiple as debt worries subside. An enterprise value of $40 billion, about ~9-10 times EBITDA, would be in line with its peers.
To get a better picture of Valeant's potential deleveraging process, I will portray a basic deleveraging scenario based on the following assumptions:
EBITDA stays the same during the period, about $4.25 million.
No fines, litigation etc. and no asset sales during the period.
Retired debt saves ~6% in interest, saved interest is added to the OCF.
If there is no cash to retire debt, it will be refinanced at ~6%; 6% is reasonable as Valeant does not have a need to refinance until about October 2020.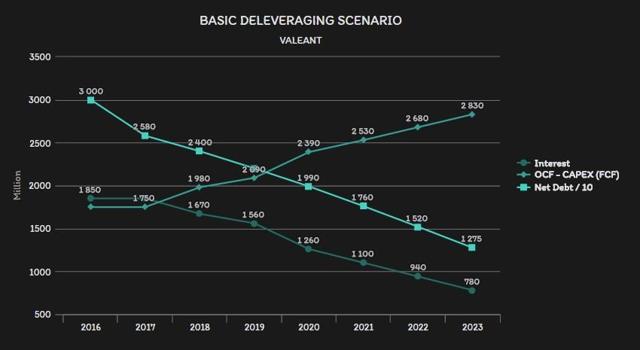 As you can see in the line chart, even without the sale of assets, Valeant should be able to deleverage significantly through the use of its own cash flow, given that its results remain stable. As debt is retired over time, interest payments decrease significantly while FCF increases significantly.
With a reasonable enterprise value of $40 billion, we could potentially end up with an equity value of $20 billion in 2020, or about $60 per share. An equity value of $27.5 billion, or about $80 per share, could be reached in 2023.
Short Squeeze
As of 13 January, 2017, 30 million shares are sold short. At some point in time, these shares will need to be bought back. Valeant has definitely been a good short for those people, but at current prices, it's hard to justify keeping that position.
If J. Papa shows good progress deleveraging and stabilizing Valeant, all the 30 million shorted shares need to be bought back. In the event of some very positive news, we could be looking at a significant short squeeze.
Downside Risks
Further deterioration of results
Valeant's results have deteriorated significantly in the past year, there is no guarantee that they won't deteriorate even further. As new CFO Paul S. Herendeen said in the Q3-16 call:
There could still be some surprises yet to be discovered.
Another downward guidance would probably send Valeant's share price to even lower levels.
Equity issuance
Valeant might need to issue equity to address its debt problems. An equity issuance would definitively be positive for Valeant's risk profile, but would limit the potential upside significantly.
Criminal prosecution
Valeant is the subject of multiple (criminal) investigations. This may eventually result in a settlement or a fine of millions of dollars. Valeant would also take another blow to its reputation from such an event. It might not be able to recover from such a blow.
Generic competition
As Valeant's drug patents run out, generic drugs will enter the market. Quite a number of drugs run out of patent soon as you can see in the image below:

From 2015 revenue levels, about ~$2 billion of sales are affected. As a lot of new products will be launched during the 2017-2020 time period, I expect the revenue decline as a result of the loss of exclusivity to be limited.
From the Q2 2016 earnings presentation: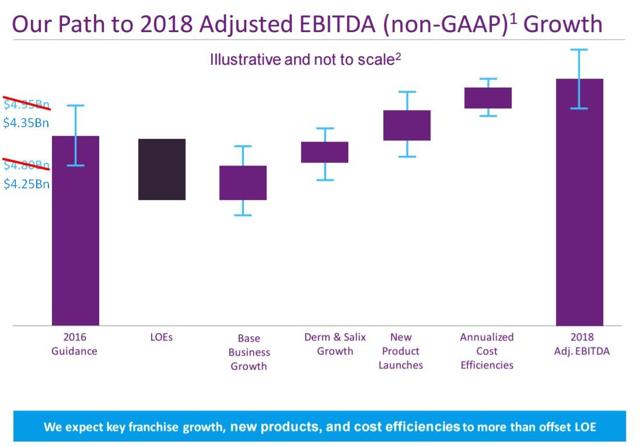 Conclusion
Valeant might just be the opportunity of a lifetime if it manages to wade through the mud successfully. A share price that is 4-5 times the current price is possible if Valeant can rebuild its reputation, launch new products successfully and deleverage its balance sheet significantly. As VRX is still in a difficult position, there is little room for more negative events.
I believe the scenario of Valeant surviving and thriving is significantly more likely than the scenario of Valeant going bust at this point. I believe that Valeant has a great risk-reward ratio at a price point below $20 a share.
Disclosure: I am/we are long VRX.
I wrote this article myself, and it expresses my own opinions. I am not receiving compensation for it (other than from Seeking Alpha). I have no business relationship with any company whose stock is mentioned in this article.