By Stuart Burns
You may feel it cynical to say anyone would engage in blue-sky thinking if someone else is going to pay for it, but you have to question whether Voestalpine AG (OTCPK:VLPNY) and its partners would be embarking on a research program that appears to have little prospect of economic viability in the next 20 years if the European Union was not funding the lion's share of €18 million. The Austrian steelmaker Voestalpine, Siemens (OTC:SMQFY) of Germany, and Austrian renewable energy company Verbund (OTCPK:OEZVY) are building an experimental facility to economically produce hydrogen from water, which would then be used in place of coking coal for steelmaking. You might remember that my colleague, Jeff Yoders, noted that Voestalpine touted research into using hydrogen to reduce iron ore at its new DRI facility in Texas when the facility opened last year.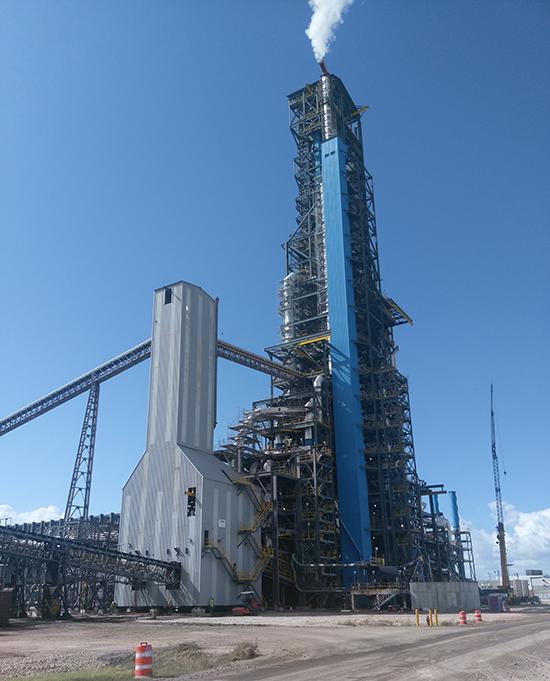 Voestalpine's $750 million direct-reduced iron ore facility in Corpus Christi, Texas, could one day be fueled by hydrogen and not natural gas. Image Source: Jeff Yoders.
By the consortium's own admission, an economically viable hydrogen process could take 20 years. But should it eventually prove successful that the benefits of decarbonizing a range of energy intensive industries such as ceramics, aluminum, glass, and cement in addition to steel could dramatically reduce emissions from one of the largest sources of industrial CO2 emissions. Whether the companies would be willing to foot the bill for the pilot electrolysis plant in Linz if the E.U. was not paying for it is certainly questionable, but, according to the Financial Times, they are not alone in exploring initiatives to develop hydrogen-based steelmaking. POSCO (NYSE:PKX) of South Korea and Sweden's SSAB (OTCPK:SSAAY) are also investing in developing more economical technologies to extract hydrogen from water, although they also admit they are many years away from a viable solution.
Research Into Hydrogen And Natural Gas
To be fair to Voestalpine, it has shown considerable initiative in exploring alternatives to coking coal. The company opened the aforementioned $750 million DRI plant at the port of Corpus Christi in Texas to make hot-briquetted iron, an intermediate product between iron ore and steel, utilizing cheap shale gas available in the U.S. market. Read Jeff's report about the opening of the DRI facility for more on that.
Voestalpine's Corpus Christi plant exports 800,000 metric tons a year to Voestalpine's two mills in Austria and a further 1.2 million tons to customers in the U.S., Mexico and around the world. The facility has its own port deep enough to accommodate large tankers. Iron ore reduction using natural gas such as Voestalpine's HBI plant emits significantly lower carbon emissions than traditional direct-reduction blast furnaces using coking coal. But to be viable, it is dependent on competitively priced natural gas.
Unfortunately, for European steelmakers Europe appears inexplicably reluctant to develop shale gas resources to mirror the success seen in the U.S. energy market. As Europe imports much of its natural gas from Russia and the Middle East, the fuel source is unlikely to be economically viable as a replacement to coking coal in direct-reduction steelmaking -- unless the burden of carbon taxes becomes so great that it outweighs the current cost structure.
Still, as so often is the case, blue-sky research where the payback time frame can be decades into the future is often only ever funded by the state. We would not have the iPhone or the Google search engine without the early development of technologies funded by the U.S. government decades ago. Maybe we will thank used taxpayer dollars many years in the future. Only time will tell.
Editor's Note: This article discusses one or more securities that do not trade on a major U.S. exchange. Please be aware of the risks associated with these stocks.