2017 has been an exciting year so far for me. Heading into the year, I was sitting on an outsized cash position, which meant I've been hard at work trying to identify value to put dry powder to use. I touched on the hows and whys of this cash position in my 2016 portfolio review piece in detail, though I'll quickly rehash it here as well. I took over management of 100% of my family's finances in early 2016 after several years of butting heads with my former financial advisers. This resulted in the liquidation of several accounts; these funds, combined with the proceeds from a property sale, led to me having a ~75% cash weighting. I knew I had to get this weighting down. My long-term target for my cash position is roughly 10-15%, which will be my emergency fund to deploy during the next economic crisis. But that's enough about my cash position. I simply highlight this to set the stage for a recent purchase of mine: an exciting, high-growth company for my relatively conservative, dividend growth-based portfolio - Facebook (NASDAQ:FB).
Getting Diversified: Building A High-Growth Tech Basket
Now, you're probably thinking to yourself, "That's odd, because Facebook doesn't pay a dividend." And yes, you'd be correct. However, the company does offer tremendous growth potentially at a relatively fair valuation, and I'm attracted to the long-term capital gains potential of these shares. I don't own Facebook for the income, but rather for the growth. Recently, I've been building a basket of growth stocks as a small percentage of my overall portfolio. Below I will discuss why I include these growth-oriented picks in my otherwise income-oriented portfolio.
Because I've taken control of 100% of our portfolio, I've taken steps over the last year or so to make sure I was better diversified. This has inspired me to broaden the horizon of my coverage a bit, which eventually led to the purchase of a handful of more speculative, higher-growth companies. I still own 100% equities; I simply don't feel compelled to own bonds with the yields they offer today. Being a young man, I don't mind the lack of exposure to Treasuries and the outsized equity risk I've exposed myself to. Maybe one day, when I need completely reliable passive income to live off of, I will consider owning U.S. government paper, but in the meantime, I feel comfortable allocating funds to the "bond substitute" type of equities (telcos and consumer staples) as my most conservative holdings. Sure, they add a relatively higher capital risk to my portfolio compared to bonds, but in terms of income, I believe their dividend growth will more than make up for this over the long term.
But while I own 100% equities, I realized I was lacking exposure to a couple of important areas of the market, namely speculative growth and international holdings. I don't plan on allocating massive amounts of capital towards either one of these baskets, though I do believe it's prudent for me to have exposure to growth names for their long-term capital appreciation potential and to the international markets as a bit of a hedge against my dominant domestic allocation. In the last year, I've made numerous purchases to address both of these exposure (or lack thereof) issues; my recent Facebook purchase being one of them.
Believe me when I say this, I love owning Dividend Champions and sleeping easily at night, not having to worry about the quality of my holdings or the reliability. I'm about 99.9% certain the income my portfolio produces this year will be higher than it was last year. I'm also about 99.9% certain the income my portfolio produces next year will be higher than it is this year (and so on and so forth). This growing income stream is the bedrock of my portfolio strategy, and I've done enough long-term projections to know that even with the most conservative growth, I should be able to meet my financial goals relatively easily with my chosen DGI strategy.
However, as great as owning safe, reliable, low-beta, mature, dividend-paying companies is, I've also decided it's a good idea for me to diversify myself a bit, giving myself exposure to some of the high-growth companies of today and the potentially massive rewards they may bring years/decades into the future. I feel comfortable with how my income stream is positioned, and I believe I'd be doing myself a disservice by completely ignoring companies in the high-growth space.
This is especially the case in today's market, where companies with reliable yields are trading at such high valuations. When I look at the premium pricing that many of the Dividend Champions are selling for with low, mature, and sometimes even negative growth rates, and then compare this to the premiums put on the high-growth names in the tech space and their strong, double-digit growth rates, it becomes much easier to allocate money towards the growth names even though they don't contribute to my portfolio's income stream.
I believe the media hype surrounding the F.A.N.G. names, which started back in 2015 when they roared higher in an otherwise flat market, conditioned investors to believe the F.A.N.G. stocks are all irrationally valued speculative bets for those who don't care about traditional fundamental evaluation metrics, when in reality, it seems to me one of the biggest bubbles out there today is the DGI bubble. This is especially the case in the consumer staples space, where oftentimes companies are trading for 23-25x earnings while posting low/negative revenue/EPS growth just because they offer investors a reliable 2-3% yield.
I view recent purchases of Alphabet (GOOG, GOOGL), Amazon (NASDAQ:AMZN), NVIDIA (NASDAQ:NVDA), and Facebook as hedges against these low growth/high premium DGI alternatives. In the event of a market correction, I'm honestly not certain which group of stocks will fare better - those "defensive" companies with reliable yields, but historically high valuations without the growth to justify them, or those with no yields, but long growth runways and speculative valuations in the present? In the past, this was an easy question to answer: of course, the reliable, defensive stocks. However, in today's low rate environment, these stocks have been bid up, and I worry about the risks associated with their premium valuations. The way I see it, by owning both types of companies, I've got all my bases covered.
I've discussed my justification for owning the three former growth companies listed above already here at Seeking Alpha (articles are hyperlinked via the company names above), and now it's time to cover my reasoning behind adding Facebook to my DGI portfolio.
Unfounded Fears
One of the reasons that I've been hesitant to buy Facebook shares over the last several years was fears regarding a usage slowdown. Growing up, I remember the rise and fall of Myspace. I've always worried that Facebook would prove to be more of a fad than a trend. Looking at the company's MAU/DAU (DAUs have remained constant at about 65-66% of MAU for several years now, even as MAUs have grown substantially) performance, I take solace in the fact that demand continues to grow for this company's services. With 1.86 billion MAUs, Facebook has surpassed my wildest expectations in terms of global market penetration. This is in large part due to the portfolio of services that Facebook co-founder and CEO Mark Zuckerberg has amassed, from Facebook to Instagram, to WhatsApp, to Messenger. 5 years ago, I couldn't have imagined a social media ecosystem with a strong moat, but it appears Zuckerberg has built one. The data collection opportunity that these platforms have created for FB is astounding, which is why the company is proving to be an advertising powerhouse. I have to give Zuckerberg all of the credit in the world in this regard. He's proved my fears to be baseless up until now, and recently, I threw in the towel, putting my faith in his continued leadership and vision.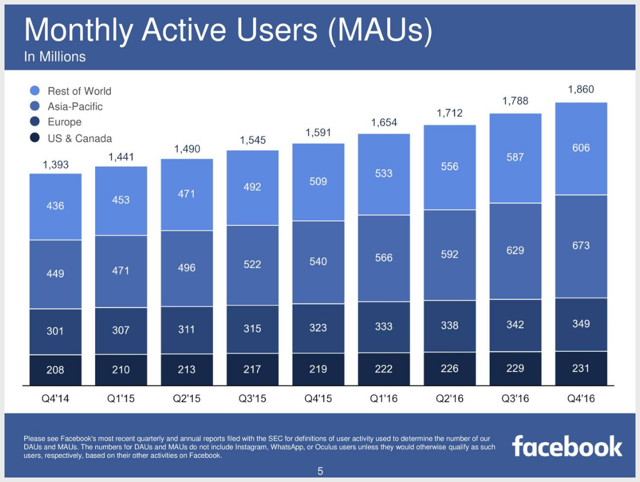 (Source: Q4 Earnings Slide Show, Slide 5)
Facebook, Part of a Digital Ad Duopoly
I touched on this in my recently Alphabet article, but it seems to me that FB and GOOGL have essentially become a duopoly in digital advertising. I think this will continue to be a high-growth area as more and more ad spend is directed to digital media. I have invested heavily in the entertainment industry via Disney (NYSE:DIS), Time Warner (NYSE:TWX), and Comcast (NASDAQ:CMCSA). They rely on more traditional advertising dollars to bolster certain segments of their business. Although I am very bullish on those three companies moving forward, mainly because of their content, I like owning shares of GOOGL and FB as a hedge or sorts against the potential loss of ad revenues that I expect them to incur in their media and broadcasting divisions.
Facebook produced more than $8.6 billion in advertising revenue in its most recent quarter. This represents ~53% growth y/y and ~26.5% q/q. Average revenue per user (ARPU) was up 29% y/y. FB makes much more money on users in the U.S. and Canada than it does in other parts of the world. Some see this as an issue, but I don't think the domestic market is saturated by any means. Sure, it would be great to see ARPU performance spread out a bit more evenly, though I don't expect to see this U.S./Canada-led trend change anytime soon. However, I do think it represents a long-term growth opportunity for FB as it continues to monetize its platforms in emerging markets.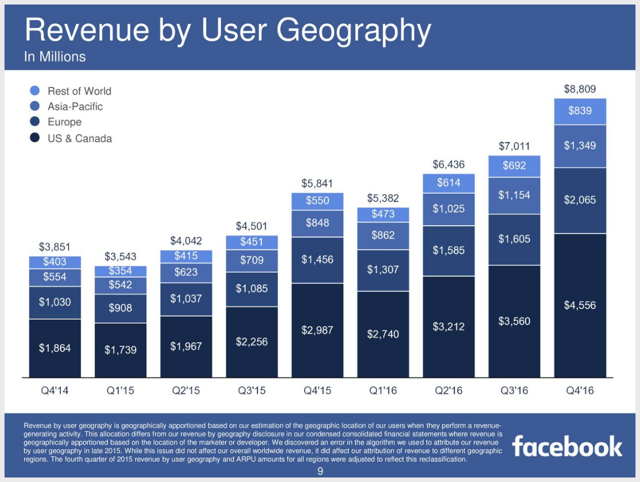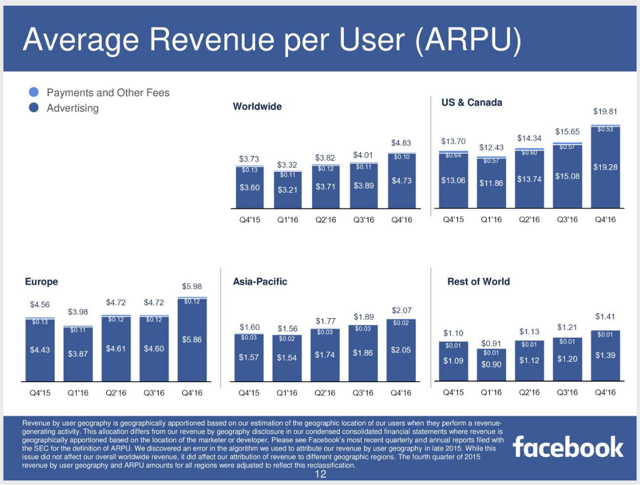 (Source: Q4 earnings slide show, Slides 9 and 12)
Eventually, ad revenue growth will slow (I don't expect to see 25% q/q sequential growth in perpetuity), though I think FB still has a long way to go before seeing ad growth stagnation. Eyeballs are continually shifting online media, especially with regard to mobile. FB made a huge bet on mobile several years ago, and this strategy is what allowed the company to grow into the behemoth it is today.
Right now, 97.9% of FB's revenues come from advertisements. This is a bit worrisome to me; I'd love to see this company diversify its revenue stream. Google Ads made up ~85% of Alphabet's revenues in that company's most recent quarter. I admit, both companies are essentially pure plays when it comes to advertisement, though GOOGL makes up a much larger percentage of my overall portfolio than FB does because I view it as more of a tech conglomerate than I do Facebook, which hasn't successfully been able to monetize any of its other products or services. With that said, I think FB has exciting potential in spaces outside of advertising. Virtual reality, where the company appears to have the potential to be one of the world's leaders, could be huge. Admittedly, the eventual size of this industry is unknown, but as VR capabilities increase, I suspect demand for products/services in this space will as well. This ties in with my WALL-E, efficient society entertainment/content thesis that drives so many of my investment decision. Also, I'm intrigued by the company's progress with the Internet.org initiative. It makes so much sense to me that a company that dominates the digital ad space should do whatever it can to increase internet connectivity. Not only does with project bode well for FB's future revenues, but it does a lot of good in the developing world, so a win-win from my perspective.
Income, EPS, and an Attractive Valuation
Just as attractive as FB's recent revenue growth is the company's increasing operational income and expanding margins. On a GAAP basis, Q4 income from operations was up 78% y/y and 46.5% q/q. The company's operational margin was 52% in Q4, up from 44% a year ago. The company's Q4 net income of $3.56 billion was up 128% y/y. This led to a 124% y/y increase in EPS for the quarter.
For the year, FB's GAAP EPS came in at $3.49, up 170% from 2015's $1.29 total. Right now, on a trailing 12-month basis, it is trading at a 38.3x P/E ratio. However, the average analyst estimate for 2017 EPS currently sits at $5.42, meaning FB's forward P/E ratio is a much more attractive 24.25x. I know it's tough enough looking out one year, but for what it's worth, the average analyst EPS estimate for 2018 is $6.69, meaning two years out, FB's forward P/E ratio is 20x. I still expect to see the company posting strong, double-digit growth in two years, meaning the stock is potentially a bargain today at $134 for patient investors.
Now, it obviously won't be easy for this company to grow its EPS by over 90% in just two years. But with that said, FB's GAAP EPS was just $1.10 in 2014, meaning the company has increases its EPS output by more than 217% during the prior two years.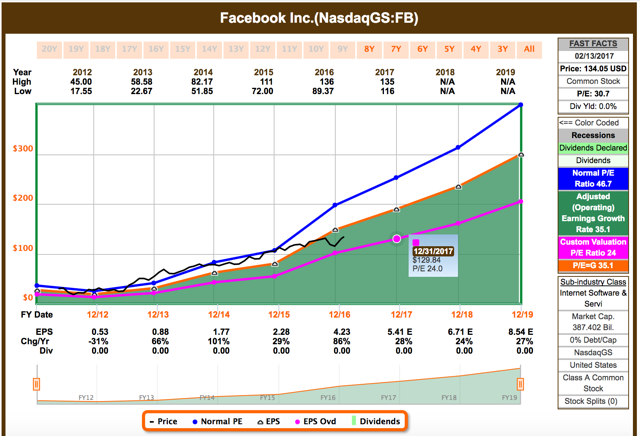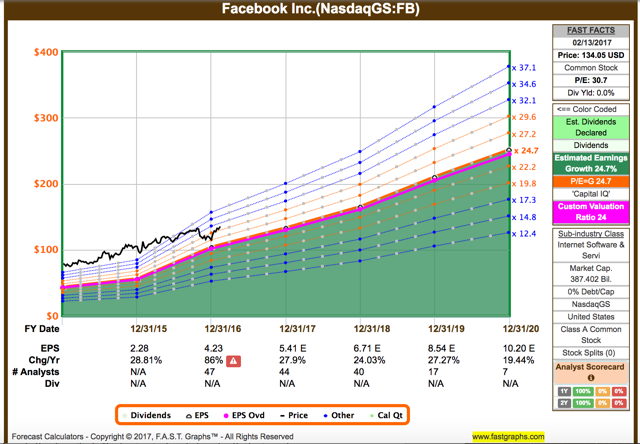 (Source: F.A.S.T. Graphs)
Risks: Capital Expenditures, SNAP Inc., and Fake News
Facebook invested heavily in itself in 2016, and this trend is expected to accelerate into 2017. The company's capital investments totaled $4.49 billion in 2016. This capital investment is necessary to maintain leadership in a quickly evolving space. This is what has allowed FB to expand its ecosystem in the past, and the company is well situated to continue on this capital-intensive growth path, having generated $11.6 billion in free cash flow in 2016 (it ended the year with $29.4 billion in cash/investments).
In the Q4 conference call, FB CFO David Weher commented on the fact that 2017 will be an "aggressive year" for investments, and expects the company's GAAP expenses to increase 40-50%. The company expects to increase its headcount drastically, with a 34% increase in hiring. It appears that FB believes this intensive capital investment strategy is necessary to integrate video capacities across its ecosystem. In the short term, I suspect this spending may be a drag on the share price, though if Zuckerberg is right and video is anywhere near as important as mobile has been, then the investments will surely be worth it. And at this point, why would anyone beg to differ with Zuck? He's been a visionary leader thus far, and I'm happy to put my faith in his ability to predict industry trends.
What I like most about this company is Zuckerberg's long-term mindset. He talks about 3-, 5-, and 10-year outlooks. This is the type of thinking that allowed him to capitalize on mobile, and he believes video will be the next mega-trend that will push FB higher. It's refreshing to see upper-level management focused on targets a decade out, rather than simply quarterly or annual goals (which are typically tied to bonuses in the compensation structure). I believe the very best corporate leaders maintain this long-term view, and Zuckerberg is one of them.
From a more defensive point of view, it also appears Zuckerberg understands the threats his company faces and has taken strides to address these issues. Much has been made about the recent Snap Inc. (NYSE:SNAP) IPO and the threat this mobile-first social media platform is to FB, especially with regard to video. Well, in the Q4 call, Zuckerberg highlighted the fact that "Instagram Stories reached 150m daily actives just 5 months after the launch." SNAP's total DAU count is in that same $150 million ballpark. I'm sure this success has tempered a lot of the excitement coming out of the Snap Inc. camp. The way I see it, the strength of Facebook's ecosystem is unmatched, and as long as the company is willing to innovate and change with the ever-evolving social media landscape, it will always be the leader due to its existing size and scale.
Zuckerberg and crew also understand the issues that the company is facing regarding fake news. In the Q4 call, he talked about the importance of building a more informed community and said FB is taking steps to eliminate misinformation and hoaxes in the same way that it did with spam and click bait in the past. I think he understands that the brand's reputation is tied to the quality of content it provides, and that over the long term, these fake news items aren't good for either his company or the world.
Conclusion
In the end, I'm very happy to have bitten the bullet and bought shares of this wonderful company. It's hard to find the growth that FB offers anywhere in the market, and downright impossible to find a growth company with better forward valuations (please feel free to share attractive alternatives, I may well buy them too). Usually, I know right away if I've made a mistake purchasing shares of a company. Sure, you do your due diligence, but it doesn't get real until there is money at stake. I haven't felt one twinge of regret or an ounce of anxiety since buying FB shares; actually, my only fear is that I didn't buy enough. I'd love to add to my position at a lower price. I hope to be able to later in the year, maybe when the SNAP IPO happens and theoretically draws money away from the FB investing pool, or a quarter or two down the road, when the cap-ex hits the bottom line. But then again, maybe I won't... Bank of America just added FB to its U.S. 1 list with a $165 price target. I decided I was better off simply buying shares with a plan to DCA further into the stock than be greedy and attempt to time it. If analyst estimates are anywhere near close regarding this company's future earnings power, I'm sure I won't regret my $131.90 purchase price. Time will tell, but I'm looking forward to the ride.
Disclosure: I am/we are long FB, GOOGL, NVDA, AMZN, TWX, DIS, CMCAX, AMZN.
I wrote this article myself, and it expresses my own opinions. I am not receiving compensation for it (other than from Seeking Alpha). I have no business relationship with any company whose stock is mentioned in this article.