The Federal Reserve does not want to fall behind the curve, and that could mean much more gains for the financial sector. Economic activity and inflation metrics are moving higher, signaling a changing economic landscape. Due to this, Fed Chair Janet Yellen stated in her testimony on Tuesday that the Fed could begin hiking at any point the next few months. This benefits financials, which derive a bulk of their profit margins from higher interest rates and a steeper yield curve.
The first chart below is of iShares TIPS Bond (NYSEARCA:TIP) over iShares 7-10 Year Treasury Bond (NYSEARCA:IEF), which represents market-based inflation expectations. Yellen cited in her testimony that she was encouraged by rising inflation expectations. Since 2016, the indicator has bounced off of its lows, which was trading at levels not seen since financial crisis.
The indicator's move has been aided by rising commodity prices, also trading at extremely depressed levels at the start of 2016. Rising global growth expectations as well as increasing global PMIs fueled the optimism in commodities. Ultimately, investors are optimistic that the deflationary cycle experienced in the years following the financial crisis is abating and giving way to inflation.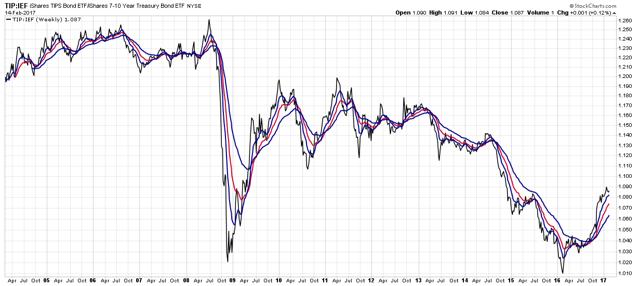 As inflation expectations have risen, investors began pricing in quicker rate hikes by the Fed. The chart below is of iShares 1-3 Year Treasury Bond (NYSEARCA:SHY) over IEF, which represents the 2-10 treasury yield spread. As the Fed tightens policy, this spread should widen.
Over the last decade, the spread has contracted by an extreme degree, but could be turning now. The Fed has had little reason to tighten policy, due to fears of cutting off what little growth existed in domestic and foreign economies. Now, however, the threat of the Fed actively tightening is becoming more realistic. If the Trump administration builds off of current economic momentum and eases regulations while also enacting fiscal stimulus, the inflation cycle should begin to heat up.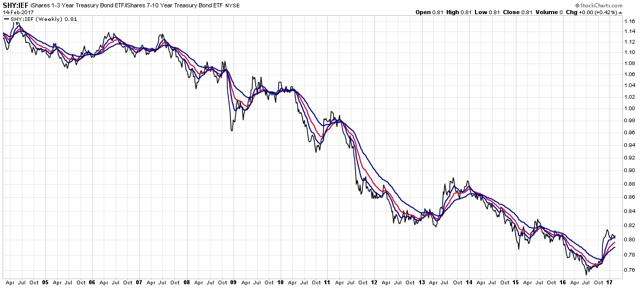 Lastly, rising inflation expectations and a steepening yield curve are good for financial companies, boosting stock prices. Financial firms borrow at the short end of the yield curve, while lending at the longer end. This determines profit margins and thus stock prices. Moreover, many firms require a certain level of income to fund outlays, such as insurers. When interest rates are zero or negative, such companies either have to revise returns lower and take more credit risk - neither scenario is attractive.
Both rising interest rates and less burdensome regulation have positive effects on financial firms. Since the financial crisis, financials have been beaten down on an absolute and relative basis, as is seen in the chart below. The chart is of Financial Select Sector SPDR ETF (NYSEARCA:XLF) over Guggenheim S&P 500 Equal Weight ETF (NYSEARCA:RSP), which represents the relative strength of the financial sector. Although the sector has been a laggard for the last decade, things look to be turning more positive now due to the reasons listed above.
With Trump and Fed monetary policy on the side of financials, the sector could revert higher and show strong gains in coming years. Although the sector has risen considerably in recent months, the long-term downtrend is just being broken. This means there is a lot of upside potential in the sector. Factoring in rising inflation expectations, increasing interest rates and less regulation, the financial sector is a screaming buy at current levels.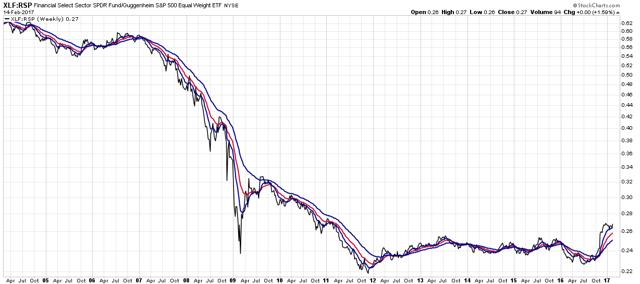 Disclosure: I am/we are long XLF.
I wrote this article myself, and it expresses my own opinions. I am not receiving compensation for it (other than from Seeking Alpha). I have no business relationship with any company whose stock is mentioned in this article.