In August 2016 I wrote an article about Flowers Foods (NYSE: FLO) a consumer staples company that was quite beaten down on a double whammy of revised guidance and a Federal investigation.
My thesis at the time was Flowers Foods was a buy, as it was undervalued with strong cash flow and an attractive dividend. I pegged fair value to be around $18 - 23, with catalysts being improved margins (via management's "Project Centennial") and resolution of the Federal investigation.
Since then, the investigation has been settled, and shares have appreciated just north of 20%.
Today, Flowers Foods reported Q4 2016 and annual results and the shares again fell off a cliff.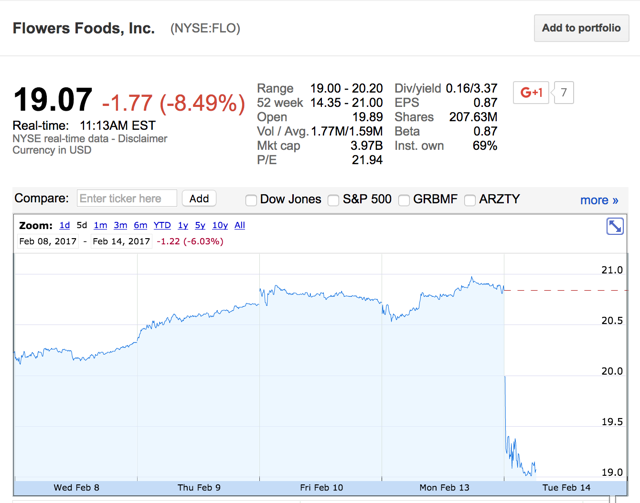 Thus, is it time to buy more, sit tight, or sell?
2016 Results
In August, CEO Allan Shiver revised 2016 EPS guidance to $0.90-0.95 per share, which was one of the events that led to the initial decline.
On February 13, 2017 Flowers reported their 2016 results, and reported adjusted EPS ($0.78) was well below that guidance, down 12% year over year. Management cites asset impairment, legal settlements and tax liabilities for the earnings miss. It is quick to point out that, in adjustment of the above, EPS would have been $0.91.
For FY 2017, management expects EPS to come in somewhere between $0.85 - 0.95 per share.
Project Centennial
Furthermore, management provides an update on Project Centennial, citing it has begun execution on the following points:

Source: Flowers Foods Q4 2016 + FY 2016 Press Release
Let's examine each of these points individually.
The way I would objectively measure "reinvigorating the core business" and "capitalizing on product adjacencies" would be growing sales. Looking at 2016 results, sales are up just shy of 4% which is a positive sign.
Thinking about the latter two points, "reducing costs to fuel growth" and "developing leading capabilities", I would anticipate these initiatives would improve margins. Indeed, this has been a management priority as management recognizes it's margins are below industry average. Looking again at the 2016 results, EBITDA margins are actually down 0.3% (from 11.7% to 11.4%).
Expanding on this further, management cites near term EBITDA margin targets of 12-13% in the near term, and 13-14% in the medium term.
Thus, although it is early days, Project Centennial is delivering mixed results. Although sales growth is important, in a mature, consolidated industry meaningful sales growth is going to be linked to overall economic growth. Therefore, I would argue that margin expansion is a far more important driver of income growth than sales growth.
Valuation
As mentioned, in my previous article I cited a fair value somewhere between $18 - 23.
From a DCF perspective, using present Capital IQ data my DCF yields a fair value of $22, improved since I last calculated it 6 months ago.
From a multiple perspective, today Flowers Foods is trading at a P/E 21. This equates to an earnings yield just under 5%. In my opinion is quite rich given the lack of substantial growth moving forward. However, this is in line with the 10 year median of 21.
Looking at the P/B, today the company is trading at a P/B of 3.35, which is in line with the 10 year median of 3.38.
Looking at the P/FCF, today the company trades at a multiple of 17.37, which equates to a free cash flow yield of 5.7%. However, today's P/FCF is slightly lower than the 10 year median of 20.34.
Putting it all together, I would say that, despite the recent decline, Flowers Foods is fairly valued at present.
A Loaf That Won't Rise?
To rehash the cheesy analogy I made 6 months ago, I think at present the prospects for returns are not as attractive as they were six months ago. Yes, the dividend is nice, but at the same time the valuation is no longer attractive. What's more, at today's price you are paying a lofty multiple for little growth.
Therefore, I do not think investors should buy more at today's prices, even with the decline.
Should one sell? I think it depends on what your alternatives are. Although it is a market of stocks (and not a stock market), I think in general attractive value plays are scarce, so as a shareholder if there are no attractive alternatives it would be worth while to hold and collect the dividend.
Assuming one purchased in August, at the price I wrote the first article, the annualized returns, including dividends, would be 29%. Therefore, if one wanted to raise some cash to have on hand, or saw a more attractive investment opportunity, I would sell Flowers Foods.
What do you think about Flowers Foods? Do you think it's a buy, a sell or a hold? Please feel free to let me know in the comments section below. Thank you for reading!
Disclosure: I/we have no positions in any stocks mentioned, and no plans to initiate any positions within the next 72 hours.
I wrote this article myself, and it expresses my own opinions. I am not receiving compensation for it (other than from Seeking Alpha). I have no business relationship with any company whose stock is mentioned in this article.
Additional disclosure: I am not an investment professional and I recommend you do your own due diligence on any of the investments discussed.