This morning's release of the NFIB's monthly report on small business optimism came in higher than expected, rising to 105.9 from last month's reading of 105.8 and above the consensus expectation of 105. While the index didn't rise, it did hold on to the post-election surge, which is impressive on its own. At current levels, small business optimism is at the highest level since December 2004 and not far below the post-2000 high of 107.4. Going forward, the improved sentiment on the part of businesses should translate into better economic data. The key word here is "should." Any signs that this improved sentiment is not translating into better data will be greeted harshly.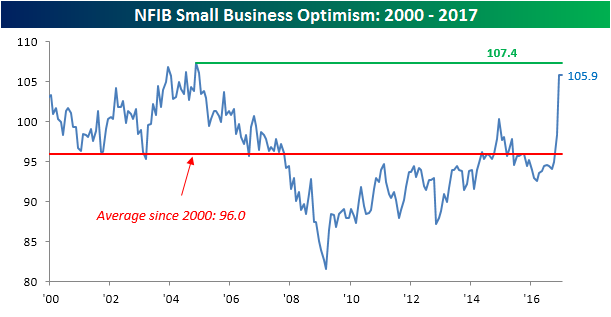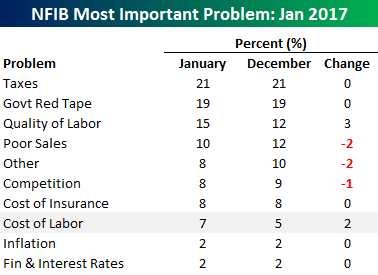 As we do each month, the table to the right summarizes the issues that small businesses consider to be the biggest problems they face in operating their businesses. As is always the case, the two issues topping the list this month are Taxes (21%) and Government Red Tape (19%), which account for a combined 40% of all responses. Next on the list is Quality of Labor, which was cited by 15% of respondents, up from 12% last month. Along with lower labor quality, business owners are also increasingly having problems with labor costs, as that was the only other problem to register a m/m increase. It's just one month, but that is something to watch going forward. A continued increase could lead to upward pressure on wages.
Thanks for reading the article. Follow our account to get our articles as soon as they're posted to Seeking Alpha. To get our full newsletter, sign up for Bespoke Newsletter PRO. Subscribers to that service get access to Bespoke's model stock portfolios, actionable data-driven insights, and in-depth analysis of everything that drives the markets, among other things.