With new all-time highs for some of the largest US banks (JPMorgan (NYSE:JPM), Wells Fargo (NYSE:WFC)) and some investment banks (Goldman Sachs (NYSE:GS)), we wanted to see if credit markets are saying the same thing as equity markets.
First, in the chart below, we compare the spreads on US bank credit default swap (CDS) (5-Year CDS) for some of the largest US banks by market cap: Wells Fargo, JPMorgan, Bank of America (NYSE:BAC), Citi (NYSE:C), Morgan Stanley (NYSE:MS), and Goldman Sachs. The higher the CDS spread, the more expensive it becomes to insure bank debt against a default. While it can be challenging to directly imply a probability of default from CDS prices (because they're also sensitive to recovery value), higher CDS spreads are indicative of the market pricing in stress for a given credit issuer.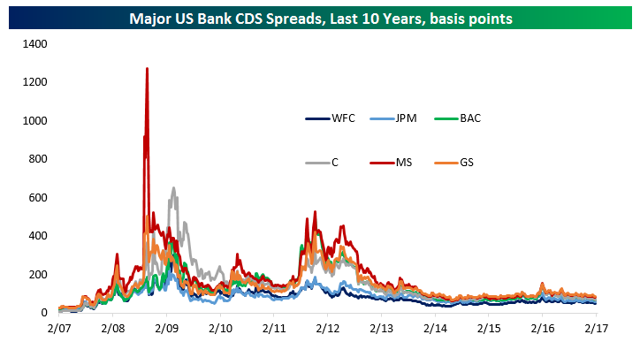 As shown in the chart above, the highest spreads in recent history came in two waves: during the global financial crisis (2008-2009), and the eurozone/US debt ceiling stress of 2011-2012. Since then, while CDS spreads have moved somewhat, there's been very little change in credit spreads. The same can't be true for equity prices, as we show in the chart below.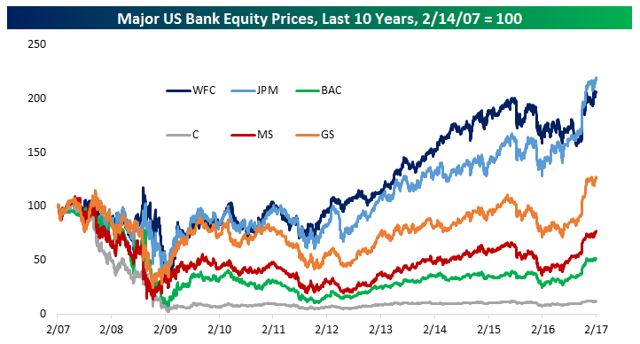 Wells Fargo, JPM, and Goldman are all at all-time highs. Others like MS, BAC, and Citi have rallied significantly off recent lows, but are still well below the prices seen in 2007. In aggregate, the six stocks above have a combined market cap of $1,197 billion, versus a pre-crisis high water mark of $995 billion and a post-crisis low of $179 billion.
The last thing we wanted to show is the CDS spread of these major banks at various points in time. While the current CDS spread levels are dramatically lower than late 2008 (in the week Lehman went bankrupt) or the peak of the eurozone crisis and US ratings downgrade, they're higher than they were during the broad credit market excesses of the pre-crisis period. Even during the peak of oil market concerns and the broad financial market sell-off in Q1 of last year, CDS spreads didn't widen by very much.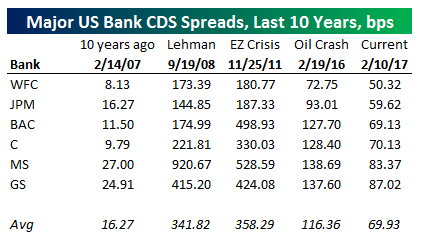 International banks aren't necessarily in the same position. Below, we recreate the same CDS chart as above, but for six major international banks. Similar to US banks, spreads were extremely low in the pre-crisis period and climbed steadily into the 2008-2009 period. We should note, however, that unlike the US, most of these banks saw spreads peak well after the crisis. Because five of the six we chose are primarily European (HSBC being the exception; headquartered in London, its focus is more global), they were much more adversely impacted by the eurozone crisis relative to the global financial crisis. Also, unlike US bank CDS, these credit indicators are still showing some stress after widening last spring. Lower profitability, lower capital levels, lower asset quality, and exposure to political shocks are all factors keeping these banks' CDS spreads wider than those of their American peers.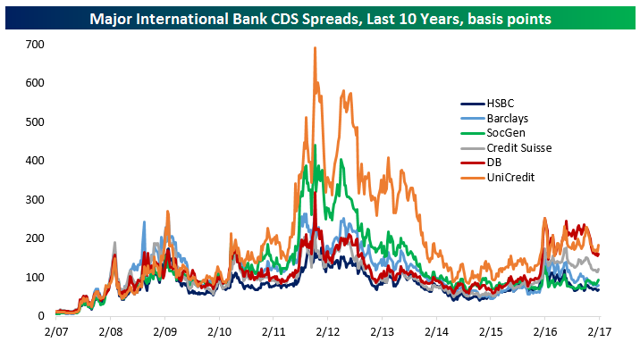 We should also point out that none of the six banks we've picked have seen their share prices make new all-time highs when priced in USD. Indeed, UniCredit (OTCPK:UNCFF) (the largest Italian bank by assets) still has an equity price over 90% lower than it did pre-crisis. While HSBC has held up okay (from the perspective of a US investor), it's well off post-crisis highs and remains dramatically lower than it traded in 2007. Again, concerns over profitability, capital, asset quality, and European politics are all risk factors that the European banks have to contend with, which don't have as large of an impact on US banks.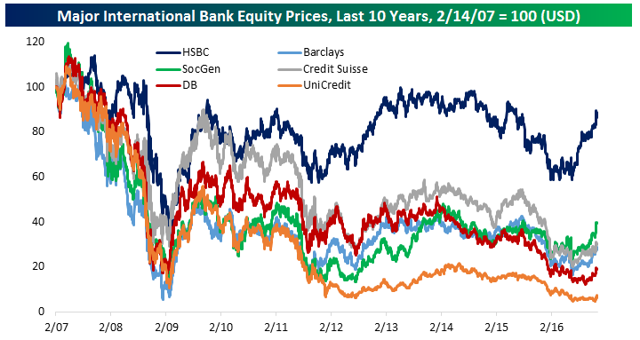 Remarkably, the average CDS spread for European banks we've highlighted is almost as high as it was the week Lehman Brothers failed! It was higher during the peak of global market concerns in Q1 of 2016, though bank CDS remain well below the spreads seen during the peak of the EZ crisis.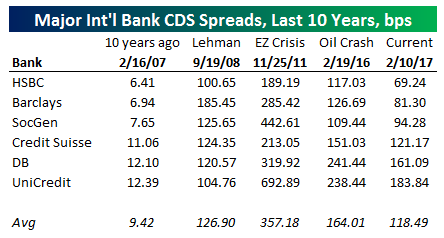 Thanks for reading the article. Follow our account to get our articles as soon as they're posted to Seeking Alpha. To get our full newsletter, sign up for Bespoke Newsletter PRO. Subscribers to that service get access to Bespoke's model stock portfolios, actionable data-driven insights, and in-depth analysis of everything that drives the markets, among other things.
Editor's Note: This article discusses one or more securities that do not trade on a major U.S. exchange. Please be aware of the risks associated with these stocks.