Quick Take
Airplane leasing firm Intrepid Aviation Limited (Pending:INTR) has filed the latest update Intrepid has delayed its IPO for some time to deal with the fallout of the Skymark bankruptcy but has succeeded in releasing aircraft rejected in that process.
The aircraft leasing industry is showing significant growth, but that may be tempered by low volatility and interest rates creating a potential 'glut' of available aircraft.
When we know more details about IPO valuation expectations, I'll provide an update at that time.
Company
Intrepid was incorporated as a Bermuda exempted company in July 2014 and holds Intrepid Aviation Group Holdings, LLC, which is owned by its two sponsors, Centerbridge Partners and Reservoir Capital Group.
Management is headed by CEO Olaf Sachau, who has been with the firm since 2012 and had previously held various senior executive roles in aviation leasing industry.
President and Chief Commercial officer is Douglas Winter, who joined Intrepid in June 2015 after stints throughout the aviation leasing industry, including GE Capital Aviation Services (NYSE:GE).
Major investor Centerbridge Partners is represented by board members Eric Hoffman and Lance West. Reservoir Capital is represented on the board by Craig Huff and Ryan Pripstein.
As of September 30, 2016, Intrepid owns 28 aircraft and has committed to six aircraft under a purchase agreement with Boeing.
Business
Intrepid's business is to acquire passenger and freighter aircraft to lease to airlines and cargo transport operators throughout the world.
Its 34 owned and committed portfolio of aircraft includes:
Airbus A330-300 and -200
Airbus A321
Boeing 777-300ER
Boeing 787-8 Dreamliner
Boeing 747-8F freighter
The average age of its aircraft is 3.2 years, which is very young.
Intrepid's portfolio of aircraft is on lease to 13 airlines in 11 countries.
Although historically it has focused on widebody aircraft, going forward management intends to add more narrow-body aircraft in order to diversify its customer base and global reach.
Market and Competition
According to a 2016 Value Market global aircraft leasing market research report, the aircraft leasing market is expected to reach $245 billion by 2021, a CAGR of 6%.
The report states that while Europe will be the largest market in current size, the fastest growing market will be Asia-Pacific.
Aircraft leasing competitors include the following major firms:
BOC Aviation
Avolon Holdings
AerCap Holdings (AER.N)
Air Lease Corporation (NYSE:AL)
Aircastle (NYSE:AYR)
GECAS
Fly Leasing (NYSE:FLY)
SAAB Aircraft Leasing
International Lease Finance Corp.
AWAS
The competitive landscape is shifting as major leasing companies such as AWAS have been put up for sale. Additionally, major Chinese competitors BOC and Avolon are looking to bulk up their operations to keep up with a growing domestic air travel market.
Financials
Intrepid's recent financial results can be summarized as follows:
Steadily increasing revenues, with the exception of 2016's flat comparison to 2015
Growing and high operating margin
Consistently growing and high cash flow from operations
Below are the company's operational results for the past four and ¾ years (Audited GAAP for full years):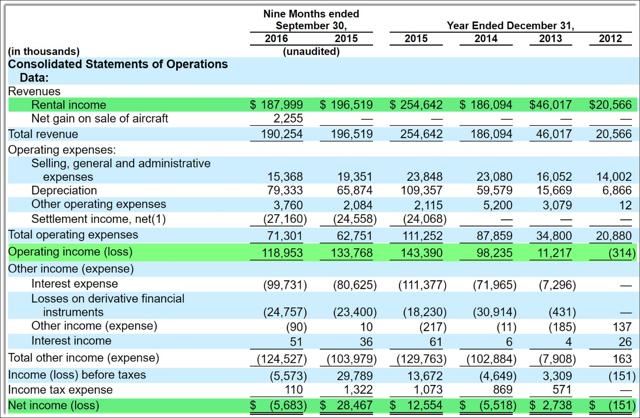 (Source: Intrepid Aviation S-1)
Revenue
To Q3 2016: $188 million
2015: $254.6 million
2014: $186 million
2013: $46 million
2112: $20.6 million
Operating Margin
To Q3 2016: 63%
2015: 56%
2014: 53%
2013: 24%
2012: Negative
Cash Flow from Operations
To Q3 2016: $85.2 million
2015: $101.7 million
2014: $90.9 million
2013: $27.9 million
2012: $5.4 million
As of September 30, 2016, Intrepid had $55.8 million in cash on hand, total assets of $3.15 billion and total liabilities of $2.6 billion.
IPO Details
Intrepid intends to raise an unknown amount in its IPO.
Nor has it provided an expected price per share range or proposed post-IPO market cap.
Intrepid intends to use the proceeds from the offering 'to continue to purchase aircraft currently on order with Boeing and for general corporate purposes to support continued growth.'
It has committed to purchasing six additional aircraft from Boeing.
Commentary
It is interesting that Intrepid filed its original S-1 in November 2014 and has amended it nine times in the two years and three months since then but has yet to indicate any pricing information.
During that time, there have been significant management changes, including previous CEO Franklin Pray who separated from the company in August 2015.
Additionally, Intrepid was exposed to Skymark Airlines' January 2015 bankruptcy, during which Skymark rejected Intrepid's leases for four aircraft and commitments for an additional three aircraft.
Management stated in its S-1:
We anticipate that our financial results for the year ended December 31, 2016, The current S-1 only has financials through September 30, 2016, so we don't yet know the effect of the Skymark lease rejections on its full year financial performance.
The delay in the IPO filing throughout 2015 and 2016 can only be attributed to the uncertainty and effects of the Skymark bankruptcy since the Japan-based low-cost carrier accounted for seven leased or committed aircraft out of Intrepid's portfolio of 28 aircraft.
Additionally, the exit of CEO Franklin Pray in August 2015 was likely due to the problems associated with Skymark.
After the Skymark lease rejection, the company successfully remarketed all seven leased or committed aircraft to Turkish Airlines.
In the wake of the Skymark meltdown, it appears new management has wisely chosen to diversify Intrepid's revenue base, both geographically and in aircraft type by seeking to add narrow-body aircraft to its fleet.
So now, we await the full year 2016 financials and the company's expectations for IPO terms.
Intrepid's financial performance looks promising, once it has put the Skymark debacle behind it.
With fuel prices remaining low into the near and medium term, assuming no geopolitical shock, the outlook for the airline industry is positive.
The question is whether the environment for aircraft leasing firms is so sanguine.
A recent Economist article wondered whether the combined economics of low-interest rates and low fuel prices would result in a 'glut' of aircraft emboldening airlines to float bonds to buy their own aircraft at lower prices.
Volatility is certainly the leasing company's friend. In a low volatility environment, competition may become more intense.
I'll provide an update when we know more about Intrepid's performance and IPO intentions.
I write about technology IPOs, follow-ons, secondaries, and M&A deals. If you want to receive future articles automatically, click the Follow button next to my name at the top of this article.
Disclosure: I/we have no positions in any stocks mentioned, and no plans to initiate any positions within the next 72 hours.
I wrote this article myself, and it expresses my own opinions. I am not receiving compensation for it (other than from Seeking Alpha). I have no business relationship with any company whose stock is mentioned in this article.