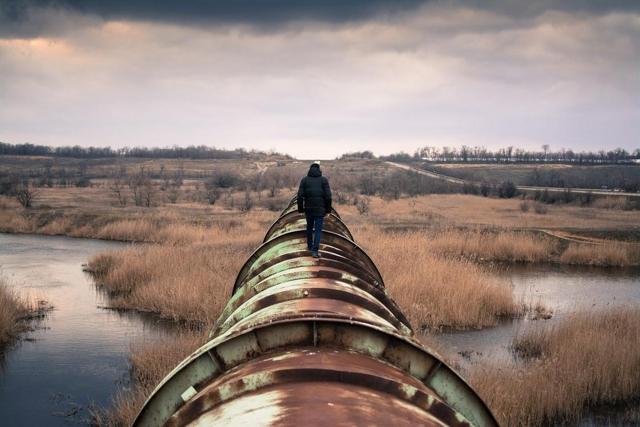 source: Stock Photo
One of my favorite holdings has a lot going for it, as it has increased dividends for 49 straight quarters, and has over $6 billion invested in projects to ensure long-term growth going forward.
Some already know I'm talking about Enterprise Products Partners (NYSE:EPD), a limited partnership designed to pass income through to its unitholders.
Enterprise Products Partners is one of the largest and safest midstream companies. Since it basically takes a piece of the action when companies need to deliver product to various markets (basically taking a toll), it isn't affected as much by low or high energy prices; it moves more consistently under varying market conditions.
That means, like in the recent past, it can do better than most of industry in the upstream or downstream parts of the business when the prices of oil or gas drop, but it also is more subdued when the price of oil or gas climbs as well.
There is some impact on its business from the downward or upward move or prices, but nowhere near as much as other segments of the energy market.
Share price growth will be modest but upwardly consistent
Investing in a midstream company like Enterprise Products Partners should be done with the understanding it's primarily an income, not a growth stock. That said, the amount of investment by the company in future income streams will allow it to be a good growth and income stock over the next several years.
Even so, I still see it as growing at a gradual and incremental pace, rather than the pace some expect when thinking of growth stock expectations outside of the midstream segment of the energy market.
That doesn't mean Enterprise Products Partners can't make a nice move, as it did over the last quarter when getting a nice 9 percent increase in share price. For myself, while it's nice, I don't plan on selling my position in Enterprise, so I mostly ignore that; although it does provide even more of a margin of safety in my view.
I think Enterprise could even surprise more to the upside with its share price, but since my view is investors should consider it primarily an income stock, it could tempt them to sell in response to an increase in market value, rather than hold on for the long term, which I see the most value the company offers.
Performance
Since natural gas liquids account for approximately 55 percent of revenue generated by Enterprise, the increase in gross operating margins in that segment by 7 percent was nice to see.
On the other hand, the drop in gross operating margins for crude oil didn't have as much of an impact because it only accounts for close to 17 percent of revenue.
Its natural gas pipelines, while had volumes drop in the last quarter, but gross margins in that segment increased from $194 million to $201 million.
The company is diversifying the segments of the energy market is serves in, which should allow it to further protect its distribution in response to demand for various energy products. Usually I don't like over-diversification from companies I invest in, but Enterprise looks to be making some nice moves that will gradually grow its market value while allowing it to continue to increase its distribution yield.
Last year it boosted its distributable cash flow from $4 billion in 2015 to $4.1 billion. That should continue to climb.
Tax advantages
Another important part of the income distribution from Enterprise Products Partners is it includes tax advantages; at least for those investors in the U.S. It's similar to getting the additional value of depreciation. Investors should consult their accountant concerning this, but just be aware it's there.
Conclusion
In Enterprise Products Partners investors have a company aggressively pursuing growth when measured against the standards of the industry it competes in, has paid out 49 straight quarters of increased distributions, and provides a tax break on income many other industries don't offer.
Considering the growing demand for energy that won't abate any time soon, this is a company that most investors should continue to hold and increase their positions in.
It's going to be a long time before concerns will be raised on its ability to defend its distribution growth and pay out, and until then, it's one of the safest, large distribution plays available to investors.
I definitely plan on holding and adding to my position in the company. I would encourage you to do the same. I only see upside over the next couple of years for sure, with the strong probability of an ongoing increase in growth and income for several more years.
Disclosure: I am/we are long EPD.
I wrote this article myself, and it expresses my own opinions. I am not receiving compensation for it (other than from Seeking Alpha). I have no business relationship with any company whose stock is mentioned in this article.