As I argued in my piece last night, Why We Bought Back Shares of Northern Dynasty, I have been closely following Northern Dynasty (NYSEMKT:NAK) since November 2010, when we initially bought shares at $13. I should have mentioned that we rode them up to $21 and only reluctantly sold at just under $5 in October 2012 after becoming convinced that the talented political pollster Nate Silver was correct that President Obama would soundly defeat Mitt Romney. We bought back 15k shares in October 2016 at $0.69 after having stayed on the sidelines because of the political risks, despite the strong merits and arguably unlawfulness of the EPA's pre-emptive veto.
With the full disclosures out of the way, given that I spoke with Scott Cousens of Hunter Dickinson around 2:30pm EST, I didn't have as much time to fully craft the underlying details that paint a different picture than what was presented by Kerrisdale Capital's February 14th piece: The Pebble Deposit Isn't Commercially Viable.
On February 23, 2011, Northern Dynasty issued a preliminary assessment report (found here) chronicling the size of the asset base and different modeling scenarios under different commodity prices simulations. Within this report, the relatively lower grade gold and copper grades are fully and transparently revealed. And by the way, during my time as a Senior Investment Associate in Liberty Mutual's Investment Grade bond department, I became good friends with Donald Tucker, who was then an Investment Analyst in Liberty's Metals and Mining private equity group that made direct investments in actual mining projects. We talked frequently and I almost worked for Donald after I built an elaborate model and write up, proving I could add value to the team, on a different mining company. However, given the internal politics, especially at an insurance company, it would look bad for a high performing Senior Associate in the Investment Grade fixed income group to leap frog into a Investment Analyst job, especially in Liberty's more exclusive Metal and Mining group. My point is that at that time period, I was fully engrossed in the metals and mining space and discussing mining investors for our personal accounts a few times per week.
Enclosed below is a snapshot of the 43-101 compliant Technical Report. As management clearly states, the precise lower grade estimates are detailed. So I am not exactly sure how the assertion that Pebble Mine is lower grade is new information. Anglo American (OTCPK:NGLOY), Rio Tinto (NYSE:RIO), and Mitsubishi were fully aware of this and had their engineers kicking tires on the site years ago. Moreover, since they visited the physical site multiple times, they were fully aware of how to build a mine in a remote region and clearly understood the prerequisite electricity needs, and other required infrastructure needed on site to operate. That is the nature of mining, as gold and copper mines are not built in New York City.

Moving along, enclosed below, please find detail as to Cynthia Carroll's hands on involvement in advocating for the Pebble project.
Here is an excellent article in Fast Company written in November 2008 where it documents that she flew up to Alaska to meet with opposition groups.
Here is a direct quote, placing here at the site.
On a cold, windy day almost a year ago, Carroll flew to Alaska to tour half a dozen exploratory drilling sites and have lunch with a dozen native Alaskan women in Iliamna, just 20 miles from Pebble. She listened to their worries about lack of opportunity for their children. "I have four children, and I know what it's like to worry about them," she told the women, promising to look into building a day-care facility for mine workers. On the same trip, she met in Juneau with another woman who has made a mark in a male-dominated environment, Alaska governor and now vice presidential candidate Sarah Palin. Carroll says she sought support for Pebble, but the governor declined to take sides, saying, "We have to listen to the people." Turns out that listening to people is a classic Carroll move.
On March 31, 2009, an Alaskan newspaper article written by Elizabeth Bluemink proves that Cynthia visited the Pebble site and meet with opposition groups.
Now that I have factually proven Cynthia's commitment to the project on at least two physical visits, and there may have been more, now I can move onto Rio Tinto. Here is documentation from Rio Tinto's then CEO Tom Albanese from this March 2008 Alaska Journal article.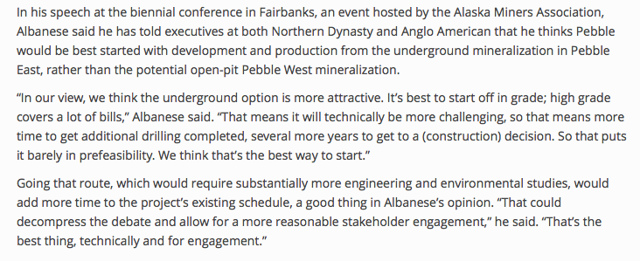 Remember Rio Tinto didn't "abandon" its then 10% stake until April 2014. At that time period, the shares were worth $16 million dollars.
Here are the historical share prices for shares of Northern Dynasty in early April 2014.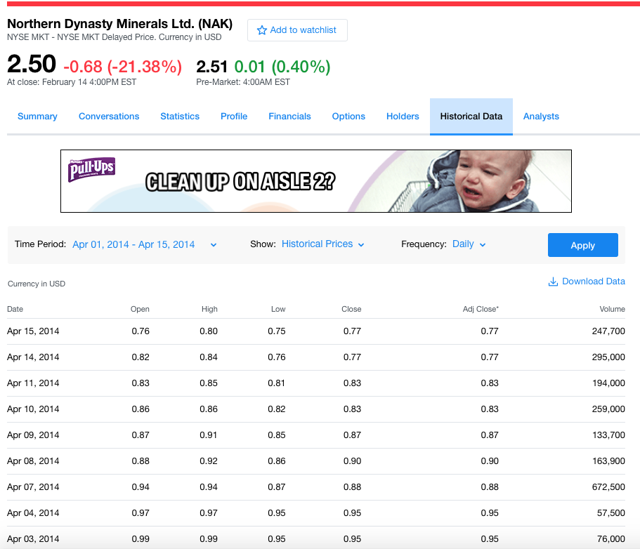 Source: Yahoo Finance
Here is a December 2013 article in the Alaskan News where it chronicles that large pension funds that own shares of Rio Tinto were putting pressure on Rio's management to divest its stake in Northern Dynasty. This is exactly what I wrote last night. In early 2014, President Obama has a few years left in office, Anglo had to pull out as Cynthia Carroll was forced out and Pebble Mine became too much of a lightning rode and distraction for Rio Tinto. For a company with the market capitalization of Rio Tinto, divesting its stake, worth $16 million to avoid the protests and controversy was a practical business decision. It had absolutely nothing to do with the inherent technical challenges of developing the approved and permitted mine nor the lower grade deposit. And as I argued, anyone closely following this name knows that Rio Tinto has consistently stated they are in favor of an underground mine design targeting the higher grade ore bodies.
In closing, I love that Seeking Alpha is a great financial site that openly encourages the debate of both the bull and bear cases for any stock or security. Kerrisdale Capital is entitled to its opinions and analyses based on how they synthesize information, just I have the same set of facts and information, yet I synthesize and draw different conclusions. This type of open debate is what helps readers make the more informed investment decisions.
Disclosure: I am/we are long NAK.
I wrote this article myself, and it expresses my own opinions. I am not receiving compensation for it (other than from Seeking Alpha). I have no business relationship with any company whose stock is mentioned in this article.