General Electric (NYSE:GE) continues to not participate in the industrial rally. With the Select Sector SPDR Industrial ETF (NYSEARCA:XLI) up 5.1% on the year so far investors are looking at a loss of 4.2% in shares of GE. Perhaps the institutional investors in the name know something that retail investors don't know about the president's infrastructure spending plan. Perhaps the plan only involves roads and not energy reliance. Without any clarity on the infrastructure plan I would rather invest in the company on what we know than what we don't know and that's why I believe it is important to continue sifting through the news surrounding the company.
With that said, the analysts at Bernstein recently upgraded shares of GE predicated on the fact of the company will have more profitable growth. The firm believes the transformation taking place surrounding the assets and balance sheet should bode well for the company which warranted them lifting the rating from "market perform" to "outperform" and the price target up to $40. The risks of integrating Alstom into the fold are believed to have been mitigated and with the impending tax reform coming almost everything looks rosy from what the analyst has to say about it. CEO Jeff Immelt seems to believe the same thing as he purchased 50k shares of his own stock the day immediately after the election according to this SEC filing.
Despite Bernstein being optimistic on the stock, the boys and girls over at UBS came up with a different conclusion. The Swiss financial services company did some digging around and found that GE was one of the most underweighted stocks by actively managed funds around the globe when compared to their benchmark weightings. Investors are taking profits in the name and perhaps because of the uncertainties surrounding the policies of the current administration.
Along with Mr. Immelt's strong feelings of his company's share price the board didn't feel the same way in the third quarter of last year by spending $3.7B when compared to the $7B the company spent in the prior quarter on the shares. Was there just a complete lack of confidence in the shares? The decreasing rate in the buyback will have to be observed for 4Q16 and 1Q17 to spot a trend. I wasn't able to find how much they spent exactly on buybacks for the fourth quarter from the 8-K filing and only "$30B returned in dividends and buybacks" was ever stated on the conference call. I will sift through the 10Q once it is available to see if I can find an exact number for the buybacks during the fourth quarter. Hopefully the trend doesn't continue on a downward trajectory because that will decrease my confidence in the name as their confidence is probably decreasing as measured by the decreasing rate in the buyback.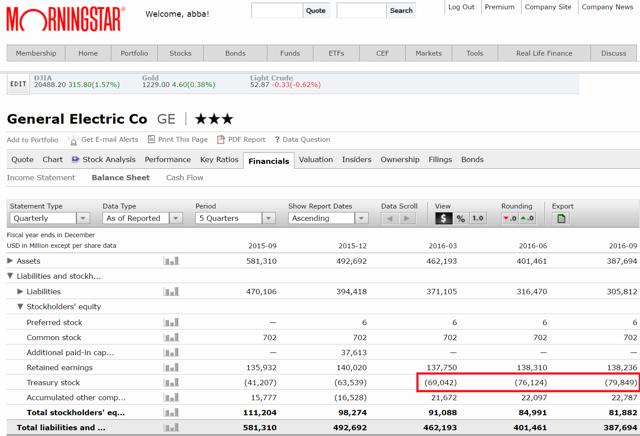 There are certain actions that the current administration has taken which gives investors insight as to how the infrastructure spending is going to take place. One such action is the rhetoric surrounding deregulation and the nomination of an individual who has sued the EPA to actually head the EPA. These actions alone tell us that clean energy will not be a focus in this industry, hence why GE should be looking outside the US to find customers for their wind turbines. One such customer is Saudi Aramco, which has recently taken delivery of their first wind turbine from GE. The world's largest supplier of crude oil Saudi Arabia, is starting to turn its focus on renewable energy to be able to sustain its country.
Though GE sold its home appliances division to Haier for $5.4B in cash a little over a year ago it would seem as if the division was sold a little too early. Just in December a report came out that household appliance shipments increased 13% for the month of November. With the improving economy comes increased spending on housing and appliances are one of those things that gets upgraded. The home laundry category which GE was a big part of was seen as having real strength. If the goal was to off the division altogether then the move was fine, but if it were to create shareholder value I believe that management was a bit premature in pulling the trigger.
Many authors have already written about Jim Cramer's interview with Jeff Immelt and it feels as if the consensus is that Mr. Immelt didn't do so well. When asked about the poor performance of the stock price Mr. Immelt seemed a little agitated and was fidgeting quite a bit in his seat. Mr. Immelt stated, "We're running the president's play." I would have to question him on what that even means at this point in time, no specific plans have been laid out of yet. He was referring to the company being a net exporter when he said the statement but let's face facts, if there is a border tax like the president is wanting other countries will act in kind, which will not be in favor of GE products.
Investors should credit Mr. Immelt for being frank about the dire situation the company has been in since he took over and his strategy to unwind it all. This is still a relatively inexpensive stock and the company is about to return $20B to shareholders via dividends and buybacks for this year. With EPS growth expected to be at 16.8% for this year and 12.11% for the next five years this is still a buy despite some lack of confidence in the company by institutional investors.
I actually initiated my position in GE in late November and have been pretty upset about the purchase thus far. I will only purchase shares if GE stays below $30, because I believe that is where it offers additional value. I've selected $30 because it is the middle of the stock's 52-week range.
I swapped out of Delta Air Lines (NYSE: DAL) in favor of GE during the 2016 fourth-quarter portfolio change-out because I ended up turning a profit in the name (0.2%, or 0.6% annualized) and wanted to lock in those profits. So far, I have lost on the swap. For now, here is a chart to compare how Delta and GE have fared against each other and the S&P 500 since I swapped the names.

Source: Google Finance
At the end of the day, it only matters what a stock has done for one's portfolio. For me, GE is one of my smaller positions and hasn't done anything, as I'm down 1.7% on the name, while it occupies roughly 5.6% of my portfolio. I continue to believe in the name because it still has great earnings growth projections for the near and long term. I own the stock for the wild card portion of my portfolio, and I will continue to hold onto the stock for now. I am up 14.5% since the inception of my portfolio, while the S&P 500 is up 12.4%. Below is a quick glance of my portfolio and how each position therein is performing. Thanks for reading, and I look forward to your comments.
| | | | |
| --- | --- | --- | --- |
| Company | Ticker | % change incl. DIV | % of Portfolio |
| Skyworks Solutions Inc. | (NASDAQ:SWKS) | 15.07% | 10.53% |
| Electronic Arts Inc. | (NASDAQ:EA) | 14.92% | 3.89% |
| Facebook, Inc. | (NASDAQ:FB) | 10.12% | 9.57% |
| The Home Depot, Inc. | (NYSE:HD) | 8.57% | 4.94% |
| Eaton Vance Corp | (NYSE:EV) | 6.58% | 4.85% |
| Diageo plc | (NYSE:DEO) | 3.73% | 10.40% |
| AbbVie Inc. | (NYSE:ABBV) | 1.94% | 3.80% |
| Starbucks Corporation | (NASDAQ:SBUX) | -1.20% | 5.94% |
| General Electric Company | | -1.69% | 5.56% |
| Silver Wheaton Corp. | (SLW) | -1.87% | 7.91% |
| V.F. Corporation | (NYSE:VFC) | -6.60% | 9.01% |
| Gilead Sciences Inc. | (NASDAQ:GILD) | -16.79% | 19.37% |
| Cash | $ | | 4.24% |
Disclaimer: This article is in no way a recommendation to buy or sell any stock mentioned. This article is meant to serve as a journal for myself as to the rationale of why I bought/sold this stock when I look back on it in the future. These are only my personal opinions and you should do your own homework. Only you are responsible for what you trade and happy investing!
Disclosure: I am/we are long GE.
I wrote this article myself, and it expresses my own opinions. I am not receiving compensation for it (other than from Seeking Alpha). I have no business relationship with any company whose stock is mentioned in this article.