In my previous article, I had stated that the OPEC-non OPEC oil deal can only support oil prices if non-OPEC members improve their compliance levels and if OPEC member maintain their 90 percent plus compliance levels in the coming months. On Wednesday, oil prices (NYSEARCA:USO) went down by more than 0.5% with WTI and Brent trading at $52.87 and $55.69 respectively at the time of writing this article. This fall was the result of a bearish weekly oil market report published by the American Petroleum Institute (NYSEMKT:API).
API report another major build-up in U.S crude oil inventories
The American Petroleum Institute reported yet another substantial build-up in U.S crude oil inventories (at 9.9 million barrels) for the week ending February 10th. Last week, API had reported a crude oil inventory build-up of 14.22 million barrels. The gasoline inventories went up by 0.72 million barrels when compared to a build-up of 2.9 million barrels last week. Although this week's API report is less bearish than last week's, the markets reacted negatively to the latest report as experts were forecasting an increase of around 3.25 million barrels in U.S crude oil inventories. Investors must note that oil prices had increased prior to the API report, as the OPEC - compliance factor was supporting the market. But again, OPEC's compliance factor is being overpowered by the rising U.S oil production and U.S crude oil inventories. Also, it will be interesting to see what EIA has to say in its latest weekly oil market report. Last week, oil prices had reacted differently to the API and EIA reports. However, if even EIA reports a similar build up in crude oil and gasoline inventories, then oil prices will fall even further.
U.S shale oil production to increase in March
Apart from the latest API report, there is another bearish factor that can put a lot of pressure on oil prices in near future. As per the latest government data, the U.S shale oil production is expected to increase by 79,000 barrels per day to a total of 4.87 million barrels in March 2017 (it will be the biggest month on month rise since October 2016). Output from the Permian shale play of New Mexico and West Texas will increase by 70,000 barrels per day while output from Eagle Ford in Texas will increase by14,000 barrels per day. On the other hand, output from North Dakota's Bakken field is expected to fall by 18,000 barrels per day in March. Even the U.S rig count has been increasing consistently. The number of U.S. oil and gas rigs increased by 12, to stand at a total of 741 oil and gas rigs, as on February 10 (see below figure).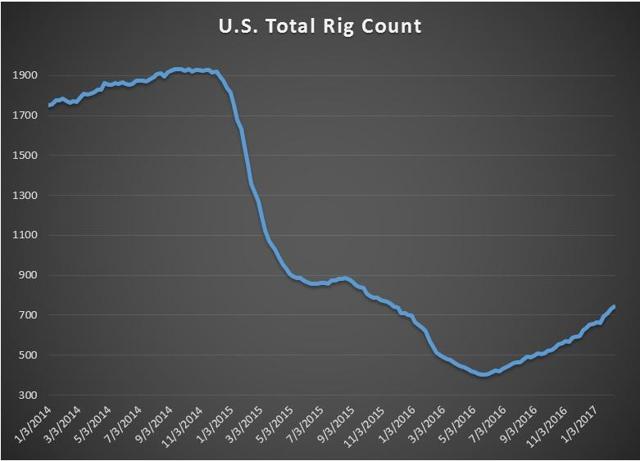 Image Source : oilprice.com
Takeaway for Investors
In my opinion, OPEC's compliance factor will have a major impact on oil prices (NYSEARCA:BNO) (NYSEARCA:DNO) (NYSEARCA:DBO) (NYSEARCA:DTO) (NYSEARCA:OIL) (BATS:OILK) (NYSEARCA:OILX) (NYSEARCA:SCO) (NYSEARCA:OLEM) in near future. Because, there are several bearish factors that are currently affecting oil prices. The U.S shale oil production is going to increase in March, crude oil and gasoline inventories are really high, and there are reports of a rising fuel glut in Asia because of a slowing crude oil demand from China and excess refining capacity. In this scenario, if any OPEC member decides to cheat and if OPEC's overall compliance levels fall in near future, then oil prices will definitely go below $50 per barrel level. Investors must carefully note this.
Disclosure: I/we have no positions in any stocks mentioned, and no plans to initiate any positions within the next 72 hours.
I wrote this article myself, and it expresses my own opinions. I am not receiving compensation for it (other than from Seeking Alpha). I have no business relationship with any company whose stock is mentioned in this article.