Even after a very strong year from Bank of America (NYSE:BAC), returning over 30%, BAC is poised to continue to return strong numbers throughout 2017 and beyond. If we zoom in on the chart, we can see that since November 1st, the stock has almost grown 45%. This is in large part due to a breakout in early November that can be tied to the election.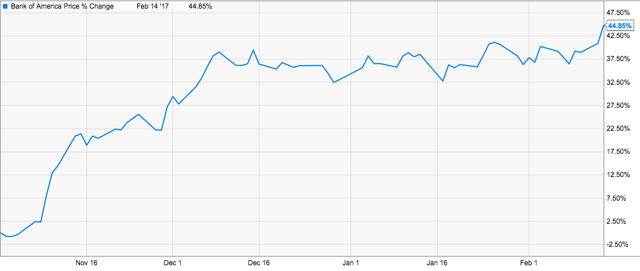 (Source: ycharts.com)
We can attribute this increase in part due to things that Donald Trump has said he wants to change throughout the sector. If you look around, a lot of the bank stocks share this massive increase in price since the election. It is no secret Trump likes his bank banks. With an executive order to repeal the Dodd-Frank Act, BAC is frothing at the mouth. This would allow for BAC to be more competitive in the industry and can focus more on attracting new clientele, which might even reduce some of the volatility in the stock that we have seen over the past 5 years. Regardless on your opinion of the act, it being repealed would be a large benefit to all financial institutions, and that includes BAC.
Lets take a look at how BAC is currently doing when compared to the industry from a fundamental perspective. Being a bank, there are obvious differences from other sectors that we look at. Those include:
Leverage (Assets to Equity > 20x)?
Coverage of bad loans (Bad Loan Coverage > 100%)?
Proportion of lower risk deposits compared to total funding (Deposits to Liabilities < 50%)?
Proportion of higher risk assets compared to total assets (Loans to Assets > 110%)?
Total loans compared to deposit funding (Loans to Deposits > 125%)?
Level of bad loans (Net Charge Off Ratio > 3%)?
Going down the list, BAC goes an impressive 6/6. Which actually is better than industry giants; Morgan Stanley (4/6) (NYSE:MS), and Goldman Sachs (NYSE:GS) (4/6).

(Left to right BAC, MS, GS) (Source : simplywall.st)
Much like their peers, BAC will thrive in an increasing rate environment. The rates will increase revenues for the company in the long run. Some advantages are already being seen in Q4 results. Under Trump, we could see rates increase at a quicker pace than anticipated as well. This is all good news for BAC as the 2% growth seen in Q4 of this year will only continue to grow. Once again comparing to other giants in the industry, Wells Fargo (NYSE: WFC), could see a negative reaction due to all the mortgage exposure. Once again, setting BAC apart from the rest.
Technical Outlook
When looking for long prospects, I look for four things on a chart:
A new 55-day high (close)
Trading above the 200-day moving average (dma)
A bullish cross on the MACD
A breakthrough of the upper Bollinger Band
Running BAC through my screener, it passes every test where it currently sits. The technical setup is very similar to MS, which I wrote on just over a week ago. Which is up over 7% since then. Looking at BAC specifically, we can see that it just broke and closed at new 55 day highs of $24.06. The MACD is just beginning to cross, and the stock is well above the 200 dma.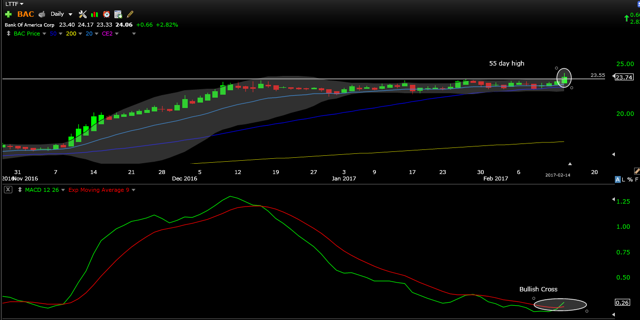 (Source: tc2000.com)
It is similar to MS, in the sense that it is breaking out of a base that is just about 3 months long. As I mentioned in that article, it is sometimes referred to as a volatility squeeze. This being where the price does not fluctuate very much and the price stays within a tight range as outlined below. Ideally, this also works out where old resistance becomes new support. This meaning the stock will have to fight to get back into the previous trading range. As a trend follower, I will not buy this setup until it breaks out above the range. This is because it could stay in the range for an extended period of time, or break below it and the stock will now have to fight to get back into the previous range. In BAC's case, we are okay because the stock has closed about the previous range it tried to break out of previously, but failed multiple times. This is a very bullish signal.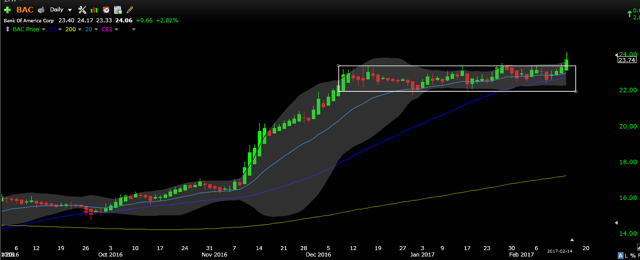 (Source: tc2000.com)
As for the new highs, we can see here that there were multiple tests of the $23.40 level, which finally broke today. The price would test the level in bunches at least 4 times over the past three months. This helps confirm that this level could become new support. But this does not mean this is where my stop is place as that cause for a small position size.
(Source: tc2000.com)
Wrap-Up
What if I am wrong and BAC isn't ready to break out? Well my rules keep in the name until it closes below the stop that I set on the individual stock. In this case, that is $20.16. This is not just some random number I pick. I pick my stop based on a number of things, every chart is different. In BAC's case, it has to do with old support. When a stock breaks out like BAC did in November, it can make it hard. But, lucky for me, there was a little pause in the uptrend. The price bounced around for a few days right around $20.16 (as highlighted below).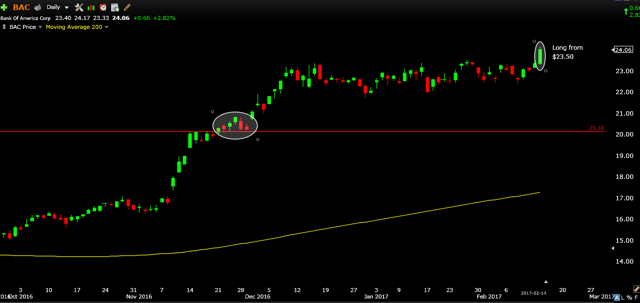 (Source: tc2000.com)
Being long BAC from $23.50, I am risking roughly 14% on this trade. This is right at the edge of my typical 15% buffer. If the position starts riskier than 15%, the position becomes smaller in dollar value, which makes the position less valuable in the long run. This is because I never risk more than 1% of my portfolio in any one position.
The downside to where my current stop is, is that the stock could correct to the 200 dma if the market where to pull back, and I would be stopped out. One could move that stop further down. But because I already have a position in MS with a stop risking 24%, I do not want to have the same exposure in two names that are trading very similarly.
To conclude, what Trump does and does not follow through on may have a large impact on the industry as a whole but specifically BAC. But between the raising rates and falling operations expenses, now is the time to go long BAC as it breaks out of the 3 month volatility squeeze.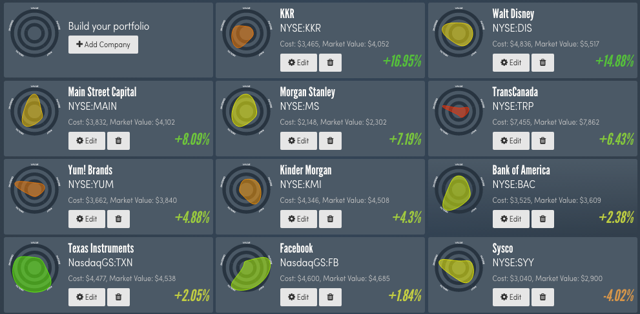 (Source: simplywall.st)
For full transparency, I have shown the stocks I own and have written articles about since late November of 2016. You do not have to be right 100% of the time to be profitable. Proper analysis and technical research can help you keep your portfolio in the black.
Thank you for taking time to read. If you received any value out of this article, please follow me for further updates. I look forward to your feedback! Also, check me out on twitter @TFChartAttack for updates on my Canadian positions and to learn more about my system!
Disclosure: I am/we are long BAC, MS.
I wrote this article myself, and it expresses my own opinions. I am not receiving compensation for it (other than from Seeking Alpha). I have no business relationship with any company whose stock is mentioned in this article.