Golden Arrow Resource Corp. (OTCQB:GARWF) owns a silver-lead-zinc project called Chincillas located in the Jujuy province in North Western Argentina.
Golden Arrow has other mining exploration assets, as the Antofalla silver-gold-base metals project also located in Argentina. This article however will focus only on the Chinchillas Silver Project, which is driving the near-term value of Golden Arrow shares.
The article will be organized as follows: First, we will look into the current status of Golden Arrow, as it is quite particular. After this, we will analyze the Chincillas project in detail, before dissecting how the JV will work out and where we stand now in regards to the milestones of the JV. Following this, there will be a small assessment of Argentina as a mining jurisdiction. Finally, we will wrap it all up with an investment rationale chapter and a conclusion warning the reader about investing in small cap stocks before making a buy recommendation.
Current Status
Golden Arrow signed a 25/75% JV deal with Silver Standard Resources Inc. (NASDAQ:SSRI) in October 2015 in order to advance the project to production. Under the terms of the JV agreement, Golden Arrow will become a 25% owner of the new joint venture company and every Golden Arrow common share will be exchanged for a single common share of the new JV company, which presumably would also be a publicly traded company.
Silver Standard's own Pirquitas mine is being depleted and its mill is running out of feed in 2017. The Pirquitas mill is located only 42km by road from Chinchillas and the plan is to combine the existing mill and the new ore in order to extend the life of the Pirquitas mill for one or two decades. A final development decision has to be taken before the end of march 2017.
Silver Standard has until March 30, 2017 to make a development decision (Silver Standard Corporate Presentation January 2017).
The Chincillas Project
The Chincillas Project is a silver project with important lead and zinc by-product credits. In October 2015, Golden Arrow announced a conditional business combination agreement (JV) with Silver Standard, which owns and operates the Pirquitas silver/zinc mine located approximately 35 km south from the Chinchillas Project. This combination would minimize capital investment for Golden Arrow as the mill and ancillary mining assets are already on site and they could keep the already locally trained workers with a job. Furthermore, There are no royalties on the property.
Since the acquisition of the project in late 2011, exploration has progressed rapidly and the project now hosts 101m oz Ag Eq in the indicated category and a further 44 million ounces of silver in the inferred category (with a Cut-Off AgEq of 130 g/t).
For Golden Arrow's shareholders, the proposition is enticing as it will fast-track Chinchillas to production as they would become 25% owner of the combined Chinchillas-Pirquitas silver mining operation. Golden Arrow would moreover receive 25% of the net profits of the Pirquitas Mining operation (less certain expenses) for the 18-month period commencing October 1, 2015 to March 31, 2017.
Chincillas Mineral Resources (Silver Standard Corporate Presentation January 2017).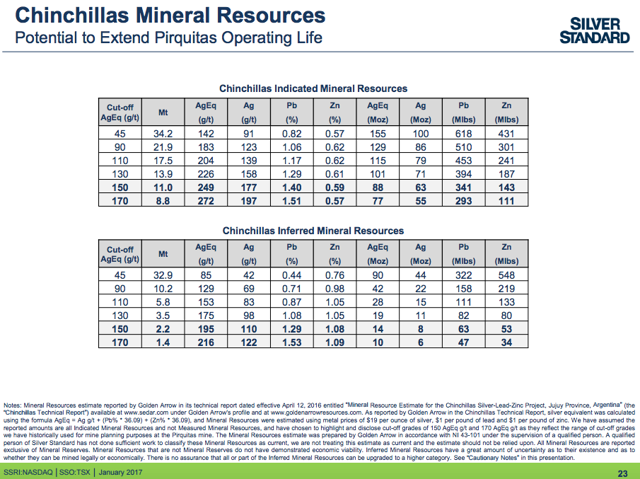 A 4000 tpd mill and processing plant is located at Pirquitas and there is no need to make any major investment to switch to the new ore. The only difference would be that Chincillas could also produce lead and not only silver and zinc. Immediately near the Chincillas' open pit, there is interesting exploration potential.
Chinchillas has nearby exploration potential (Golden Arrow Corporate Presentation February 2017).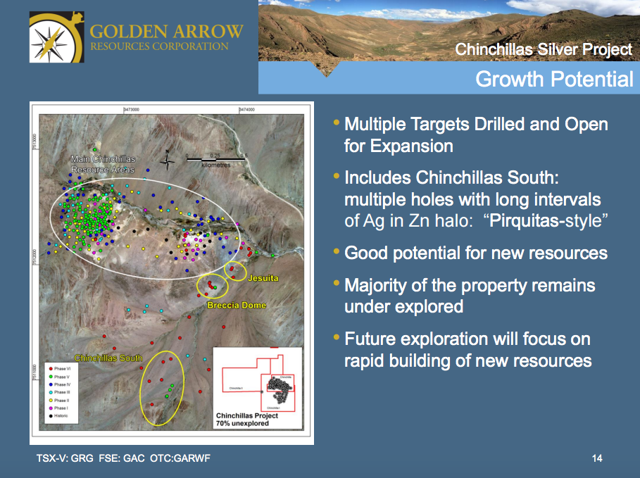 Ore is found directly at surface and mining could start at the end of 2017 if the JV decides to proceed. Below we can see a cross cut of the ore body as it is known now.
The mine scenario is straightforward, with mineralization starting at surface (Golden Arrow Corporate Presentation February 2017).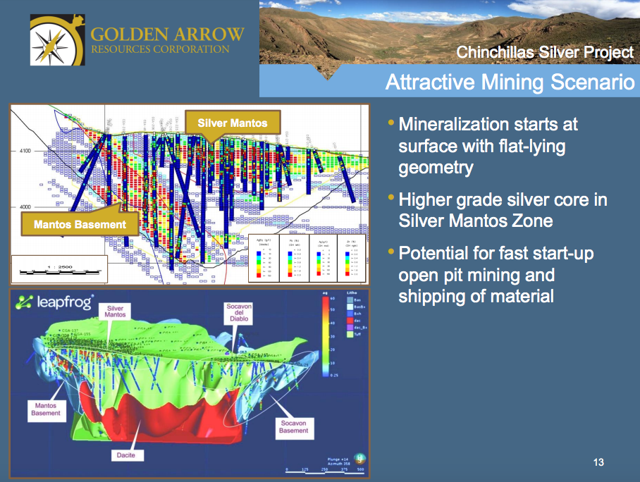 The JV
Silver Standard has three operating mines: The Marigold and Seabee gold mines in Nevada and Saskatchewan (CAN) respectively, as well as the aforementioned Pirquitas silver mine in Jujuy, Argentina.
The Pirquitas mine has been in commercial production since 2009. It consists of a classic open pit mine, with closure due to depletion scheduled for January 2017. Silver Standard will process stockpiled ore throughout the remainder of the year, before they will either close the mine permanently or elect to make a small underground operation.
The JV between Silver Standard and Golden Arrow is structured as follows:
Golden Arrow shareholders receive one common share of a NewCo - an entity incorporated by the company - in exchange for each common share of Golden Arrow held.
Following completion of the arrangement, existing Golden Arrow shareholders, as shareholders of NewCo, will hold a 25% interest in a newly incorporated company (JVCo), which will hold the company's Chinchillas Project and SSRI's Pirquitas Mine and a 100% interest in Golden Arrow's pre-arrangement assets.
Silver Standard will hold the remaining 75% interest in JVCo and will be the operator of the combined Chinchillas and Pirquitas assets.
Completion of the arrangement is conditional on Silver Standard electing to proceed with the arrangement at any time before or on March 30, 2017.
Silver Standard is under no obligation to exercise its right to elect to proceed.
The agreement stipulates that Silver Standard would spend up to $12.6m based on the success of the pre-development activities.
Summing up the expenditures in 2015 and 2016, I am confident that Silver Standard is on track to have reached $12.6m in expenditures at the end of 2016 or by Q1 2017.
Joseph Grosso, Chairman, President and CEO of Golden Arrow, in December stated:
"As of the end of September 2016, Silver Standard has invested approximately US$11mn to advance the project towards pre-feasibility (...) currently at Chinchillas, there are two drills working to complete detailed geo-mechanical and hydrogeological programs in and around the designed open pit by mid-December. Exploration work is also continuing both at Chinchillas and regionally, to delineate additional potential ore feed for the proposed operation."
It should also be noted that Silver Standard already owns close to 5% of the outstanding shares of Golden Arrow, while insiders own around 50%. A complete buyout with a NewCo spinning off the assets that Golden Arrow owns save the Chincillas project could be a possibility for Silver Standard.
Argentina as a mining jurisdiction
Argentina is more famous for unstable politics, the disappearance of political prisoners and a lost war with the UK over some bare sub Antarctic islands in 1982 than for having a sound economic policy. This does not mean however that Chincillas cannot be developed successfully and profitably.
Silver Standard operated the Pirquitas mine since 2009 - with ~68 oz Ag produced to Q416 - without any major problems originating from the local government. The biggest Gold Arrow shareholder is The Grosso Group, which is an Argentinean mining exploration conglomerate operating in Argentina since 1993 and credited with three major precious metals discoveries: the Gualcamayo, acquired by Yamana Gold (NYSE:AUY), the Navidad, a giant silver deposit acquired by Pan American Silver (NASDAQ:PAAS) and Chinchillas.
The Grosso Group is also behind two other traded companies, Blue Sky Uranium Corp. (OTCQB:BKUCF) and Argentina Lithium & Energy Corp. (OTCQB:PNXLF). Thus, it looks like Grosso knows how to successfully do business in Argentina, a positive for Golden Arrow.
Per the 2015 edition of the Fraser Institute Annual Survey of Mining Companies, Argentina ranks as the lowest mining jurisdiction in the world. This result is highly influenced by some provinces that rank very low, skewing the whole country down in the attractiveness index. Jujuy ranks relatively well compared to other jurisdictions in South America however.
The Fraser Institute Attractiveness index uses data from mining professionals (Fraser Institute Annual Survey of Mining Companies 2015).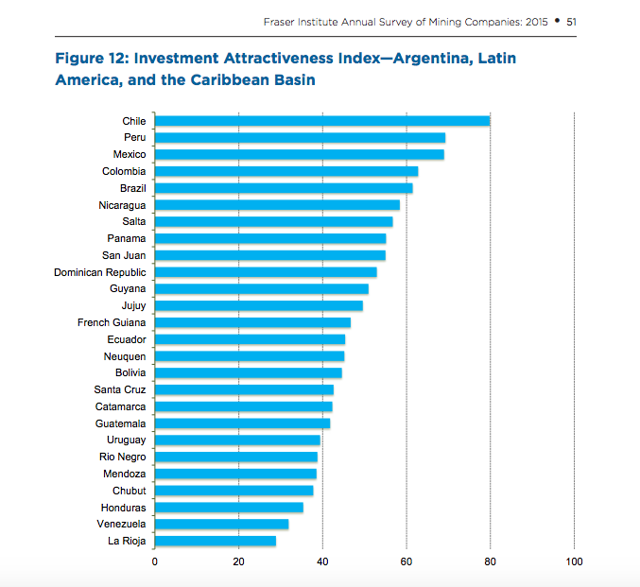 As anecdotal evidence about Argentina going relatively well in the near term, this IPSOS pool shows how Argentineans are generally positive about the direction in which their country is going.
Argentineans believe their country is heading in the right direction (Courtesy IPSOS).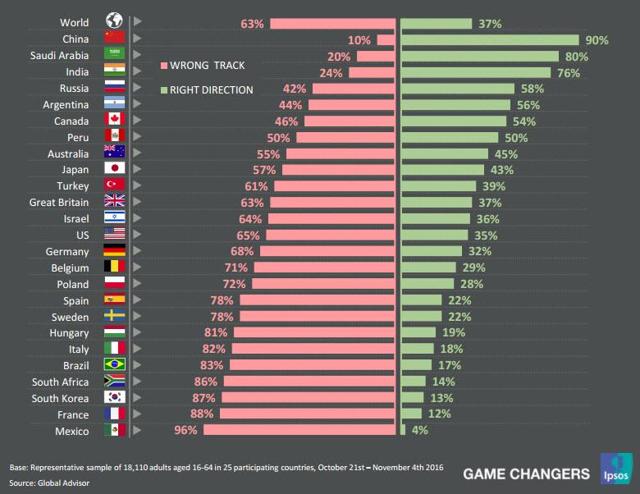 Golden Arrow believes Argentina to be a safe jurisdiction and adds five more positive aspects to consider
A new mining-friendly government has made significant changes, making Argentina an emerging market for investment.
The government has lifted currency controls and devalued the Peso.
It has decreased export taxes on concentrates.
Some import restrictions were lifted.
There is a renewed relationship with the IMF.
All in all, the Jujuy province of Argentina does not look like a place where making money with mining is harder than any other developing jurisdiction. As our investment horizon is 2-12 months, it is my opinion that the risk reward profile is skewed to the reward side (more below).
Investment Rationale
Big, economic silver deposits are rare and far between and the same goes for zinc, which is now believed to be in shortage worldwide. The Chinchillas project has 100m oz Ag Eq in the indicated category, with more in the inferred. What I find compelling is that the by-product will mainly be lead and zinc, with the zinc price having gone up by 60% in the last year while lead price is also going strong in 2016-2017 (see charts below). It means that the due diligence Silver Standard did back in 2015 was done based on lower silver, zinc and lead prices and yet they still decided to proceed with investing more than $12m into the JV.
One year Zinc price chart (Courtesy Bloomberg).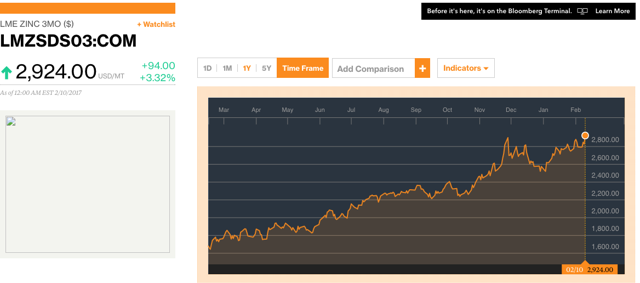 Five years lead chart (Courtesy LME).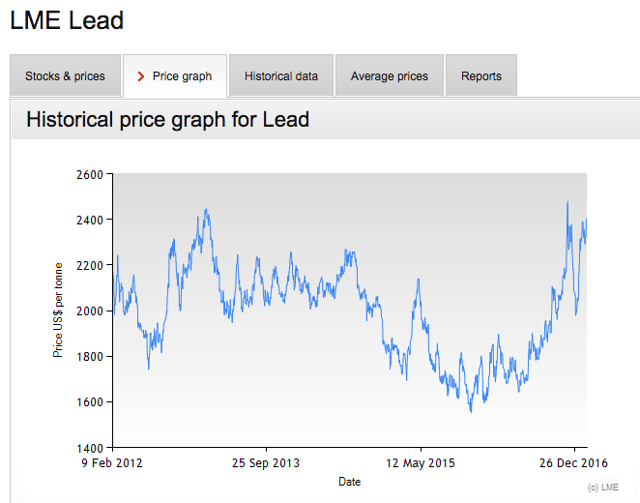 If we consider a base case where metal prices stay flat and we use Pirquitas' cash costs of $13.50/oz-$16.00/oz as a guidance, we can make a back of the envelop calculation and that shows that net cash flow from Chincillas could be over $300m.
100m AgEq x $3 of net margin per oz = 300m.
The Pirquitas mine building cost was around $220 million in 2009, and Golden Arrow will get 25% of this, including an already locally trained workforce as well as mining permits.
If we consider no inflation, we could guesstimate a replacement cost of around $220m that will be saved by combining the two operations. Hence we get to 300m + 220m = 520m.
We should of course discount this by at least 33% because it is located in Argentina, so it will be $343m. We could of course decide to discount more, accounting for more political risk, I feel however that 50% would be too harsh here.
Golden Arrow would receive 25% of the NewCo, valued at $85m (25% of 343m), and with its capitalization being around $55m, it thus looks as if the company is undervalued. With around 100m shares, the value per share should namely be $0.85.
Nota bene, we did not assign any value to the cash on hand and to the other projects owned by Golden Arrow as I try to be generally on the safe side of things.
Conclusion
This is an investment with a binary outcome as investors await Silver Standard Resources' business combination decision and it presents considerable risks. The risks include, but are not limited to, that Silver Standard decides not to proceed with the JV, and gold, zinc and lead price fluctuations. Political, environmental and regulatory risks in Argentina have to be accounted for as well, as it is share liquidity, which includes large bid-ask spreads and all other usual risks inherent to small cap stock investing.
Nevertheless, as there was a drastic improvement in silver, lead and zinc prices since the deal between Golden Arrow and Silver Standard was signed in October 2015, I am nearly certain that this deal will go ahead. I furthermore believe that Golden Arrow shareholders will be generously rewarded for their 25% of the combined operation.
Production at Pirquitas has come to an end and the business combination represent for Silver Standard an excellent opportunity to extend the mine life and extract extra value out of its processing infrastructure already present at the mine. Without an extra source of feedstock, a decision on whether to close it will need to be made in the next two months.
If the combination goes through then Golden Arrow will become a major silver player in Argentina and an important new producer of zinc in south America. As such I recommend a buy at current levels with a 12-month target price of $0.85 to reflect the fair value of Golden Arrow assets.
Disclosure: I am/we are long GARWF.
I wrote this article myself, and it expresses my own opinions. I am not receiving compensation for it (other than from Seeking Alpha). I have no business relationship with any company whose stock is mentioned in this article.
Editor's Note: This article covers one or more stocks trading at less than $1 per share and/or with less than a $100 million market cap. Please be aware of the risks associated with these stocks.