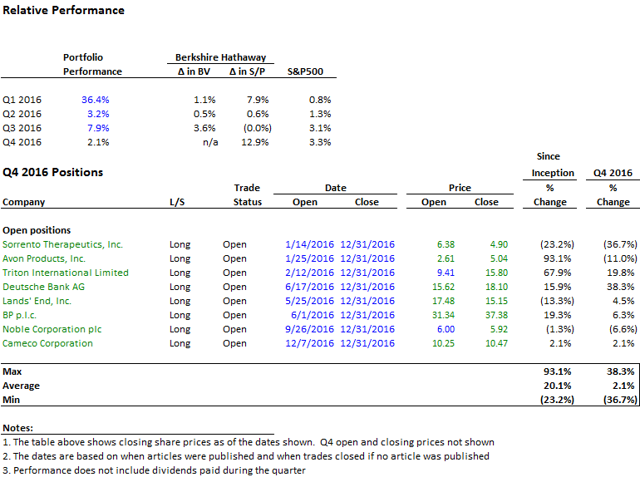 This article is intended to provide an update on the Q4 2016 price performance of the stocks that I am currently following and have added to my portfolio during that time. Additionally, I have provided a fundamental and technical update as appropriate for each security.
Overall, the portfolio performance was satisfactory and in line with the S&P500 but below BRK. Additionally, both BP and TRTN have strong dividend yields with 7.6% and 19.1% (based on my historical cost) respectively which is not included in the performance measures.
Within the portfolio, DB and TRTN outperformed for Q4 2016 while SRNE and AVP lagged. What follows is a brief discussion on each individual security.
Sorrento Therapeutics (NASDAQ:SRNE)
My article on SRNE (NASDAQ:LONG) was published on January 14, 2016. I personally acquired the stock at around $6 and that day the stock closed at $6.38. As of December 31, 2016, the stock closed at $4.90.
The stock has been a disappointment since I acquired it. While volatile it has been in a sideways pattern between $4.70 and $8.25 with no signs of a breakout coming. Fundamentally, SRNE has a lot of value but fundamental value usually means nothing in the short term. I am going to continue to hold my shares expecting higher prices in the medium to long term.
Avon Products (NYSE:AVP)
My article on AVP was published on January 25, 2016 when the stock closed at $2.61. Since then the stock has been on a tear closing at $5.04 on December 31, 2016. The high was $6.89 on October 25, 2016. Since then AVP has undergone a correction following better than expected Q3 2016 earnings and declined 11% in Q4 2016. Q4 2016 earnings are expected on February 16, 2017 before the market opens.
Technical Outlook
Technically, if you assume the recent decline is a correction then higher prices should be ahead. The upcoming Q4 2016 earnings announcement could potentially be a catalyst.
I have labeled the recent advances and related corrections as a wave 1-2, 1-2 which is an aggressive count and would call for an aggressive advance towards $10.50 in the coming months.
In anticipation of such a move I have personally added to my position at around $5 per share.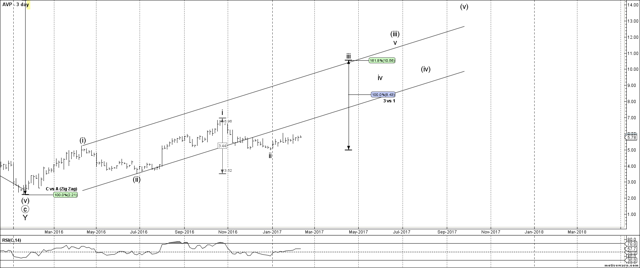 Triton International (NYSE:TRTN) formerly trading under TAL International (NYSE:TAL)
My article on TRTN was published on February 12, 2016 when the stock closed at $9.41. Since then the stock has raced higher hitting a high of $26.35 yesterday (February 13, 2017). The stock closed at $15.80 on December 31, 2016.
Technical Outlook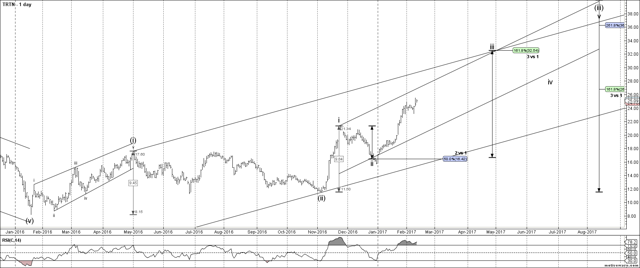 Technically TRTN has had an impressive run since the February 2016 intraday lows of $8.68 on February 11, 2016. The initial run from $8.68 to $17.70 seems to be wave 1, the correction down to $12.52 on November 16, 2016 wave 2 with wave 3 currently in progress. Wave 3 typically extends to 161% of wave 1 from the end of wave and should target $32 to $33 per share.
Up to this point the company's reported earnings have not kept pace with the stock. This is very typical as investors buy shares in anticipation of improved earnings. Investors who wait for the improved earnings to be reported often are left behind and miss the investment opportunity.
For Q3 2016, TRTN reported a net loss of $51.2m (EPS loss of $0.74) and an adjusted net loss of $2.8m (EPS loss of $0.04).
For the 9 month period ending September 30, 2016 TRTN reported a net loss of $36.3m (EPS loss of $0.52) and an adjusted profit of $30.1m (EPS profit of $0.43).
Clearly the Q3 and 9 months results were not consistent with a company whose shares have surged 203% since its February 2016 lows and which pays $1.80 in annual dividends.
However, the company did indicate in its Q3 2016 earnings report presentation that a cyclical improvement was underway but was masked by the negative effects of the Hanjin bankruptcy. I expect this cyclical improvement to be evident in the Q4 earnings which are expected to be announced in mid to end of February 2017.
Lands End (NASDAQ:LE)
My first article on LE (short) was published on April 25, 2016 when the stock closed at $26.00. On May 26, 2016, I closed the short position at $17.48 for a 48.7% gain and went long. Since then stock has been volatile and unfortunately, trending lower. As December 31, 2016, the stock closed at $15.15.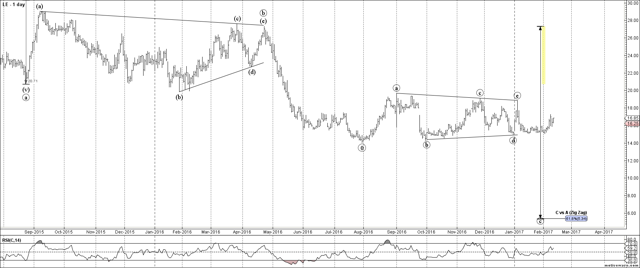 Technically the stock has kept on falling and my initial assessment that a bottom had been found turned out to be incorrect. That being said, the signs of a turn are still there so I am holding my current long position for now.
Deutsche Bank (NYSE:DB)
Initially I had a short position on DB which I liquidated for a 16% gain and went long on June 21, 2016 at $15.50. That turned out to be the correct call but about 3 months early and the stock continued to decline hitting a low of $11.18 on September 29, 2016.
Since then a number of fundamental news items have powered the stock higher hitting $20.85 on January 25, 2017 for a nearly 100% gain off the lows. These include the $7.4BN settlement with the DOJ and earnings figures for Q3 and Q4 that were satisfactory but more importantly not as bad as the market may have anticipated.
However, the real catalyst for the surge in financial sector share prices (including DB) was the surge in U.S. medium and longer term yields with the 10 year U.S. Treasury yield increasing to 2.43% from 1.36% in July 2016.
To me, its obvious that a new bull market in DB shares started at $11 per share. I expect over time, DB shares to continue much higher and for now I am holding my shares.
When and if a correction ensues (they eventually always come) then I will add to my position.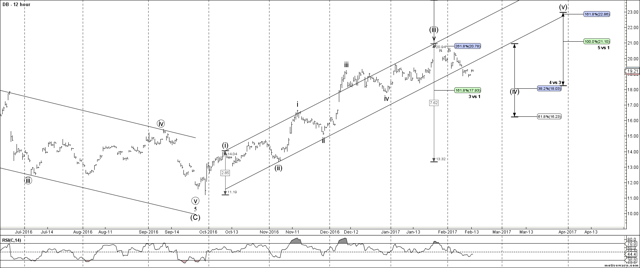 BP PLC (NYSE:BP)
On June 1, 2016 I published an article on BP PLC acquiring the stock at $31.34. On December 31, 2016, the stock closed at $37.38. During Q4 2016 the stock gained 6.3%. At my initial cost BP had a 7.6% dividend yield.
This is a primarily a play on higher oil prices. Technically speaking, oil bottomed at $26 and for the last several months WTI prices have fluctuated between $50 and $55. I think that's about to change and once we break through $55 WTI could quickly head to $65-70 which will be a game changer for the oil industry.
Technical Outlook
The technical patterns are quite clear and are similar for oil itself and related securities such as oil stocks and USD/CAD which is heavily oil dependent. I expect a break out in oil will propel BP higher targeting $50 per share.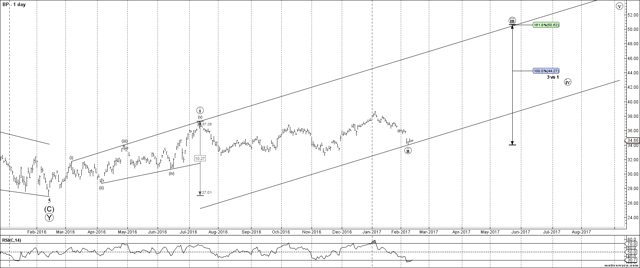 Noble Corp. (NYSE:NE)
On September 26, 2016, I published an article on NE acquiring the stock at $6.00 per share. On December 31, 2016, the stock closed at $5.92 for a 6.6% loss for Q4 2016 (the stock opened the quarter at $6.34) and a 1.3% loss since the stock was acquired.
As with BP, my investment in NE is based on the anticipation of higher oil prices. However, NE with its focus on offshore drilling will be significantly more volatile than BP.
As with TRTN, I expect earnings to lag the share price as NE has long term contracts which will have to expire before the company can take advantage of higher rig rates. While potentially a negative in the medium term to longer term, this is currently a huge advantage as NE does not have to worry about liquidity and solvency as is the case with some of its competitors.
Technical Outlook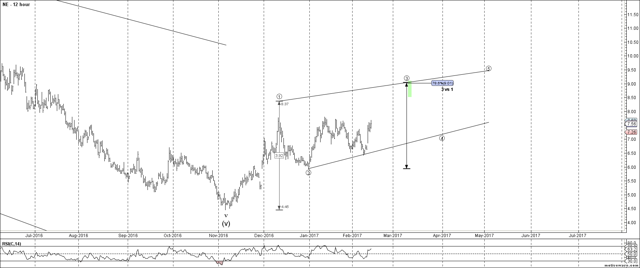 The share price movement of NE since the lows are not entirely clear. That being said since oil has clearly bottomed I will assume that $4.50 was a long term bottom for NE and that we are now moving higher in a new bull market. The assumed pattern (leading diagonal) targets $9-10 per share. Long term this stock can move much higher.
Cameco Corporation (NYSE:CCJ)
On December 9, 2016, I published an article on CCJ acquiring the stock at $10.30 per share. On December 31, 2016, the stock closed at $10.47 for a 2.1% gain.
Technical Outlook
However, more interesting was the significant volatility in the shares since then.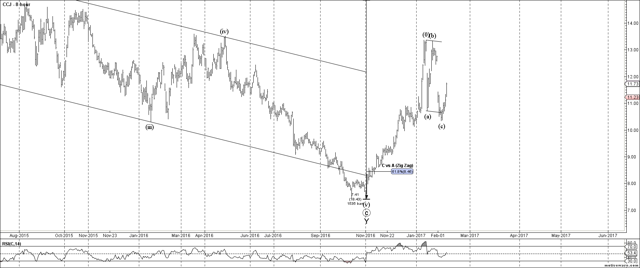 On January 17, 2017 the company pre announced its Q4 2016 earnings stating i.) that earnings will fall short of analysts expectations, ii.) the final 2016 earnings would include non cash asset impairments of between $180m to $220m ($0.45 to 0.56 per share) and that iii.)further cost cutting and rationalization are planned for 2017.
I did not regard any of these points as newsworthy but the shares nose-dived as a result and were down 18% on January 1, 2017. The share price then quickly rebounded to $13. Then on February 1, 2017 the company announced that one of its customers, TEPCO claimed a force majoure and refused to honor its previous long term uranium supply contract. Shares decreased by 11% that day and basically retraced the entire post earnings pre announcement gains in a few days.
The chart above shows graphically the result. This is a clear ABC correction in 3 waves and essentially means that once the correction is complete (which it seems) shares will continue in the direction of the previous trend i.e. higher.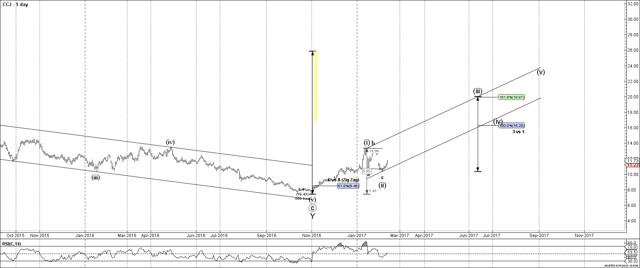 Assuming the correction was wave 2 then wave 3 follows and should target $20 per share in the medium term. Confirmation of this move will come once shares break through the previous highs around $13 to $14.
Final remarks
Overall average Q4 2016 portfolio performance was satisfactory slightly lagging the S&P500 by 1.2%. 2016 performance was very strong up 55%
The individual shares have been selected based on picking long term bottoms for selected securities (or tops in case of short opportunities). Although there is no over arching strategy for the portfolio a few themes can be gleaned from the selections.
First, I currently have no shorts in the portfolio and that reflects the fact that most stocks are still in an uptrend. The bull market that started in 2009 does show signs of exhaustion but has not yet peaked. I expect 2017 to produce a turning point in stocks which will generate significant short opportunities.
Second, the current portfolio is made up of securities that will benefit from higher inflation and higher interest rates. This is obviously the case for banks and commodity related stocks (DB, BP, NE, CDE and CCJ).
TRTN which basically owns a huge steel inventory (in the form of steel containers) will also benefit from rising steel prices and rising container leasing rates. AVP is a play on a weaker dollar which will eventually result once inflation expectations in the U.S. climb higher.
Additional disclosure: This article presents the opinions of the author and does not provide individually tailored investment advice. It has been prepared without regard to the individual financial circumstances and objectives of persons who receive it. Investors are recommended to independently complete their own due diligence and evaluate any investment independently as well as to seek the advice of a financial advisor. The appropriateness or legality of a particular investment will depend on an investor's individual circumstances and investment objectives. The securities, instruments, or strategies discussed in this article may not be suitable for all investors, and certain investors may not be eligible to purchase or participate in some or all of them. The article is not an offer to buy or sell or the solicitation of an offer to buy or sell any security or instrument or to participate in any particular trading strategy.
Important note: Do not forget to follow me to get the latest research on the latest long and short investment opportunities.
Disclosure: I am/we are long AVP, DB, TRTN, CCJ, LE, BP, NE, SRNE.
I wrote this article myself, and it expresses my own opinions. I am not receiving compensation for it (other than from Seeking Alpha). I have no business relationship with any company whose stock is mentioned in this article.