Stocks discussed on the in-depth session of Jim Cramer's Mad Money TV Program, Tuesday, February 14.

Cramer sees the market undergoing a tectonic shift. Business is better both in the US and overseas. Stocks are reacting to Fed rate hike chatter differently. "Business has momentum. This market is saying that momentum will not be broken up by three rate hikes, nor by the president, nor Congress. It is a rising tide that is lifting almost all of the boats, except those that did best under Obama," he added.
When Fed chair Janet Yellen spoke about a rate hike earlier, the markets would plummet. Those days are gone and it is time to recognize that when the Fed tightens, business is doing better. This is the validation that the market wants.
Moreover, Trump is a pro-business President. The bank stocks are doing better and they seem cheaper to Cramer versus the rest of the market. "They are only going to get cheaper if Trump's deregulation allows them to return capital at their own pace and not the pace of the government," said Cramer.
Another rule Cramer wants investors to unlearn is that even if investors think stocks are undervalued, it doesn't mean it is true. Other markets are doing better than the US even though their economies were worse than the US.
Investors get used to the new rules and get ready for a rate hike. Rates go higher when there is demand for money. When that happens, the bank stocks rally. Trump is a pro-business President even if his approach is unorthodox.
CEO interview - T-Mobile (NASDAQ:TMUS)
T-Mobile posted a strong quarter and had 1.2M branded postpaid subscribers which is their best number since the last year. Cramer interviewed CEO John Legere as a part of his 'Invest in America' week in San Francisco.
When Legere took over as CEO, he said he'd fix the arrogant industry. "Every move we make, it's our intent that the whole industry move," said Legere. He admitted that T-Mobile does not have the big money to spend on commercials like its competitors but their approach is to pick its moments. "We do them disruptive; we do them with disruptive partners. And then we work around them. We manage the social," he added.
His goal is to have the industry move into unlimited data for mobile. He thinks the industry should be viewed from a different perspective of unlimited. There are some new changes he is looking ahead to like new devices, 5G and serving customers in a different way.
"In a short period of time other companies are asking themselves, hey wait a minute, maybe there is a different way to engage our customers and employees. And that is what I am. I am all about customers and employees," said Legere.
The competition wanted T-Mobile to disappear but T-Mobile's unlimited data plans are eating into their share. The competition is also offering unlimited plans now. Legere also spoke about its successful Super Bowl commercial.
CEO interview - Visa (NYSE:V)
Visa reported a stellar last quarter with high volume growth. Cramer interviewed Visa CEO Al Kelly in his second executive segment. Kelly said that the global economy is doing well with the exception of Brazil.
With the closure of Visa Europe last year, Visa is now a global company and "it has the finger on the pulse of the world economy," said Kelly. There was strength in US, Mexico, Asia, Russia and Europe in the last quarter.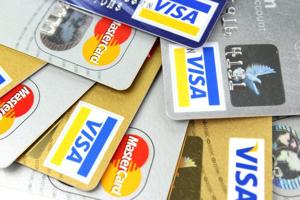 India is a good engine for growth as the government's initiative to adopt digital payments has taken off. There is a big opportunity for the company in India in the next decade.
Kelly said that Visa wants to be at the center as the world transforms to Internet of Things. When a driver goes to pay a toll or buy gas, Visa wants to be the payment solution for it. "We simply want to integrate into that infrastructure and create a payment mechanism that ties into it," he added.
Cramer called Visa a good secular growth story.
CEO interview - Flex (NASDAQ:FLEX)
The stock of Flex was up 30% in the last year and 13% in 2017. It reported in-line earnings last quarter. The company has undergone transformation from being an electronic manufacturer, to an innovator that helps customers create new products and provide expertise in stages of design. Cramer interviewed CEO Mike McNamara to hear what lies ahead.
McNamara explained that technology is changing with the Internet of Things. While everything has been connected to the internet for years, it is getting more intelligent and generating real-time data. "You now have new data sources where you can actually build new business models on the back of that new data that you have in the field. So, the actual device itself is now intelligent," he added.
He also believes that technology will not eliminate jobs but change the way people work. It will lead to job growth in the new industry where people will be needed for coding, designing and manufacturing.
McNamara was excited about AR and VR. Personalization is becoming a reality as companies are digitizing their supply chain and manufacturing process. He said that companies already have the products and the technology but they need it to be manufactured. That's where Flex steps in and innovates to get the product to the market.
Self-driving cars and health care are growth areas for the company and they make up a bigger part of Flex's revenue.
::::::::::::::::::::::::::::::::::::::::::::::::::::::::::::::::::::
Jim Cramer's Action Alerts PLUS: Check out Cramer's multi-million dollar charitable trust portfolio and uncover the stocks he thinks could be HUGE winners. Start your FREE 14-day trial now!
Get Cramer's Picks by email - it's free and takes only a few seconds to sign up.