HyperChange Episode 10 - Shake Shack (NYSE:SHAK) Company Overview
History
Shake Shack's story is one of grassroots success and humble beginnings. Originally a hot dog stand in Manhattan's Madison Park, Shake Shack decided to bid for expansion into a new restaurant that was being constructed as part of the park's overhaul in 2004.
It won the bid, quickly introduced burgers to the menu, and sure enough, the signature lines around the block started to form. At this point, it realized the concept had a lot of potential, and the rest is history!
This same location is still open, buzzing and personally where I go to get my Shake Shack fix.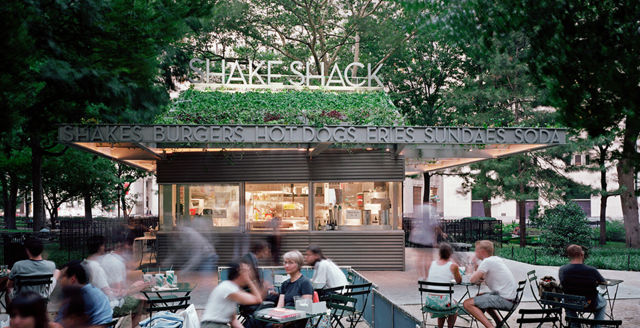 Leadership From A Luxury Dining Background
Shake Shack's leadership team comes from a background of very high-end cuisine. Founded by one of New York City's most prominent restaurantuers, Danny Meyer, luxury is embedded in Shake Shack's DNA.
Meyer is the CEO of Union Square Hospitality Group, a restaurant conglomerate that owns NYC foodie meccas such as Union Square Cafe, Blue Smoke, Marta, The Modern and many more.
Shake Shack was Union Square Hospitality Group's first significant push into creating a dining experience for the masses, bringing all the industry knowledge of how to operate a successful high-end establishment in Manhattan into the simplicity of a roadside burger and shake stand.
Randy Garutti, the CEO of Shake Shack, has been working with Meyer since the age of 23 (he's 41 now) and was the manager of one of his successful high-end restaurants before leaving to join Shake Shack.
With Meyer as the Chairman and Garutti as the CEO, Shake Shack has a duo of very capable and experienced restaurantuers running the business.
The Business Is Still In The Early Innings Of A Remarkable Long-Term Growth Story
By the end of 2016, Shake Shack will have 114 stores around the world. This represents astounding growth of nearly 714% in 5 years, from when the company only had 14 stores in 2011.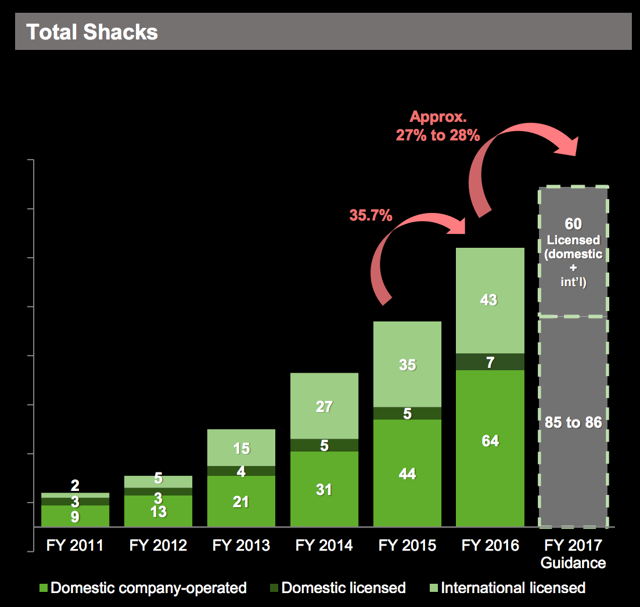 Interestingly, Shake Shack has taken a different route than many of its fast casual competitors and has expanded significantly through franchising. Of Shake Shack's 114 locations, 64 are owned and operated by Shake Shack while the other 50 are franchised.
Although this growth seems impressive, it's nothing compared to what lies ahead. Shake Shack's footprint is still a drop in the bucket compared to many other fast-food or fast-casual companies.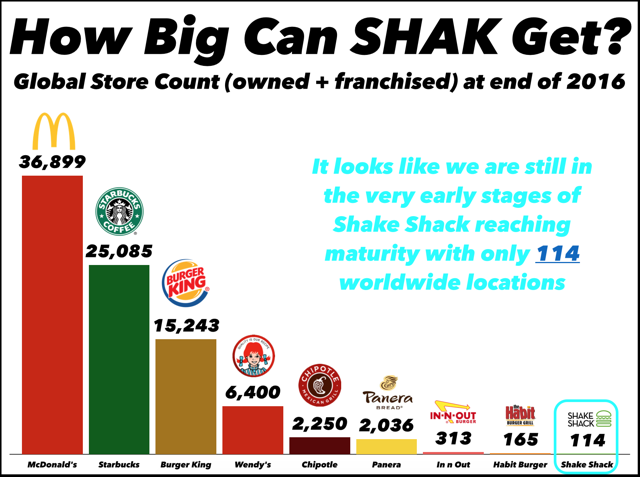 Even if Shake Shack were to triple its store base, it would still have less than 25% of the locations that Panera (NASDAQ:PNRA) or Chipotle (NYSE:CMG) operates today.
App Launch: Trying To Incentivize Repeat Business
In late January, Shake Shack announced the launch of a brand new ordering app.
The app, which allows you to order ahead from a mobile device, is a very similar concept to the app strategy that Starbucks (NASDAQ:SBUX) has enjoyed so much success with.
Although Shake Shack has a talented digital team (see its website here), and I bet they will build an excellent app, I'm not convinced this will have a material impact on the company's business.
Coffee makes a lot of sense as something to build an app around. It's addictive, and something that most consumers want daily (if not twice per day).
Shake Shack burgers are phenomenal, don't get me wrong, but I don't think it's the kind of business where customers will go on a daily basis. For this reason, the app's launch is not as exciting to me as Shake Shack's other 2017 growth initiative, breakfast.
Breakfast Launch Provides Big Upside Optionality
This is probably the biggest change to Shake Shack's offering since the famous Chicken Shack debut of 2016.
News recently began to surface that Shake Shack was trialing a limited breakfast menu at certain locations. This isn't just a big deal for Shake Shack customers, but potentially for the company's valuation as well.
Restaurants are fascinating businesses in that a large portion of the costs are fixed, while the revenue can be remarkably variable. Adding an additional meal to the menu is a brilliant idea to boost same-store sales growth.
Shake Shack is already paying rent and operating its stores on a daily basis, so the incremental costs of more ingredients and additional labor is minimal.
Right now the breakfast appears to still be in beta mode, with only 6 locations offering it. The menu is relatively simple and consists of NYC classics, the bacon, egg and cheese, and the sausage, egg and cheese.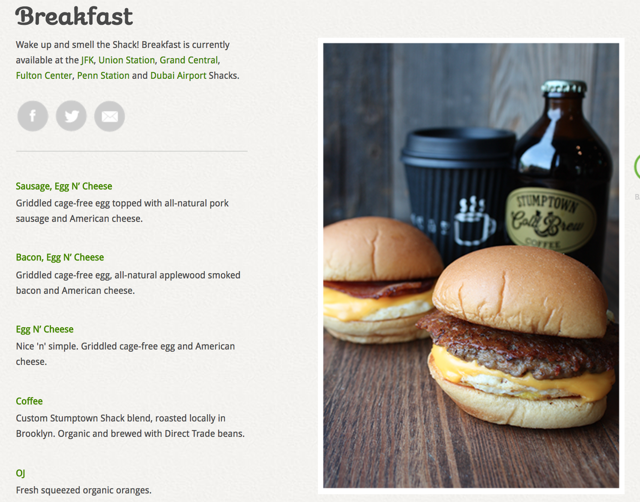 If this breakfast launch is rolled out across the company's entire store base, and is successful, it has the potential to make each Shake Shack location incrementally more profitable. For this reason, the breakfast is Shake Shack's biggest opportunity to expand its industry leading restaurant-level margins even further.
To give you a better perspective of what the experience of Shake Shack's breakfast is like, I went to the Fulton St. location with a few friends to try it out. Check out our review below:
Financials
Perhaps the most exceptional thing about Shake Shack is not the burgers, but the company's profitability. In Q3 '16, Shake Shack reported restaurant level operating margins of 28.8%, and guided for preliminary 2017 restaurant level margins of 26.5-27.5%.
To put it gently, that's astronomical, and a key reason Shake Shack deserves a premium valuation on a Price/Sales basis.
For instance, before E. coli-gate, Chipotle (CMG) was regarded as an ultra profitable restaurant as well. In 2015, Chipotle reported restaurant level margins of 26.1%, but in 2016, that number was cut in half to 12.1%. Even at its peak of restaurant-level margins in 2014 of 27.2%, Chipotle trailed the margins Shake Shack is achieving today.
On top of exceptional profitability, Shake Shack has consistently posted rapid revenue growth.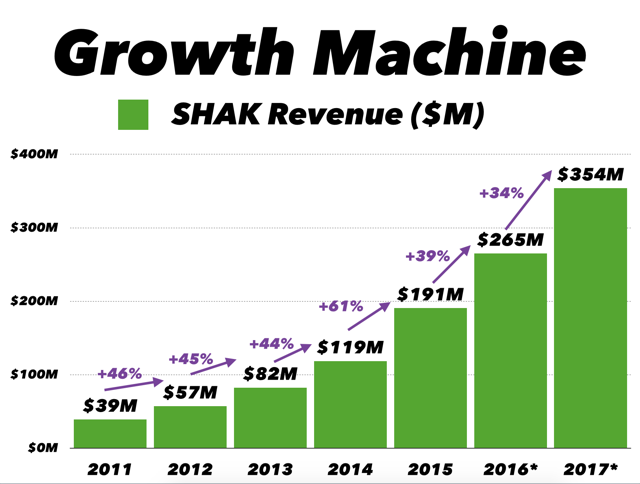 Shake Shack's revenue is projected to grow 39% in 2016 this year to $265M. As the business becomes bigger and bigger, it is also piling up more cash than it can spend. As of Q3, Shake Shack had $74M in cash and no debt.
The company's earnings are exploding in 2016, with EBIT of $22.8M through the first 3 quarters of the year (up nearly 10X from the first 3 quarters of 2015).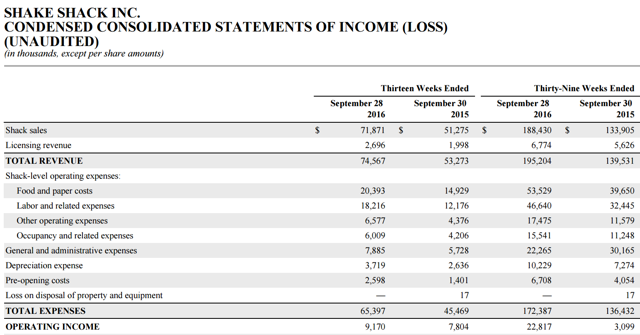 Valuation
Shake Shack is growing, profitable, and at $36.50 per share, the valuation is more than compelling.
The analyst consensus for 2017 revenue is $354M, representing growth of about 33%. Given the current share price of $36.50, and assuming 38M shares outstanding, we arrive at a market capitalization of ~$1.4B. This puts the 2017 P/S ratio at 4X.
Because of its rapid growth but stagnant share price, Shake Shack has seen very healthy multiple contraction since going public. When I first wrote about the company in early 2015, the stock was at $40 ($1.5B valuation) and set to do ~$190M in sales for the year, a P/S ratio of 8X.
During my research for this article, I was baffled to discover that as its valuation multiples have contracted, Shake Shack has become cheaper than McDonald's (NYSE:MCD) on a P/S basis.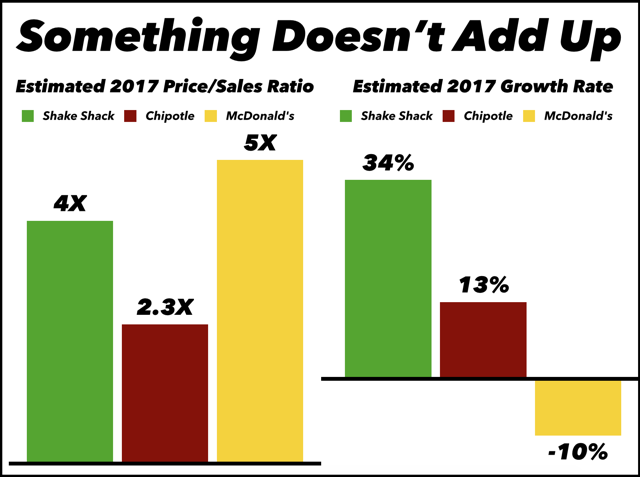 This discrepancy is most likely explained by the fact that Shake Shack looks dramatically more expensive than McDonald's on a P/EBIT basis.
McDonald's trades at 14.4X 2016 P/EBIT ($108B/$6.75B), while Shake Shack trades at 47X 2016 P/EBIT ($1.4B/$30M). For several reasons, I do not think these metrics accurately reflect the value of each company.
For instance, Shake Shack is on pace to invest $9M this year in new store openings. That added to my 2016 EBIT estimate of $30M improves Shake Shack earnings 33% to $39M and drops the P/EBIT to 36X. Shake Shack is growing so quickly that it's temporarily depressing its overall earnings. This trend is likely to continue for several years and is why I prefer to value the company on a P/S basis.
Risks
Chipotle remains a cautionary tale for Shake Shack and other restaurant industry investors. In the age of the internet, one negative headlines (or a series of them in Chipotle's case) can have catastrophic effects on traffic and therefore profitability.
If Shake Shack either loses its cool factor, doesn't keep up the high quality and consistency of its food, or has a nightmare food safety situation, the company's valuation is likely to get hit.
Conclusion
I've always been a huge fan of Shake Shack's business, but never the stock, until now.
The company has proven it can execute and the business is quickly outgrowing the company's stagnant valuation.
At a P/S ratio of 4X, long-term investors who believe that Shake Shack's growth will continue and its impressive restaurant-level margins will be sustained, have an attractive buying opportunity in front of them.
Disclosure: I/we have no positions in any stocks mentioned, and no plans to initiate any positions within the next 72 hours.
I wrote this article myself, and it expresses my own opinions. I am not receiving compensation for it (other than from Seeking Alpha). I have no business relationship with any company whose stock is mentioned in this article.