By Scott Tzu
Jack Dorsey certainly made a statement yesterday when it was revealed he bought $7 million worth of Twitter (NYSE:TWTR) stock on the open market. In a filing that hit late on Valentine's Day, it was disclosed that he had bought the shares, making a statement about his conviction for the company that couldn't have come at a better possible time.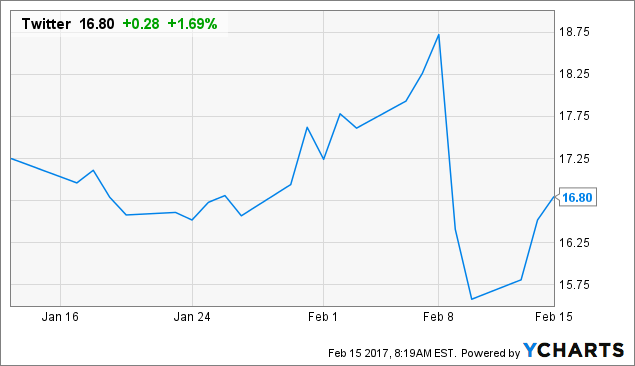 As you can see from the chart above, Twitter shares actually did rally back some after getting decimated on earnings. You can see that on both Monday and Tuesday of this week, shares took back some of the ground that they lost after earnings. Dorsey's open market purchase hitting the market on Tuesday night should set shares for a boost on Wednesday to start the session. Shares are up about 2% pre-market as of the time of this article. Where they go from there and where they go toward the end of the week remains to be seen.
There has been a lot of talk since earnings about what the "bottom" is going to be for Twitter and many people have speculated that it could be as low as $10 or maybe even lower over time. Many people have predicted that the "implosion" over at Twitter was going to drive shares much lower, especially given the fundamental financial picture of the company. We wrote an article just a couple of days ago saying that it was starting to look like there was "blood in the streets" and that we still thought Twitter was both a good buy and a good potential acquisition target.
Dorsey's buy gives us a little bit of insight into how we think Twitter should be valued. Those value in the company at far less than $11 billion are the same people that think shares could move closer to $10. While, from a fundamental and financial standpoint there probably DCF models and other traditional valuation methods to arrive at this conclusion, they all seem to simply ignore common sense. Jack Dorsey bought 7 million shares of this company this week in the $15 range not because the net present value of the company's future cash flows told him that $15 was a bargain, but simply because he knows that the valuation for a social media company could still be very conservative and because he may have faith in initiatives for the company going forward that haven't caught on and gotten traction yet.
If not anything else, Dorsey's buy finally makes a statement that he is committed to the company. For the last couple of quarters it has been easy to criticize Dorsey for overseeing two companies and potentially spreading himself too thin, causing executive turnover, lack of vision and lack of production and results at Twitter. It is one of the things that we have been immensely critical of, writing in our last article,
Nobody has been more critical of Jack Dorsey than we have been. We think the arrogance of running several companies, while one or either of these companies is underperforming is an insult to shareholders. Mr. Dorsey needs to either dedicate himself completely to Twitter or he needs to hand over the reins of the business and allow somebody else to come in and properly focus 100% on the company.

Investors and shareholders are stunned, similar to the way that we are, because the company seems like such an obvious asset that it is baffling that they can't properly monetize it. To the outside observer, this is rather appalling. To add onto that the fact that the CEO is currently working for several companies is even more baffling. We think that Jack needs to shape up or ship out.
OK Jack, you can stay for now. The move of buying $7 million worth of stock isn't him dedicating his full schedule to Twitter, but it certainly is a sign of conviction that in one way or another, he is on board to at least the tune of $7 million of his own money. It is a gesture that we like, and one that we would like even more if it is followed up by subsequent purchases either by Jack or by other members of the executive team.
Dorsey's method for valuing the company and driving the conclusion that shares are worth a purchase here in the $15 range is very similar to ours. We take a very simple, common sense approach to valuing the company. Given the amount of media coverage Twitter gets and the fact that it will definitely be the medium of choice for the next four years for our president and his administration, does $11 billion simply seem like enough of a valuation? Without even peering into the company's financials, it is easy to say that $11 billion looks relatively cheap.
After all, this is a company that gets tons of free advertising every single day on television and it is also a company with a couple of very promising strategies being implemented for the future. Streaming video, organic content and content generation, paired with live commentary from users and live streaming video are all the key to unlocking future organic growth and keeping users on the platform. As we said in our last article, Facebook knows this, and that is why they are trying to implement all of the same features.
Jack's open market buy is a step in the right direction. Assuming that he is buying because he believes in the future of the company, it is a sign that the stock may have bottomed around $15 per share. Those that believe the stock needed to go back to $12 or $13 are, we believe, sorely mistaken and not taking into account the importance of the platform in today's day and age. We continue to support the common sense conclusion that as a social media company, Twitter remains undervalued and we also continue to believe that the company could make an attractive acquisition at the price it currently sits at. We are long Twitter and will add on the dips.
Disclosure: I am/we are long TWTR.
I wrote this article myself, and it expresses my own opinions. I am not receiving compensation for it (other than from Seeking Alpha). I have no business relationship with any company whose stock is mentioned in this article.