Synchronoss (NASDAQ:SNCR) was down last week after reporting Q4 2016 earnings that missed the analyst revenue and EPS consensus. The consensus included the divested activation business and the underlying growth trends remain robust. The company reiterated the 2017 revenue outlook and expects to create a lot of cross-selling opportunities with IntraLinks, which it recently acquired. The so-called "Synchronoss 3.0" will not have the legacy activation business (which was a drag on valuation) and will have higher margins and free cash flow. The market seems to be underestimating the growth opportunities ahead and is treating Synchronoss as a no-growth stock, which I believe has created a solid long-term buying opportunity. The last time an opportunity like this presented itself was in early 2016 (is this a seasonal thing?) and my article was titled, "Take Advantage Of Fundamentals/Price Divergence." The stock was trading around $26 per share and has almost doubled over the next nine months.
Q4 2016 highlights
Non-GAAP revenues from continued operations in Q4 were $123.9 million. Non-GAAP revenues from discontinued and continued operations were $147.8 million, slightly above the mid-point of the $145-150 million guidance range. Cloud revenues were $123.9 million, near the high end of the $122-125 million guidance range.
The company guided for 2017 revenues in the range of $810-820 million, the same as when the acquisition of IntraLinks was announced. This may have disappointed investors, since the acquisition was closed more than a month earlier than previously guided. I am not surprised with the guidance reiteration since there is a lot of integration work ahead, and the company is probably taking a conservative stance with this year's guidance until there is greater visibility around the integration, which has already started in late January.
2017 EPS guidance also remained the same at $2.45-2.60.
Overall, it was an in line quarter without major surprises since the revised guidance was provided in late December.
IntraLinks acquisition to accelerate growth of the enterprise segment and international growth
So far, the market doesn't like the IntraLinks deal. Since the deal was announced in early December, the stock lost almost a third of its value. The increased debt burden may be the most important consideration that had some investors selling their SNCR shares. And IntraLinks is not exactly a fast grower, but together, I think the two companies can do much better than they could have achieved on a standalone basis. The IL deal significantly deepens SNCR's foothold in the enterprise space and will create significant cross-selling opportunities in the following quarters. With this acquisition and with the divestment of the activation business, SNCR becomes a cloud company with more than a third of the revenues coming from the enterprise segment, a significant improvement compared to less than 2% prior to the acquisition.
The slide below shows this meaningful strategic shift for which SNCR has probably been preparing for at least two years.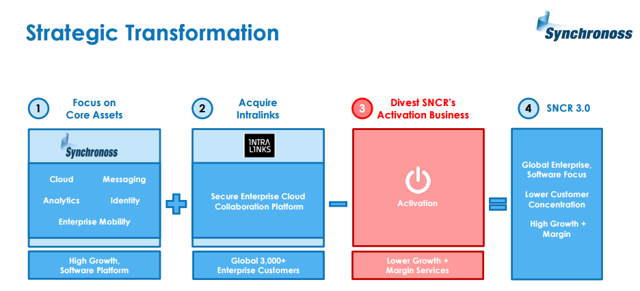 Source: SNCR investor presentation
The lower margin and low growth activation business was a drag on SNCR's valuation which probably kept the company from trading at multiples of other cloud-based companies, and the growing cloud platform was not really appreciated by investors over the last few years. This strategic shift should bring higher margins, growth acceleration of the enterprise segment and stronger free cash flow generation. IL is a recognized leader in enterprise cloud and is being used by 99% of the Fortune 1,000. Prior to the acquisition, IL had a $300 million annualized revenue run rate and around $50 million in pre-synergies EBITDA, and SNCR expects to achieve $40 million in cost savings in 2017. However, these numbers fail to account for significant cross-selling opportunities (shown in the slide below) and a much deeper footprint in the rapidly expanding enterprise market, which is expected to grow from $20 billion in 2016 to $37 billion in 2020.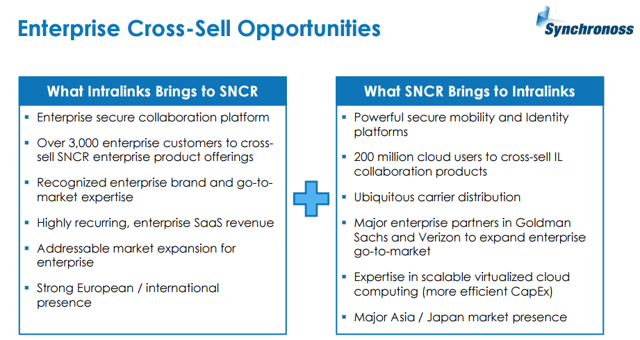 Source: SNCR investor presentation
This transaction also brings significant diversification and lower customer concentration. Another reason for the market not appreciating SNCR before this transaction was the high customer concentration. Roughly 70% of SNCR's revenues came from AT&T (NYSE:T) and Verizon (NYSE:VZ) and the concentration in 2017 should be reduced to 35%. International sales will also increase substantially, from 10% of total revenues to around 25% of revenues, and higher gross and operating margins are an added benefit.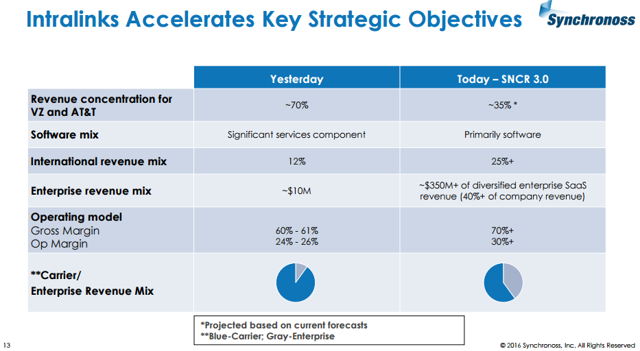 Source: SNCR investor presentation
Based on the available data, I believe that the IL acquisition is a very significant long-term growth driver for Synchronoss. And finally, we should not forget the joint ventures with Goldman Sachs (NYSE:GS) and Verizon, as these strong long-term relationships should drive additional growth over the next few years.
Management changes and integration risks
The IL acquisition brought some significant management changes. SNCR CEO Stephen Waldis stepped down from his CEO role and is now serving as Executive Chairman of the Board while IL CEO Ron Hovsepian is the new CEO of SNCR. Additionally, CFO Karen Rosenberger is stepping down but will remain in an advisory role throughout 2017 to ensure a smooth transition. The changes at the top are significant and the IL acquisition by itself is quite large and near-term business disruptions are possible, but most likely without a meaningful long-term impact.
The market giving Synchronoss a no-growth valuation, providing a good long-term buying opportunity
The market is treating SNCR as a no-growth story at this point. Even PROS Holdings (NYSE:PRO), a company that I covered last year, which is not growing its top line has a higher multiple (though revenues are actually growing under the surface due to the company's transition from a license to subscription-based business, but the growth rates are inferior to SNCR's). Below are the valuation trends of SNCR and the three companies in the space that I covered in the past. I do not expect SNCR to trade at or above HubSpot's or Wix.com's multiples, but do expect it to get to a 20-30% discount.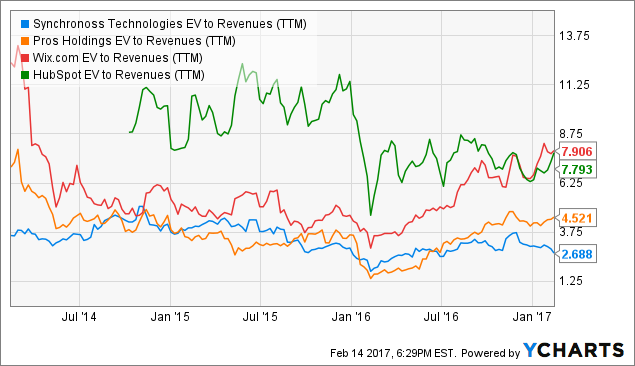 Source: Ycharts.com
I expect SNCR to trade in an EV/Sales ratio range of 4 to 5, at least, and maybe up to 6-7 if it shows it can grow its revenues in the 20-25% range over the next few years. Fellow contributor SevenSeas Investment Research notes that industry EV/sales multiples are 7 (software - internet) and 5.3 (software - application), respectively.
Based on EV/sales ratio in the 4-5 range, I get a $50-66 price target range based on 2017 numbers.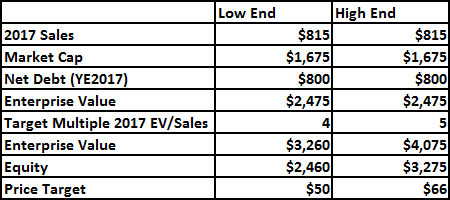 Source: Yahoo! Finance, company guidance, author's estimates and calculations
I am keeping my price target at $60, which is near the middle of the 2017 price target range and expect the stock to trade significantly higher over the next two to three years, assuming a seamless IL integration and continued top and bottom line growth.
Conclusion
I believe SNCR is significantly undervalued at current levels and that the market is treating it as a no-growth story, which is certainly not the case. Evidence of a successful integration of IL and growth acceleration of the enterprise segment should be enough to push the stock substantially higher in the following quarters. IL integration and the higher debt burden are the main near-term risks for SNCR.
Author's note: Growth Stock Forum subscribers had an early look at this article, and have access to regular exclusive updates on every stock I am covering. Readers are invited to take a two-week free trial in the Seeking Alpha Marketplace.
Disclosure: I am/we are long SNCR.
I wrote this article myself, and it expresses my own opinions. I am not receiving compensation for it (other than from Seeking Alpha). I have no business relationship with any company whose stock is mentioned in this article.
Additional disclosure: This article reflects the author's personal opinion and should not be regarded as a buy or sell recommendation or investment advice in any way.