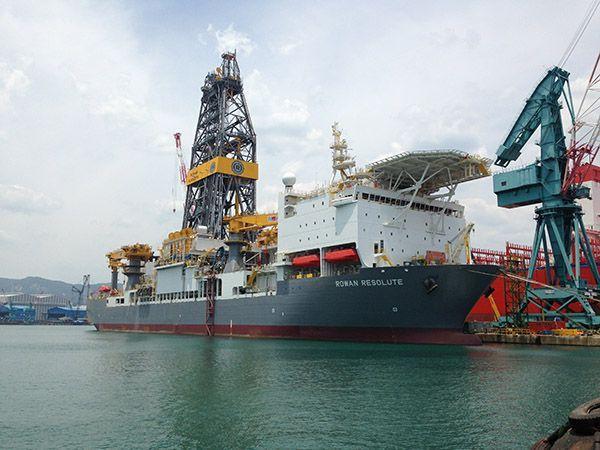 The drillship Rowan Resolute
This article is an update of my preceding article on Rowan Companies (NYSE:RDC) on November 3, 2016, regarding the 3Q'16 and October fleet status.
February 14, 2017, fleet status. [click here]
Ultra-Deepwater Drillships
#

Name

Year

Built

Specification

K feet

Comment CC

Information

Contract

End

Current

Day rate

K$

Location

Information

1

2014

10/12

(Drilling 40k)

4/22/17

Available

619
(Standby 98% day rate)

[REPSOL]

US GoM

2

2014

10/12

(Drilling 40k)

mid 11/17

mid 11/17 - 8/18 [266d]

608

580

(See note)

[Anadarko]

US GOM

3

Q4 2014

10/12

(Drilling 40k)

3/31/17

4/1/17-2/1/18

602

262

(see note)

[Cobalt]

US GOM

4

Q2 2015

10/12

(Drilling 40k)

Available

Curacao
Note UDW Resolute: Dayrate reduced to $180k starting on July 1, 2016 for an estimated duration of 205 days followed by a return to the original dayrate of $615k on January 23, 2017 for the remainder of the primary term which expires in mid November 2017. Thereafter, the contract will be extended for approximately 266 days at $580k.

Note UDW Reliance: Customer will pay approximately $96 million in exchange for the right to terminate the contract as early as March 31, 2017. This deferred revenue is expected to be amortized from April 1, 2017 to February 1, 2018 at the latest. If operations continue after March 31, 2017, the day rate will be reduced to approximately $262,000.
Jack-Up. (9 Jack-ups contracted to Saudi Aramco).
#

Name

Year

Built

Category

Contract

End

Current

Day rate

K $

Location

Indication

Off-rate

1
IV

1986

10/17

65

[Arena]

US GOM

(30d)3Q17
2

2012

2/17

4-wells 11/17?

157

110(?)

[BP]

Trinidad

1 well option

3

2005

5/24

120/178

[Saudi Aramco] Middle East
4

2006

10/18

163/180

[Saudi Aramco] Middle East

(16d)1Q17

5

2004

10/18

163/180

[Saudi Aramco] Middle East

(15d)1Q'17

6

2003

8/17
198
[Saudi Aramco] Middle East
7

1981

9/18

69

[Saudi Aramco] Middle East

(30d)2Q'17

8

1981

9/18

69

[Saudi Aramco] Middle East
(30d)1Q17
9

1981

3/17

69

[Saudi Aramco] Middle East
10
ppi

2008

12/18

195

[Saudi Aramco] Middle East

(15d)1Q'17

(60d)2Q17

11

1980

9/18

69

[Saudi Aramco] Middle East
(30d)3Q17
12

2011

11/17

275

[Lundin]

Norway-North Sea

6 x priced options
13

1998

7/17

<100?

[Total]

North Sea

(30d)3Q17
14

2000

3/18

255

[ConocoPhillips] Norway-North Sea

(Early termination)

15

2002

5/17

<100

[Perenco]

UK-North Sea

16

2011

3/17
180
[BP Trinidad] Trinidad
17

2009

6/17

3-wells 10/17

139

110(?)

[EOG]

Trinidad

(21d)2Q17
18

2011

6/17
55

[Arena]

US GoM
("1") Awarded a contract extension to December 2016 at a 2015-2016 blended day rate of $181k. Four-month priced option at the same day rate. Expected off rate time in 3Q 2016 for repairs and inspections.
Cold Stacked rigs.
Warm Stacked/Ready Stacked/ Available.
The backlog is estimated at $1.665 billion as of February 14, 2017. It is not sure how the 50/50 JV Rowan-Aramco will affect Rowan Backlog?
Commentary:
Rowan Companies released its February fleet status on February 14, 2017. Backlog estimated (fun trading) is now $1.66 billion down 17% from the October 2016 FSR.
What has changed?
For the UDW Drillships not much and the segment is a concern. Three out of four drillships (Rowan Renaissance, Rowan Reliance and Rowan Relentless) are now available. Only the Rowan Resolute is working until August 2018 for Anadarko in the Gulf of Mexico. Yes, the three drillships have been or are compensated but the fact remains that by mid next year the entire Drillship fleet may be out of work unless an early recovery that I do not see likely right now. The UDW segment represents 29.9% of the total revenues from operations.
The Rowan Gorilla II and Rowan Gorilla III have been sold and scrapped. The Cecile Provine and the Rowan California are the only two jack-ups cold stacked now.
Rowan has five jack-ups ready stacked, including the J.P Bussell which is undergoing its 5-y SPS for 90-days in the Middle East.
The Rowan Gorilla IV was awarded a 10-month contract extension @65k/d in the GoM with Arena.
The Rowan EXL III was awarded a contract until June 2017 at $55k/d (Was warm stacked in the previous FSR).
The Ralph Coffman got a 3-wells extension in Trinidad.
The Joe Douglas got a 4-wells extension in Trinidad and 1 well option with BP.
The Rowan EXL II tot a 3-wells extension in Trinidad with BP as well.
The Gilbert Rowe got a contract extension with Aramco until March 2017.
Note: For the 6, 7, 8 all three jack-ups are finishing their task earlier and it seems that the company negotiated an extension as a "blend & extend".
If we look at the original contract and what will be paid now the total may not be a positive depending on the day rate which has not been disclosed. At first glance, it seems a positive and a plain extension, however, looking deeper it is not so clear.
Conclusion:
It was an honest fleet status overall, with a few small contracts. However, it is difficult to see any recovery here? The situation still concerns me and seems to confirm that the oil majors are not willing to invest in the offshore drilling now and despite oil prices at or above $55 per barrel. This is not specific to Rowan but to the entire Offshore drilling industry.
The question is when we will be able to see some "green shoots"?
I believe the answer is, when oil prices have to trade higher and probably above $65 per barrel to allow the oil majors to increase sufficiently exploration CapEx, which is not a good investment for a quick return on investment as the US shale (Permian) may seem to be.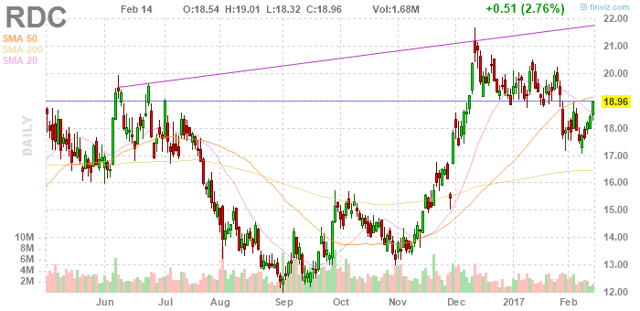 Technically, RDC is now re-testing the resistance at $19, and depending on the next few trading days, we may enter a new bearish pattern or not?
I recommend a light selling, right now -- take some profit off the table, in case -- until the situation turns technically clearer. If oil prices can show strength and trade above $60 per barrel, RDC will be one of the first in the offshore drilling sector to respond positively.
I recommend also to accumulate for the long term on any weakness.
Important note: Do not forget to follow me on RDC and other offshore drillers. Thank you for your support.
Disclosure: I am/we are long RDC.
I wrote this article myself, and it expresses my own opinions. I am not receiving compensation for it (other than from Seeking Alpha). I have no business relationship with any company whose stock is mentioned in this article.