Gilead (NASDAQ:GILD) has hit new multi year lows after the company reported its fourth quarter results and provided guidance for the current year that sees revenues and earnings coming in well below what analysts have been estimating for 2017. Since Gilead's HCV franchise is declining fast, the calls for one or more acquisitions have become even louder. On Tuesday StreetInsider reported that Gilead could acquire Bristol-Myers Squibb (NYSE:BMY), whose share price has fallen a lot over the last months as well. In this article I'll try to examine whether that is realistic and if it would be a positive for Gilead and its owners.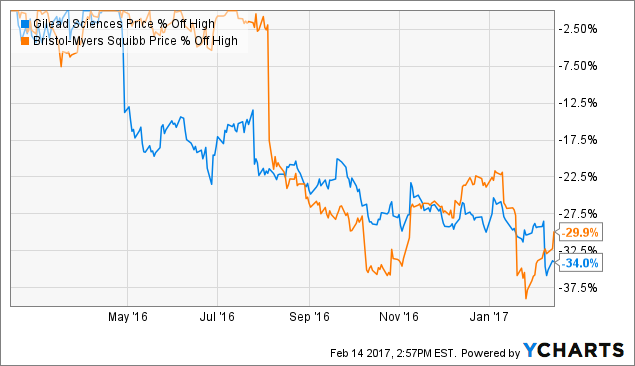 Gilead is trading 34% below its 52 week high, whereas Bristol-Myers Squibb is trading 30% below the one year high -- both have fallen significantly based on a negative outlook for one of the company's key franchises: HCV in Gilead's case, not so positive results for drug trials of Opdivo in certain lung cancers in BMY's case. This fall has made both companies a lot cheaper, and makes an acquisition of Bristol-Myers Squibb a lot more likely than it was half a year ago.
The rationale for an acquisition of Bristol-Myers by Gilead is rather simple and sounds convincing at first sight: Gilead is a cash rich, very profitable and cash flow heavy company with no growth in the foreseeable future that wants to get into oncology but which does not have very huge pipeline prospects or successful existing products in that area.
Bristol-Myers on the other hand is a lot less profitable, produces much lower cash flows and doesn't hold a lot of cash, but has a huge oncology pipeline (with 21 drug candidates being evaluated right now, in addition to a big immunology pipeline and R&D activities in other areas such as cardiovascular and fibrotic diseases) and is forecasted to experience significant growth in oncology as well as other areas in the next years.
Combining those two companies with their unique strengths and weaknesses could mean the creation of a company that is both profitable and cash flow heavy, and which has significant growth potential and a huge pipeline at the same time. Combining these two companies would create a biotech company with $50 billion in trailing revenues, which is around the same level as Pfizer (NYSE:PFE) and Novartis (NYSE:NVS), which have trailing revenues of $53 billion and $49 billion, respectively.
In order to combine Gilead and Bristol-Myers could either merge as equals to create one new company, which on one hand would be rather easy since both companies are almost exactly the same size (with market capitalizations of $89 billion and $87 billion, respectively), thus the owners of Gilead and Bristol-Myers would receive ownership of roughly half of the combined company, each, but on the other hand it would be complicated to sort things out regarding management, BOD, headquarters, etc.
The other possibility is that one buys the other, in this case Gilead would be the acquirer (since holding more cash and being more profitable), this is what the StreetInsider report suggests as well. Let's look at how this could play out:
Let's calculate with a takeover price of $100 billion, which represents a premium of roughly 15% over today's price for Bristol-Myers' shares. Gilead holds $32 billion in cash on its balance sheet, Bristol-Myers holds $6 billion in cash on its balance sheet -- the two companies combined thus hold $38 billion, of which $33 billion could be used to pay for Bristol-Myers' shares (when we assume that the combined company would want to hold $5 billion in liquidity in order to be able to run operations smoothly). This means that another $67 billion would have to be financed via debt for such a takeover to happen.
With its last bond sale in 2016 Gilead sold bonds maturing after 11 years at an interest rate of 2.95%, let's say the company would want to pay back the $67 billion in new debt over 10 years, and we can calculate with an interest rate of 3%. This means an initial interest rate expense of $2.0 billion in the first year.
In the last quarter the two companies generated a combined free cash flow of $5.2 billion, which would mean $20.8 billion annualized -- when we adjust that number significantly to account for much lower cash flows for Gilead going forward, a combined annual free cash flow of $15 billion seems realistic for the next few years. When we subtract the additional interest Gilead would have to pay, the repayment of the debt could look like this:

Gilead could thus repay the debt it would have to take on to acquire Bristol-Myers in just five years under these assumptions, but even when we are being more conservative and assume further declining free cash flows and ongoing dividend payments, the acquisition could be paid for in less than a decade:

When we calculate with free cash flows dropping by another half billion dollars every year and the dividend growing by 10% every year, Gilead would still be able to fully repay the $67 billion in additional debt in just over eight years. If the dividend would not be grown by 10% annually but instead be kept at the current level, the debt could be completely repaid in under eight years, even if free cash flows continue to drop.
We can summarize that Gilead should be able to finance such an acquisition, thus it is possible that Gilead does indeed buy Bristol-Myers, at least from a financial perspective. It is not especially likely though, since we know that Gilead's preference is to make acquisitions in the $1-$5 billion range -- Bristol-Myers would be a lot bigger and would be a lot less easy to stomach. I thus don't think it is something Gilead's management will be keen to do, but we will have to wait and see if the two companies will find together in the future.
Takeaway
A StreetInsider report states that Gilead could acquire Bristol-Myers Squibb, and it makes sense at first sight: Combining profitable and cash rich Gilead with BMY, which offers growth and a huge pipeline could create a biotech giant the size of Novartis and Pfizer.
It looks like Gilead could finance such an acquisition without many problems, even whilst continuing to pay rising dividends.
The biggest hurdle for such a deal is Gilead's management though, which is not very keen to make huge acquisitions. I thus believe that a takeover by Gilead is possible, but not very likely.
Author's note: If you enjoyed this article and would like to read more from me, you can hit the "Follow" button at the top of the page, right next to my name and icon, to get informed about new articles.
Disclosure: I am/we are long GILD.
I wrote this article myself, and it expresses my own opinions. I am not receiving compensation for it (other than from Seeking Alpha). I have no business relationship with any company whose stock is mentioned in this article.