In this article, I am going to discuss small business sentiment. This index is published monthly and contains both current numbers and in some cases a future outlook.
I use this index as a puzzle piece of my macro outlook. To confirm leading indicators and to see whether small businesses are participating in the growth rally. I don't use this index as a leading index.
First, let me start by showing you the ISM manufacturing index. This index is a leading indicator. In other words, this indicator tells us what we can expect in terms of economic growth over the next 1-3 months.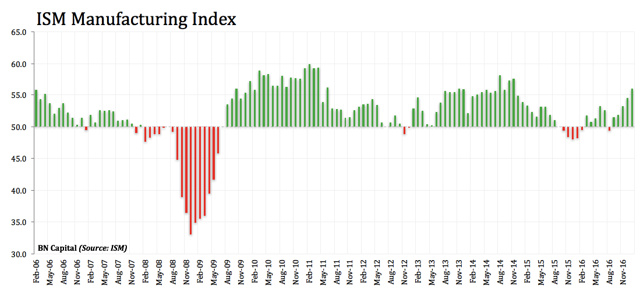 The ISM index has hit 56 in January after accelerating since August/September of 2016. This should be visible when looking at the small business optimism index.
Small business optimism has hit a new multi-year high. The index increased from 105.8 in December to 105.9 in January. The current value is the highest number since 2004. Note the vertical acceleration after the election of President Trump.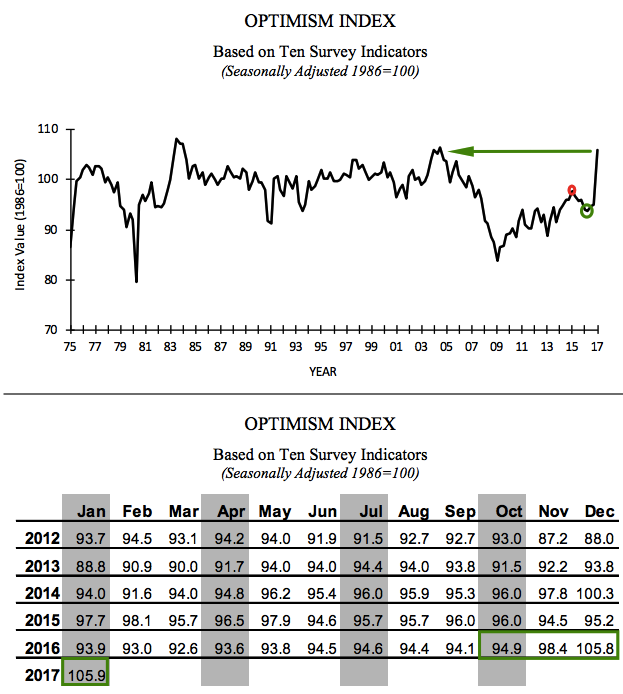 Source: NFIB
Actual sales and sales expectations have done the same. Actual sales have accelerated from -7 in December to -2 in January. Sales expectations have exploded to pre-recession levels. we are currently looking at the steepest acceleration since the 90s.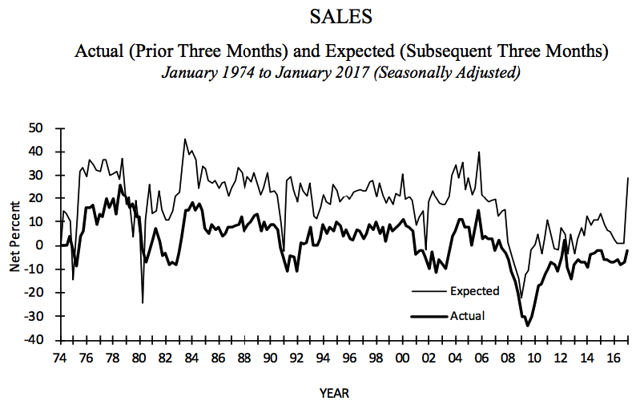 Source: NFIB
Employment is another interesting topic. I have mentioned employment multiple times in January because multiple leading regional manufacturing surveys signaled fast growth. Small business job openings have increased from 29 to 31 in January. Job openings are currently at the highest levels since the 1990s. Planned job openings also show massive momentum after weakening since 2014. Current planned job openings are back at 2006 levels.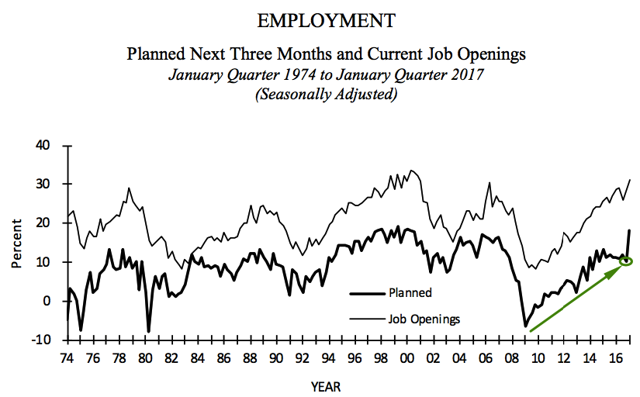 Source: NFIB
Last but not least: prices. Actual prices declined from 6 in December to 5 in January. Planned prices declined from 24 to 21 during the same period. Note that the three months average is still accelerating. Given the ISM prices index, I expect to see further acceleration to the upside in February. It is even possible that actual prices are going to hit the green line given the strong underlying momentum and fundamentals.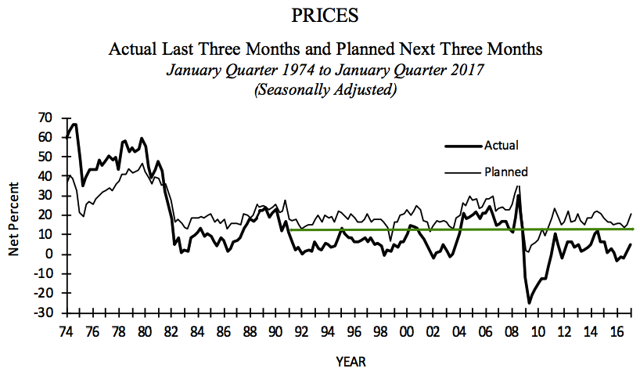 Source: NFIB
Conclusion
Small business activities are closely following the lead from indicators like the ISM index. Small businesses in the US keep accelerating. Employment, prices, sales and an overall better outlook should support coincident indicators like industrial production, retail sales and durable goods orders in the first quarter of this year.
Many thanks for reading my article. Please leave a comment below if you have questions or remarks.
Disclosure: I/we have no positions in any stocks mentioned, and no plans to initiate any positions within the next 72 hours.
I wrote this article myself, and it expresses my own opinions. I am not receiving compensation for it (other than from Seeking Alpha). I have no business relationship with any company whose stock is mentioned in this article.