Fannie Mae (OTCQB:FNMA) and Freddie Mac (OTCQB:FMCC) are two government sponsored enterprises that historically have had capital buffers that they use to support their mission of enabling equal opportunity affordable housing. In 2008, they were placed into conservatorship that the prior administration used as a vehicle to transfer their net worth to itself. As such, there was by design nothing to be left for the shareholders of the common and preferred stock that trades in the open markets for these Fortune 50 companies.
Investment Thesis: The new administration has changed course and evidence of them changing course is all over. The new course is effectively restructure, recapitalize and release. It's going to likely take more than a year to raise the amount of capital for Fannie and Freddie to exit conservatorship. If, on the other hand, the capital that has been transferred to the government gets a reality check and the accounting is restated to align historical cash flows and income statements this could happen much sooner. I do not expect this to happen, but that perspective may change rapidly. The government now appears to be participating with plaintiffs and isn't fighting them every step of the way. The preferreds with market rates would trade near par when dividends resume and I'm betting that they do in any recapitalization.
Cooperation Station: Is Jeff Sessions GSE Friendly?
Jeff Sessions was confirmed February 8th. Protected information label was removed on February 9th. Tell me this isn't a coincidence: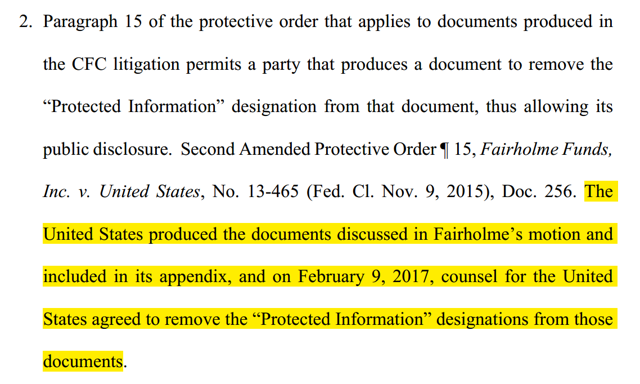 What is this, after years of FHFA and Treasury fighting tooth and nail, opposing nearly every motion?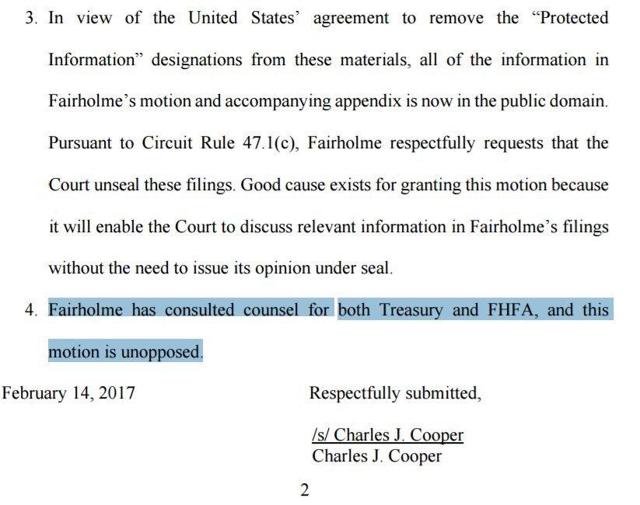 The narrative seems straight forward enough. The incoming administration might be a fan of letting the truth shine through.
Steven Mnuchin: Recapitalize And Release*
There is a lot of misunderstanding regarding what's really being said by Mnuchin. During his hearing he was interrogated by GSE hostiles and he said something to the extent that he never said he was going to recapitalize and release the twins. It's abundantly clear to me that is what he is going to do, however, except with a twist. Understanding the twist is critical to understanding that this is not just a recap and release because it is much more. Capital requirements will be changed and the businesses will be reformed. Things will be changed, making this not just a textbook recap and release. In addition, just because he said that he never said he was not going to do it does not mean that he ever said he wasn't going to do it. These facts have not been lost on Gary Cohn: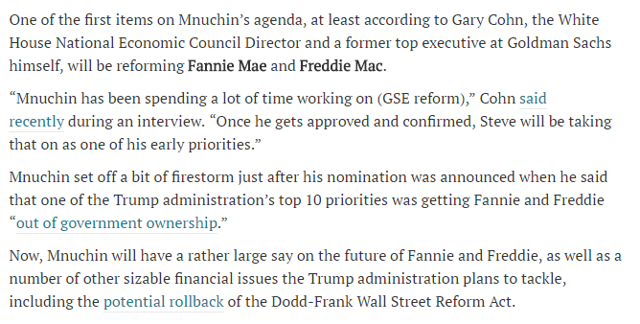 Mnuchin addressed Senator Sherrod Brown's direct question by saying that being capitalized properly was going to be part of any solution:

As a preferred shareholder, that effectively makes me whole. The question is how soon? I am not sure. Right now these bets are trading at 33 cents on the dollar or so which is completely ridiculous suggesting that investors don't know how to read these snippets and make sense of them. Sure enough, if you only read headlines there are a lot of people who continue to make them trying to get reads as opposed to disseminate accurate information.
Shareholder Legal Claims
Plaintiff lawyers have now shown via documents recently released that Treasury was planning to be in a better position because of the net worth sweep: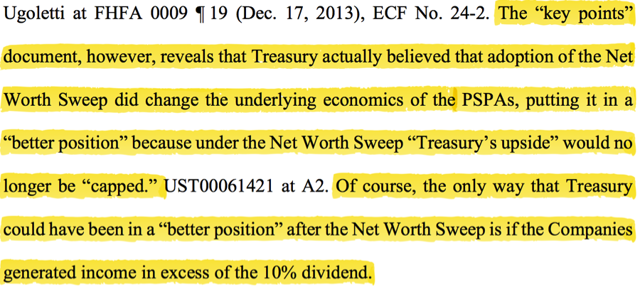 The logical conclusion is that Treasury knew that the net worth sweep (more like common shares) was economically different than the 10% dividend (think preferred dividend or debt). In effect, this raises pretty solid legal claims. I'm not a lawyer.
Summary and Conclusion
I own 4050 shares of FMCCH, 19238 shares of FMCCP, 7370 shares of FMCCT, 1341 shares of FMCKO, 16885 shares of FMCKP, 13207 shares of FNMFN and 5 shares of FNMFO.
Investors are getting access to documents that the previous administration has withheld under a pyramid of privileges. The government is not contesting everything and FHFA and Treasury seem to be cooperating. Mnuchin says that they need to be capitalized properly whereas the most recent government legal defense was compromised of 'capital levels don't matter under this new paradigm.' I'm paraphrasing the off-balance sheet treatment of private companies as if they are government agencies via conservatorship as a vehicle for an impromptu nationalization mired in accounting fraud.
As I write this the net worth sweep is still in place. Earnings for Fannie and Freddie come out later this week. Will the sweep still be in place then? I made a poll: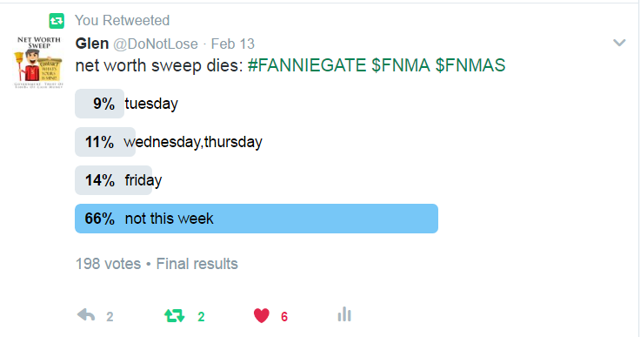 Most people think that the net worth sweep continues to eviscerate the balance sheets of Fannie Mae and Freddie Mac. If words have meaning then one would wonder what Mnuchin means when he says that capital will be part of any solution if he continues to take it. In addition, one would have to wonder that if that's how this is going to go why isn't the government fighting to withhold documents as much as they used to? Is everything changing? Is this a sea change event or is it just me? If I'm right these securities look very cheap and are worth more than a double from here. Do words have meaning? You decide.
Disclosure: I am/we are long FMCCH,FMCCP,FMCCT,FMCKO,FMCKP,FNMFN,FNMFO.
I wrote this article myself, and it expresses my own opinions. I am not receiving compensation for it (other than from Seeking Alpha). I have no business relationship with any company whose stock is mentioned in this article.
Editor's Note: This article discusses one or more securities that do not trade on a major U.S. exchange. Please be aware of the risks associated with these stocks.