What a difference a year makes. Almost exactly a year ago, the BofA CCC yield index peaked at 21.67%. Credit spreads were widening, and leverage loan and CLO equity valuations were falling through the floor. Several funds were struggling with asset coverage ratios and falling NAVs and share prices. This was all caused by the market's fear of an oncoming avalanche of leveraged loans defaults. As I argued then, the fear of leverage loan defaults was widely overblown and the turmoil in the market presented the patient investor with an excellent opportunity to buy strong assets at reduced prices. Luckily, I was right and leverage loan defaults did not cause a problem in 2016 (and probably won't in 2017 as well), which allowed CLO equity and CLO Funds prices to significantly rebound. Now the market is facing a completely new challenge - an overheated credit market.
The BofA CCC yield index is now at 10.40%, a 52% drop from its apex. Also, CLO equity prices have greatly improved and recovered most of the unrealized losses incurred over the last year. Oxford Lane Capital (NASDAQ:OXLC) and Eagle Point Credit (NYSE:ECC) NAVs increased by 53% and 34%, respectively, since March 31, 2016. CLO NAVs have also increased to such a degree that the call options that many of the CLO Funds have are now on the money. At the end of the first quarter, OXLC reported that its average loan values in its CLOs were 90.70%. Now, at the end of the fourth quarter, the average is 98.25%.
While this is generally a good thing for CLO Funds, the frothy credit markets are also causing CLO Funds some serious issues. The recent rise in three-month Libor and the corresponding loss of benefit from the Libor floors (Libor Floor Benefit) have significantly reduced CLO distributions. Given how CLO debt resets, the full impact of the increase in Libor won't be felt until the second quarter of 2017. Any further increases in Libor will be accretive to CLO Equity distributions. The loss of the Libor Floor Benefit does not have an impact on CLO Equity Effective Yield because the benefit was never modeled into the calculations.
In addition to the loss of the Libor Floor Benefit, leverage loans spreads are contracting through repricing transactions. While the impact of the repricing wave has not fully impacted CLOs yet, the large increase in these transactions in 2017 should negatively impact CLO weighted average spreads (WAS). According to a recent Nomura research report, the average CLO WAS decreased by 7 bps during the second half on 2017. As you can see in the chart below, over $130 billion in leverage loans have repriced during 2017 with an average spread reduction of roughly 85bps. If this trend continues, CLO WAS will come down and this will cause CLO distributions and expected returns to go down. I will be tracking reported CLO WAS over the coming quarter.
Chart 1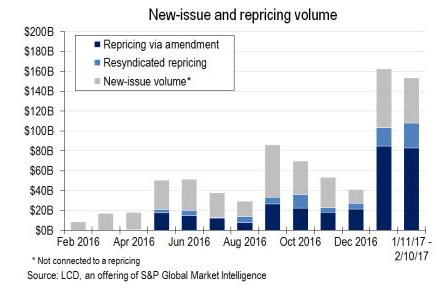 Luckily, tightening credit spreads work both ways, as leverage loans are repricing their debt so are CLOs. According to Creditflux, over $34 billion in CLO debt has refinanced this year with overall spreads being reduced by 30bps to 50bps. Several CLOs owned by CLO Funds have refinanced. (I plan to write about CLO refinancings in the next couple of days.)
While CLOs are definitely facing some headwinds in 2017, not all things are bad. Loan defaults, probably the most important factor in determining a CLO's ultimate return, are expected to remain relatively benign in 2017. Also, CLO Effective Yields are still strong. Prospect Capital (NASDAQ:PSEC) and OXLC's fourth quarter weighted average Effective Yields are 14.87% and 17.6%, respectively. In addition, there are attractive investment opportunities available to CLO Funds. In the last two quarters, PSEC invested $86 million in three new control equity investments with an average Effective Yield of 16.7%. During the third quarter, ECC invested $17 million over six non-control CLO equity investments with a weighted average Effective Yield of over 21%. CLO Equity prices should continue to improve as the credit spreads continue to tighten. ECC's and OXLC's NAVs could each increase by at least $1 a share over the next few quarters. Finally, most CLOs held by CLO Funds are past their non-call period and given the increase in loan pricing, CLO Funds with control rights now have the option to call deals if they believe it will maximize returns.
So, what does this all mean for CLO equity and CLO Funds? Like most things with CLOs, it is not exactly straight forward. First, as I will outline later in this paper, CLO Equity distributions are under pressure for the foreseeable future. However, at least for now, CLO Effective Yields are stable. Therefore, CLO Funds that set their dividend based upon NII should be fine, at least for now. However, CLO Funds that rely on CLO Equity distributions to fund their dividends should have some problems. As I will explore in detail, OXLC recently cut its dividend from $0.60 to $0.40, at least partially due to reduced CLO distributions. It is my assumption that TICC Capital (TICC) will also announce a reduction in its dividend in the coming days.
OXLC
Of all the CLO Funds, OXLC has benefited the most from the improvement in CLO equity pricing. In the first quarter of 2016, it was on rocky ground with asset coverage ratio problems that forced it to sell a significant amount of investments near the bottom of the market. It recorded realized losses of $1.13 a share in the first quarter. OXLC stock hit a record low of $5.70 in February 2016. However, since then things have been looking up for OXLC. As I noted in my recent article "OXLC - Return to Normalcy?", I examined its projected second quarter financial results and concluded that the worst was over and things should improve over the next few quarters. Overall, I believe the thesis of the article was on point since its stock is now trading at $11.30, an increase of almost 100% from the earlier record low.
OXLC reported relatively good results for the fourth quarter 2016. NII was $0.38, a penny above the previous quarter. NAV increased to $10.74 from $9.94 from the previous quarter. Given its improved results, OXLC was able to issue 1.6 million common shares at a net average sale price of $11.27, which is $1.33 higher than the then current NAV. This transaction should increase NAV by roughly $0.10 share. OXLC issues these shares "at the market", which limits the impact on its share price as compared to a formal public offering. Readers should note that OXLC calculates all its quarterly financial figures using the average shares outstanding method instead of the actual number of shares outstanding at the end of the period. While this method makes my calculations more difficult, I think it is fair because it makes the numbers more comparable to prior quarter results.
Core NII, which is used to fund its dividend, dropped to $0.58 from $0.71 in the previous quarter. Core NII is NII plus additional cash distributions received on the equity investments (return or capital or ROC). Since NII was basically the same for the last two quarters, the drop was mainly caused by the 20% reduction in CLO Equity distributions. As stated in the first part of my article, this large drop is due to the increase in Libor and to a lesser degree, the contraction in the leverage loan spreads.
Given that OXLC's average Effective Yield for its CLO Equity investments has stayed relatively constant over the last two quarters, even as CLO Equity distributions have significantly decreased, proves my thesis that at least for now, the contraction in CLO Equity distributions will not have a meaningful impact on OXLC's NII. Using Creditflux's CLO-i database, I obtained the first quarter CLO equity distributions for roughly $200 million (measured at its Dec. 31, 2016, fair value) of OXLC's CLO equity investments and the contraction in cash flows continues. For these investments, the average distribution for the fourth quarter was 4.2% of par, while the first quarter average was 3.8%. Given these numbers, it appears likely that OXLC's Core NII in the first quarter will be in the range of $0.52 to $0.54. With Core NII in the low $0.50 range, OXLC's $0.60 dividend is not viable. However, if management wanted to continue to rely on ROC to fund its dividend, it could have set the new quarterly dividend safely at $0.50 a quarter. My numbers should be taken with a grain of salt since I don't the complete picture but I believe my results are directionally correct.
While it appears that OXLC's management hands were somewhat forced in reducing its dividend, I still applaud it for making the right decision. Even with the reduction in CLO Equity distributions, OXLC could have safely set the new dividend at $0.50; however, it decided to set the new dividend at $0.40, which is just above its current NII of $0.38. OXLC's dividend policy is now consistent with ECC and other CLO Funds as well as most investment funds. OXLC will make special dividends as needed to comply with the Registered Investment Company (RIC) tax rules.
As I have pointed out in numerous articles, I am not a great fan of funding dividends with a significant amount of ROC or excess taxable income. The following list highlights the benefits associated with OXLC's new dividend policy:
Comparability: Since most funds set their dividends based upon their expected ongoing NII, it will allow investors to better gauge and compare OXLC dividend performance against other funds. Using the new dividend amount, OXLC's current dividend yield is roughly 14%, which compares with ECC's yield of just under 14% - apples to apples.
Clarity: When I first started to write about OXLC distributing ROC to its shareholders, many of my readers did not understand the difference and were confused; the new method is much easier to understand.
Investment management: OXLC's management can now solely focus on increasing NII and not worrying about cash flow issues. It simplifies the investment process.
NAV Stability: If OXLC's NAV is constantly contracting, it is quite difficult for its management to properly manage its debt levels and asset coverage ratio.
NAV Destruction: Since its inception, OXLC reduced its NAV by roughly $4 by issuing dividends in excess of NII and capital gains.
Good Investment: With CLO Equity investments are yielding around 17%, it makes sense to put this money to work instead of distributing to shareholders.
Variance Between Cash Distributions and Taxable Income: See the discussion below on RIC Tax Rules.
Taxes: As I have discussed in other articles, the return of capital may have negative tax consequence for an individual investor.
RIC Tax Rules
I want to quickly touch on my least favor subject involving CLO Funds and that is RIC tax rules. One justification for a CLO Fund to set its dividend at Core NII is that under the tax laws, RIC must distribute 90% of its taxable income. If an RIC does not distribute the required amount, it is subject to a 4% excise tax. As a shorthand, many managers have assumed that all cash received from a CLO was taxable income. Therefore, by setting the dividend at its Core NII, the fund would not run afoul of the RIC tax rules.
However, the truth is much more complicated. During its fourth-quarter conference call, PSEC management disclosed that it calculated its CLO equity taxable income for the year and it was significantly lower than the CLO's cash flows. It cited the fact that many managers sold loans at a loss during the recent turmoil in the loan markets, which caused it to incur tax losses. These losses offset the interest income earned by the CLOs and paid in cash to its investors. PSEC's recalculation of its taxable income resulted in it distributing 20% more than its taxable income. Obviously, if PSEC's calculations are indicative to the entire CLO Fund space, funds like OXLC and TICC, which relied on excess taxable income to fund their dividends could be in worst shape than PSEC. This may be another reason that OXLC's management decided to change its dividend policy. Please see BDC Reporter's excellent article on this topic here.
TICC
I do not follow TICC very much but I wanted to quickly comment on its situation. In the third quarter, TICC's dividend of $0.29 was funded by $0.11 of NII and $0.18 of excess taxable income or ROC. TICC's Core NII was $0.30 for the quarter. With the contraction in CLO Equity distributions, I am projecting its fourth quarter Core NII to be roughly $0.25 and even lower in the first quarter of 2017. Based upon these numbers, its $0.29 dividend is clearly untenable. Given the fact that OXLC, TICC's sister fund, changed its dividend policy to more closely track its NII, the potential reduction in the calculation of excess taxable income and reduced CLO distributions, TICC will cut its dividend this quarter. It will either cut it to roughly $0.20, which would be just below its ongoing Core NII, or to $0.15, which would be consistent with OXLC's dividend policy and just above its ongoing NII. Not to pat myself on the back, but in May, I published an article titled "TICC Dividend Is Unsustainable And Will Be Significantly Cut In The Next Few Quarters" that discussed the potential disconnect between CLO equity distributions and excess taxable income may force TICC to cut its dividend.
Summary
Last year, at this time, in the middle of the credit turmoil, I was not worried but very excited about buying good assets are substantially reduced prices. I had an excellent year investment in 2016. Now, with the credit markets more stable and CLO Equity properly priced, I don't think we will see outsized returns this year. Overall, I believe that the leverage loan market and the CLO market will come to some type of equilibrium where CLO returns stay strong. Effective Yields and, thus, NII will contract over the coming year but not enough, in my humble opinion, to cause dividend cuts. I will be closely watching CLO's WAS spreads to try to get a handle on CLO equity's future performance. Overall, I believe 2017 should be a solid but unspectacular year for CLO Funds. With solid dividends and potentially slightly higher NAVs, I could see CLO Fund returning 15% to 20% in 2017. Looking further into the future, the frothy leverage loan market will probably come back and bite the CLO market in 2018 or later.
Disclosure: I/we have no positions in any stocks mentioned, but may initiate a long position in ECC, OXLC AND PSEC over the next 72 hours.
I wrote this article myself, and it expresses my own opinions. I am not receiving compensation for it (other than from Seeking Alpha). I have no business relationship with any company whose stock is mentioned in this article.