Abstract
Delphi Automotive (NYSE:DLPH) has gone through a directional upheaval that included a swirl of M&A activity and refocusing on high-technology, high-margin segments. Wall Street was appropriately bearish after the enacted changes, with many analysts trimming price targets. Modest stock gains in 2015 and 2016 signal a broad market misunderstanding of the impact of these changes on the company's revenue generation, cost structure and ability to capitalize on long-term transportation industry changes.
Industry Overview
Delphi Automotive operates in the automotive electronics manufacturing industry, and its major industry competitors are Robert Bosch, GmbH (OTCPK:BORUF) and Denso Corporation (OTCPK:DNZOY). Delphi's market share within this industry is 11.1%, beating Robert Bosch's (9.6%) and Denso Corporation's (8.3%) (IBISWorld). As the amount of electronic parts in the average vehicle grows, it is imperative for players in the industry to stay up to date with technological innovations in order to stay competitive. This is due to this industry being one of the most technologically intensive in the automotive sector and being subject to speedy technological advances, especially those in the vehicle automation and electrification spheres. Industry revenue and profit margins are closely linked to the sale of automobiles since the primary use of automobile electronics is in new vehicle manufacturing, making both consumer confidence and demand highly influential in the revenue volatility in the industry.
Transportation Industry Trends & Delphi
The auto industry is a complex one to analyze as it is affected by a plethora of external factors and currently lies in an evolving but uncertain state. This was evident in 2015, a year in which the market as a whole was fairly stagnant as it had positive forces such as technological advances and strategic engineering planning clash with negative international economic forces and conflicting market confidence. Nonetheless, 2016 has seen a less stagnant growth in the market, a phenomenon that can be attributed to international economic trends as well as a more conscientious move towards future smart and even automatic cars. The effects of this are visible in the revenue breakdown section of this article.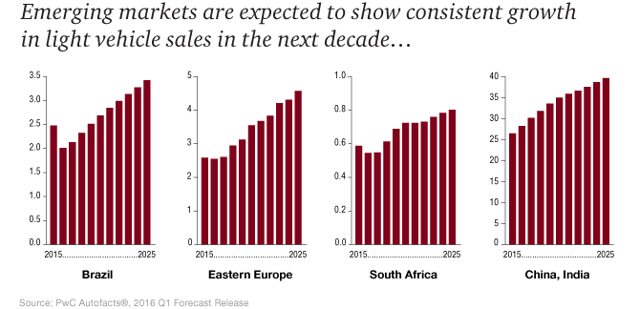 As the above chart portrays, future growth definitely seems to hold true in regards to the EMEA (Europe, Middle East, & Asia Pacific) nations. Markets such as North America and South America however promise more stagnant and even declining sales respectively; North America has seemed to hit a peak, and by the end of 2018, should begin to fall. Similarly, restrictions have proven troublesome to the sale of vehicles in emerging nations.
All in all, geographic considerations have to be accounted for in both the auto market as a whole and Delphi in particular, a task the company has tackled with the diversification of its geographic revenue streams. With business proportionally split between the Americas, Europe, Middle East, Africa, and Asia Pacific, Delphi has ties to both peaking and growing countries (regarding revenue/net sales). More to the point, it has revenue options in a world economy set by flexible factors such as regulations and market confidence in new technologies. This is how in spite of the situations in areas such as the Americas, Delphi has managed to keep its revenues positively growing even after a "bad year" resulting from a loss of the thermal division (elaborated in the revenue breakdown section).
Shift in consumer demand is also an important consideration when discussing the auto industry. Cars have become more of a transportation tool than the brand statement they once were, making for the demand of much cheaper options. As a component producer and electronic system provider, the efficiency and price reduction on Delphi's side actively affects the cost of automobiles. This is why the company has been working on creating a solid cost structure (described in Thesis Point 2) and creating cheaper, more efficient parts for a market that requires lower prices.
Breakdown of Revenue by Segment and Region plus Growth Analysis
Delphi Automotive has historically had four primary segment sources of revenue: Electronics & safety, powertrain systems, electrical/electronic architecture, and thermal systems. The latter was not listed as a source of revenue in the 2015 and 2016 annual reports, a byproduct of an acquisition wherein MAHLE bought the thermal management division of Delphi.
The remaining segments have had the following contribution to Delphi Automotive's revenues in 2016 (in millions): Electronics and safety: 3,014; powertrain systems: 4,486; and electrical/electronic architecture: 9,316. As is evident, the most significant source of revenue has been electrical/electronic architecture, accounting for more than half of the other two segments combined. In the currently evolving and expanding field of electrical auto components and even electric cars, this is a huge advantage for Delphi, and even offsets the -1% growth rate in the segment's revenue contribution for the company in 2015. As a matter of fact, the segment saw a return to positive growth rate by the end of 2016, at which time it grew by a significant 13.9%. Accounting for the three prior years, E/E architecture has seen an overall increase in growth of 5.6%, and this number should drastically increase with the aforementioned electrification trends.
2015 was unfortunately a low for the company regarding net sales/revenues. This can be attributed to a few factors, not the least of which is the mentioned acquisition of one of its major divisions: the thermal management division. The thermal segment has historically contributed approximately 10% of revenue to Delphi, with a growth rate of approximately 6% until the merger. This closely matches the -11% total revenue growth rate of the company, and correlatively indicates both its reasoning behind the dip as well as an indication of the dip being a deviation from the norm. This is further propelled by the fact that Delphi's total revenue for 2016 has been announced to be $16.7 billion, an increase of approximately 10%.
Regarding region, Delphi's revenue breakdown can be divided between the Americas, Europe-Middle-East-Africa, and Asia Pacific, which have had contributing revenues of 6.5, 5.9, and 4.3 billion dollars, respectively, in 2016. This has been a marked improvement from the previous year's figures, indicating both positive international exchange trends (with the exception of Latin/South America, which, together, have still seen an increase in revenue contribution for Delphi) as well as the company's positive total net sales growth.
Whilst no particular region's growth rates have fluctuated significantly (with the exception of EMEA in 2015 due to a combination of regional factors and segment cuts company-front), it is evident that the Americas make up the largest portion in this revenue breakdown, with the United States alone accounting for the most net sales of any other region. Interestingly enough, whilst the average growth rates of the Americas and EMEA from 2013 to 2016 have been relatively small (0% and -2% respectively), Asia Pacific has seen an average growth of 7%, indicating a growing market. This region now accounts for approximately 26% of revenues, as opposed to its previous contribution of 21% three years before.
All in all, Delphi's revenue trends have been promising and continue to be so due to the evolving electric/automotive market climate. Delphi is positioned well and refocused towards E/E architecture as well as steady and growing locations such as the US and Asia Pacific respectively.
Thesis Point 1: Strategic M&A and Management Objectives
A spree of acquisitions and divestitures has positioned Delphi to take advantage of mega-trends in the automotive space. In an effort to streamline the collective business, Delphi sold off its low-margin thermal operations unit in late-2015 by cash sale of $727 million. The thermal systems segment was siphoning 11.7% of CapEx while generating a disproportionate 1.7% of Operating Income in FY 2014. By jettisoning this anemic segment, managers freed up roughly $80 million in annual CapEx, which it has pumped into its powertrain and electric architecture segments. The company also completed a variety of M&A transactions in 2015 and 2016, including a $1.7 billion acquisition of HellermannTyton, a cable equipment manufacturer, which has broadened its exposure to the growing connected car market. It sold off four business segments (including two in the air conditioning space) while acquiring several others. Its acquisition of Quanergy - 3D LiDAR company - gives Delphi greater access to autonomous driving market. The results of this increased focus on advanced technology are already generating sales growth and margin expansion. Sales spiked 13.9% in its highest-margin segment, electrical/electronic architecture, while declining material costs drove overall gross margin percent up 150 bps. The company has consistently improved gross margin by approximately 50 bps since 2011, and projects additional margin expansion of 30-50 bps in 2017. All this realignment signals Delphi's shift from a cost leader to an industry innovator, giving it the upper hand in developing and applying advanced technologies within the automotive space.
Thesis Point 2: Lean, Flexible Cost Structure and Manufacturing Footprint
One of Delphi's important competitive advantages has been its ability to build a uniquely efficient cost structure and global manufacturing footprint, making use of a regional service model whereby manufacturing for each major market is undertaken in a neighboring low-cost country. Facilities located in Mexico service the North American market, North Africa and Eastern Europe service the European markets, Brazilian facilities service South America, and Chinese facilities service the Asia Pacific region. The company constantly rotates these facilities in accordance with demand fluctuations allowing a large degree of flexibility in managing costs, and an ability to, as Delphi puts it, "engineer globally and execute regionally" in that its region-based footprint gives it the ability to customize offerings according to the differing needs of OEMs in each region. The company also employs few unionized workers, opting instead to favor non-salary and part-time labor, again for the sake of flexibility and efficiency.
The effects of management's commitment to a lean, efficient cost structure and manufacturing footprint are evident in the company's margins. Delphi has led its immediate peers in operating margin and net income margin since 2013, averaging 11% and 8.6%, respectively, and trails only Continental AG (OTCPK:CTTAY) in terms of EBITDA margin (14.4% vs. 15.3%). Due in large part to this cost structure, management has been able to grow profits consistently despite fluctuating revenues.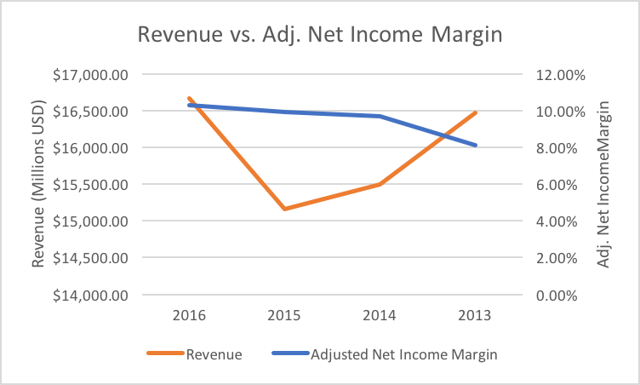 (Data from Bloomberg; Graphic created by author)
A management team capable of steering income growth regardless of business conditions puts Delphi in a position to weather potential economic headwinds better than its competition. Coupled with the focus on high-growth, profitable and tech-orientated businesses, the restructuring of its business and subsequent M&A activity have demonstrated the company is very well positioned to ride the automotive industry trends and continue building on the 2016 revenue growth.
Thesis Point 3: Project with Mobileye a Large Potential Catalyst
In addition to acquisition activity, Delphi began a collaborative agreement with Mobileye (NYSE:MBLY), an automotive camera company, to develop a completely autonomous driver platform for its automotive customers. The companies hope to bring this technology to market by 2019, in what could be the most important catalyst behind our thesis. The automotive industry is poised for drastic change in the next decade as it seeks to integrate more technology and autonomy to automobiles. Delphi's expertise in electrical infrastructure and strong ties with OEMs will allow it to capitalize on the autonomous car revolution on the horizon.
Conclusion
Delphi provides an interesting long-term investment opportunity for three reasons: (1) Its newly focused management will leverage M&A pickups to succeed in new markets, (2) the company's unique placement of cost centers around the world makes it more flexible to changing demand, and (3) Delphi's newest endeavors with other high-tech leaders in the autonomous space make it a frontrunner to be first to market. The authors are bullish on DLPH and suggest a 5-10 year time horizon for this investment.
Disclosure: I/we have no positions in any stocks mentioned, and no plans to initiate any positions within the next 72 hours.
I wrote this article myself, and it expresses my own opinions. I am not receiving compensation for it (other than from Seeking Alpha). I have no business relationship with any company whose stock is mentioned in this article.