Arguably an emerging oil major considering its growing upstream, midstream, and downside asset base, Occidental Petroleum Corporation (NYSE:OXY) had plenty to say when the firm posted its fourth-quarter earnings. Higher energy prices were warmly welcomed but there is still a ways to go before cash flow neutrality can be achieved.
Checking up on Occidental's cash flow position
During the fourth quarter of 2016, Occidental reported a net loss of $272 million. When converting that into operating cash flow, Occidental added back $1.05 billion from its non-cash DD&A (depreciation, depletion, amortization) expenses and $575 million in non-cash expenses related to asset impairment and other charges, minus a deferred income tax provision of $355 million (which was added to its net income), resulting in operating cash flow before working capital and other effects of $998 million.
Including those effects, Occidental generated $921 million in net operating cash flow from its continuing operations. That is a big improvement from the $656 million net operating cash flow Occidental posted in Q3, aided primarily by its global realized crude price jumping by 9% sequentially, or $3.59, to $45.08/barrel. Stronger NGLs (natural gas liquids, up 22%) and domestic dry gas prices (4% increase) also played a material role in shoring up Occidental's outspend situation.
After spending $891 million on capital expenditures in Q4, which its cash flow streams were able to cover, the oil & gas giant also paid out $585 million in dividends resulting in a cash flow shortfall. Occidental's share count crept up marginally as did its dividend payments, which equated to a $10 million increase in its total quarterly payout.
Occidental Petroleum's results painted a picture of an improving financial situation. However, even though the firm does have an impressive and diversified asset base, that wasn't enough to propel it out of the woods yet as large capex and dividend payments continue to markedly outstrip its cash flow streams. Q1 2017 results should show that outspend continuing to narrow as energy prices are higher YTD than in Q4 2016, but keep in mind its capex budget is set to move higher this year as well.
Budget and production update
The energy giant spent just under $2.9 billion on capital expenditures in 2016, less than its $3 billion budget and half of what it spent a year prior. While Occidental's production base moved from 674,000 BOE/d in 2015 to 632,000 BOE/d in 2016 largely due to asset sales, output from its ongoing operations rose from 567,000 BOE/d to 604,000 BOE/d, equal to a 6.5% bump.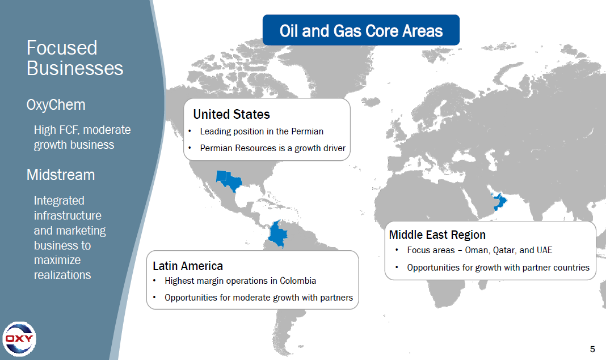 Source: Occidental Petroleum Corporation Presentation
As Occidental ramps up its spending to $3 billion to $3.6 billion this year, management is guiding for the company's 2017 production base to grow to 625,000 BOE/d to 645,000 BOE/d. Keep in mind output in Q1 will take a hit due to turnaround effects and the delayed impact of higher Permian spend, but after that it should be on the move higher.
One region that stands out in Occidental's asset base is the Permian Resources (unconventional) division. From 2015 to 2016, the Permian Resources division saw its production rise from 110,000 BOE/d (65% oil) to 124,000 BOE/d (62% crude). Sharp reductions in completed well costs, which fell by 35% vs. 2014 levels, were further enhanced by a 38% cut in its operating expenses.
Primarily due to stellar well productivity increases and cost reductions, Occidental doubled the size of its top tier unconventional location portfolio to 2,500. These are wells capable of breaking even in a sub-$50 West Texas Intermediate world, with many locations sporting break even rates significantly below that level.
To capitalize on a recovering oil & domestic gas market, Occidental aims to allocate $1 billion to $1.4 billion in capex this year toward its Permian Resources asset. That will allow Occidental to run six operated rigs and two equivalent non-operated rigs this year, increasing its output by 13%-21% to 140,000 BOE/d-150,000 BOE/d. Keep in mind that on a quarterly basis, that will be higher by the end of 2017 assuming the current pricing trajectory holds.
Another key asset to watch is the start-up of Occidental's ethylene cracker in Ingleside, Texas, which is a 50/50 joint venture with Mexichem. In total, the development cost $1.5 billion and should be operational by Q1 2017. With a 20-year supply agreement already established with Mexichem, this growth project will generate positive cash flow upside over the coming quarters. In regards to capex stemming from the development, that will fall from $160 million last year to $35 million in 2017.
By expanding its downstream asset base in America, Occidental gets to reap the rewards of significantly cheaper domestic feedstock prices and very strong global demand for plastic products. This project not only will boost Occidental's cash flow in the near term, it will also provide a strong hedge against declines in upstream realizations over the coming decades. Occidental is also expanding its downstream operations in Geismar, Lousiana, to produce climate-friendly refrigerants. That is set to be completed by the end of 2017.
On the midstream front, the ramp up of Occidental's recently completed oil export terminal and associated storage facility in Ingleside combined with better marketing economics will generate an additional $150 million to $200 million in cash flow this year. Additional upside will most likely be found by expanding its footprint in the Permian Basin with a focus on Lea and Eddy county in SE New Mexico.
Final thoughts
With those operational improvements in mind, Occidental Petroleum expects to generate an additional $1 billion in cash flow this year vs. 2016. Some other positives to keep in mind include a $700 million tax refund expected during the first half of 2017, non-core asset sales as Occidental Petroleum continues shifting towards its core asset base, and strong performance at its Al Hosn development (targeting the Shah Field) in the UAE, which is exceeding nameplate production.
However, those improvements shouldn't cloud over the stark truth that this oil giant needs higher energy prices to cover its outspend and, most importantly, have a sustained dividend payout. Based on cash flow guidance given by Occidental Petroleum, it appears as if ~$60 WTI pricing is the level the firm needs to reach cash flow neutrality.
At the end of 2016, Occidental Petroleum had $8.43 billion in current assets, $6.36 billion in current liabilities, and $9.82 billion in long term debt. That is a strong enough balance sheet to maintain the status quo for now, but as an investment, Occidental's top tier asset base is counterbalanced by its need for better upstream realizations. If/as that picture changes, this oil and gas play starts to look a lot more promising.
Disclosure: I/we have no positions in any stocks mentioned, and no plans to initiate any positions within the next 72 hours.
I wrote this article myself, and it expresses my own opinions. I am not receiving compensation for it (other than from Seeking Alpha). I have no business relationship with any company whose stock is mentioned in this article.