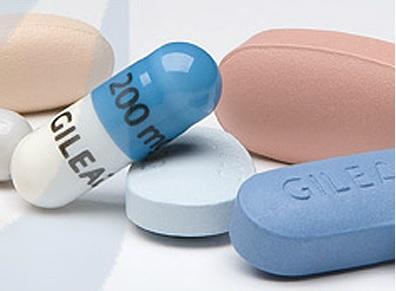 Gilead Sciences (NASDAQ:GILD) investors' pain continues, with shares cratering after another disappointing earnings release and some very troubling guidance.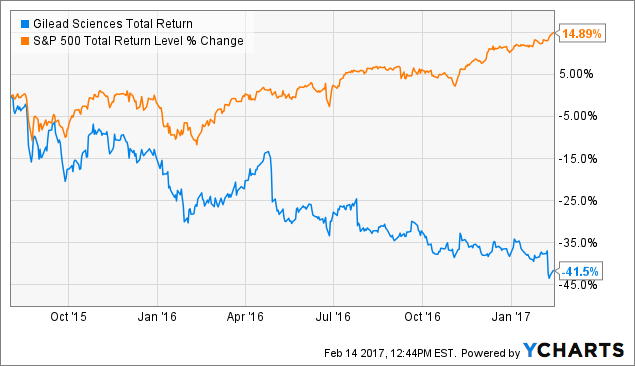 GILD Total Return Price data by YCharts
However, while Gilead faces numerous risks in the coming few years, after careful study of its results and conference call I remain long-term bullish on its prospects as an excellent dividend growth investment. In fact, I increased my own position in the company by 125%.
Let's look at four reasons why you should consider doing the same, especially now that the company is trading at a 2-and-a-half-year low.
No Two Ways About It, Gilead's 2016 Was A Disaster
| | | | |
| --- | --- | --- | --- |
| Metric | 2015 | 2016 | YoY Change |
| Revenue | $32.639 billion | $30.39 billion | -6.9% |
| Net Income | $18.108 billion | 13.501 billion | -25.4% |
| Shares Outstanding | 1.521 billion | 1.358 billion | -10.7% |
| EPS | $11.91 | $9.94 | -16.5% |
| Dividend | $1.29 | $1.84 | 42.6% |
| Dividend Payout Ratio | 10.8% | 18.5% | 70.9% |
There is no sugar coating it, Gilead's 2016 results were awful. This was do to the continuing decline in its Hepatitis C blockbusters, Sovaldi and Harvoni. Even with an epic $11 billion buyback program that cut the share count by almost 11%, EPS still declined significantly.

Source: Gilead Earnings presentation.
The problem for these two drugs is three fold. First, because they are massively successful at curing patients, their potential patient pool, and thus number of new patient starts, steadily declines over time.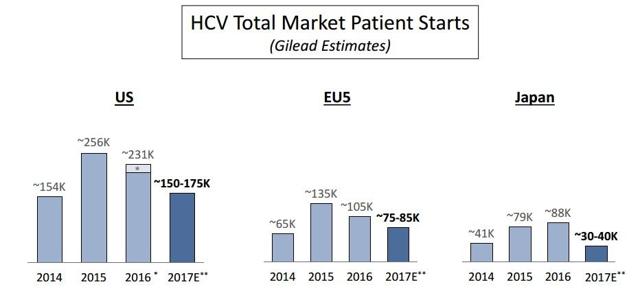 Source: Gilead guidance presentation.
Then there's the increased competition from rivals, including Merck's(NYSE:MRK) Zepatier, and starting in 2018, AbbVie's (NYSE:ABBV) Viekira Pak, which are forcing the company to cut its prices and margins. To top it all off, now that the most urgent cases have been treated most of the new patient starts are earlier stage patients, who are able to get by with shorter, 8 week treatment regimens.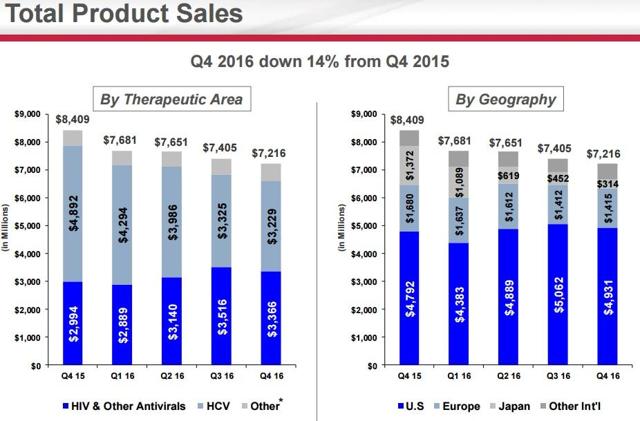 And despite the company's HIV franchise continuing to do well, the declining HCV sales have overwhelmed the ability of the company to grow its top or bottom lines.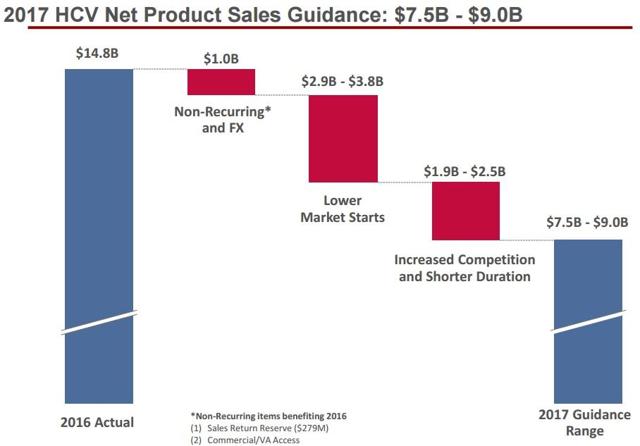 Worse yet, management's guidance for 2017 indicates that HCV sales will fall another 45%, continuing the accelerating rate of sales declines of the past few quarters, (HCV sales fell 34% in Q4 2016).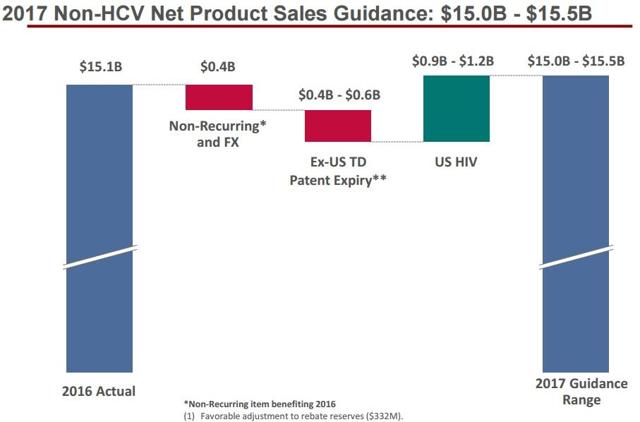 And despite the success of new HIV TAF based drugs such as Genvoya, Odefsy, and Descovy, which combined have an annual run rate of $3.5 billion in sales, Gilead doesn't expect its HIV business to be able to come close to offsetting the massive decline in Sovaldi, and Harvoni revenue.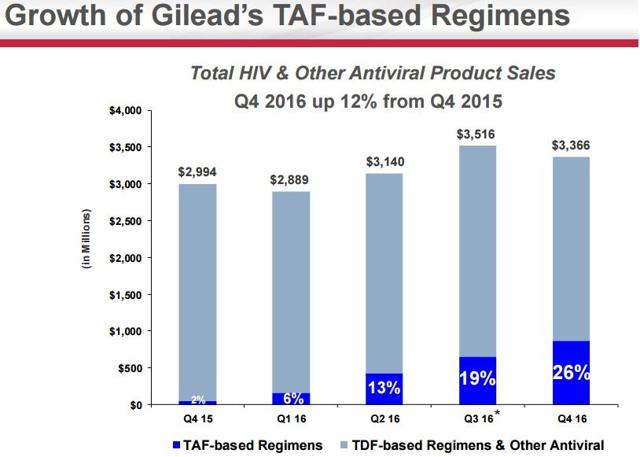 In fact, Gilead's guidance for 2017 calls for a 23% decline in sales to just $23.5 billion. And because Sovaldi, and Harvoni were the company's highest margin products, declining profitability from lower drug prices will likely mean that earnings, and free cash flow decline by slightly more than that.
However, in fairness to management, cost cutting is expected to keep the decline in gross margins to just 2%, from 2016's 89% to a still fantastic 87% in 2017.
But There Are Reasons For Optimism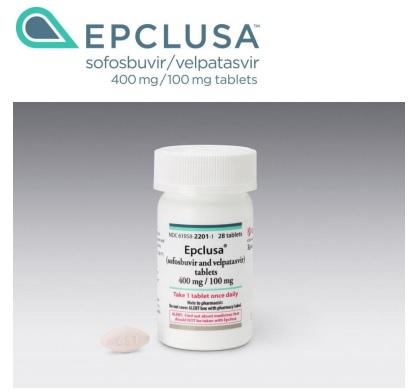 While the continued slide in sales of Sovaldi, and Harvoni is likely to continue for the foreseeable future, Gilead's newest HCV drug, Epclusa, the first single tablet pan-genotypic medication, has seen massive growth over the past few months.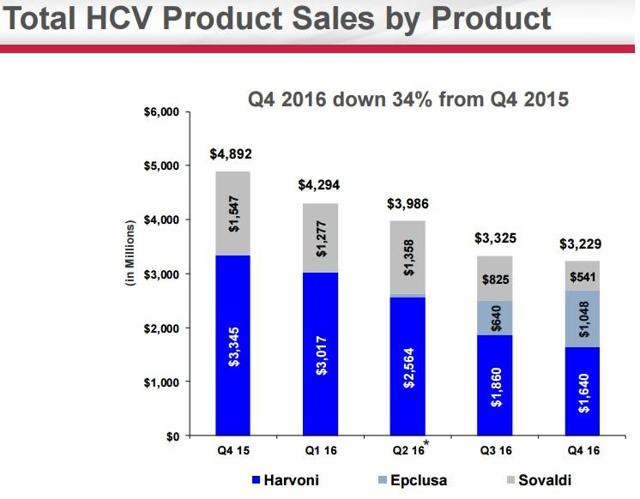 This creates the possibility that Gilead's HCV sales may bottom out in 2017, which will potentially allow the company's strong pipeline of 30 drugs currently in development to help boost sales starting in 2018.

This includes potential blockbusters including: Bictegravir (HIV), Filgotinib (anti-inflammatory), and Selonsertib (Non-Alcoholic Steatohepatitis or NASH).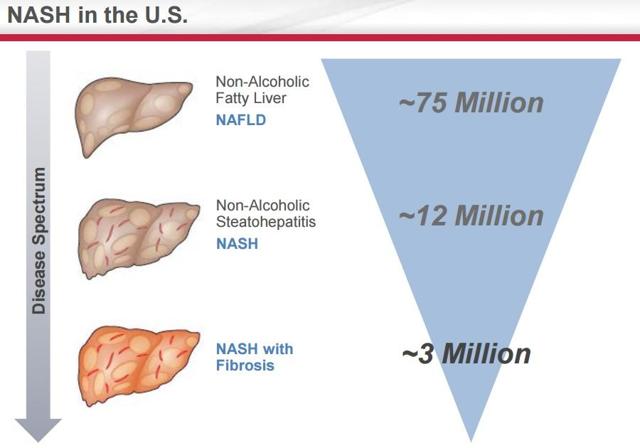 In fact, because NASH has thus far not had a single approved treatment, this represents a potentially massive $35 to $40 billion virgin market for Gilead to break into.
In fact, just a handful of the company's most promising drug candidates represent $25.5 billion in annual sales, meaning that, should HCV sales bottom out, Gilead could see massive potential sale, earnings, and free cash flow or FCF growth in 2019 and beyond.
In fact, analysts currently estimate that Gilead's 2019 sales will come in at $25 to $29 billion, which would indeed point to solid growth prospects in the years ahead once HCV bottoms out.
Including A Likely Acquisition In 2017
Then there's the high probability that in 2017 Gilead will finally due what investors have been clamoring for, and make a large acquisition.
After all, the company has $32.4 billion in cash on its balance sheet, and continues to generate significant FCF despite steadily falling sales.
In addition, during the latest conference call CEO John Milligan said the company's top focus in 2017 is "pursing partnerships or acquisitions that are the right strategic fit."
Similarly, CFO Robin Washington said that "In 2017, leveraging our capital to pursue external opportunities to expand our R&D pipeline is our primary focus".
And let's remember that when it comes to disciplined, and successful executions of acquisitions Gilead has an excellent track record. For example, in 2003 the company bought Triangle Pharmaceuticals for $464 million. That small, bolt on acquisition gave Gilead Emtriva, a core component of Truvada and its other single pill HIV drugs.
Thanks to that acquisition Gilead today enjoys a 78% market share in HIV anti-retrovirals, which serves as the steady cash flow machine for funding its R&D, as well as buybacks and dividends.
Then of course, there was the brilliant 2011 $11 billion acquisition of Pharmasset, which gave Gilead Sovaldi, and made it the leader in HCV drugs.
Now with management hunting for a new acquisition target, and its coffers flush with cash, Gilead has a very good opportunity to turnaround Wall Street's negativity.
For example, Gilead has long stated that it wanted to break into the fast growing, and highly profitable oncology field. Towards that end, many analysts think Gilead might go after Incyte(NASDAQ:INCY), one of the fastest growing biotechs in the world, (43.9% projected EPS growth over the next 10 years). That would would give Gilead Jakafi, (peak projected global sales of $3.6 billion) as well as a strong pipeline of targeted cancer immunotherapy treatments.
And of course Incyte's rheumatoid arthritis drug in development Baricitinib could also prove a multi-billion dollar blockbuster, given that rheumatoid arthritis is a $20 billion a year industry.
Given that Incyte's market cap is $23.4 billion, a potential acquisition would likely be in the range of $30 billion or so, making it an excellent fit for the size of Gilead's war chest.
And then there's Vertex Pharmaceuticals (NASDAQ:VRTX), an even faster growing company, (64.8% projected 10 year EPS growth). Vertex's claim to fame is its dominant position in the small, but wildly profitable Cystic Fibrosis field. That's thanks to such drugs as Kalydeco and Orkambi.
These drugs generally command six figure annual treatment prices, (Kalydeco launched with a starting price of $300,000 per year), which explains why Gilead might want to acquire Vertex; to sure up its margins. Best of all, CF is pretty much an orphan disease, given that its a genetic disorder that afflicts only 75,000 people around the world.
However, that also means that few rivals bother to put in the resources to develop competing products, meaning less pricing competition for a very serious, and life threatening, ie "must treat" disease.
Vertex's strong pipeline of CF drugs is likely to allow it to remain the dominant company in the field, and achieve potential annual sales of $6 billion; something that would be a real needle mover for Gilead.
Despite Its Growth Troubles, Gilead's Dividend Profile Remains Excellent
| | | | | |
| --- | --- | --- | --- | --- |
| Company | Yield | TTM FCF Payout Ratio | 10 Year Projected Dividend Growth | 10 Year Projected Total Return |
| Gilead Sciences | 3.1% | 14.2% | 10.0% | 13.1% |
| S&P 500 | 2.0% | 39.5% | 5.9% | 9.1% |
At the end of the day what I care about most is a company's dividend profile. That means I want a generous, rock solid secure yield, and good long-term growth prospects.
Gilead's current yield of 3.1% is certainly more appealing that the market's 2%. More importantly, the ultra low FCF payout ratio means that not just is the dividend bank vault safe, but also has plenty of room to keep growing, even if Gilead's sales continue to decline for the next year or two.
One need just look at management's most recent 10.6% increase to see that management is very shareholder friendly, and likely to continue steadily raising the payout barring a complete collapse of FCF.
In fact, I expect Gilead to continue growing the payout at least at a double digit rate, resulting in long-term market thrashing returns, even should the most pessimistic scenario play out.
For example, currently analysts expect Gilead's earnings to shrink by 2.5% CAGR for the next decade. Assuming that FCF/share were to decline by the same amount, if Gilead were to grow the dividend by 10% annually through 2027, then its 2027 dividend of $5.39/share would still be well covered by its 2027 FCF/share of $9.90; a payout ratio of 54.5%.
That's lower than many big biotech and pharmaceutical companies, including Johnson & Johnson (NYSE:JNJ), and Pfizer (NYSE:PFE).
And of course, I actually expect Gilead to start growing again within a few years, meaning that it could potentially grow the dividend at an even faster rate. That, in turn, combined with one of the lowest valuations on Wall Street, would make for even stronger potential total returns.
The Valuation Remains Very Attractive
| | | | | |
| --- | --- | --- | --- | --- |
| Company | PE | Historical Median PE | Yield | Historical Median Yield |
| Gilead Sciences | 6.25 | 17.40 | 3.1% | 1.9% |
| Industry Median | 27.3 | NA | 1.4% | NA |
Despite Gilead's falling earnings and major growth headwinds shares remain extremely undervalued. Both from a PE perspective, in which Gilead's valuation is lower than 88% of global biotechs, or from the more relevant dividend yield point of view.
As you can see, not just is Gilead's current yield much higher than its historical norm, but it's also far better than its peers. In fact Gilead's yield is higher than 76% of global biotechs.
| | | | | |
| --- | --- | --- | --- | --- |
| TTM FCF/Share | 10 Year Growth Expectation | Fair Value Estimate | Growth Baked Into Current Share Price | Margin Of Safety |
| $12.75 | -2.5% | $111.52 | -11.4% | 39% |
And even if Gilead isn't able to grow in the coming decade, its shares remain among the most undervalued in America. That's thanks to the ridiculously pessimistic expectations (that are priced into the current share price), of -11.4% growth over the next decade.
While Gilead may in fact fail to grow, chances are very slim that its FCF/share will decline by 70.2% in the coming decade. Not when it has so many strong growth catalysts that could cause revenue, earnings, and FCF to grow.
Risks To Keep In Mind
There are five major risks to consider with Gilead, many of which apply to all biotechs.
First, while I'm hopeful that HCV sales will eventually stabilize, there is of course the risk that sales continue to deteriorate indefinitely. For example, while Epclusa sales have been growing like gangbusters, part of that is due to a warehousing effect, especially among VA patients. This means that doctors were making their patients wait until the drug became available to start treatment and thus potentially front loading demand.
In fact, Morningstar's Karen Anderson thinks that Gilead's HCV sales will continue to shrink, down to just $4.2 billion by 2021. That's the main reason that she reduced her fair value estimate to just $84, down from $124 back in September of 2016.
Second, concerns over rising healthcare costs, and strong consolidation of the pharmacy benefit management or PBM industry means that Gilead is likely to face greater pressure to cut its drug prices, or at least grow them more slowly.
Then of course there's the risk of new US regulations around Medicare/Medicaid purchases of its core drugs. For example, 60% of HIV drug sales are paid for by the government, and should the Trump administration make good on its threat to make Medicare negotiate cheaper bulk drug purchases, this could pressure Gilead's margins.
Next, while Gilead's acquisition track record is strong, it's not perfect, and there is always risk of overpaying or executing poorly on its potential future purchases.
For example, Gilead's $2.5 billion 2006 acquisition of Myogen didn't work out well, due to the failure of that company's flagship hypertension drug Darusentan.
Then there's the classic problem of patent expirations, which Gilead will be facing in 2017 and 2018, including in its core HIV franchise (Viread). And with its strong pipeline still several years away from likely launching new blockbusters, that means that Gilead's turnaround may not happen as quickly as Wall Street expects, hopes, or demands.
Finally, we can't forget that while Gilead's elephant gun may be loaded for acquisitions, it also has a substantial amount of debt; $26.6 billion to be precise. That makes for a relatively high debt to capital ratio of 59%.
And given that around $26 billion of Gilead's cash is held overseas, the company might not be able to make a big acquisition until we get a repatriation tax holiday. Should that not happen, then Gilead would need to take on a substantial amount of debt to buy someone, which may not be wise in a rising interest rate environment.
Bottom Line: Gilead Still Hasn't Bottomed, But That's Exactly Why Now Is The Time To Add More
Gilead Sciences and its long suffering shareholders show precisely why "be greedy when others are fearful" is easier said than done. While many investors may wish to wait until the company's sales, earnings, and cash flow turnaround, potentially through a major acquisition, by that time the best profit opportunities will have already passed.
The fact is that Gilead has a long and proven track record of shareholder value creation, and now also, a growing record of dividend friendliness. That makes NOW the best possible time for long-term dividend growth investors to get into this blue chip biotech; when market pessimism is at its peak.
Disclosure: I am/we are long GILD, JNJ, PFE.
I wrote this article myself, and it expresses my own opinions. I am not receiving compensation for it (other than from Seeking Alpha). I have no business relationship with any company whose stock is mentioned in this article.