I have written over 75 articles in the last few months on almost 60 different companies. Most of the companies I have written about would make very good investment partners provided I had the cash and they were selling for a good price. In my IRA my purchases have been constrained by the amount of cash flow I get from dividends.
On Monday I made a sale and used that to buy stocks on Tuesday. This is the first time I have used DDM (dividend discount model) valuation as the only factor in deciding exactly which stocks I will buy when I make a large purchase. By showing what the actual purchases are and how I decided to buy them, I can provide evidence that DDM is a reasonable valuation method for dividend growth investors to use in picking which stocks to buy. I first outlined a plan to make these trades in this article, but since then some prices have changed, and I decided to do things a little differently than originally planned.
Why do I have money to spend?
When I wrote the original article, I had written a covered call for the February 10th expiration date with a strike price of $116. I fully that call to be exercised. That didn't happen, but since I did have a small profit on the position and am still worried about a dividend cut, I sold the position early on this Monday.
I had positions in both Chevron (NYSE:CVX) and Exxon Mobil (NYSE:XOM). I think it's easy to understand that if oil prices stay low long enough, the oil majors will have to cut dividends. I think there is still plenty of time before either CVX or XOM has to cut dividends, but I think CVX will be the first to cut them. Oil prices seem to be staying low and I am seeing no signs that they will go up in a significant and sustained amount any time soon. I have been thinking about exiting my CVX position for some time. In fact that is why I started writing covered calls on the position back in October. So while I still had a profit on my CVX position, I thought it prudent to cut my exposure to this industry and sell off my position.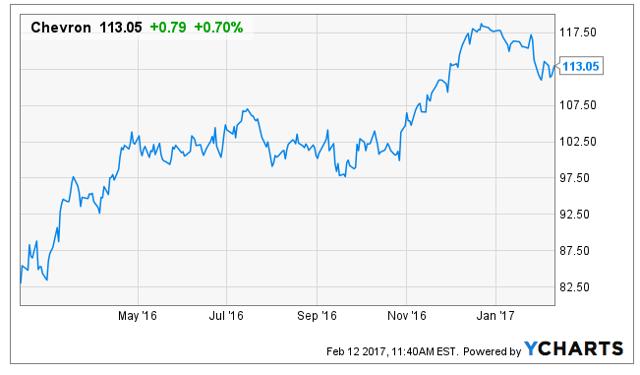 I sold the CVX shares early on Monday and got $11,314.15 after the $6.95 commission.

What's on my watch list and how do I compare them?
Below is my current list, which is composed of some of the stocks that I have written articles on. All companies on the list are companies I have already determined that I wish to own. Many are utility companies because my current portfolio is light in that area.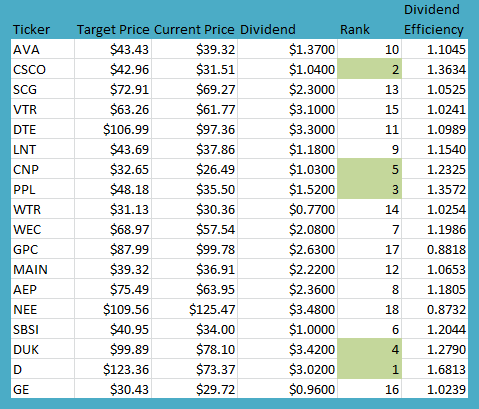 In the table above, the Ticker column contains the ticker symbol for each stock, the target price column contains the price I want to pay for the stock, the current price column has the market price at the close on Friday, and the Dividend column has the annualized amount of the dividend based on the last declared quarterly dividend. I have updated it with the current dividends and DDM calculations.
I rank the stocks based on what I call dividend efficiency. That tells me the present value of the dividend stream I will get if I invest $1 in that stock. Since I have a limited number of investment dollars, this tells me which companies are best at turning my investment dollars into dividend dollars. The rank column orders the stocks by the dividend efficiency, with green indicating that is a stock I purchased. The current price is as of market close on Friday (since that is the price I used to determine which stocks I would buy). As luck would have it, none of the changes to dividends or market prices and even adding another stock to the mix changed what the top 5 best value stocks were.
General Electric (NYSE:GE) is new to my watch list since the last article. Since the original article on my plan I had written about GE and it is currently selling at a price that makes it a buy. It illustrates an important point. GE is currently priced below my evaluation of the present value of its dividend stream. As such, I rate it as a buy. However, since I don't have an infinite amount of money to spend on purchasing stocks, I want to buy stocks that are currently at the best value. Sadly, based on the stocks I am currently thinking of purchasing, it rates near the bottom in terms of good value.
What stocks am I going to buy with the new money?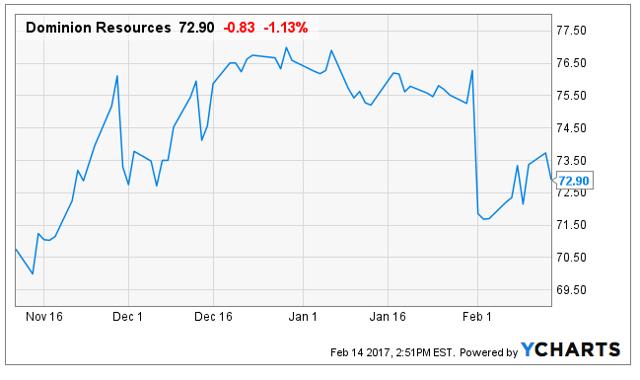 In my original plan I was going to purchase an equal dollar value of shares, $2,250. However, Dominion Resources Inc. (NYSE:D) is at such a nice valuation, I decided I wanted more of it. So I reduced the amount I would spend on the three stocks I don't already own to $2000, and increased the amount I would spend on D to $3000. I kept the spending on Duke Energy Corp (NYSE:DUK) to $2,250.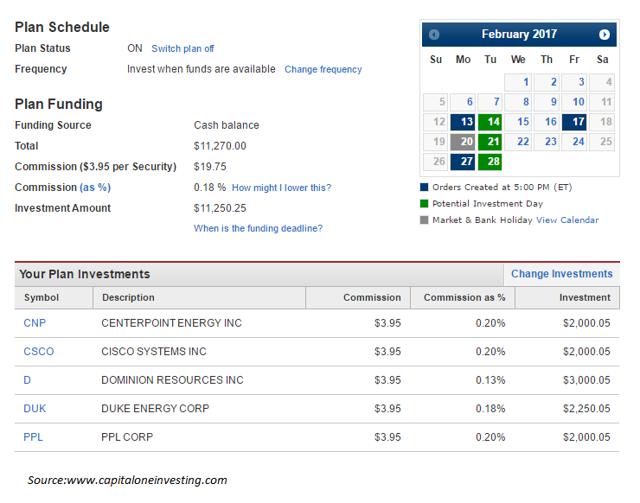 The screen shot above is the screen that shows what stocks will be purchased under the Automatic Purchase Plan that Capital One Sharebuilder offers. Basically you set the plan up at any time prior to a Monday at 5PM Eastern time and it will execute during the day on the following Tuesday. You can have funds to pay for the purchases come out of the cash balance of the brokerage account, or connect it to a bank account. Since this is an IRA, I have it using the cash balance in the account. You can also set up regular deposits to your brokerage account from a bank account. In my taxable account, I set up a regular deposit from my checking account, and then combine that with funds from dividends to make purchases.
The Frequency feature is also nice. You can set it up to make a purchase every week, every other week, once a month, or as I have it here in my IRA when funds become available. So when my dividend payments or cash from sales is enough to fund all of these purchases, it goes through. Normally in this account I have just a single stock selected and the purchase amount is set to $1500.
It might seem strange that the investment amount is 5 cents over a dollar amount. That is because on the screen to setup the plan, one enters a dollar figure to buy, and the commission is then subtracted from that dollar figure.

Next is the record from by broker of each of the transactions, 5 purchases and one sale. The amount value includes the commission.
Below I have copied a table with the 5 stocks that I bought based on their relative valuation as of Friday's close. Included in the table are the price I paid, the number of shares I purchased and the currently declared dividend projected out for the next 12 months.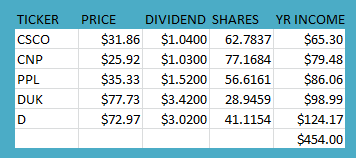 I got not quite 63 shares of Cisco Systems Inc. (NASDAQ:CSCO), which will pay me a dividend of $65.30 over the next 12 months. I wrote a full analysis here.
I was able to purchase just over 77 shares of CenterPoint Energy Inc. (NYSE:CNP), which should pay me $79.48 projected over the next 12 months. I wrote a full analysis here.
My $2000 bought 56.6 shares of PPL Corp (NYSE:PPL). I expect to collect at least $98.99 in dividend payments over the next 12 months. I wrote a full analysis here.
I spent $250 more on DUK shares than I did on the first 3 stocks. I ended up adding just under 29 shares to 88.77 share of DUK that I already owned. The new shares will boost the dividends I get from DUK over the next 12 months by a projected $98.99. I wrote a full analysis here.
I spent $1000 more on buying D shares than on the first 3 stocks. Since writing the original article about my plan, I wrote a new article on D. The new dividend payments and the recent price drop made D far more attractive a purchase than it was originally, so I decided to buy even more of it than I planned. My additional investment will add just over 41 shares bringing the total number of D shares I own to 207.2487. The new shares will boost the dividends I will collect from D by $124.17 over the next year. I wrote a full analysis here.
One of my goals when I add stocks because of a sale is to replace the income that the sold assets generated. The 100 shares of CVX generated $432 of dividends projected from its last quarterly dividend announcement. As can be seen, with the prices from last Friday, the replacements currently slated to be bought will generate a total of $454, a gain of $22 in income.
Conclusion
This is the first really large purchase of shares that I have made using only DDM valuations to choose the stocks. Up until now I have made smaller purchases of stock using this evaluation technique, but those purchases were only reinvesting accumulated dividends and had a dollar value of $1500. Even though I ended up getting less for my CVX shares than I originally planned, I still managed to increase my projected dividend income by around $20. Since I first put this watch list together I have added a stock that I have written several articles about. I like General Electric , and as soon as it moves up in the list I will likely buy it. I should soon have some money coming in from a 401(k) that I want to roll over, so that will again give me a good opportunity to make a large purchase.
I think I have shown that it's possible to use DDM valuations to increase the dividend income produced when replacing a position. This real world example shows that it is practical to use a valuation technique that incorporates both the current dividend and how much it is expected to grow in the future to pick stocks.
Note: I hope you all got something out of this article. I do appreciate the time you took reading it. If you are one of those who follow me here, I appreciate it; if you'd like to include yourself amongst those individuals, please hit the "Follow" button next to my name as well as following other contributors whose work you enjoy. As always, please leave any feedback and questions you may have in the comments below.
Disclaimer: This article is intended to provide information to interested parties. As I have no knowledge of individual investor circumstances, goals, and/or portfolio concentration or diversification, readers are expected to complete their own due diligence before purchasing any stocks mentioned or recommended. The price I call fair valued is not a prediction of future price but only the price at which I consider the stock to be of value for its dividends.
Disclosure: I am/we are long D, DUK, XOM, PPL, CNP, CSCO.
I wrote this article myself, and it expresses my own opinions. I am not receiving compensation for it (other than from Seeking Alpha). I have no business relationship with any company whose stock is mentioned in this article.
Additional disclosure: During the course of writing this article I sold all my shares in CVX and bought shares in D, DUK, CNP, PPL, and CSCO.