Investment Thesis: AzurRx Biopharma (NASDAQ:AZRX) recently went public and raised $5.2 million at $5.50 per share. Since then shares have pulled back, the shares now trade for around $4. We believe the company is attractive due to its targeting of very large markets with clear unmet needs, the efficient use of tax credits from the French government for research and development expenses, and the dicounted technology value of their portfolio relative to similar public biotechnology companies.
Company Overview: AzurRx specializes in the development of treatments for gastrointestinal diseases and microbiome-related sickness, such as Endocrine Pancreatic Insufficiency (NYSEARCA:EPI) and hospital-acquired infections. The company has two main products in its pipeline, MS 1819 and AZX 1101, with the first one being a lipase targeting EPI condition caused by Cystic Fibrosis and Chronic Pancreatitis, and the latter one being an enzyme targeting C. Difficile infections.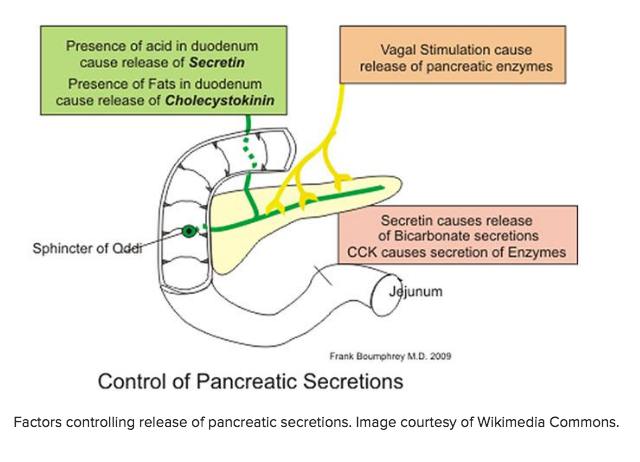 Source: Medscape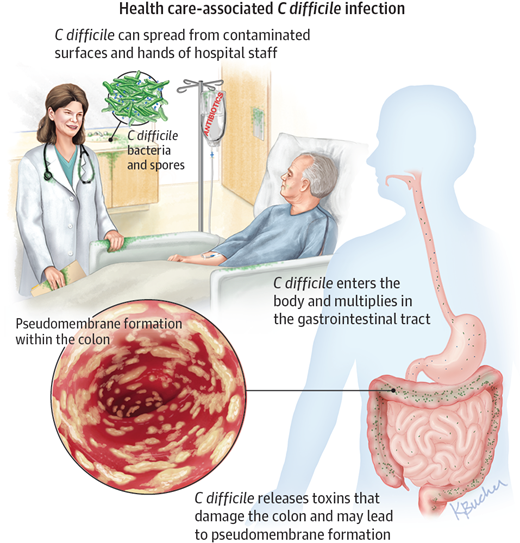 Source: JAMA Network
Key Investment Points
Company announced the enrollment of first three patients in Phase IIa study of MS1819 targeting Endocrine Pancreatic Insufficiency
The introduction of the first three patients into the Phase IIa study was a major milestone for the company. The purpose of Phase II trial is to investigate the safety of an increased dose of MS1819 in patients with Chronic Pancreatitis. The company is going to report data periodically for this trial. Based on data of previous trails, we are optimistic about the results, which will be reported during 2017 and could function as catalyst for shares
Company's lead product, MS1819 can reduce pill burdens for young EPI sufferers and people having difficulty swallowing
EPI is currently treated with pancrelipase, which carries various limitations, including heavy pill burden on patients. The introduction of MS1819 can help sufferers to lessen the amount of pills that have to be swallowed each day and enhance the effectiveness of EPI treatment through more consistent and regular treatment
AZX 1101 has potential to address large unmet need around nosocomial infections
The Center for Medicare and Medicaid (NYSE:CMS) services has begun to penalize hospitals for not paying for "avoidable" costs. This bodes well for AzurRx, as there will be more funding available for their AZX1101 candidate which is targeted to prevent antibiotic-associated diarrhea (AAD) and hospital acquired infections. The Center For Disease Control (NASDAQ:CDC) has estimated that roughly 1.7 million hospital associated infections are responsible or contribute to 99,000 deaths each year in the United States. AZX 1101 is not a treatment for C. Difficile but is expected to be preventative.
Large Markets With A Clear Need
The two main products of the company are MS 1819 and AZX 1101. MS 1189 is in phase IIa trial stage, and AZX 1101 is in its preclinical stage. As shown below, MS 1819 targets Endocrine Pancreatic Insufficiency associated with Chronic Pancreatitis (NYSE:CP) and Cystic Fibrosis (NYSE:CF), while AZX 1101 carries beta-lactam antibiotics to combat against nosocomial infection, commonly known as hospital-acquired infection, in patients' gastrointestinal tracts. MS 1819 drug addresses a $820 million market in the U.S. and a $1.5 billion market worldwide, while AZX 1101 drug addresses a medical market size ranging from $3 billon to $11 billion. Despite the fact that AZX 1101 is currently in the pre-clinical stage, we see significant potential in addressing an unmet medical need. Also, MS 1819 has the potential to reduce a patient's bill burden of approximately 30-40 capsules down to 5-8 capsules (shown below).
Source: AzurRx 2016 Investor Presentation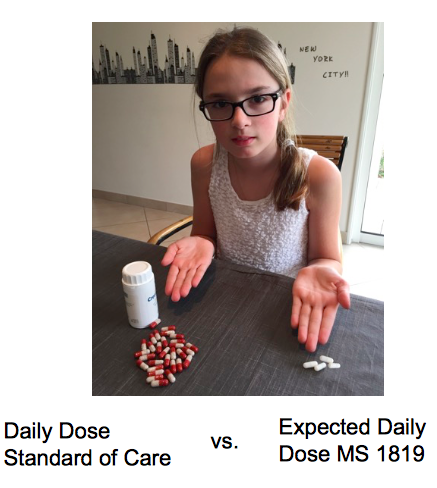 Source: AzurRx 2016 Investor Presentation
MS 1819 Trials
The company has completed Phase I and IIa trial stages for MS 1819, and the clinical results demonstrated safety and enhanced efficacy. The in-vitro test conducted was carried out in the conditions tested for MS 1819 in comparison to porcine pancreatic extracts (PPEs) and recombinant pancreatic lipase. The in-vitro activity of MS 1819 shows superior activity to PPE extract lipase at the pH range illustrated below. Under normal circumstances, the pH range in human intestinal tracts like the duodenum is between 4 and 6, while patients suffering from Chronic Pancreatitis and Cystic Fibrosis will have a slightly more acidic gastrointestinal tract in the range of 4 to 5. Note that MS 1819 demonstrates superior activity between the pH range of 4 to 6, and it not deactivated by the presence of bile salts, referring to potential increased effectiveness in CP and CF treatment.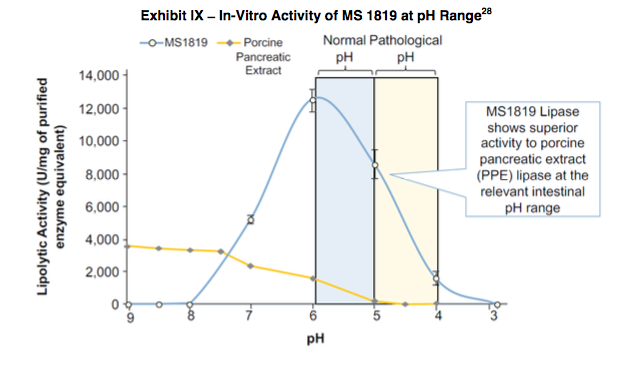 Source: AzurRx Investor Presentation 2016
The company also conducted in vivo research studies with the use of minipig models. With the similarities in the gastrointestinal traits of minipigs and humans, researchers of the company made use of minipigs to determine the effect of exocrine pancreatic insufficiency and steatorrhea. The minipigs have to be maintained a minimum of 60% on the coefficient of fat absorption (NASDAQ:CFA) for the research. MS 1819 doses ranging from 10.5 mg to 211mg are then used on the minipigs with CFA over 60%. The results were positive, with 24% to 29% rise in CFA with the comparison of data from fecal fat excretion before and after the surgery. Also the research showed an absence of mutagenic potential with the usage of MS 1819 doses. The company also carried out medication toxicity experiments on both rats and minipigs, the outcome was that there is no toxicity to rats for up to 1,000 milligram per kilogram per day and up to 250 milligram per kilogram per day for minipigs. The company also stated in its corporate report that "immunoglobulin G (IgG) against MS 1819 can be detected in some animals (rats and minipigs) following exposure of MS1819 without detectable immunotoxicity". MS 1819 thus demonstrated improvement in key efficacy parameters when tracking both CFA and steatorrhea.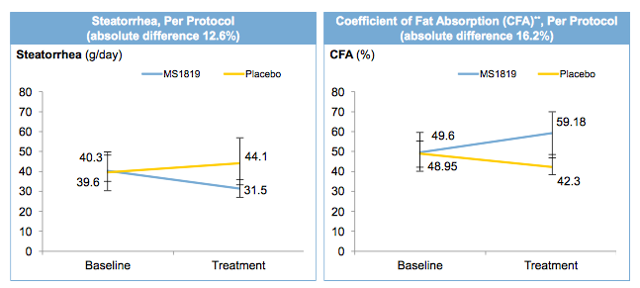 Source: AzurRx BioPharma, Corporate Report, 2016
Upcoming Trial For Chronic Pancreatitis
The company is conducting a phase IIa trial using a randomized, double-blind, placebo controlled and parallel clinical trial with 12 patients with CP from Australia and New Zealand. According to the company's corporate report, the treatment of MS 1819 has met its primary and secondary efficacy endpoints. Data is collected through the daily evaluations of patients and also by assessing the consistency of stool using the Bristol Scale. With the phase IIa trial stage currently undergoing, the company is planning to proceed with the phase IIb in the second half of 2017. The primary objective of the phase IIa and IIb is similar in that both phases measure safety dose amounts corresponding to patients' response and determine the efficacy from patients. The phase IIb, when compared to IIa, serves as an extended research stage, with the target of enrolling 30 to 60 patients participating in the trial for approximately three months in a newly added location in the U.S. other than the locations in Australia and New Zealand. Below is a table illustrating the dose intake for patients each day under different schemes.

Source: Source: AzurRx BioPharma, Corporate Report, 2016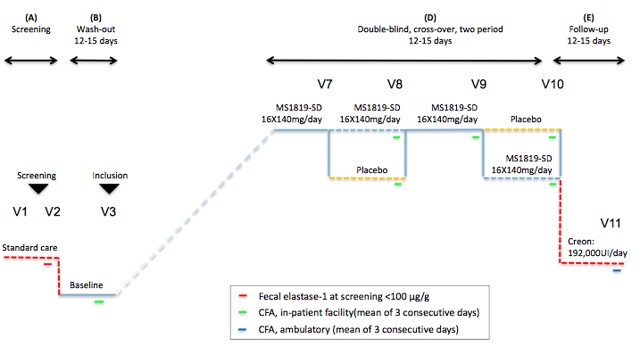 Source: AzurRx BioPharma, Corporate Report, 2016
Pre-clinical Candidate Has Large Potential
AZX 1101 is currently in the pre-clinical stage. According to the Center for Disease Control and Prevention, there were 75,000 cases of death resulting from hospital-acquired infections in 2011. Further, it is estimated that there are approximately 1.7 million hospital-acquired infections, and 99,000 cases of death resulting from the infections, generating a massive burden in government healthcare costs, estimated around $20 billion per year. Apart from easing nosocomial infection, AZX 1101 also prevents hospitalized patients from acquiring infections within the hospital. With the enormous number of hospitalized patients each year, 5-10% of the patients are estimated to acquire nosocomial infections. As shown from the chart of the National Institute of Health, 18.9% of all hospital-acquired infections comes from C. difficile infections (NYSE:CDI). AZX 1101 was designed to protect gastrointestinal microbiome, and specifically targets CDI and antibiotic-associated diarrhea (AAD). We feel positive on the prospects for AZX 1101.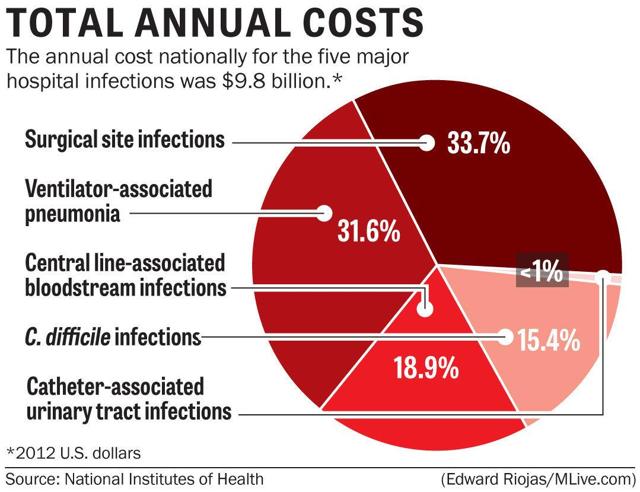 Source: National Institute of Health
French Tax Credits A Favorable Research and Development Strategy: The company benefits from numerous tax credits awarded to research companies based in France. The company generally classifies these credits as other receivables which are received within twelve months of year end. The company is targeting the United States for its products but by conducting its research in France it is able to subsidize a large portion of its research and development expenses, a highly effective strategy.
Last Quarterly Financial Summary
R&D expenses totaled $744,309 for the quarter ending September 30, 2016, compared to $363,996 in the same period last year. While the General & Administrative (G&A) expenses for the quarter decreased from $1,044,968 in 2015 to $543,721 in 2016. The company ended the quarter with approximately $130,000 in cash according to the company's balance sheet, but with the IPO of $5.28 million, the company is positioned to reach key valuation inflection points in our view.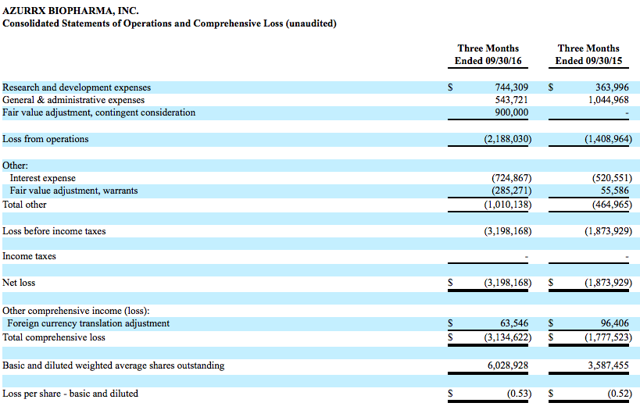 Source: AzurRx BioPharma, 10-Q Filing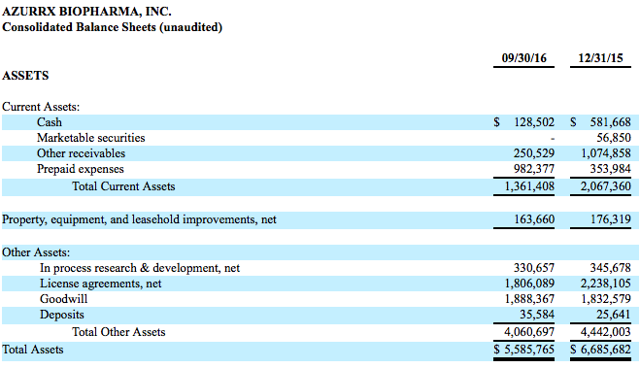 Source: AzurRx BioPharma 10-Q Filing
Valuation: To value AzurRx we used the technology value method to determine the technology value of the company (the value of the company's pipeline). The technology value is computed as current market capitalization minus the most recent cash and cash equivalent amount. For selecting the companies, we picked 5 U.S. companies specializing in the development of drugs for gastroenterological diseases and microbiome-related sickness. The median technology value computed was $122.74 million. As illustrated, AzurRx appears undervalued relative to other biotech competitors engaging in the same field of development.

Source: JGR Capital Partner's Analysis
Core Risk factors: The company has generated losses since inception with accumulated deficits since inception totaling approximately $14 million according to the recent quarterly filing. The company also has no experience moving a compound through drug trials and there is no guarantee the company will be able to market their drugs once they are approved and/or secure a partner to do so.
Conclusion: Generally speaking, we view AzurRx BioPharma as a high-risk-high-reward investment opportunity. We believe that at current prices, the stock has been drastically undervalued relative to its favorable pipeline and capital efficient drug development strategy. Initial data has been encouraging and at current prices investors can purchase shares at a discount to those who bought in at the initial public offering.
Disclosure: I/we have no positions in any stocks mentioned, and no plans to initiate any positions within the next 72 hours.
I wrote this article myself, and it expresses my own opinions. I am not receiving compensation for it (other than from Seeking Alpha). I have no business relationship with any company whose stock is mentioned in this article.