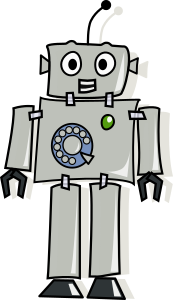 With the recent introduction of the Global X Robotics & Artificial Intelligence Thematic ETF (NASDAQ:BOTZ) in September 2016, there are now two ETFs focused on the robotics and automation theme. The other fund is the Robo-Stox Global Robotics and Automation Index ETF (NASDAQ:ROBO), which started trading almost 3 years earlier, in October 2013.
But if there is any rust on ROBO's bolts, you sure couldn't tell based on its recent performance, up 47% in the last year. ROBO is even performing about 4% (or 10% annualized) better than its new rival.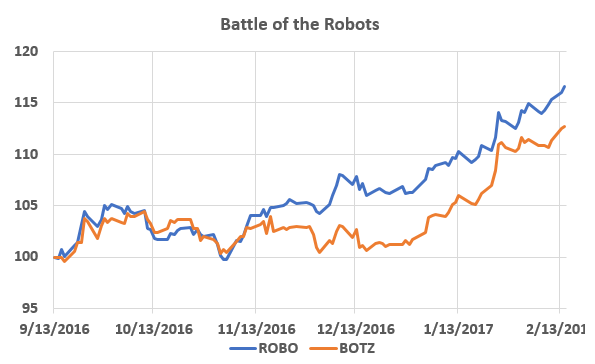 Last month I wrote an article on BOTZ, noting that the P/E ratio was high compared to other technology and Japanese ETFs. Even so, BOTZ has been handily outperforming the S&P 500, especially since President Trump took office, with the investment community betting that robotics will benefit substantially with the U.S. manufacturing renaissance.
Differences in Fund Characteristics
Despite targeting similar themes, the make-up of the two ETFs could not be any more different. ROBO holds 85 stocks and is tilted towards mid and small-cap stocks, while BOTZ has 28 stock holdings with a bias towards giant to mid-cap stocks.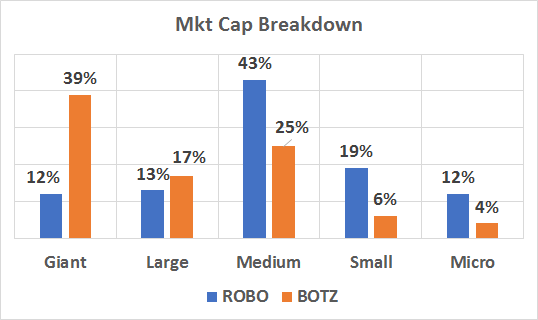 This is primarily due to the fact that BOTZ is weighted by market capitalization, while ROBO is weighted by equal dollar value. Note: ROBO is split into two groups: bellwether and non-bellwether stocks, then equal weighting is applied to each group.
With 3 times the number of stocks and equal-weighting, ROBO is better diversified and has lower risk than its competitor. And with the resurgence of value stocks in 2016, the lower market capitalization and lower P/E ratio (22.9 Vs. 24.8) may prove to be an advantage for ROBO.
| | | |
| --- | --- | --- |
| Characteristic | ROBO | BOTZ |
| Number of Holdings | 85 | 28 |
| Expense Ratio | 0.95% | 0.68% |
| P/E Ratio | 22.9 | 24.8 |
(Source etfdb)
BOTZ does have a lower expense ratio of 0.68% vs. 0.95% for ROBO, probably because there are fewer stocks to manage.
BOTZ has much more international exposure at 79% vs. ROBO's 59%. This may be another advantage for ROBO given Trump's protectionist policies.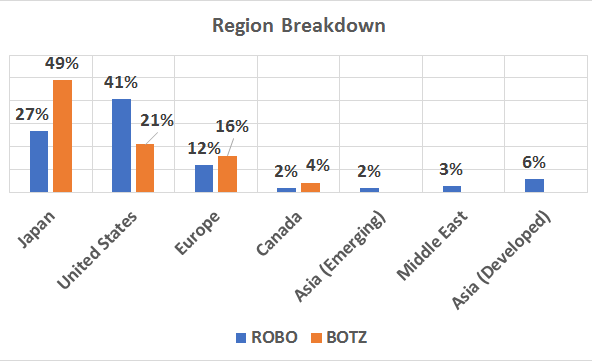 Differences in Stock Holdings
Despite the extremely large number of stock positions, ROBO is missing some stocks that BOTZ holds. These stocks are discussed below.
Kuka AG (OTCPK:KUKAF), Kuka AG ADR (OTCPK:KUKAY)

KUKA is a German company that manufactures industrial robots and factory automation solutions. The company was founded in 1989 and built its first robot back in 1973. KUKA has 25 subsidiaries worldwide. China's Midea Group initiated a takeover bid to buy Kuka for about €4.5 billion ($5 billion) in May 2016. It appears that Midea has fulfilled the conditions for buyout and I believe that the acquisition is going ahead. Therefore, the fact that ROBO does not hold KUKA is immaterial at this point in time.
Qinetiq Group Plc. ADR (OTCPK:QNTQY)

Qinetiq is a British multinational defense technology company that offers a wide range of products and services including robots used to remotely locate and disable roadside bombs, and a solar-powered unmanned aerial vehicle. Based on the fact that Qinetiq offers a vast range of products and services, most of which are unrelated to robotics, it really doesn't concern me that ROBO does not hold this stock.
Cyberdyne Inc. ADR (OTCPK:CYBQY)

Cyberdyne is a Japanese robotics and technology company, noted for the HAL 5 robotic exoskeleton suit, which they claim augments body movement and increases user strength by up to ten times. This product is currently only used for clinical research and its future depends on changes to revision of long-term care fees. It could be years before this company starts generating a profit.
TransEnterix, Inc. (NYSEMKT:TRXC)

TransEnterix is a medical device company that is pioneering the use of robotics to improve minimally invasive surgery. I don't want to be crude, but this is one medical device company that may die on the operating table. There is one round of financing (i.e. share dilution). Based on the current state of clinical trials and sales, there will likely be more before the company starts making a profit.
Based on what I see, the fact that ROBO does not hold the stocks listed above is of no real concern.
Note: ROBO has 57 stocks that BOTZ does not hold. I won't be addressing the 57 stocks in this article.
BOTZ Stocks With High Weighting
BOTZ's stock holdings are weighted by market cap and ROBO stocks are equal-weighted. Therefore, BOTZ may either have an advantage or may be assuming excessive risk based on the specifics of the overweighted stocks.
| | | | | |
| --- | --- | --- | --- | --- |
| % of BOTZ | Company | Cash($) | ROE (%) | P/E Ratio |
| 8.13% | Mitsubishi Electric Corp. (OTCPK:MIELY) | 4.75b | 11.9% | 16.6 |
| 7.98% | Fanuc Corp. (OTCPK:FANUY) | 6.66b | 10.2% | 24.6 |
| 7.51% | ABB Ltd. (NYSE:ABB) | 5.67b | 13.9% | 25.1 |
| 7.44% | SMC Corp. (OTCPK:SMCAY) | 4.02b | 11.3% | 20.2 |
| 6.91% | Intuitive Surgical Inc. (NASDAQ:ISRG) | 2.55b | 14.6% | 38 |
| 5.50% | Omron Corp. (OTCPK:OMRNY) | 864m | 10.0% | 23.3 |
| 5.25% | Trimble Inc. (NASDAQ:TRMB) | 327m | 5.9% | 60.4 |
| 4.02% | Mobileye NV (NYSE:MBLY) | 330m | 16.8% | 116.62 |
All of these stocks have strong balance sheets and I don't have any concerns regarding excessive risk.
3 of the stocks listed above have high P/E ratios: ISRG, TRMB and MBLY. Mr. Market is assuming very high future growth rates for these stocks, which may or may not come to pass.
MIELY, ABB, SMCAY and OMRNY are not risky but they have too many products and services outside the field of robotics and automation. The fact that their weight allocations are high in BOTZ but not ROBO do not concern me.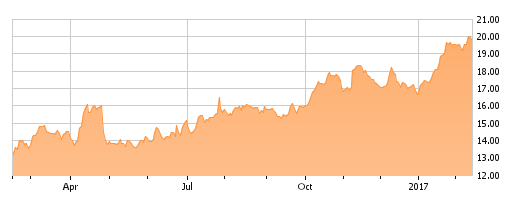 FANUY has had impressive stock price appreciation over the last year, although ROBO had similar gains. Therefore, I don't believe that much is being sacrificed by having a weight allocation of 2% Vs. 8%.
Summary and Conclusions
There are two ETFs focused on the robotics and automation theme: BOTZ and ROBO. BOTZ commenced trading in September 2016 and ROBO in October 2013.
ROBO has gained 47% in the last year and has been outperforming BOTZ since its inception. Robotics ETFs will likely outperform the general market due to U.S. manufacturing renaissance.
Despite similar themes, the two ETFs could not be more different. ROBO has greater diversification, and lower risk. Lower P/E ratio and lower market capitalization makes ROBO a better value strategy.
Four stocks held by BOTZ are not included in ROBO and eight stocks are overweight in BOTZ compared to ROBO. These differences are immaterial for investors intending to purchase ROBO.
ROBO appears to be the better investment based on risk, diversification and P/E ratio. The American manufacturing renaissance and trend towards automation makes ROBO an attractive investment.
Disclosure: I/we have no positions in any stocks mentioned, and no plans to initiate any positions within the next 72 hours.
I wrote this article myself, and it expresses my own opinions. I am not receiving compensation for it (other than from Seeking Alpha). I have no business relationship with any company whose stock is mentioned in this article.
Editor's Note: This article discusses one or more securities that do not trade on a major U.S. exchange. Please be aware of the risks associated with these stocks.