Between Michigan and Texas
Comerica (NYSE:CMA) has one of the most peculiar geographical distributions in the U.S., with completely separate banking divisions in Michigan and the southern U.S. in Texas, California, Arizona, and Florida. Like many other U.S. regional banks, Comerica's origins are from a long time ago, rooted in 19th century U.S. financial history. Founded by Elon Fansworth, a leading Michigan lawyer and academic, and initially named the Detroit Savings Fund Institute, it is one of the few lenders that survived the Great Depression.
During the 1980s, in a somewhat bizarre move, the Michigan bank entered the Florida (1982) and Texas (1988) markets, with the acquisitions of Bank of Commonwealth and Grand Bancshares, respectively. In 1991, Comerica expanded in nearby California with the acquisition of Plaza Commerce Bancorp and InBancshares. Throughout the 1990s, Comerica continued its expansion in the northern portion of the U.S. via a merger with Detroit-based Manufacturers National Corporation ($12.5bn assets and 6,000 employees) and in the Sun Belt with the acquisition of Imperial Bank of California.
After the expansion in the Sun Belt, which dramatically increased the weight of the South in Comerica's accounts, the lender decided to move its headquarters in 2007 from Detroit to Dallas in order to be closer to its main customer base. After the financial crisis, Comerica's cautious expansion has continued in the Sun Belt, particularly in Texas with the acquisition of Sterling Bank, for $1.03 billion.
In parallel to the development of its lending activities Comerica has consistently expanded its credit card franchise since the 2000s. One of the milestones of this effort has been the selection of Comerica by the U.S. Department of Treasury as agent for its Direct Express Debit Card program.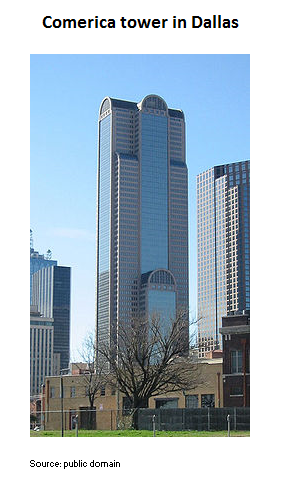 The bank at a glance
Comerica is not a retail bank, but a business bank with a retail bank division and an unusual but somewhat useful business distribution between two disconnected areas in the U.S.: Michigan and the South. The presence of the lender in both of these disconnected areas helps to smooth regional shocks from an economic viewpoint -- the last of which was the oil and shale gas energy crisis. The other side of the coin is higher structural costs, which at Comerica are significantly higher compared with most of its U.S. competitors.
In geographic terms, the loan book of the lender is split between the South and Michigan (36% in California, 22% in Texas, 25% in Michigan, and 17% in other markets at the end of 2016). A geographic analysis of deposits shows a similar trend (30% in California, 17% in Texas, 38% in Michigan, and 15% in other geographic areas).
In terms of loans by segment, 77% of the portfolio at the end of 2016 was allocated to corporate, 12% to the retail bank, and 10% to wealth management. Following the same pattern, 64% of net revenues were generated by the business bank, 28.2% by the retail bank and the remaining 7.6% by wealth management. Interestingly, deposits are split almost 50/50 between retail and business banking. Therefore, Comerica funds its corporate lending practice with retail deposits.
Comerica is a very conservative bank in terms of funding, leverage and capital position. Its loan-to-deposits ratio is a very moderate 83% and its leverage ratio (equity over assets) is around 9x. Furthermore, the funding structure of the Dallas-based bank is very conservative, with 82% of the balance sheet funded with deposits and the rest by a mix of wholesale paper and other liabilities.
Historically, Comerica has done well with regard to the top line. According to the CRSP database, the lender's NIM at the end of 2016 was 2.7%, compared with a historic average of 3.68% over the period of 1998-2015. This places the bank just below the top tier of regional and supra-regional banks' NIM efficiency distribution, compared with Wells Fargo's (NYSE:WFC) 4.59% and M&T's (NYSE:MTB) 3.77%.
Efficiency ratio is the Achilles heel of Comerica; at 63.58% at the end of 2016 it is far too high compared to competitors and the developed markets' average. This state of affairs is probably due to the split business distribution in the U.S. between the North and the South and the low level of gearing of Comerica's balance sheet. This weakness makes Comerica a juicy target for a hostile takeover.
In terms of returns, and after feeling the impact of oversized costs, things are not as positive as they are on the top line. According to CRSP, at the end of 2016 its ROE was 6.1% while its historic average since 1998 has been around 10%. That places Comerica at the mid- to low point of the distribution, together with names such as BB&T (NYSE:BBT) or Fifth Third (NASDAQ:FITB), but clearly above historic underperformers such as SunTrust (NYSE:STI), Zions (NASDAQ:ZION), or Huntington Bankshares (NASDAQ:HBAN). The same performance can be spotted in average historic return on assets (ROA): 1.55% for Comerica vs. 1.1% for SunTrust, 0.9% for Zions, 1.06% for KeyCorp (NYSE:KEY), and 2% for Wells Fargo (Tier One).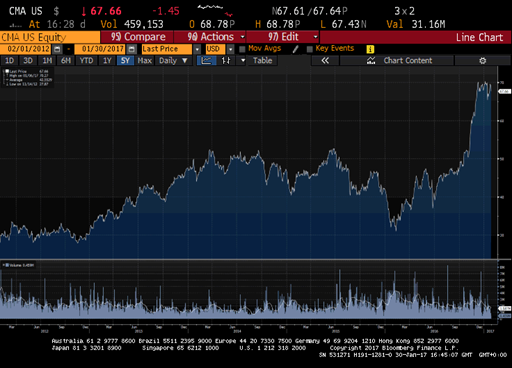 Takeover bids, earnings upside and stock price
Comerica has several traits that make it ideal for a takeover bid -- hostile or not -- over the next three years.
First, the Dallas lender has a very important upside in terms of an interest rate increase that has not yet materialized. According to Comerica's Q4 2016 results presentation, this could be an increase in profits anywhere between $100 million and $300 million for a 100bps to 300bps rates increase, depending on conditions. This gives a range for increases in net profits of between 21% and 62%, very likely the highest potential among all U.S. regional banks.
Second, Comerica has a wide scope for rationalization, and even a sale of its northern and southern parts to regional competitors is feasible. As explained above, its high cost/income ratio -- 63.58% at the end of 2016 -- is very likely caused by heavier structural costs compared with competitors and the relatively conservative leverage and funding profile of the lender. Therefore, there is scope for releveraging the balance sheet and increasing returns significantly.
Third, its low market capitalization compared with other regional and supra-regional peers -- at around $12bn -- makes a potential takeover bid easy to finance for a friendly or unfriendly predator.
Fourth, the M&A business in the U.S. is likely to heat up over the next few years following the gearing of the business cycle and possibly stimulated to the extreme by Donald Trump's economic policies, if these are implemented.
Finally, Comerica seems to be in the spotlight on Wall Street. Mike Mayo, a well-known banks analyst, has been agitating for the sale of the organization to a bigger competitor in order to generate extra value for shareholders. As an answer to this and other calls for sale or dismembering, CEO Ralph Babb acknowledged that returns should be improved and said he had considered a sale of the bank when the worst of the oil crisis hit shale producers financed by the bank.
Following corporate movement expectations and the general bank bull run, Comerica's stock price increased 111.53% last year. In terms of valuation, Comerica is expensive compared with historical prices in terms of price/earnings -- it has an expected P/E for 2017 of 16.9 times -- but not as much in terms of price/book value, at 1.52 times. The Dallas-based lender's valuation is in line with peer banks BB&T, PNC (NYSE:PNC), and similar competitors.
As we have noted above, expectations are high as well. In the context of rising interest rates and "Trumpian" stimulus the U.S. profits of the Dallas bank could increase 50% or more, while there is the potential for a tender offer during the cycle gearing period. Overall, Comerica is a somewhat risky play depending on Trump delivering on his economic plan and/or an acquisition that crystallizes the value hidden in its balance sheet via integration, partial spin-offs, cost cutting, releveraging, or a mix of all these.
In the case that none of this happens, the price paid today for Comerica's stock is not high enough to destroy value permanently. In two or three years, extra profits generated during the growth period of the cycle will place the bank's shares at the point of potential further stock price increases.
Disclosure: I/we have no positions in any stocks mentioned, and no plans to initiate any positions within the next 72 hours.
I wrote this article myself, and it expresses my own opinions. I am not receiving compensation for it (other than from Seeking Alpha). I have no business relationship with any company whose stock is mentioned in this article.