Rio Tinto (NYSE:RIO) reported strong FY16 results and announced a higher than expected final dividend. The recovery of iron ore and coal prices in the second half of the 2016 more than compensated headwinds in the Aluminium and Copper & Diamonds segments.
While Rio Tinto's half-year results reported in August were clouded by lower commodity price pressure, the last six months of the year saw substantial improvements. This becomes most obvious when comparing a few key figures.
Rio Tinto 2016 Key Figures (all in $M)
| | | | |
| --- | --- | --- | --- |
| | FY2016 | 1HY2016 | 2HY2016 |
| Sales | 33,781 | 15,500 | 18,281 |
| Underlying EBITDA | 13,510 | 5,367 | 8,143 |
| Underlying earnings | 5,100 | 1,563 | 3,537 |
| Net cash from operations | 8,465 | 3,240 | 5,225 |
| Free cash flow | 5,807 | 1,922 | 3,885 |
Source: company reports.
Sales in the second half of the year climbed by $2.8B, primarily due to higher prices for iron ore and coal. Since production costs were more or less constant, higher revenue directly leads to higher EBITDA and operating cash flow. Rio Tinto's free cash flow improved even more due to lower dividend payments in the second half-year and $354M cash inflows from asset sales.
The growing free cash flow allowed accelerated net debt reduction from $13.8B at the end of 2015 to $12.9B on June 30 and further to $9.6B at the end of 2016.
Rio Tinto's Dividend
Rio Tinto final dividend for FY16 which will be paid in April climbs to 125 cents. To put this number into context, some explanations are helpful. Rio Tinto's dividend is paid in two installments, an interim dividend for the ongoing financial year in September and the final dividend in April. For FY15 both installments were identical, 107.5 cents each, adding up to an annual dividend of 215 cents.
In February 2016, the company announced a new dividend policy which led to a 58% reduction of the interim distribution from 107.5 cents to 45 cents. Rio Tinto also stated that for FY16, the board's intention was to distribute not less than 110 cents which means that the final dividend could not have been lower than 65 cents.
The 125 cents final dividend which was just announced is almost twice as much. It also means that the full-year dividend for FY16 amounts to 170 cents which is only 21% less than the FY15 dividend of 215 cents. Surely, in the end it is still a dividend cut, but it could have been much worse, and it is clearly more than what the market had expected. In addition, Rio Tinto announced a buyback program of $500M. Not surprisingly, Rio Tinto shares responded well and gained 8% since the results were released, and the stock now yields 3.7%.
The Cash-Flow and Dividend Outlook
There is still upside potential for Rio Tinto shares and the dividend. The average realized price for iron ore during 2016 was $53.6 per dry metric ton, much less than the ytd average of around $80. Iron ore is Rio Tinto's biggest cash contributor, and with a similar shipment volume, slightly lower production costs, margins will unavoidably improve further if prices stay firm.
The Copper & Diamonds segment should also see some improvement. In 2016, Rio Tinto fetched in average 221 cents per pound of copper which is 20% less than today's spot price.
The following chart from Rio Tinto's investor presentation illustrates how the company used its cash.
Rio Tinto FY16 Cash Flow Allocation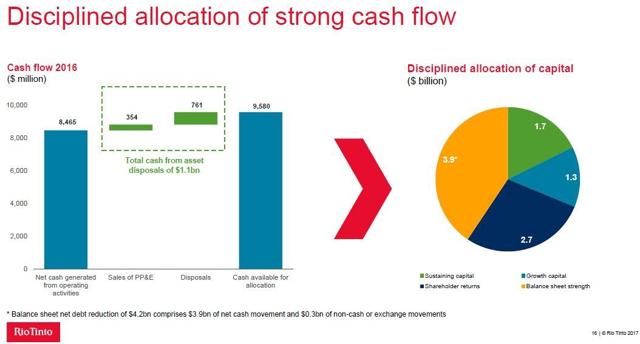 Source: Investor presentation.
The biggest junk were debt repayments, and I assume that a further reduction will have a lower priority now that Rio Tinto has reached a gearing of 17% on December 31, well below the company's target of a range between 20-30% throughout the cycle.
If we look at the ongoing year, there are some factors which will have an impact on Rio Tinto's cash flow. Only weeks ago, the company announced the sale of the coal business for a consideration of up to $2.45B. After completion of the transaction in 2HY17, Rio Tinto will either receive a one-time payment of $2.35B or $1.95B and $500M in aggregate deferred cash payments over five years following completion.
Capital expenditures which fell to $3.0B last year will rise again to $5.0B in 2017 and to $5.5B each in the two following years. Dividend payments of 152.5 cents per share in CY2016 corresponded to a total amount of $2.7B. With the final dividend of 125 cents, Rio Tinto will distribute $2.2B in the first half of 2017 and at least another $800M (if the interim dividend will be kept constant), but likely more because everything points towards an increase for the interim dividend as well. Finally, $0.5B will be used to buy back shares as mentioned earlier.
Higher capex and shareholder remuneration will require at least $3.1B more cash in the current year. Cash inflows from asset sales of at least $2B can be expected, but of course this will be a one-time effect.
If we assume that net operating cash flow can be maintained at the 2HY16 level, it should increase by a minimum of $2B in FY17, but likely more if commodity prices stay firm. Therefore, the most probable scenario from where we stand today is another dividend raise with the interim payment which will be announced in August.
Conclusion
Rio Tinto's final dividend of 125 cents (which compares to a minimal payment of 65 cents as indicated in August) reflects the commodity markets in 2016, a year which started very challenging with prices at multi-year lows, but ended with an unexpected and strong recovery. The dividend outlook continues to be very promising, at least as long commodity prices play along.
Disclaimer: Opinions expressed herein by the author are not an investment recommendation, any material in this article should be considered general information, and not relied on as a formal investment recommendation. Before making any investment decisions, investors should also use other sources of information, draw their own conclusions, and consider seeking advice from a broker or financial advisor.
Disclosure: I am/we are long RIO.
I wrote this article myself, and it expresses my own opinions. I am not receiving compensation for it (other than from Seeking Alpha). I have no business relationship with any company whose stock is mentioned in this article.