Business Background
Markel Corp. (NYSE:MKL) is an extremely well-run P&C insurance company often considered a "mini-Berkshire" given an operating model which seeks to benefit from the investment leverage offered under an insurance capital structure. This allows the company to compound book value (and hence shareholder returns) at a greater clip than it would if it was a pure-play insurer or investment fund.
Markel's operations comprise of three main areas of gain:
1) Underwriting: Markel has maintained a consistent long-term record of underwriting profitability. In the last 20 years, average combined ratios have been ~300bps better than the US P&C industry (99% vs. 102%). A significant component of this is conservative reserving with increasing levels of incurred but not reported (IBNR) claims as a proportion of the overall claims reserves over time. This has resulted in prior-year reserve releases of around 7% of NEP through-cycle. MKL tends to bank current accident year profitability at a loss with significant release of reserves in future periods.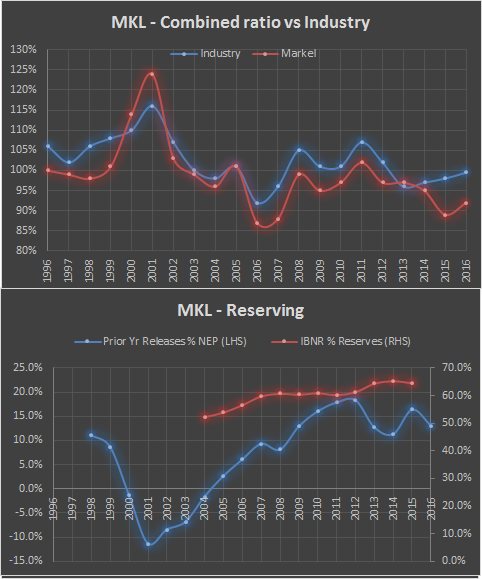 (Source: Author's analysis, company reports)
2) Investments: Markel uses shareholders' funds and the float generated by the insurance business to invest primarily in fixed interest and equities. Investments per share have grown at around 10%pa over the last 20 years with currently around 25% in equities. MKL's Tom Gayner seeks to add alpha to the equity portfolio through a value-investing approach. However, the firepower of the investment portfolio to drive book value growth has reduced in recent times with the leverage falling to ~2.25x (i.e. every 1% portfolio return adds 2.25% to ROE).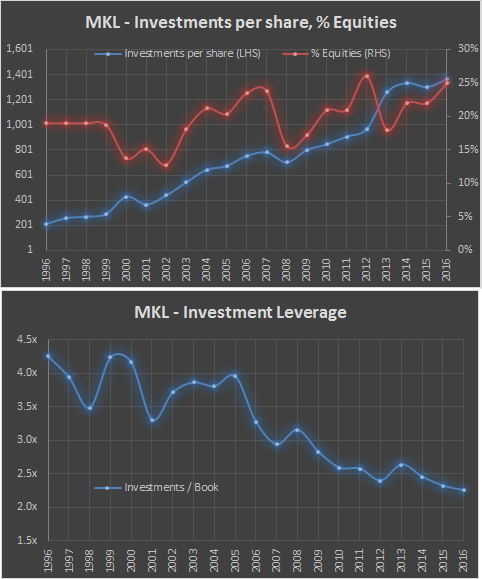 (Source: Author's analysis, company reports)
3) Markel Ventures: This is a relatively new business which seeks to own high-quality operating businesses in much the same light as Buffett seeks to own operating businesses for the long term. Following a number of acquisitions, EBITDA from this business is now >$160m and should continue to increase in relevance to MKL's overall profitability over time.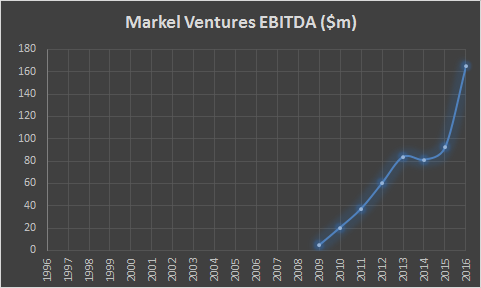 (Source: Author's analysis, company reports)
Recent Stock Performance
Markel has had a solid run in the last eight years with the stock price appreciating ~20%pa to $950/share.
Around two-thirds of this return has been driven by underlying business performance with book value per share compounding at ~13%pa and the balance of the return reflecting over a 50% expansion in the market multiple to >1.5x book.
Future Stock Performance
We love the business, we just don't like the price. While the underlying business is likely to continue from strength to strength in our view, our base-case outlook assumes the stock price returns going forward are more likely fall short of the growth in book value. In an upside valuation scenario, we think the stock returns will keep up with the book growth at best, and in a downside scenario, go sideways.
The chart below best explains the outlook for MKL's stock over the next five years, with the high/low intrinsic value ranges produced being reasonable indicators over the last 20 years; it has been rare for the stock to trade significantly outside the upper and lower valuation ranges.
We expect five-year returns will likely be in the order of ~9%pa, with a downside scenario of 2-3%pa should market multiples contract and ~13% to the upside. Not bad, but not great either.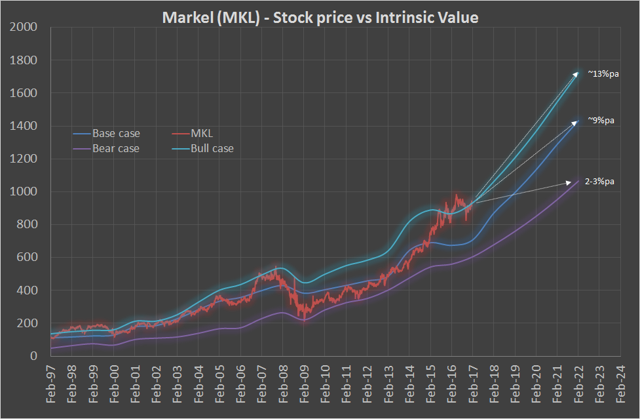 (Source: Author's analysis)
Whilst this may be a satisfactory return scenario for those already invested, or sitting on large capital gains, current prices at $950 do not appear to have a sufficient margin of safety, which suggests it's likely time to start thinking about taking money off the table.
In order to determine the above intrinsic value range, I use a range of methods from i) book value per share, ii) multiple of pre-tax earnings and iii) float-based valuations.
My estimate of ROE (and hence book value per share growth) is around 12.0%. The details behind this shown in the table below: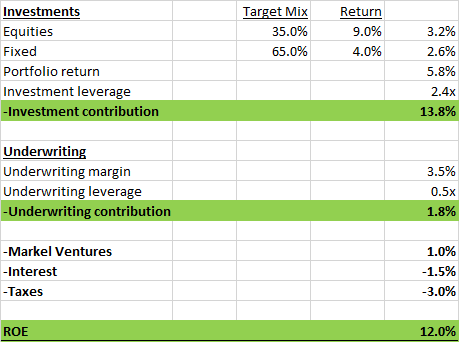 (Source: Author's analysis)
On a book value of just over $600/share, a 15% pre-tax ROE yields roughly $90/share of pre-tax earnings, and 10-11x pre-tax multiple would imply fair value of $900-1,000 (where it currently trades).
Rising market multiples seem to be the key driver of any future price appreciation going forward. Indeed many will argue MKL can trade above 1.5x book, and whilst that is true historically, it does not mean it is justified going forward given the expected underlying business performance.
As always, there is a lot of wiggle room with these assumptions, but one would need to be reasonably upbeat about the outlook for the US insurance industry or Tom Gayner will need to have some stellar years in order to make the stock appear a screaming buy and add meaningful alpha to your portfolio over time.
Broader Insurance Industry Outlook
While MKL's business has been well insulated from the soft insurance market through more prudent risk selection, one of the biggest risks of selling or sitting on the sidelines for now is if we enter a hard insurance market. MKL would be well poised to benefit from a rise in premium rates.
However, with record levels of industry capital ($688bn of policyholder surplus and record claims paying ability relative to premiums), lack of recent large catastrophe losses, ongoing prior-year reserve releases, and relatively subdued US commercial premium rate trends (-1%), market conditions still appear subdued.
Additionally, rising investment yields on bond portfolios may well keep a lid on broader market premium rates for longer. This needs to be balanced with the near-term effect of capital losses on fixed income portfolios, which has the potential to erode record industry surplus. It's something to keep an eye on.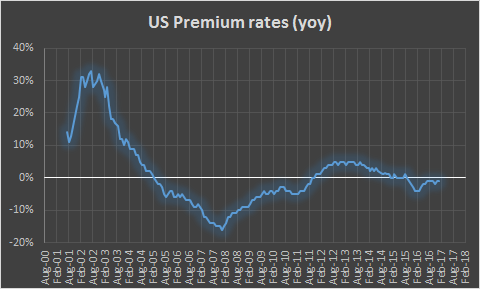 (Source: MarketScout)
Conclusion
For now, investors may be better off seeking value elsewhere. I would look to initiate/re-enter at prices which would appear more reasonable value ($700-800) in order to provide more secure longer-term returns under a range of possible future scenarios.
Disclosure: I/we have no positions in any stocks mentioned, and no plans to initiate any positions within the next 72 hours.
I wrote this article myself, and it expresses my own opinions. I am not receiving compensation for it (other than from Seeking Alpha). I have no business relationship with any company whose stock is mentioned in this article.