Imagine a scenario where Matt Ryan, quarterback of the Atlanta Falcons, having just lost the Super Bowl, leaps onto the winner's podium and declares his team the winner. He says, simply, "I want to thank all my teammates, the fans who've supported us, and most of all, non-GAAP."
Ridiculous, right? Perhaps not. Think about it: In the fourth quarter of the Super Bowl, with Atlanta leading 28-12, the Falcons fumbled the ball, and that fumble eventually led to one of the Patriots' two touchdowns and their improbable come-from-behind win. Yet that fumble was a one-time event - it hadn't happened before and it didn't happen again - so ostensibly, if the Falcons had kept the ball, the Patriots would not have scored nor won the game. Thanks non-GAAP - we're going to Disneyland!
See the absurdity? There are few other places in society where we accept this, but this is de rigueur for Wall Street today.
Allergan (NYSE:AGN) released Q4 earnings last week, and we previously took a high-level look at where we think the stock should trade in 2017 (here). As promised, we took a deeper dive into the numbers, and while a few items stand-out, there's a broader theme to understand about Allergan, so let's take a moment to consider it.
GAAP vs. Non-GAAP
Just to lay the groundwork, anytime a company deviates from generally accepted accounting principles ("GAAP"), the financials are considered "non-GAAP" numbers. Now non-GAAP reporting isn't necessarily a bad thing, as sometimes the noise in the day-to-day business means it makes sense to exclude certain expenses in a quarter. The modified numbers give investors some clarity about the company's underlying business.
Every publicly traded company in the US is required to report on a GAAP basis, but as the market rises, so too does the incidence of non-GAAP reporting. We understand why many companies do this. When management teams are judged on their quarterly report cards, why not report better grades when your parents (i.e., investors) don't mind that you exclude your mediocre subjects.
In some cases, we can even argue that investors are incentivized to play along, because your non-GAAP report card enhances earnings and the stock price. In fairness, some of the adjustments really are one-time items, but often the kitchen sink is included to tell a better story than the economic reality.
Allergan's Adjustments
Today's Allergan (previously Actavis) is a product of numerous acquisitions over the past five years. As each transformational acquisition reshaped the company, Allergan reasonably called out certain expenses as one-time items (e.g., deal fees, integration fees, etc.).
Yet, 2016 marked a turning point where Allergan, stymied in its attempt to sell itself to Pfizer, has now shed its generic business line and focused itself as a pure-play specialty pharmaceuticals company. After the Q3 earnings debacle, the company has now recommitted itself to executing well.
Great, but if it's time to settle down and manage the day-to-day business better, and regain trust with the investment community, then it's also time to expect the gap between GAAP and non-GAAP earnings to narrow going forward.
Why? Because expenses and managing expenses are part and parcel of running a business. If Allergan can't consistently generate high-quality earnings and manage its P&L accurately, either the business isn't as robust as it's portrayed, or its operational forecasting is shaky. Here's Allergan's list of seven adjustments between GAAP and non-GAAP (net of tax) and our perspective:
Magnificent Seven

Adjustments to GAAP

Notes

Acquisition, integration and licensing charges

This is how Allergan grows, expanding its product lines and pipeline, shouldn't they factor the costs factor into earnings somehow? Certainly they affect the balance sheet and cash flow statement. Moreover, how long should we expect integration charges to last for, and why are milestone/royalty payments completely excluded instead of capitalized and amortized?

Amortization expenses

See above. Although some intangibles appreciate in value, most decline, and the cost to acquire the intangibles is real and should be factored into earnings for their useful lives.

Global supply chain and operational excellence initiatives

This sure sounds like an "operational" expense, and an on-going cost.

Impairment/asset sales and related costs, including the exclusion of discontinued operations

. . . if an acquisition or licensing deal leads to accretive earnings they wouldn't exclude it, but isn't the failure of one a real loss?

Accretion and fair market value adjustments on contingent liabilities

Debatable, but not surprising

Legal settlements

Debatable, but not surprising

Other unusual charges or expenses

Catch-all
Allergan's 2016
So what did 2016 look like? It depends on how you want to view it. On a GAAP basis, Allergan lost $941M last year, or roughly $2.45/share, but on a non-GAAP basis, Allergan made $5.5B, which translates to a non-GAAP income of $13.51/share. Allergan has elected to use the term "non-GAAP performance net income per share", but that's essentially the same thing. Here's a chart and the bridges to get from GAAP to non-GAAP.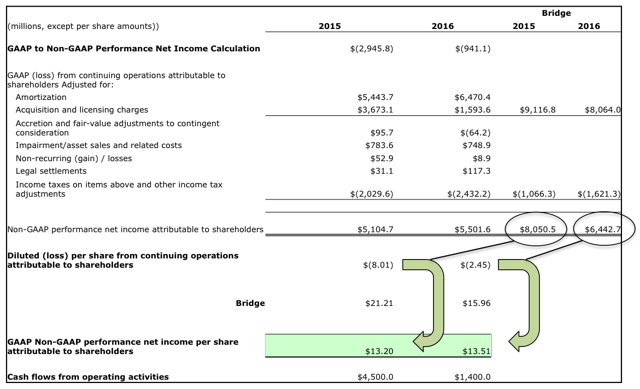 To get to the $13.51/share (i.e., the non-GAAP performance net income per share) that Allergan wants to be judged by, Allergan adjusted GAAP earnings by close to $6.4B, Much of the adjustments related to two things, amortization and acquisition and licensing charges.
Should Allergan make such adjustments? Maybe because most are non-cash related. It's not that all of these adjustments aren't legitimate or extraordinary, or that an investor really shouldn't exclude such one-offs when judging Allergan's underlying business.
That said, if Allergan's growth strategy is heavily predicated on M&A and licensing transactions, then perhaps some of these amortizable expenses or impairments should be included in non-GAAP. As it currently stands, Allergan concurrently trumpets the results when deals lead to accretive earnings, but "adjust away" the cost to generate such earnings (i.e., amortization) and the cost of failures (i.e., impairment).
Consistently reporting large adjustments to land on a non-GAAP figure obfuscates an investor's ability to understand and judge Allergan's results. Sure have your cake and eat it too, but at least keep the receipt.
One approach we've used to clarify Allergan's results is to focus on cash flows. For reference, cash flow from operations was $4.5B and $1.4B in 2015 and 2016, respectively, vs. the $5.1B and $5.5B non-GAAP earnings reported by Allergan. We like using cash flow from operations as a reference point because cash is cash, and it represents the actual cash received/incurred to operate the business for the year.
At first blush it appears cash flow from operations declined in stark contrast to earnings, so we're eager to examine the final filing when it comes out.
So What to Do?
As Allergan buckles down to focus on managing its business better, then might we suggest that the company explore adding legacy-Allergan (i.e., pre-Actavis acquisition) executives to its Board of Directors. Any number of candidates would be well-qualified, David Pyott, former CEO or Jeffrey Edwards, former CFO.
Legacy Allergan was well respected by Wall Street, and known for reporting high-quality earnings. Broadening Allergan's current Board of Directors to include former executives with exceptional track records for executing makes sense, and the company would be well served to invite people who've been there and done that.
Another suggestion would be to tie the management team's compensation more directly to GAAP results, thereby incentivizing the management team to focus on that metric.
Ultimately, as Allergan pivots from a company on the brink of a sale to one that's rededicating itself to operational excellence, we believe investors should expect Allergan's earnings quality to rise. While non-GAAP adjustments are fine when infrequent, well reasoned and the exception, just like your child's report card, we can and should expect better.
Author's note: As always, we welcome your comments. If you would like to read more of our articles, please be sure to hit the "Follow" button above.
Disclosure: I am/we are long AGN.
I wrote this article myself, and it expresses my own opinions. I am not receiving compensation for it (other than from Seeking Alpha). I have no business relationship with any company whose stock is mentioned in this article.