Introduction
It's been more than a year since I discussed Molson Coors (NYSE:TAP), but the company has reached major milestones in 2016, as it acquired the remaining 58% of MillerCoors and the Miller Global Brand portfolio for $12B. This was the largest transaction in the company's history, and made Molson Coors the world's third largest brewer. It does look like TAP will stay in that position for quite a while as Heineken is almost twice as large (in terms of market capitalization) whilst the Asahi Group is 25% smaller.
Molson has now released the financial results for the fourth quarter and the entire financial year, and I was obviously curious to see the increased cash flows, but I also wanted to check in on the company's net debt situation to make sure Molson's future isn't jeopardized.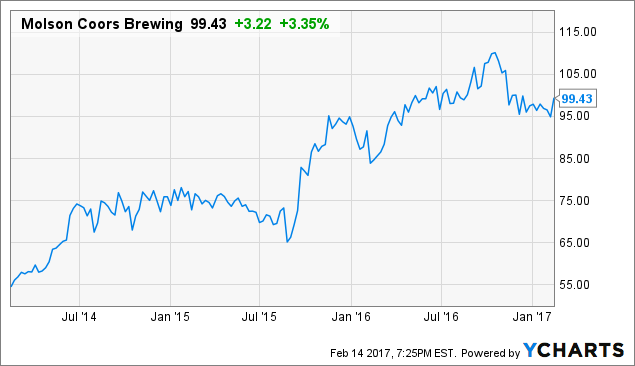 Molson's 2016 results are in, and the cash flows are really decent
During 2016, Molson Coors really benefited from the acquisition of SABMiller by AB InBev (NYSE:BUD), the Belgian world leader on the beer market. As part of the acquisition process, InBev decided to sell SABMiller's interest in MillerCoors for $12B.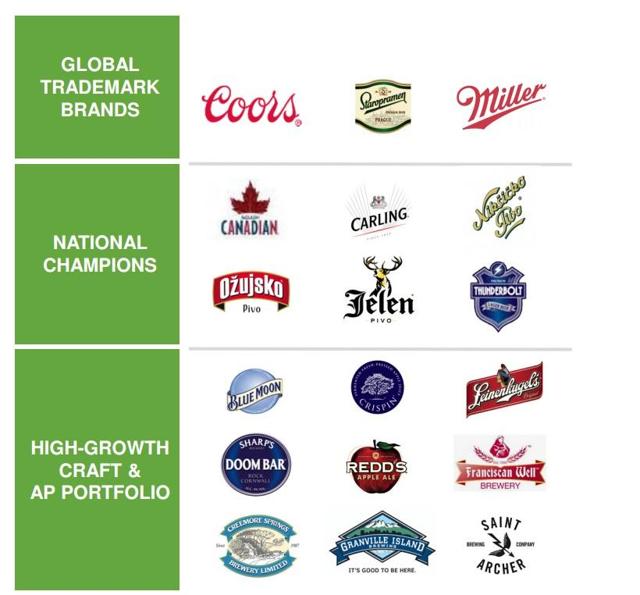 Source: company presentation
Including almost 3 months of MillerCoors revenue, the full year revenue in 2016 came in at $6.6B, resulting in an operating income of $3.3B for an operating margin of approximately 50%. Of course, the higher interest bill also started to kick in, but this still resulted in a net income of $2B or 9.32 per share. This sounds absolutely fantastic, but keep in mind this was predominantly caused by 'special items', which won't be recurring in 2017.
Perhaps it makes more sense to have a look at the company's cash flow statements, as Molson Coors did a good job in providing the full year results, as well as the MillerCoors results from January 1st-October 10th, which was the final day before the financial results of MillerCoors were included in Molson's consolidated financial statements. All we really need are the re-worked Molson Coors cash flow statements, as these already included a correction and adjustment for the 58% it acquired in MillerCoors during the year.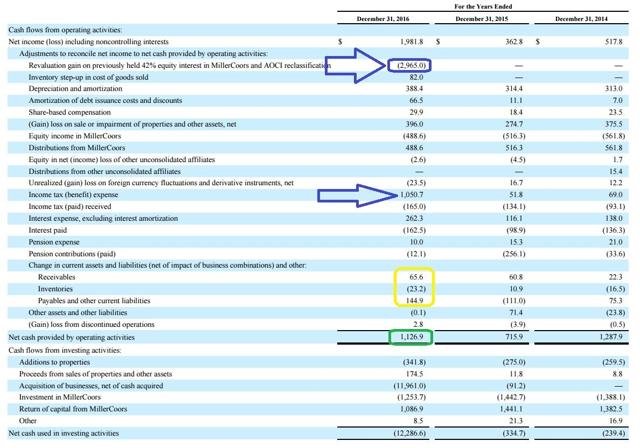 Source: SEC filings
On a full year basis, Molson Coors reported an operating cash flow of $1.13B, which already included a reclassified income of almost $3B related to the previously owned 42% in MillerCoors. On an adjusted basis, the operating cash flow was $939M, and after deducting the $342M in capital expenditures, Molson Coors was able to generate a free cash flow of approximately $600M.
In the first nine months and ten days of the year, MillerCoors LLC generated an adjusted free cash flow of $1.24B, of which 42% or $520M was already attributable to Molson Coors. This means we should be able to aim for a FY 2017 adjusted free cash flow of $1.2B (based on the 58% contributed by MillerCoors it didn't own, and a $100M increase of the total interest expenses).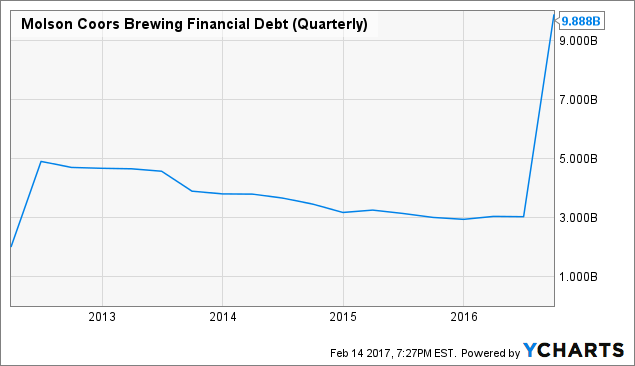 TAP Financial Debt (Quarterly) data by YCharts
Based on a share count of less than 200 million shares, Molson Coors' dividend is costing the company approximately $325M per year, which means TAP will have a budget of approximately $900M per year to spend on share buybacks and/or reducing its net debt. As the net debt is really high (see later), I would most definitely favor the latter, and I think the entire $900M per year should be used to reduce the net debt to more acceptable levels as fast as humanly possible.
This bodes really well for 2017 and beyond - but what about the debt?
Indeed, keep in mind the acquisition of MillerCoors was only included in the consolidated financials from October 11 on. This means TAP still has to realize a lot of synergy advantages. When it announced the transaction in 2015, Molson Coors estimated to realize a synergy advantage of $200M per year from year 4 on. On an after-tax basis, this should contribute $0.70 per share per year in free cash flow, further boosting the total free cash flow.
Of course, we shouldn't forget about TAP's debt position either. As of at the end of December, the company's official net debt position was $11.5B. Considering the pro forma underlying EBITDA was just $2.4B, the net debt/EBITDA ratio is very high at 4.5.
But there's something else that caught our attention. Of course, the company now has quite a bit of debt, but one of the more expensive bonds is coming due within the next few months. Molson will have to refinance a C$500M (US$375M) bond, which had an interest rate of 3.95%. According to Morningstar, Molson Coors' YTM on a 5-year basis is now approximately 2.85%, so TAP should be able to save a few million dollars per year should it decide to refinance this bond.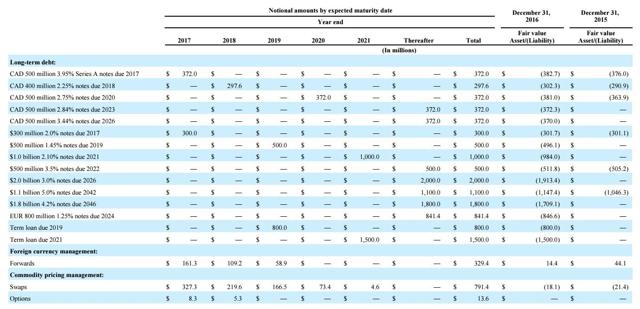 Source: SEC filings
However, I would hope Molson Coors will be able to generate a sufficient amount of free cash flow in the first few months of the year to just repay the debt, and cut the annual interest expense by $15M. On an after-tax basis, this would increase the FCF/share by approximately 5 cents per share. That's indeed not a lot, but it's pretty clear every single dollar will help to reduce the huge debt load.
Investment thesis
Molson Coors made a huge decision in 2015 by entering into an agreement to spend $12B on MillerCoors. This caused the company's net debt to skyrocket and the net debt/EBITDA ratio is unhealthily high at almost 5. Fortunately, TAP has a plan, and I really do like the fact the maturities of the different debt securities are spread out. Based on the expected cash flow generation and the existing cash position, it should be completely possible for Molson Coors to repay all debt until 2021 with the existing cash flow.
The 2021 maturity of a $1.5B term loan might be more difficult, but I would expect the company to have reduced its net debt by $4B by then, which should make the negotiations to extend and refinance the 2021 term loan easier.
It's pretty clear the ultra-high debt load is bothering me, but fortunately, the majority of the debt has a fixed interest rate, and the wide range of maturity dates will allow Molson Coors to gradually and continually reduce its net debt. I would hope the company is able to reduce its net debt to $8B by the end of this decade.
The current dividend yield is 1.6%, and the dividend coverage is approximately 400%, but it's pretty obvious the company's shareholders shouldn't expect substantial dividend increases until the net debt/EBITDA ratio has decreased to more acceptable ratios.
Disclosure: I/we have no positions in any stocks mentioned, and no plans to initiate any positions within the next 72 hours.
I wrote this article myself, and it expresses my own opinions. I am not receiving compensation for it (other than from Seeking Alpha). I have no business relationship with any company whose stock is mentioned in this article.
Additional disclosure: I have no position in Molson Coors, but could be interested in purchasing its debt securities given the strong cash flows, and despite the very high net debt.