3M (NYSE:MMM) is a company I've been watching for years. Its valuations continue an upward march, however.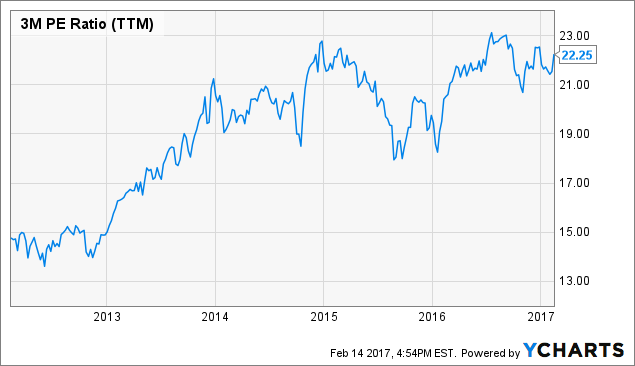 MMM PE Ratio (TTM) data by YCharts
It makes sense, considering it's arguably one of the better businesses out there, and definitely one of the elite industrials.
Above-Average Return on Invested Capital
3M earns wide economic profits, and has for years. I built the below model to illustrate this, using data from the firm's financial statements: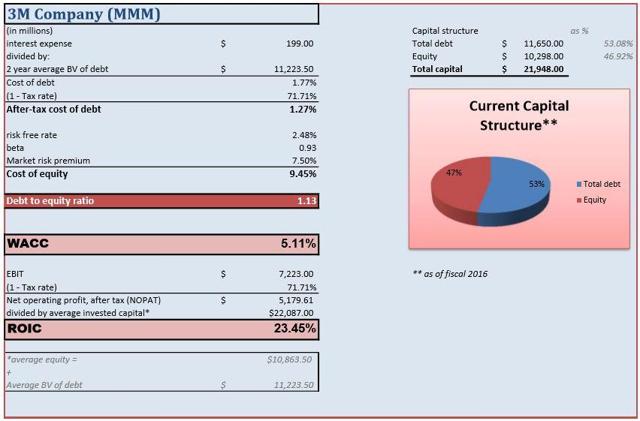 Its return on invested capital, or ROIC, easily exceeds its weighted average cost of capital, or WACC. This is the hallmark of a wide-moat business.
I'd also like to adjust for off-balance sheet operating leases, which I'll cover in the next section.
Operating Leases: Off the Books, But Still There...
I located 3M's operating lease obligations in the notes to its financial statements. The notes also provided its capital leases. This allowed me to calculate the internal rate of return for its capital leases, and then use this as the discount rate for its operating leases.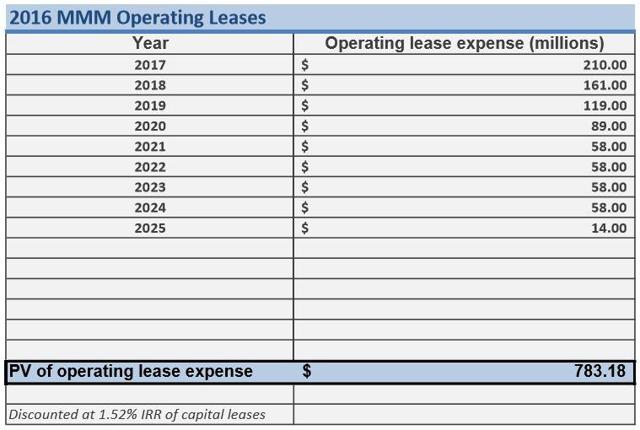 With this estimate in hand, I then inserted it into 3M's overall capital base to arrive at an adjusted debt-to-equity ratio.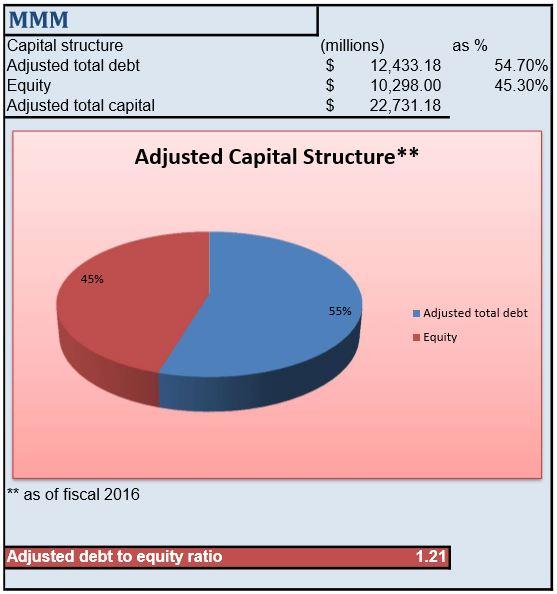 We can see (at least by my estimates) that the leases have little effect on the company's overall debt to equity mix, but what about its ROIC?
Adjusting Return on Invested Capital
With an updated capital base, the denominator in the ROIC equation, we now need to calculate the numerator, net operating profit after tax, or NOPAT. The first step involves operating profit, or EBIT.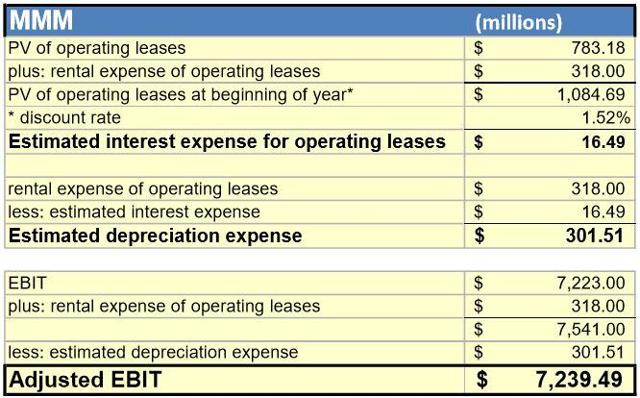 Now that we have an adjusted EBIT number accounting for the operating leases, we can account for taxes and divide NOPAT by the firm's adjusted capital base.

ROIC takes a slight hit, but not by a material amount. I'd say with confidence that 3M is a superior operation that earns wide economic profits, even after considering its off-balance sheet leases, therefore.
The Equity Slice Comes Next
I also wanted to analyze 3M's return on equity, or ROE. I did this by creating a DuPont analysis to break ROE down into five pieces over the last three years.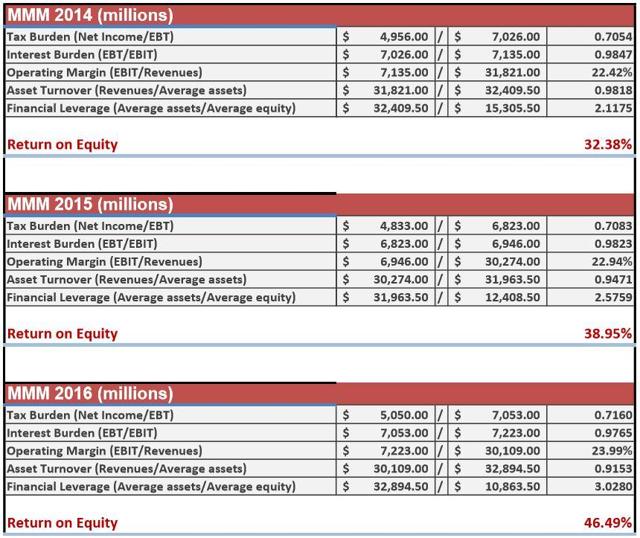 While 3M's ROE looks impressive at almost 50%, it's also highly magnified by financial leverage. Margins have also improved, however, making up for the deteriorating asset turnover.
The company's sales have been clipped by negative currency headwinds, which could explain the deterioration. Negative forex issues have also affected the firm's balance sheet, which, coupled with the extensive buybacks over the years, has contributed to its shrinking overall equity despite increasing retained earnings.
MMM Shareholders Equity (Annual) data by YCharts
The declining equity has in turn magnified ROE with large amounts of leverage, but this could reverse if the dollar eventually normalizes relative to other currencies.
Conclusion
3M is one of my favorite businesses, but unfortunately everyone knows it's great and it's priced accordingly. I'll continue to monitor the business and wait for an entry price I like, but I won't hold my breath. The company just bumped its dividend by 6%, and seems to be perennially firing on all cylinders.
Based on today's price, shares are trading at roughly 20.5 to 21.5 times management's earnings per share guidance for 2017. That puts my desired (and highest) buy range in the low $150s, which would be somewhere around 18 times those estimates. I'd love shares in the mid-$140s, though I doubt I'll see those prices any time soon (if ever), especially without a broad market correction.
If you enjoyed this article and would like to receive further updates and articles in the future, please feel free to hit the "Follow" button at the top of the page next to the author's name.
Disclosure: I/we have no positions in any stocks mentioned, and no plans to initiate any positions within the next 72 hours.
I wrote this article myself, and it expresses my own opinions. I am not receiving compensation for it (other than from Seeking Alpha). I have no business relationship with any company whose stock is mentioned in this article.
Additional disclosure: Articles I write for Seeking Alpha represent my own personal opinion and should not be taken as professional investment advice. I am not a registered financial adviser. Due diligence and/or consultation with your investment adviser should be undertaken before making any financial decisions, as these decisions are an individual's personal responsibility.