Apple (NASDAQ:AAPL) is continuing its pivot towards Asia. Recent developments in India, China and throughout Asia point to the increasing importance of the continent to the company. Asia is integral to Apple's growth and the dominant market position in Japan can be replicated elsewhere in the region. Comments at the Q4 2016 earnings and conference call reinforce this perception of Asia's vital importance to the company. Service revenues as well as the iPhone 8 will play a major role in this process.
Q4 Results & Asia.
The Q42016 Unaudited Summary Data illustrate the importance of Asian revenue to Apple.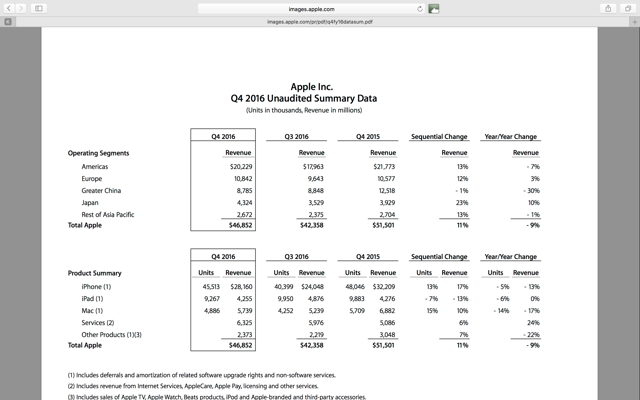 The blip in Greater China (which includes Hong Kong and Taiwan) should not be taken as a trend. This was more to do with difficult comparisons, a 6% currency depreciation and problems in Hong Kong.
As Tim Cook stated at the conference call:
The iPhone 7 was the best-selling smartphone in China during the quarter... we set a new record in Services in China.. We also saw 50% of our iPhone sales in China were to switchers and first-time buyers."
Q2 2016 is likely to see a very significant boost in China sales in US$ terms. The market may or may not have taken this into account in the stock price. Q3 and Q4 are likely to see a huge surge in sales with the probable release of the iPhone 8. Mac sales and iPad sales both enjoyed double-digit growth in the quarter just gone, despite the iPads' sales decline worldwide.
In terms of revenue, Asia accounted for 33.6% of total revenue. On a sequential basis, Japan had revenue growth of 23% and Rest of Asia Pacific 13%. On both a sequential and year-on-year basis, Japan (already a very strong market) had the fastest growth of any region in the world.
At the earnings call the company highlighted double-digit iPhone growth in Japan and Australia, double-digit growth for Mac in Japan and India, and double-digit growth for iPad in India. Growth in Vietnam was also emphasized. The Mac should continue to boom this year. The company was unable to keep up with demand for the new MacBook Pro in this previous quarter.
Sales were buoyant in Asia despite the currency situation everywhere there. CFO Luca Maestri in fact pointed out that since June 2014, the US$ is up 25% against emerging markets currencies. Most of the emerging market revenue for Apple is in Asia.
China
My recent article dealt with the importance of retail for the Asian markets, and for China in particular. So I will not repeat that here. At the conference call, Cook only said that the somewhat delayed Singapore store would open "soon" and there was no specific mention of retail in China.
The large-scale retail roll-out in China does continue. Apple was perhaps a bit late to the party there. Surprisingly, considering the secular bricks-and-mortar retail decline in the USA, this is vital for the Chinese market.
The newest smartphone companies booming in China are Oppo and Vivo. They have achieved this on the back of a retail strategy. This has concentrated on China's second tier cities. Former hot stock Xiaomi has seen its share collapse, based partly on its on-line sales strategy. Xiaomi is seen by many observers as an example of the dangers of hubris. New product areas it has tried to develop have included robotic vacuum cleaners. It moved too late into services: having targeted US$1 billion in services revenue last year, it is thought the company achieved half that. It is belatedly opening up bricks and mortar retail stores, with 50 being opened up.
Oppo, by comparison, has 200,000 retail outlets across the country. Oppo has had to subsidize retailers greatly to achieve the volume success and its profitability is probably quite low.
What Oppo and Vivo do not have is the ecosystem, high profitability and product range that Apple has. They are quite likely to fall away somewhat just as the once much-praised Xiaomi did. There is always another low-cost smartphone manufacturer waiting around the corner. However, one trend that is being seen is a falling away of smaller manufacturers with a few large ones consolidating their hold on the market. This should be favorable to Apple, a company which also focuses on its core competencies.
The launch of the next generation iPhone will be key to Apple differentiating itself from the competition. If as rumored it comes with a curved screen and glass back, this should make the iPhone the "must have" different gadget once again.
The possibility that it might come with augmented reality (AR) features would also be a bonus for the China market. AR is expected to take off in a big way in China. Search engine leader Baidu (NASDAQ:BIDU) is investing heavily in the new technology, as is the leading telecoms provider China Mobile (NYSE:CHL).
The number "8" is a very auspicious number in Chinese culture, so that would not hurt as well. It is thought that the next iPhone round will have one model priced at over US$1,000. This will be a help, not a hindrance, in a market where wearing a branded status symbol item is much desired.
The graph below shows the comparison between sales in China and Europe for Apple: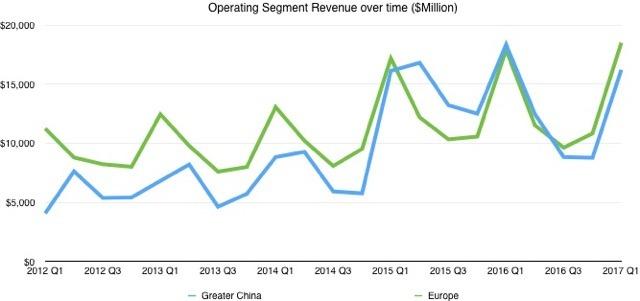 It shows Tim Cook is also putting in plenty of effort in Europe in addition to Asia. It is likely though that China will overtake Europe again by the end of this year. Add on the rest of Asia, and the continent's importance dwarfs Europe. The revenue growth prospects are clear from the much lower average age of the population in Asian countries, and the far higher economic growth rates.
Apple is opening up an R & D center in Beijing this year. It follows its US$1 billion investment in Didi Chuxing. Such investments can be seen as a signal to the Chinese Government that it is serious about long-term investment in the country. Unlike Xiaomi, Cook shows no sign of neglecting Services revenue. Indeed, the opposite is true. Cook has a target worldwide to double Services revenues in 4 years.
India
I first wrote on SA about Apple's potential in China in September 2014 and then again in June 2015. At the time I was inundated by a welter of comments about how Apple would always be too expensive for China, etc. Those doubters were proved wrong. I received the same sort of comments when I began writing in 2015 about Apple's potential in India. The doubters will no doubt be proved wrong again.
Apple is looking to gain traction in the premium segment of the market, as it always does. It will then build up to a more mass market position and get Services revenue from its ecosystem. In Q4 2016, the company is estimated to have achieved 92% of profits worldwide from the smartphone market. So this strategy continues to work.
India is not China and may need local manufacturing to gain substantial market share. This now looks likely as has been commented on in numerous articles recently. A local Government statement this month indicated that a facility would be set up very soon in Bengaluru. Such statements do have to be treated with a certain amount of caution in India, however. Once iPhones are manufactured then obstacles to retail subsequently disappear.
At the results briefing, Tim Cook diplomatically commented:
We are in discussions on a number of things, including retail stores, and fully intend to invest significantly in the country."
A combination of local manufacturing, retail stores and software development centers, which I have touched on in previous articles, should set up Apple in the country.
In 2016, India's smartphone shipments reached about 300 million units. This was an increase of 18% from 2015. Smartphones are not yet a mature or saturated market in the country. India's local smartphone manufacturers had a terrible 2016. Four Chinese brands joining Samsung (OTC:SSNLF) as the top five selling brands. Apple doubled its sales to about 2.5 million iPhones. These sales were mainly in the final quarter with the release of the iPhone 7.
Japan
Japan has the highest iPhone penetration of any country in the world. Apple still managed to post sequential revenue gains of 23%. iPhones there last year accounted for a startling 51.7% of all smartphone sales. For total smartphone users, it is estimated that 66.2% are on IOS and 31.9% on Android. There are 106 million mobile phone users in general in Japan.
This is driven by an affluent population and consumers who demand smart features. The iPhone strikes a chord in a country which cherishes good design and minimalism. Generous contracts with the country's telecoms operators make the phone seem inexpensive. These are trends likely to be repeated all over Asia.
Before the successful release of the iPhone 7 in the country, the best-selling models were the Apple 6S and the Apple SE. In terms of tablets, Apple has over 40% market share. The fact that the new iPhone was dust and water-resistant was a big advantage in Japan. The Xperia range from Sony (NYSE:SNE) had set the mark for this and it was important for Apple to follow.
Late last year Apple introduced mobile billing in Japan with carrier KDDI. This should further boost the company in what is the world's biggest mobile gaming market. KDDI has over 46 million subscribers. Apple is expected to finalise deals with other carriers shortly.
Gaming is a target market for Apple in Japan. In December the company introduced a new exclusive game for iPhones and iPads, "Super Mario Run" from Nintendo (OTCPK:NTDOY). The best-selling Nintendo game "Pokemon Go" works on the Apple Watch as well as its other devices.
Apple also recently improved its Apple Pay mobile proximity reach in the country. While Apple is working with Nintendo on gaming, it is working with Sony on mobile payments, using its "Felicia" technology. Apple Pay has been integrated with the well-established Osaifu Keitai mobile wallet system. To do this, Apple had to fine-tune the mechanics of the phone itself to work with the relevant near-field communications system. It is believed this is the first time Apple has specifically tailor-made a phone for a specific market. This just emphasizes the importance of the Japanese market to Apple.
Apple Pay could be a big winner for Apple in the country. Mobile payments are used everywhere in the extensive public transportation system around Japan. This encompasses 4710 railway stations and 30,000 buses, as well at the country's airports and taxis. 57 million cards for transportation purposes are in usage. It is extended to the country's approximately 350,000 convenience stores.
This will further cement Apple's dominating presence around the country even if the revenue generated is not that meaningful. It is expected that further Apple stores will be rolled out, to add to the existing 13 stores.
In signs of the growing involvement with Japan, the company will be opening an AI development site in Yokohama in March, pictured below: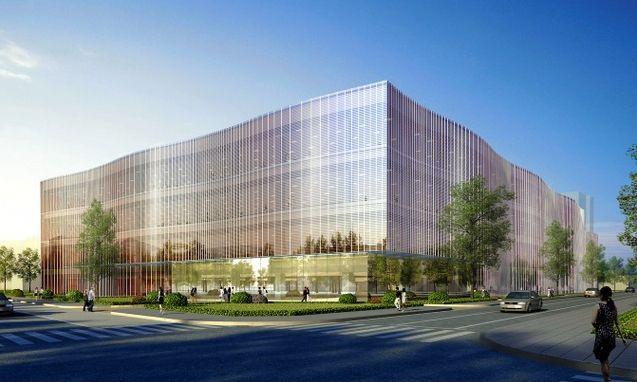 Cook has cited this as the beginning of forging new partnerships in the country and probably sourcing components for future products.
The Rest of Asia
Apple Pay, which I focused on in a previous article, is a pull factor for Apple in Asia. It may not be a big total revenue generator. It will, however, add substantially to the stickiness of the Apple ecosystem in a continent where mobile payment is very popular. Of the 14 international markets in which Apple Pay is available, 7 are in Asia/Australasia. These are in China, Hong Kong, Japan, Taiwan, Singapore, Australia and New Zealand. At the results briefing, Cook stated that Apple Pay had increased 500% year-on-year, albeit presumably from a fairly low base. Developments in Japan highlight this potential.
Apple HomeKit, which I wrote about some months ago, should also have more impact in Asia than elsewhere. Smart home ideas are the topic of much Government-driven encouragement. This is particularly the case as Governments in Asia worry about pollution in big cities and labour market tightness.
The Apple Watch is said to have had its best quarter yet in the one just gone, according to Canalys. 6 million watches are estimated to have been shipped. Apple does not break out the numbers, but it is likely that a substantial chunk of these were in China. Luxury editions of the Watch have been rolled out in the country. These include special editions for Chinese New Year and the Hermes model which retails at up to US$1499. The much-reported fact that Swiss watch sales have declined in Asia in the past two years is directly connected to the rise in sales of the Apple Watch.
In a policy Cook is rolling out in several Asian countries, it is reported that Apple is planning a research center in Jakarta, the capital of the Indonesian nation of 250 million people. This is likely to be in conjunction with Foxconn, with whom Apple is working closely in various Asian countries.
Apple is said to have committed US$44 million over 3 years to this Indonesian center. This may not be unconnected to the fact that regulations now state a necessity for local content in smartphones to sell them there. This investment counts as such local content. The market leaders in Indonesia are Samsung and Oppo. They both have manufacturing facilities in the country.
In Singapore, recent figures from IDC show that Apple is the market leader. Despite being a small country, 3.4 million smartphones shipped to Singapore last year. Apple enjoyed 46% market share. The other Top Five vendors were Samsung, Asus, Sony and LG.
2017 should be strong for Apple in Singapore. There is the opening of the first official Apple store and the next iPhone model expected in the third quarter. The country is an example, similar to Japan, of how the company can be the biggest smartphone provider in Asian countries despite those who say its cost is too high.
The graphic below illustrates Apple's supplier network in Asia: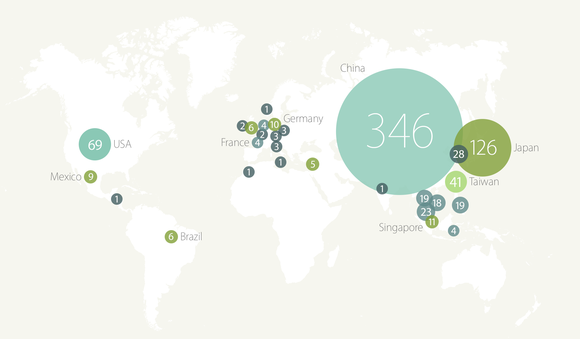 Despite all the talk from Trump about bringing manufacturing jobs back to the USA, this is the reality. Apple looks to be concentrating its resources increasingly not just on manufacturing in Asia but also on data and development centers and retail outlets.
Conclusion
The figures for Asia will look even better when currency fluctuations improve in Apple's favor, which at some stage they surely will.
Economies in the region will continue to grow faster than elsewhere in the world. According to forecasts from the Asian Development Bank for 2017, growth will be as follows:
China +6.4%
East Asia +5.7%
South Asia +7.3%
S-E Asia +4.6%
Much of this growth will come from domestic demand tied to young growing populations. This is perfect for enticing demand for products such as those of Apple.
In the meantime, Apple will be continuing its investments in the region. There will be investments in manufacturing, in data centers and research centers, and in retail bricks and mortar. These should all translate to increased penetration in Asian markets and an increasing share of Apple's revenues coming from Asia.
The kind of market penetration achieved in Japan can be replicated in many other markets in Asia. This represents growth opportunities not available to Apple in other regions of the world.
Apple's growing Services segments are especially well suited to Asia. These include Apple Pay, Health Kit, Music, Home Kit and Gaming. Services revenues and products, as well as iPhone sales, should contribute strongly to Apple's growth prospects in the region. Combined with a new form iPhone 8, this can represent the perfect storm for the company.
Disclosure: I am/we are long AAPL.
I wrote this article myself, and it expresses my own opinions. I am not receiving compensation for it (other than from Seeking Alpha). I have no business relationship with any company whose stock is mentioned in this article.