Red Lion Hotels Corporation (NYSE:RLH) was established in 1959, and with a market cap of $180m, it represents one of the smaller lodgings chains, which creates a unique opportunity. Red Lion Hotels is an asset-light company, which means that it looks to earn a significant portion of its revenue from selling franchises versus being an owner/operator. The model is favorable for investors because it removes the risk of inappropriate real estate valuations while generating substantial free cash flow and providing greater financial flexibility. The lodgings industry is among the most cyclical of the major industries today; success is pegged heavily to the firm's access to cheap debt, a strong economy and low oil prices driving down travel costs. Major players like Wyndham (NYSE:WYN) and Marriott (NYSE:MAR) use the asset-light approach to grow rapidly in positive economic cycles without incurring excessive debt that would become too burdensome in negative economic cycles. As with most asset-light firms, Red Lion maintains numerous brands allowing it to easily meet multiple price points. Red Lion operates under the brands: America's Best Inns & Suites, Hotel RL, Red Lion Hotels, GuestHouse, Settle Inn, Vantage Hotels, Americas Best Value Inn, Red Lion Inn & Suites, Canadas Best Value Inn, Lexington by Vantage, Country Hearth Inns, Jameson Inns, Signature Inn and 3 Palms Hotels and Resorts.
When I wrote this article, I described Red Lion as an avoid due to shareholder conflict and uncertainty over the firm's ability to attract franchisees for the recently launched RL brand. These concerns have since subsided, and the recent price action reflects that. Despite the recent offering, Red Lion still maintains a bullish chart, which has shifted my views on the stock. Red Lion is heavily owned by both institutions and insiders (approximately 80% of the shares outstanding) which, when combined with a competent management team which is growing responsibly, creates the opportunity for strong moves to the upside. Today, we will discuss how the recent changes to Red Lion now force investors to look at the company in a more favorable light.
Financial Outlook
Red Lion prices its rooms toward the lower end of the market, which, for an operator, is typically bad for operating margins. The asset-light approach becomes crucial here as it generates substantial revenue without a tremendous outlay on operating expenses. Lower-priced firms (like Choice Hotels (NYSE:CHH)) have been very successful using this approach to soften the blow of modest price points. The management team has been proactive in addressing this issue, adding upscale brands like Hotel RL, as well as identifying franchise business as the way forward. The market is notorious for rewarding progress-less coveted companies for making steps in the right direction, and Red Lion's recent price action reflects just that.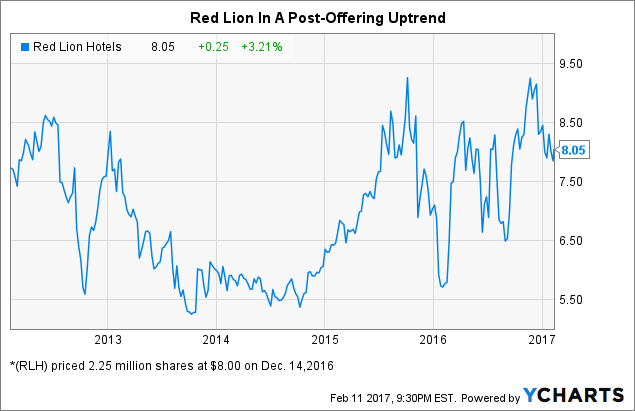 Looking past the string performance, the financials are far from inspiring.

Source: Finviz
Red Lion has managed instances of profitability in the past (shown below), which is commendable for a smaller firm in a tight niche, but the key numbers to observe are the cheap price to book ratio, heavy institutional ownership and the relatively low short float. Investors should look at the fact that shares are held in steady hands as an encouraging prospect as it frequently means a reduced probability of excessive profit-taking whenever a minor catalyst is introduced.
EPS Fluctuations
The EPS has fluctuated wildly historically, but I believe Red Lion is much closer to getting the numbers in order with the successful Hotel RL brand launch. Multiple brands at different price points are crucial for any small business, and the Red Lion team is making positive steps in this regard. The importance of adding upscale chains cannot be emphasized enough as Red Lion is very close to achieving consistent profitability.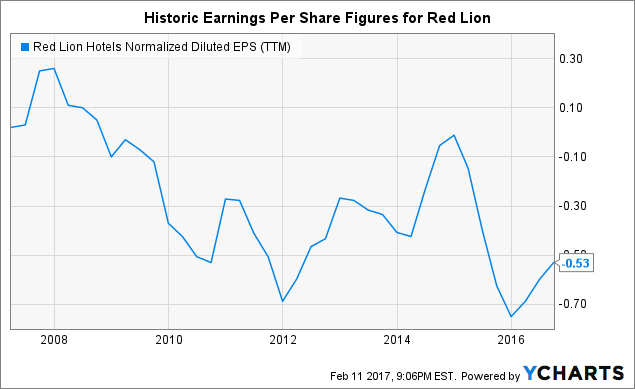 RLH Normalized Diluted EPS (TTM) data by YCharts
Institutional Ownership's Effect on Stock Price
Stocks with high institutional ownership trade a little differently from stocks owned mainly by retail investors. These stocks typically have relatively low daily volumes, but ignite whenever there is a catalyst like positive news or a share repurchase authorization. The moves can be quite sensational but the same can be said about the price action when the holding institution decides to unload shares, the selling can be relentless and this risk should be factored into any investment plan.
Risk Of Dilution
On December 14, 2016, Red Lion offered 2.25 million shares of common stock at a price of $8 per share, raising approximately $17 million in cash to fund continued operations. The previous closing price on the day of the offering was $9.10 and the stock price took a major dip. This is never welcome news for investors and while the stock price has reacted relatively well following the offering, it still hasn't recouped all of the losses.
Source: Sec.gov
Recent Expansion
The Hotel RL brand recently added two promising locations to its system. The hotels were opened in Brooklyn and Omaha on January 23, 2017, and will bode well for future revenue growth. Continued expansion is crucial to any investment thesis with this particular holding as the current financial condition is not satisfactory, but every franchise the Red Lion adds significantly improves its odds at turning the situation around. Investors should pay special attention to all openings and closings related to the company as it exists in a fragile state with an average current ratio of 1.2, a history of dilution and a recent trend of net losses.
Hotel RL Brooklyn, NY.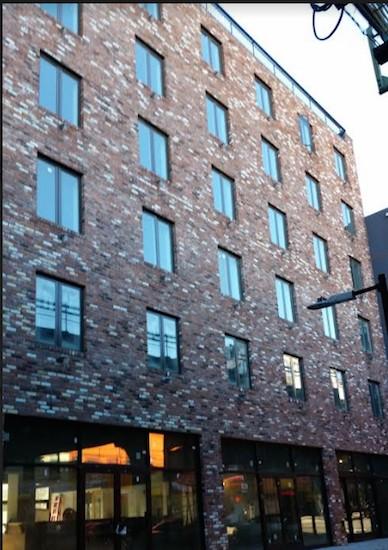 Source: Yahoo.com
Hotel RL, Omaha, NE.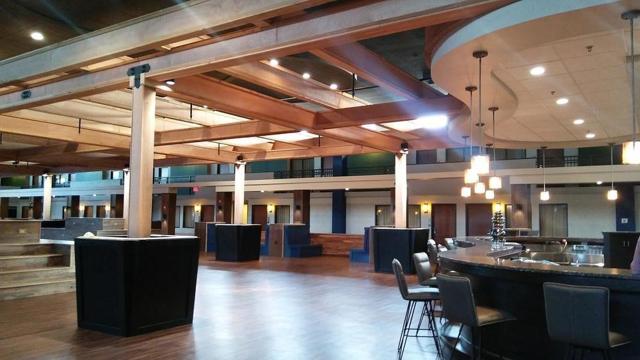 Source: Google.com
Portfolio Play
While I cannot call the stock one of the better opportunities in the industry, it has all the right ingredients for a potentially volatile move and is worth consideration as a smaller holding or simply for diversification. I would eagerly take profits when they are given to me and would love to be an owner of Red Lion in the $6.90-7.20 price range. I would treat it similarly to a gold hedge where strength is sold for profit and weakness is bought in risk-conscious increments in the absence of negative news. The weak financials suggest that short to medium term orientation is best, but if management continues its good work, the stock will likely exceed my expectations.
Option Play
Option trading is available for this stock, but as with most small firms, its option market isn't particularly liquid. There is, however, sizable open interest on the April 21, 2017, calls. If I were long this stock at current levels I would seriously consider selling April 21, 2017, covered calls for premium against my long position to lower my average cost. I would, however, much prefer to buy this stock closer to the $6.80 support level as it gives me a much better margin of safety and more potential upside.
Conclusion
Red Lion has shockingly little coverage on Wall Street, and with the reduced daily trading due to institutional ownership, I do feel as though strong news would ignite the stock. Based on the recent openings, the strong chart and the huge room for improvement financially, I would recommend Red Lion as a Buy with a price target of $11 per share. I, however, will be mindful of my position size on this play as the risk of dilution is ever present and negative news could force a strong downward move. Thank you for reading. I look forward to robust discussions in the comments box. Happy trading.
Disclosure: I/we have no positions in any stocks mentioned, and no plans to initiate any positions within the next 72 hours.
I wrote this article myself, and it expresses my own opinions. I am not receiving compensation for it (other than from Seeking Alpha). I have no business relationship with any company whose stock is mentioned in this article.