Following the retail sales report this morning, I read that the "consumer is well-positioned to propel the economy in early 2017." Ryan Sweet, a senior economist at Moody's Analytics Inc., claims that "we will see decent retail sales in coming months," and that the "story for 2017 will again be one of the consumer driving the economy."
I couldn't disagree more with this assessment after reviewing this morning's real earnings report, which followed the Consumer Price Index report for January. It begs the question, do these economists read the reports, or just the headlines? As I have been warning about for months, the rate of real-income growth continues to decline from what was its peak nearly two years ago. Real income actually declined on a year-over-year basis for production and non-supervisory employees in December (-.01%). Today we learned that real income declined in January for all employees by 0.6% on a year-over-year basis. This can't possibly be interpreted as good news.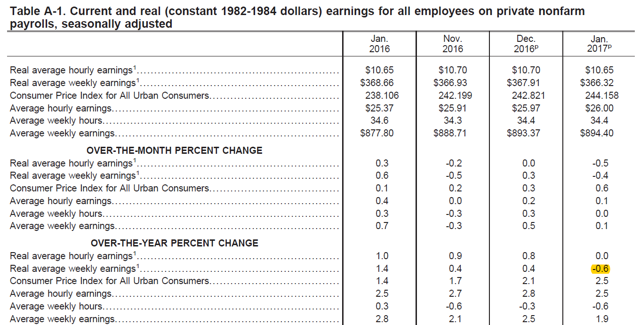 The increase in new jobs each month is not what drives consumer spending. Income growth drives consumer spending. When consumers start to lose purchasing power for the good and services that they buy on a regular basis, consumer confidence wanes and they cut back on spending. The irony is that consumer confidence levels are at decade-plus highs just as real income is starting to decline. In the past, declines in real income have led declines in real consumer spending. I suspect that consumer confidence levels will start to fall in the coming months and the rate of consumer spending growth will deteriorate.
Some market pundits are perplexed as to why Fed Fund futures imply only a 42% chance of another rate hike in March, up from 17.7% prior to Fed Chair Yellen's testimony yesterday, given the apparent strength in recent economic data. I think the reason is obvious. Yellen understands the economic reality facing the majority of American households, and she does not want to tighten financial conditions at the same time that consumer purchasing power is weakening, even with the rate of inflation running above the Fed's target of 2%.
If the Fed tightens financial conditions, it could stymie wage growth. If it does not, then the rate of inflation could rise, further eroding real income growth. There are obviously a multitude of other factors involved in this equation relating to trade policy and tax reform, but I do not think there will be another rate hike until we see more significant wage growth. The decline in real wages will be a headwind for the rate of inflation moving forward. One factor that could change the Fed's view would be tax reform that results in a measurable increase in disposable income for consumers.
Disclosure: I/we have no positions in any stocks mentioned, and no plans to initiate any positions within the next 72 hours.
I wrote this article myself, and it expresses my own opinions. I am not receiving compensation for it (other than from Seeking Alpha). I have no business relationship with any company whose stock is mentioned in this article.