Even after a big run, DNB's (OTCPK:DNHBY) (OTCPK:DNBHF) shares remain attractive for a dividend investor.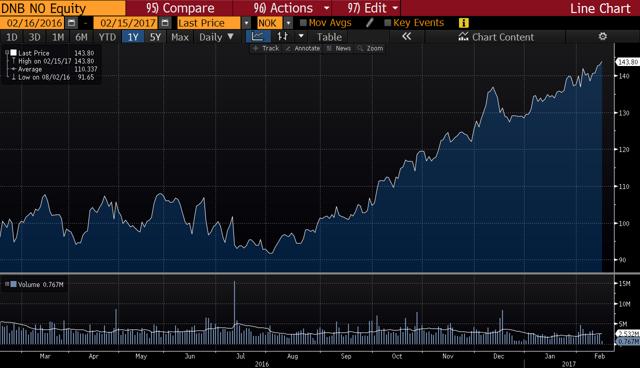 Source: Bloomberg
DNB is the largest financial services group in Norway and, according to the European Central Bank, DNB has the greatest resilience to economic crises among a peer group of 51 European banks.
DNB's 4Q results were robust with a return on equity of 10.9% and a 30bps organic capital build-up. The bank's CET1 leverage ratio increased to 7.3% in 4Q from 6.9% in 3Q. It is important to note that DNB's capital adequacy ratios are well above its 2017 regulatory requirements.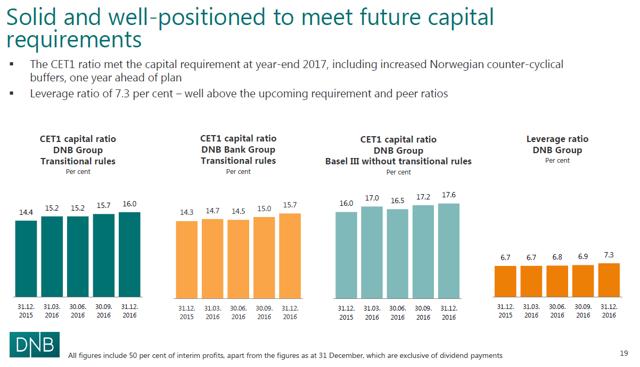 Source: Company data
We believe a double-digit RoE on a 16% CET1 is an impressive achievement, especially if we take into account that DNB has been hit by low oil prices and severe impairment losses from its shipping portfolio.
Importantly, the macroeconomic environment is supportive. Norway's GDP growth accelerated to 1.9% y/y in 4Q from 1.0% y/y in 3Q.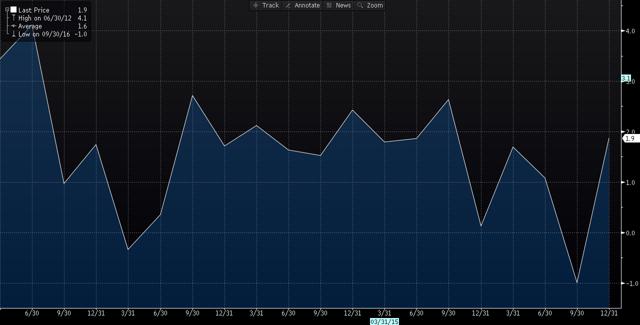 Source: Bloomberg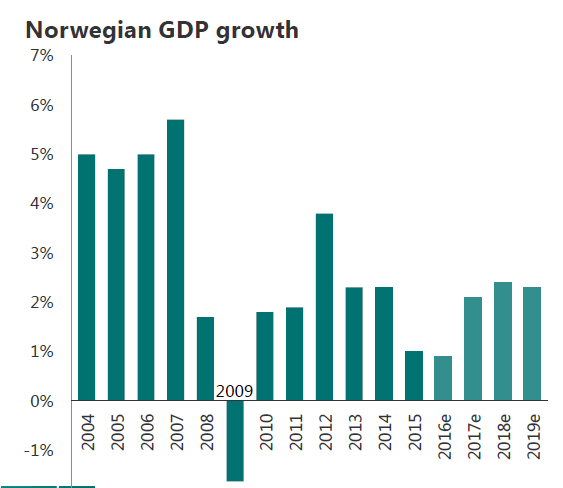 Source: Company data
The recent recovery in oil prices has had a positive impact on DNB's credit quality. While the group reiterated its loan loss provisions guidance of NOK18bn, we believe there is an upside risk to the estimate, as DNB will likely write back a proportion of the amounts which the company has previously set aside to cover losses on those problem O&G/shipping loans.
In addition, we think DNB could increase its capital returns as ongoing negotiations on stricter capital requirements for European banks, the so-called Basel IV regulatory framework, are likely to be postponed. President Donald Trump has recently signed an executive order to review Dodd-Frank and that could have an impact on European banks as well.
From a relative valuation perspective, DNB is not overvalued, trading in line with valuations of its European peers. We believe the stock deserve a premium, given its superior capital adequacy ratios, an attractive dividend yield and strong earnings outlook.
European banks: P/B vs RoE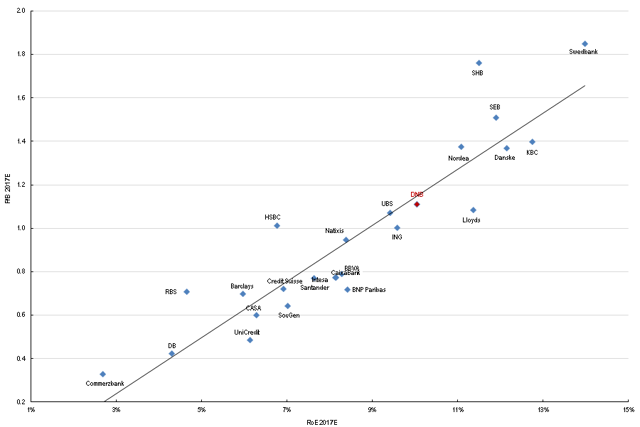 Source: Bloomberg, Renaissance Research
European banks: P/TB vs RoE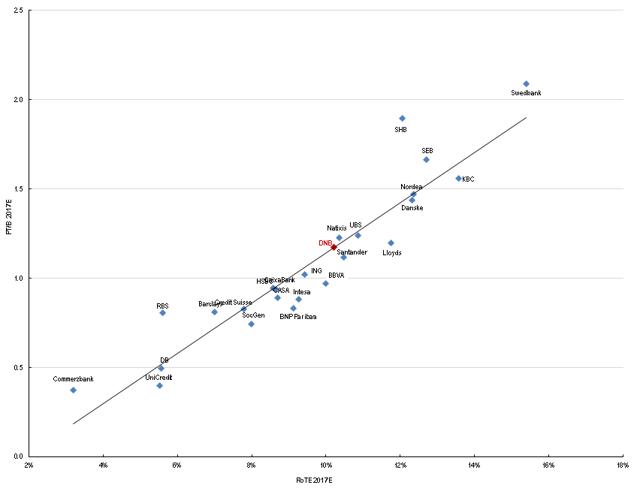 Source: Bloomberg, Renaissance Research
Our valuation model suggests a potential upside of 12% fro m current levels. We assume a sustainable return on equity of 11%, a cost of equity of 9.5% and a sustainable growth rate of 2.0%. These assumptions imply a fair P/B multiple of 1.2x.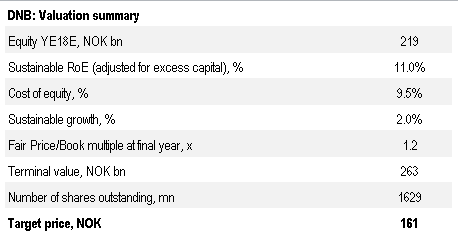 Source: Renaissance Research
It is also worth mentioning that DNB's management has guided for a 12% return on equity in 2019. Should DNB reach the target, its fair P/B multiple would be a 1.3x.
As a buy-side analyst and a deputy portfolio manager, I oversee a financials-focused fund and will be continuously providing research coverage on developments with DNB and other global banks. If you are interested in the topic, consider following us by clicking the "Follow" button beside our name at the top of the page. Thank you for reading.
We also invite readers to check out our recently launched subscription service. Get in-depth fundamental research, stock recommendations, trading ideas, exclusive access to professional databases, sophisticated valuation models and expert commentary on Wall Street recommendation from a hedge-fund analyst with a proven track record. Go here to learn more or to sign up, we look forward to having you on board.
Disclosure: I am/we are long DNHBY.
I wrote this article myself, and it expresses my own opinions. I am not receiving compensation for it (other than from Seeking Alpha). I have no business relationship with any company whose stock is mentioned in this article.
Editor's Note: This article discusses one or more securities that do not trade on a major U.S. exchange. Please be aware of the risks associated with these stocks.