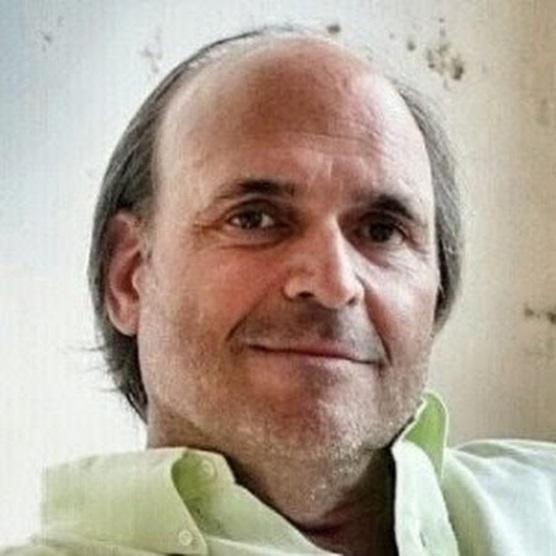 Network-1 CEO and Chairman Corey M. Horowitz
Several event-driven catalysts seem to be emerging on the horizon for Network-1 Technologies Inc. (NYSEMKT:NTIP). This article will describe these possible catalysts and evaluate the merits of an investment in this microcap intellectual property firm. First, let's take a look at the fundamentals.
Despite the lofty valuations of most US stocks these days, Network-1 Technologies is one company that is profitable, growing, debt free and trading at a P/E under 4. Here are some other basic metrics:
Market Cap: 87.5M
Cash and cash equivalents: 57.8M
Price/Book: 1.7
Price/Sales: 1.4
Price/Cash Flow: 2.3
Forward dividend yield: 2.7%
Debt: 0
TTM ROE: 64%
Insider Ownership: 32.8%
Interested?
Network-1 develops, licenses and protects intellectual property assets. Put another way, Network-1 is in the business of acquiring high-quality patents on cutting edge inventions and then monetizing them by selling usage licenses. Since Network-1 owns technology patents, their licensees are often well-known tech companies such as Apple (NASDAQ:AAPL), Google (NASDAQ:GOOG) (NASDAQ:GOOGL) and Cisco (NASDAQ:CSCO). The interesting part is that historically, most or all of Network-1's licensees have been unwilling customers.
This is where the "protect" part of the firm's mission statement comes in as a bulk of the operating expenses consist of legal consulting fees. Essentially, Network-1's CEO and Chairman, Corey M. Horowitz, has developed a consistent track record of dragging Fortune 500 tech companies into court and extracting multimillion-dollar licensing deals from them. If this business model sounds unscrupulous at first glance, consider that Network-1 actually is supporting technological innovation, which makes the world a better place, by providing inventors with a credible way to monetize their ideas.
In the fiercely competitive IP industry, Network-1 isn't the biggest in terms of financial resources or staff, but unlike most of its competitors, the firm has reported a solid profit almost every quarter for the past six years. A brief overview of the competition will demonstrate just how tough the IP industry is:
-RPX Corporation (NASDAQ:RPXC). Market cap: 579M. EPS has declined for four years straight mostly due to equity dilution.
-Acacia Research Corporation (NASDAQ:ACTG). Market cap: 295M. About to post its fourth straight year of negative earnings.
-Wi-Lan Inc. (NASDAQ:WILN). Market cap: 206M. Earnings are spotty. ROE hasn't been above 5% since 2011.
-VirnetX Holdings Corp. (NYSEMKT:VHC): Market cap: 130M. Book value per share is in free fall from 1.42 per share in 2011 to .22 per share today.
-Marathon Patent Group, Inc. (NASDAQ:MARA). Market cap: 30M. Negative free cash flow every year since the 2012 IPO.
To be fair, I have not done a deep dive on any of the companies listed above and some of them may be sound investments. However, after a cursory review of their financial statements, I am happy to pass on all of them.
Looking at the weak fundamentals of the competition, one might be inclined to forego investing in the IP industry altogether. On the other hand, Network-1 stands out as an outlier and a consistent performer in this industry.
With that overview out of the way, let's have a look at what's been happening with Network-1 lately. Over the past year, the stock has almost doubled. The 85% capital gain has coincided with two blowout quarters in both Q2 and Q3. In Q3 2016, Network-1 set all-time records in almost every operating metric and year-over-year operating income growth for the quarter was 2251%.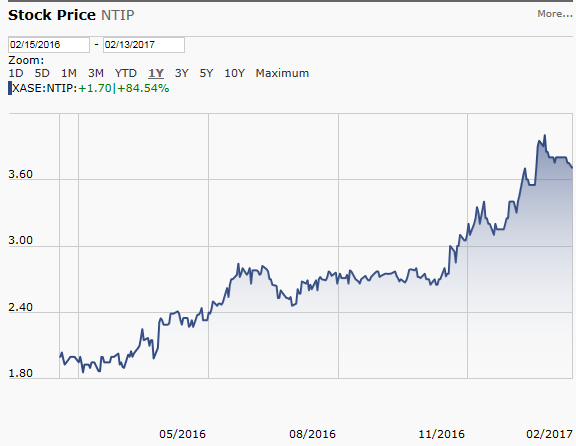 At this point, savvy SA readers will start to wonder whether the recent performance is sustainable. No matter how impressive, past performance is only useful to the extent that it may hold clues to what the future may hold.
Network-1 is a relatively easy company to understand because the firm owns four main assets with revenue generating potential. These intangible assets are portfolios of patents known as (1) Mirror Worlds, (2) Remote Power, (3) Cox, and (4) QoS. A detailed description of each of these assets can be found at Network-1's website. I will discuss each of these four assets and their monetization potential. The chart below provides a quick snapshot of what follows.
Asset

Total revenue recognized

(as of 30 Sep 2016)

Future royalties due?

Litigation Pending?

Mirror Worlds

~47.5M

No

No

Remote Power

~100M

Yes

Yes

Cox

0

No

Yes

QoS

0

No

No
Mirror Worlds Patent Portfolio
What really made Q3 2016 such a huge success was a one-time licensing settlement of 25M with Apple Inc. that was related to the Mirror Worlds patent. Under the terms of the July 2016 settlement, Apple paid 25M for permission to use one of the patents in the Mirror Worlds portfolio until the expiration of the patent.
The kicker is that the patent actually expired in June 2016 so the payment was more of a penalty for past use than anything else and Network-1 will receive no future royalties relating to this settlement with Apple. This is a significant point since this 25M made up over two-thirds of the record-breaking 37M of revenue in Q3 that coincided with the big jump in Network-1's share price.
The settlement with Apple was the result of litigation that Network-1 initiated in May 2013 when Apple was one of eight firms that Network-1 sued for licensing royalties. Of the remaining seven, Microsoft (NASDAQ:MSFT) settled in November 2015 for a one-time payment of 4.65M and the courts dismissed Network-1's claims against the other six firms on the basis that they were actually just customers of Microsoft.
Essentially, Microsoft paid out on behalf of the other defendants. In addition, Network-1 received a lump sum payment of 17.5M in April 2016 for a professional liability settlement related to services rendered in 2008-2010 (Network-1 didn't initiate this claim but took it over when the firm acquired the Mirror Worlds portfolio in May 2013).
In the end, we can see that Network-1 recognized around 30M in revenue from the Mirror Worlds litigation (4.65 from Microsoft and 25M from Apple) and another 17.5M for the liability settlement related to Mirror Worlds for a total return on investment for the Mirror Worlds patent of around 47.5M. However, no future royalties are due in connection with the Mirror Worlds patent and the firm has not disclosed any plans to initiate new litigation connected to this asset. It would seem that the Mirror Worlds portfolio has been squeezed for as much revenue as we should expect, at least for the foreseeable future.
Remote Power Patent Portfolio
Investors who are familiar with Network-1 will already know that the firm's real cash cow is its Remote Power patent. With a total return of over 100M in revenue to date, this asset has been the biggest contributor to Network-1's earnings by far. 28 total firms still owe Network-1 ongoing royalty payments of around 12M-15M annually until the expiration of the patent in March 2020. Of these 28, Cisco is easily the biggest source of revenue. Cisco owes Network-1 annual payments of roughly 9M out of the total 12M-15M through the life of the patent.
These royalty payments, which are payable on a monthly or quarterly basis, are the only source of locked in, recurring revenue that Network-1 can currently claim which makes modeling an earnings forecast extremely difficult. Although these recurring revenue numbers are somewhat low, even for a firm with a market cap under 100M, we can expect roughly one third of this recurring royalty revenue to translate directly into earnings. This is because Network-1 has such low operating costs with a seven-year average gross margin rate of 66.8% and a seven-year average operating margin rate of 33.1%.
The firm achieves these numbers by keeping fixed and recurring costs low. Including the CEO, there are only two full-time employees. The firm leases a few small offices and since almost all the assets are either in cash or intangibles, capital expenditures are typically zero. I got a taste of this bare bones efficiency in action when I called the investor relations department recently and ended up talking directly to CEO and Chairman Corey M. Horowitz.
In addition to the 12M-15M in recurring royalty revenues that we can expect from the Remote Power asset through March 2020, litigation related to this patent portfolio is still pending and investors should expect future revenue-generating settlements related to this litigation. Network-1 initiated this legislation with 16 defendant tech firms in September 2011, and as of this writing, only 12 of the 16 have settled with Network-1. Of note, the courts have consistently ruled in Network-1's favor in this litigation, so the writing is probably on the wall for the remaining four holdouts.
So what can we expect from the future settlements with these firms? Perhaps the recent example of Polycom Inc. (NASDAQ:PLCM) can offer some insight. Polycom capitulated in October 2016 and agreed to pay a one-time license initiation fee of 5M for past use in addition to ongoing royalties.
2M of the license initiation fee was paid within 30 days of settlement and the balance of the remaining 3M will be paid in three annual installments of 1M beginning in October 2017. In other words, the Polycom settlement did not impact Q3 since the reporting period ended on 30 Sep 2016, so we can expect roughly 2M of new settlement revenue to be recognized related to the Remote Power asset in the upcoming quarter.
The remaining four firms that have yet to settle are Avaya Inc. (Private), Axis Communications Inc. (OTC:AXCTY), Juniper Networks, Inc. (NYSE:JNPR) and Hewlett Packard Enterprise (NYSE:HPE). Estimating future payouts from these firms is difficult, but if we look at past settlements, an interesting trend emerges. There appears to be a rough correlation between the size of defendant firms and the amounts they end up paying out in licensing royalties. This makes sense when we consider that the defendant firms generate their own revenues by selling products that use the patented technology that Network-1 rightfully owns.
Therefore, large firms with higher sales volumes tend to owe more in settlement royalties to Network-1 when they finally capitulate because they simply sell more of Network-1's patented technology. Therefore, we can expect that a firm like Hewlett Packard, with annual sales of around 50B, will likely be forced to pay larger settlement royalties. The trial for the four remaining firms will convene in March 2017 and it is reasonable to expect settlement payouts toward the end of 2017.
Further, it is entirely possible that these firms will agree to settle before they are forced to do so and indeed a few of the original 12 defendants decided to settle prior to their trial dates. Therefore, we should expect Network-1 to recognize at least some settlement revenue in connection with the Remote Power litigation during Network-1's upcoming fiscal year.
Cox Patent Portfolio
The Cox Portfolio is a wild card since to date, this asset has not generated any revenue. However, I believe this asset has untapped potential and it is actually what convinced me to buy Network-1's stock. Network-1 acquired its first patents in this portfolio in February 2013 and initiated its first litigation related to this asset in 2014. The case is progressing nicely, and in October 2016, the Patent Trial and Appeal Board (PTAB) ruled in favor of Network-1 against defendants Google and YouTube.
The case is currently in a stay of proceedings status. If the defendants choose not to settle, I expect the case to go to trial sometime in 2018. Network-1 has already demonstrated a consistent ability to extract licensing revenues from whales such as Apple and Cisco, so a large settlement with Google seems increasingly likely. Investors who are not keen on waiting up to two years for this possible catalyst should take some comfort in the fact that Network-1 has a forward dividend yield of 2.7%, so they will at least be paid a small stipend for their patience.
QoS Patent Portfolio
This relatively new patent portfolio is another wild card as it has not generated any revenue to date and Network-1 has not disclosed any intention of initiating legislation in connection with this asset.
Downside Risks
In general, investing in microcaps is risky. This becomes especially true when the microcap in question operates in a fiercely competitive industry that lacks a reliable mechanism for forecasting earnings with anything resembling precision.
In addition, in the case of Network-1, there are some specific risks that investors should be aware of. First, the only asset on Network-1's balance sheet that is currently generating revenue is a patent portfolio (Remote Power) that is subject to ongoing legal challenges. It is possible that the courts will determine that this patent portfolio is invalid and immediately deny Network-1 its only consistent cash flow stream.
Whenever Network-1 files patent lawsuits, the defendant tech firms inevitably file counter suits seeking to completely invalidate the underlying patent in the case. This is certainly the case with both the current litigation related to the Remote Power portfolio and the Cox portfolio wherein the defendants have indeed filed counter claims
However, a scenario where Network-1's patents are deemed invalid seems unlikely since Remote Power has withstood legal scrutiny for over 10 years and the PTAB just ruled in Network-1's favor in the case of the Cox portfolio. Second, it is possible that Network-1 could still fail in its litigation versus the remaining four defendants in the Remote Power case. It is possible that the reason why the final four defendants including Hewlett Packard have been able to hold out since Network-1 filed suit in 2011 is because one or more of them actually has a viable defense.
Third, it is possible that Network-1 will fail in its litigation versus Google and YouTube in the ongoing litigation connected to the Cox patent portfolio. Although the Cox litigation has great potential, we are still in the early phases of this case. The recent favorable PTAB ruling is a positive sign but we shouldn't expect a megacap tech company like Google to go down without a fight. If Network-1 fails to protect either its Remote Power or Cox patents in court, these events would likely create downward pressure on the stock.
Finally, it is important to note that all the patents contained in Network-1's four portfolios have expiration dates and all of them will expire within approximately five years. Some will expire much sooner than that. Network-1 will need to acquire new revenue-generating patents to replace the patent portfolios currently on the balance sheet. If Network-1 fails to do this, their future profitability will be in jeopardy.
Conclusion
I'm cautiously optimistic regarding Network-1's ability to reach favorable settlements connected to either the Remote Power portfolio, the Cox portfolio, or both. I believe it is possible that one or more of these cases will result in a sizable settlement. Due to these possible catalysts on the horizon, I believe Network-1 investors stand a reasonable chance of achieving a satisfactory capital gain over a one to three-year holding period.
Supporting Documents
Disclosure: I am/we are long NTIP.
I wrote this article myself, and it expresses my own opinions. I am not receiving compensation for it (other than from Seeking Alpha). I have no business relationship with any company whose stock is mentioned in this article.
Editor's Note: This article covers one or more stocks trading at less than $1 per share and/or with less than a $100 million market cap. Please be aware of the risks associated with these stocks.