Performance for the iShares Nasdaq Biotechnology index (NASDAQ:IBB) is slightly negative over the past three and six months.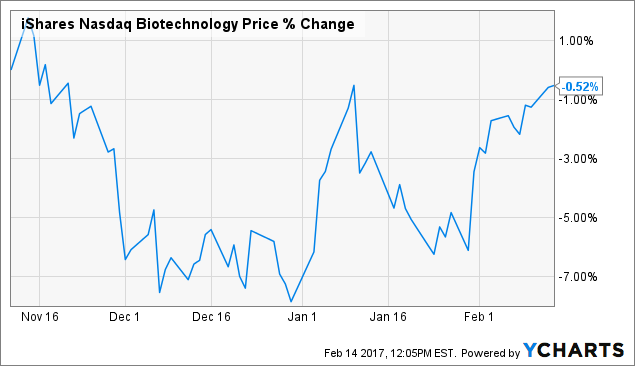 Regular readers know that regardless of takeover chatter, activism (see recent drama with Immunomedics - IMMU), or political rhetoric, my strategy stays the same.
I utilize a variety of scans to search for undervalued companies with upcoming catalysts (i.e., product launches, data readouts, etc)- such stocks can be found in many different sectors, although lately many of my ideas are found in biotech or technology.
Whether growth or turnaround, or simply unknown entities flying under the radar, the goal is to profit along a specified timeframe. I group ideas into near term (runners of the month), medium term (few months up to a year) and long term. Longer term stories tend to have more of a fundamental basis (strong belief in core technology or management team/execution of strategy) for investing- shorter term ideas could be just as high conviction, but are more focused on the possibility of money flow into the stock based on a defined catalyst or macro factors that could push up the stock price significantly.
I'd like to touch on a few of my prior writeups and ideas that still merit investor attention and due diligence as I consider them currently undervalued.
Near Term
For the near term, Adamis Pharmaceuticals (NASDAQ:ADMP) has a lot of potential as it could benefit from recent Trump rhetoric on drug pricing and the FDA approval process. After two CRLs, I believe its low cost alternative to the Epipen could get the approval nod by June and run up significantly beforehand, allowing investors to take partial profits to take risk off the table and retain upside.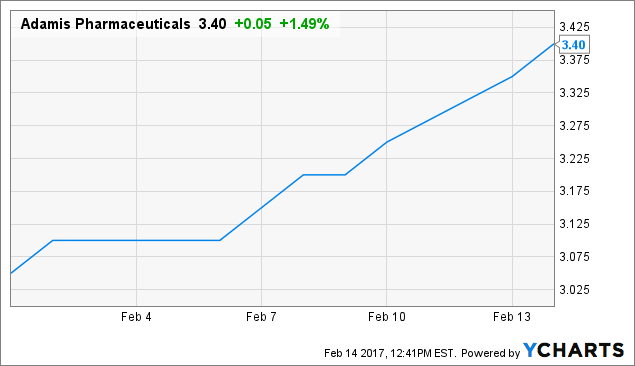 Medium Term
For the medium term, I really like NEOT (see Neothetics:Valued at Cash but not for Long) but it's already up close to 50%. So I'll have to go with Concert Pharmaceuticals (NASDAQ:CNCE), Fate Therapeutics (NASDAQ:FATE), and Intra-Cellular Therapies (NASDAQ:ITCI).
Shares of Concert Pharmaceuticals have already started to bounce back in the past couple weeks. Year end data is coming for two important programs, CTP-543 in patients with alopecia areata and CTP-656, a deuterated version of Vertex Pharmaceuticals' ivacaftor being tested in cystic fibrosis patients. The latter drug potentially has several benefits that could give it a leg up on the competition, including more convenient dosing and less potential for interactions with other drugs. A possible approval in a similar drug candidate for Teva, SD-809, would validate the technology and could also result in a sympathy run for shares of Concert Pharmaceuticals.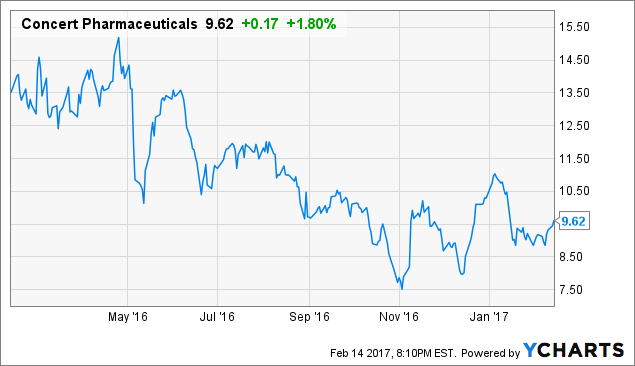 Shares of Fate Therapeutics are likewise starting to show strength in the past week. In early January the first patient was enrolled in the company's ProTmune PROTECT clinical trial in the prevention of graft versus host disease. As there are no approved preventative treatments for the condition, the drug candidate could see rapid adoption if approved. In late 2016 management decided to modify the trial design and blind the study, meaning if data is especially promising accelerated approval is a possibility. The company is also advancing first in class adaptive T-cell product FTE-NK100 into the clinic, a candidate which has shown enhanced anti-tumor activity and increased immune checkpoint resistance in preclinical studies.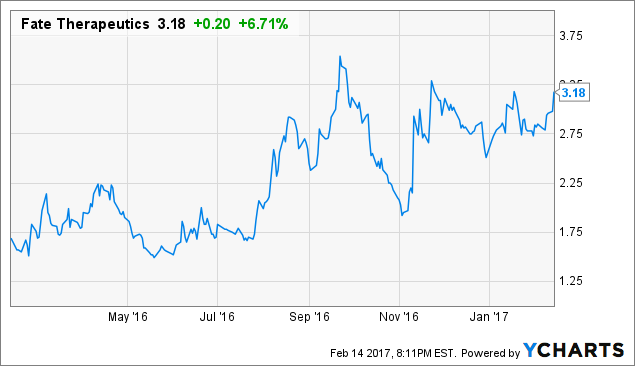 Shares of Intra-Cellular Therapies are still acting weak, but I expect the company's lead asset lumateperone is not as dead in the water as Wall Street believes. While it's true the candidate failed to beat placebo in a phase three trial in schizophrenia, a composite look at both phase III studies and one phase two study reveal a drug that clearly resulting in improving symptoms in schizophrenia patients. Additionally, the safety profile of the drug appears superior to risperidone, a factor that could play into its favor in light of recent lawsuits over undesired side effects with the latter including men growing breasts. It appears the company is going forward with seeking regulatory approval, pending discussions with the FDA. If allowed to do so, shares could bounce back rather quickly.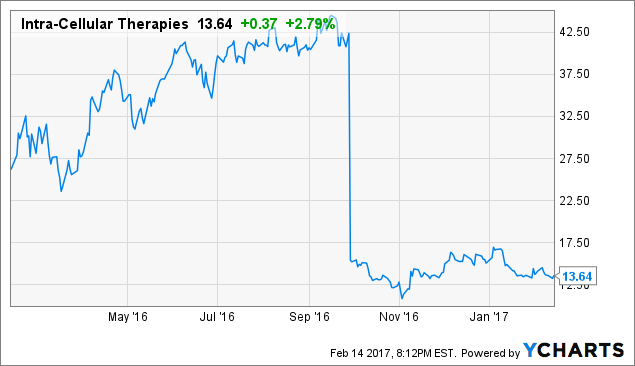 Long Term
For the long term, I still like Fibrogen (NASDAQ:FGEN), as the company is valued solely based on its lead drug roxadustat but has significant value to be unlocked in pancreatic cancer and IPF assets. Data from dual phase three studies in China revealed that treatment with roxadustat resulted in statistically significant (p<.00001) hemoglobin levels compared to placebo and resulted in a higher mean hemoglobin increase than EPO (0.75 g/dL versus .46 g/dL with p=0.037). Early data for FG-3019 in pancreatic ductal adenocarcinoma point to a survival advantage for patients on the high dose of the drug, with mean overall survival of 9 months versus 4.4 months and one year overall survival rate of 34.2% versus 10.8 months. Preclinical data for FG-3019 in IPF have shown reversal of lung fibrosis which could result in improval of lung function- with data coming mid year in an indication with blockbuster potential, shares have plenty of upside.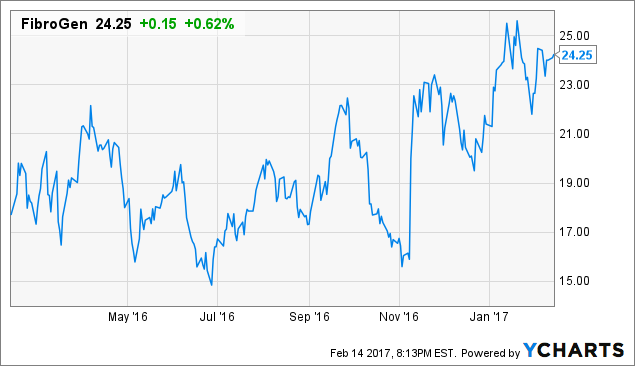 Scynexis (NASDAQ:SCYX) has been a recent microcap find that potentially has a heavily undervalued and unique asset in SCY-078, the first of a new class of antifungal treatments. While the subject of antibiotic resistance has typically taken center stage, I suspect that fungal infections that resist current treatments will garner more attention in the coming years. Other factors that weigh in favor of SCY-078 include a lower potential for drug to drug interactions and a strong safety profile. A prior phase 2 study in rVVc showed the drug to be as effective as fluconazole in achieving a therapeutic cure, while a phase two trial in IC revealed a lower percentage of patients with GI events as compared to those receiving fluconazole. Additional early data should be coming soon and topline results from a phase two study comparing IV/oral SCY-078 to standard of care could be a big inflection point in the company's future.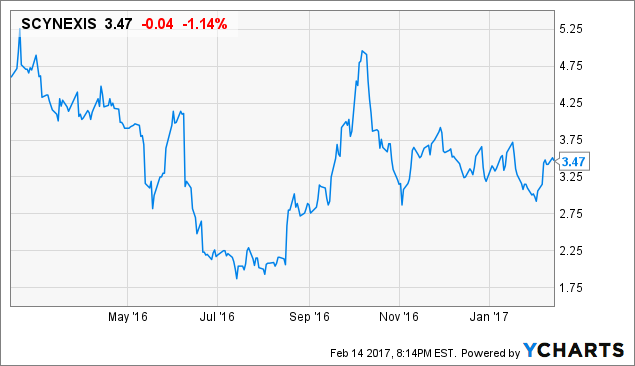 Lastly, I've written a couple times on Galapagos (NASDAQ:GLPG), a biotech that doesn't seem to get much attention here - a more conservative idea up 20% since my initial writeup, the promising pipeline of partnered assets with Gilead and AbbVie continues to progress in the clinic. Filgotinib is the company's crown jewel which has showed promising mid stage data in Crohn's disease, rheumatoid arthritis and ulcerative colitis, all of which are blockbuster potential indications.
As late stage studies progress I wouldn't be surprised if Gilead management finally makes an acquisition and decides to take the company out on the cheap. I have more grounded expectations for the company's cystic fibrosis program with AbbVie, as they appear to be behind market leader Vertex in the race to find a triple combination therapy that would treat 90% of all cystic fibrosis patients. Wholly owned asset GLPG1690 is being tested in IPF, a $2.4 billion market and growing. The drug has shown the potential to be combined with current market leader Esbriet, which would make it a high value asset if data in the second quarter is positive.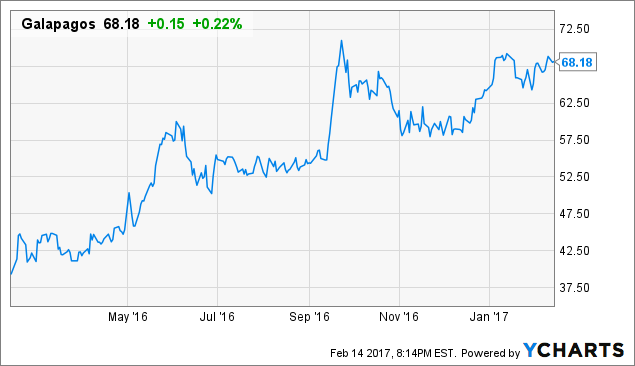 As always, I encourage readers to either sell or take partial profits after significant runups to lock in gains and manage risk while retaining upside, as well as to choose a position size that fits their risk tolerance while avoiding overly exposing their portfolios to outsized losses.
Thanks for following, as well as recent feedback through comments and messages. Cheers and hope you'll consider staying tuned.
Author's note: My goal is to identify undervalued stocks for my readers with favorable risk/reward profiles and catalysts that could propel shares higher. I categorize ideas into near-term, medium-term (months to a year), and long term (multi-year), based on when I expect outperformance to potentially occur. If that interests you, consider clicking the follow button at the top of the article, next to my name.
Disclosure: I/we have no positions in any stocks mentioned, but may initiate a long position in ADMP, FATE, ITCI, CNCE over the next 72 hours.
I wrote this article myself, and it expresses my own opinions. I am not receiving compensation for it (other than from Seeking Alpha). I have no business relationship with any company whose stock is mentioned in this article.
Editor's Note: This article covers one or more stocks trading at less than $1 per share and/or with less than a $100 million market cap. Please be aware of the risks associated with these stocks.