After capping the fiscal 2016 year with a strong quarter, investors may put an end to worries in holding shares of Teva Pharmaceuticals (NYSE:TEVA). Management's confidence that insurance companies will not push generic versions of Copaxone should also give support for Teva's current dividend rate. Chances are good that the stock bottomed at around $32 a share. Solid fourth quarter revenue growth of 33% and a non-GAAP EPS forecast of $4.90 - $5.30 a share are not the only reasons this stock bottomed.

Growth from Actavis Generics
Teva believes it will grow many OTC products in the Actavis Generics unit by a factor of two or three times in three years. The generic unit targets over 80 opportunities. In 2017 alone, Teva will launch between 40 - 50 products. Management forecasts no delays in any of the planned launches.
Manageable debt
Teva plans to maintain a debt-to-EBITDA ratio of no higher than 3.5 times. Despite the dividend costing $1.6 billion annually, Teva does not plan on cutting it. It believes competition for Copaxone will not have negative impact on cash flow this year. The commitment to the dividend should keep income investors holding the stock.
New CEO
The addition of a new CEO with a strong vision for the company may reverse the underperformance in the stock. Actavis Generics clearly boosts Teva's portfolio of generic products. It also risks harming the performance of the specialty brands unit. Having grown in size in 2016, the company needs a leader that knows how to leverage the strengths in each of the two businesses.
On its conference call, Teva outlined the three factors that will lead to growth for the generics unit:
"The first is the flow of new product launches. The second is the impact of transitioned products, which are products that have recently lost exclusivity and the third is price erosion of our base business."
The new CEO must have the skills for handing higher competition and the impact of lower prices for Teva's core products. Until Teva hires the CEO, the leadership vacuum may limit the rebound in the share price.
Executive Sol Barer is leading the CEO search. Having come from Celgene Corporation (NASDAQ:CELG), Barer will make a good CEO pick that Teva needs for its shares to recover:
"I've been fortunate to have led Celgene, which has had tremendous success, significant success, and continues to do so with my colleagues who are still running the company. As I look at Teva, I see really significant assets."
No company split
A number of analysts, including one from JPMorgan Securities, asked if Teva would consider splitting its generics unit from its specialty or branded divisions. The Teva executive responded:
"So again, I'm not going to speculate, and I want to make sure that we are now focusing on execution; we are focusing on really doing the best we can now. And while doing the thorough reviews that I promised, we will make sure that we are going to fix what's needed and I think by that it's enough."
Without a CEO in place at this time, such a move would not make sense. The questions do signal that the market believes the company is deeply undervalued. A sum of the parts analysis would suggest that Teva is worth more if it split up. The stock trades at nearly book value (1.08 times book) and discounts any earnings growth from drugs like Copaxone.
Risks
Generic drug competition is an ongoing risk factor for Teva shareholders. Executive Eyal Desheh said this could have an $800 million impact on cash flow in the year in the worst case scenario.
Acquiring Actavis adds financial leverage. Lower cash flow could trigger a ratings downgrade on Teva's debt, raising interest costs.
Related Investments:
Valeant Pharmaceuticals (NYSE:VRX) trades at an even steeper discount than that of Teva's, at a forward P/E of 3.3x compared to 7.3x. After Teva met expectations in sales of generic drugs, chances are good that Valeant will also meet expectations. Valeant has more risks for investors. The B+L unit is only growing slowly while the Salix division has yet to report revenue growth.
Allergan (NYSE:AGN) sold Actavis Generics. Its stock bottomed at $210/share (I predicted sub-$200). Allergan also announced it would buy ZELTIQ Aesthetics, Inc. (NASDAQ:ZLTQ), another pick I made for DIY investing subscribers (a marketplace newsletter service from Seeking Alpha).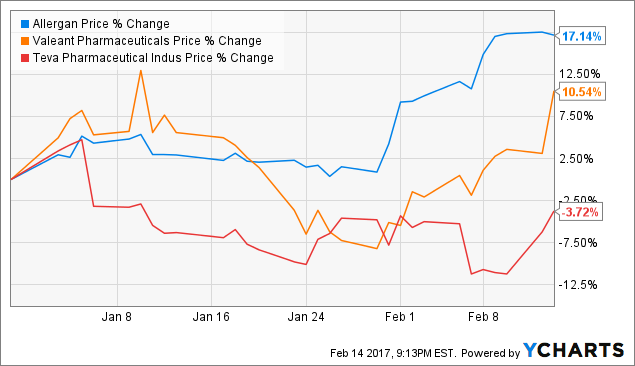 Takeaway
The v-shaped bottom in Teva stock may be the start of a reversal on the share price. After years of underperformance, Teva's commitment to a dividend, a focus on Copaxone, and a search for a new CEO will add meaningfully to the company's turnaround. The CEO's departure scared investors into thinking Teva would not keep its guidance for 2017. The stock trades at a forward P/E of just 7.3 times and pays a dividend yielding 3.9 percent. At these levels, Teva looks attractively undervalued.
Please [+]Follow me for continued coverage on value stock ideas. Click on my name next to my avatar at the top of the article.
Disclosure: I/we have no positions in any stocks mentioned, but may initiate a long position in TEVA over the next 72 hours.
I wrote this article myself, and it expresses my own opinions. I am not receiving compensation for it (other than from Seeking Alpha). I have no business relationship with any company whose stock is mentioned in this article.