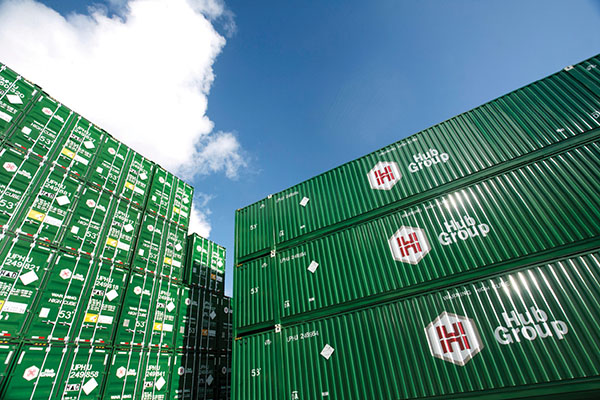 Source: Google Images
Hub Group (NASDAQ:HUBG) considers itself a leading North American asset-light freight transportation management company. The core strength of the company is its intermodal focus. Hub Group has grown to become one of the largest intermodal marketing companies (IMCs) in the U.S. So despite being an asset-light company, the intermodal side of the business has led to a substantial investment in assets, namely tractors, containers and chassis.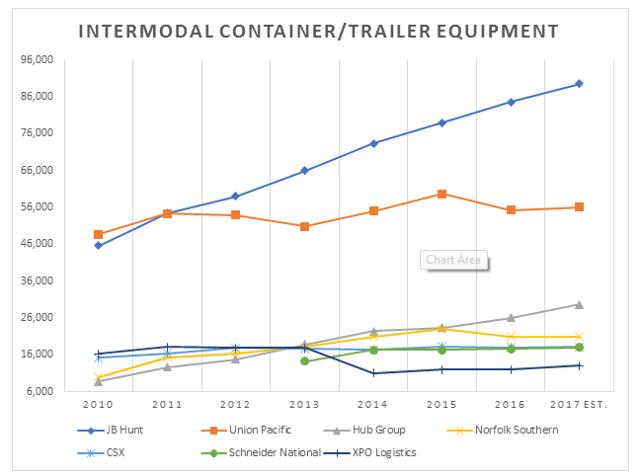 Source: Company financials
Hub Group is the third largest domestic intermodal container provider based upon directly owned and leased intermodal container capacity. Investors should recognize that while companies like J.B. Hunt Transport (NASDAQ:JBHT) and Hub Group provide a substantial amount of intermodal capacity, major Class I rail operators also have their own capacity. Class Is in the minority include BNSF (NYSE:BRK.A) (NYSE:BRK.B), Kansas City Southern (NYSE:KSU) and Canadian Pacific (NYSE:CP).
Since 2010, only J.B. Hunt and Hub Group have witnessed a steady increase in their intermodal container capacity versus other top peers. Hub Group especially since 2010 has witnessed a substantial increase in its intermodal capacity.
Since 2010, the company's intermodal container units increased by nearly 320 percent. It guided for a midpoint capex program of $160 million for 2017. Considering the average equipment costs, nearly 70 percent of this budget is solely for intermodal containers and chassis. Management has planned for a net gain of 3,200 containers and 1,300 chassis. The company is also looking to add 150 new tractors, of which a majority will provide drayage and last-mile services for intermodal business.
Historically, Hub Group spent on average around $9 million per year for its capex needs from 2000 to 2009. But as the company's focus shifted to increasing its assets, the need to ramp up its capex budget has skyrocketed. From 2010 to 2016, Hub Group's capex program on average has totaled $80 million for a grand total at $558 million.
The 2017 midpoint projection of $160 million will be a new record capex amount, eclipsing the previous $111 million amount set in 2013. If the company keeps this pace up over the near term, we may witness an aggregate amount approaching $1 billion in capex spend by 2020. What a difference a decade can make.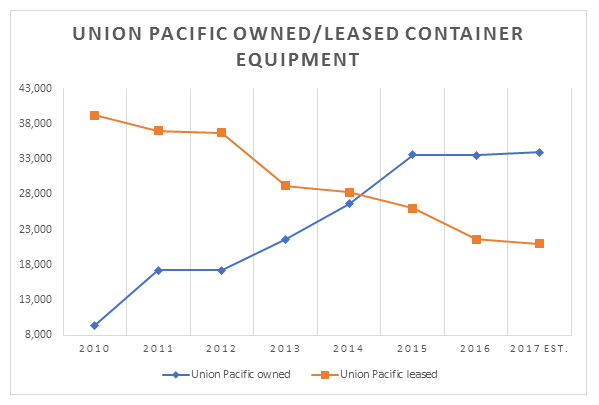 Source: Union Pacific financials
From a competitive stance, the intermodal capacity for Class Is plays a role. Union Pacific (NYSE:UNP) is the leading Class I for intermodal capacity. This is predicated on the company's substantial investments into its owned container equipment and chassis. Some may be familiar with the Streamline service, a subsidiary of Union Pacific, which is the marketing component of its domestic intermodal services. Union Pacific through its arrangements with CSX (NYSE:CSX) and Norfolk Southern (NYSE:NSC) markets its domestic intermodal services via UMAX and EMP intermodal containers.
Hub Group has arrangements with all Class I railroads in North America. Additionally, the company has exclusive access to approximately 5,600 rail-owned containers for dedicated use with both Union Pacific and Norfolk Southern. Of the big four railroads including BNSF, Union Pacific, Norfolk Southern and CSX, J.B. Hunt has contractual arrangements with BNSF and Norfolk Southern, which have translated to a strong market share lead over Hub Group, XPO Logistics (NYSEMKT:XPO) Schneider National (NYSE:SNDR), Swift Transportation (SWFT) and other IMCs across these rail networks.
The competitive landscape is clearly changing. Hub Group has recognized its need to increase capacity. J.B. Hunt has set the precedent of growing intermodal capacity, and when including all business segments, has attained leading operating revenue in the trucking industry. Schneider National has announced that it is shifting its leased asset model to an owned one to grow intermodal capacity. XPO also aspires to continue to compete in the intermodal space.
Like J.B. Hunt's arrangements with BNSF and Norfolk Southern, Schneider National has arrangements where most of its business travels on BNSF and CSX rail networks. There is a clear balance of intermodal capacity between J.B. Hunt and Schneider National on BNSF's network, as well as both Norfolk Southern and CSX, which also have their own fair amount of intermodal capacity.
This is a major competitive factor for BNSF and Union Pacific. BNSF has relied upon J.B. Hunt and Schneider National among other IMCs for its intermodal capacity needs while Union Pacific has used a hybrid of its owned and leased assets in combination with Hub Group, XPO Logistics (formerly Pacer Stacktrain) and other IMCs.
Of note, during 2016, there was a decrease among Union Pacific, Norfolk Southern and CSX in respective intermodal capacity. Contrary to this, IMCs have continued to grow capacity, most notably between J.B. Hunt and Hub Group. J.B. Hunt's lead over all intermodal asset owners is formidable, but Hub Group has grown from a ratio 5.25 times J.B. Hunt to Hub Group containers to three over the past eight years, and including 2017 estimates.
This is important because J.B. Hunt is currently in arbitration with BNSF over pricing disputes. JBHT has witnessed a significant contraction in its operating margin for its intermodal business segment. BNSF has essentially continued to increase costs while J.B. Hunt has not had the pricing power to offset these purchased rail increases, as it has attempted to gain market share.
It is not likely that BNSF would look to replace J.B. Hunt, but with increasing capacity coming from both Hub Group and Schneider National, JBHT will possibly face greater pressure down the road. Hub Group's increased focus on asset growth is something to keep an eye on.
For investors, this all boils down to the bottom line. If Hub Group's capex leads to an increase in profits, investors will be happy; if not, then there will be problems. From what I can see, Hub Group appears to be growing the bottom line quite well.
Since 2010, diluted earnings per share (EPS) have increased by 90 percent, an 11 percent annual return. Since 2011, the stock price has improved by an average of nine percent per year. 2010's year-end stock price was at a steep premium, so it is not a good comparison. For 2017 and 2018, investments are expected to pay off, as diluted EPS is projected to improve by nine and 11 percent, respectively. Revenues are estimated to grow by 9.5 and 7 percent.
But investors should also be paying attention to net income, depreciation and operating cash flow versus capex spend. Lately, while net income has held steady at 11 percent annual growth and operating cash flow has improved by 22 percent, capex has outpaced both growing annually by 33 percent. This has led to negative free cash flow and a stronger stock repurchase program to improve diluted EPS in 2016.
Hub Group's balance sheet is strong with debt at one times EBITDA. There is no concern regarding the company's flat to marginally negative free cash flow. The concern is for pricing and margins in the near term in the event capacity continues to increase from top competitors.
Hub Group's profit margin is projected to expand by 10 basis points (bps) during 2017. The company's initial forecast is for volume growth of three to seven percent and pricing increases of one to three percent. J.B. Hunt has projected volume growth between 7 and nearly 10 percent, but expects pricing to remain challenged and has called out irrational competitive pricing, customer rate behavior and rail cost increases as core risks.
If rates get more competitive, companies have two choices, defend dense lanes to preserve yields while losing volume, or grow market share at the expense of pricing. Last year, J.B. Hunt defended and grew its intermodal market share, but suffered a 120 bp decline in intermodal operating margin. Pricing impacts were compounded by purchased rail transportation and driver-related costs.
In the third and fourth quarters of 2016, Hub Group also witnessed stronger increases in purchased transportation and driver-related costs leading to reduced margins versus the previous year. During the back half of 2016, these costs increased by 7 and 15 percent, respectively, leading to a 50 bp decline in profit margin. Hub Group's margins are much thinner than companies like J.B. Hunt and Schneider National, as the profit margin declined to 1.9 percent.
Early estimates for Hub Group's diluted EPS growth include weaker performance during the first half of 2017, by approximately -10.5 percent versus 2016. This performance if met would sustain the lower 1.9 percent profit margin. With Union Pacific and Norfolk Southern reducing their total intermodal capacity and Hub Group increasing its capacity, greater dependency could lead to an increase in purchased rail transportation.
Investors need to remember that Hub Group is not only competing against J.B. Hunt, Schneider National and other IMCs, but also in unison with Union Pacific and Norfolk Southern against BNSF and CSX. Hub Group is not likely to sit on all its new container capacity being brought online. As competition heats up, margins may be at risk in the near term, especially if economic conditions do not improve enough to offset purchased rail transportation and driver-related costs.
Disclosure: I am/we are long JBHT, KSU, XPO.
I wrote this article myself, and it expresses my own opinions. I am not receiving compensation for it (other than from Seeking Alpha). I have no business relationship with any company whose stock is mentioned in this article.