Yesterday's earnings release showed that Canopy Growth (OTCPK:TWMJF) had a 180% Y/Y growth in revenue, which for most growth companies would be considered a great quarter. However, due to unrealistic investor expectations the stock value dropped as much as 8% today. The company is facing issues with inventory constraints which have limited its third quarter sales potential.
(Bloomberg)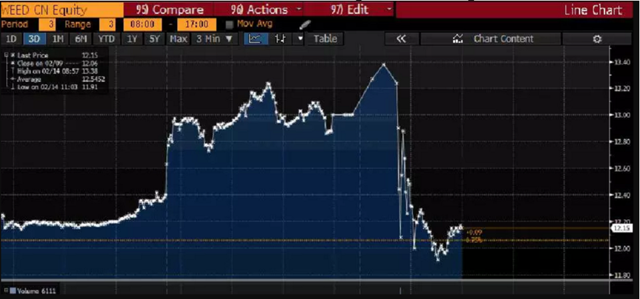 The Smith's Falls factory has for the first time turned in some profit of just over $3 million in net income, an increase from the $3.3 million loss in the previous year. Analysts estimates were around 10.9 million and investor sentiment was much higher than that which is reflected in the current price drop.
In terms of inventory, on December 31st it was reported that there is around $50.6 million dollars across all the location owned. CEO Bruce Linton told analysts that the company was not able to produce key products including oils in time to meet demand. This may be a sign of future need for acquisition to increase production capacity. The CEO said "There are more people becoming patients than there are capable suppliers." The company's patient base has increased by 260% to 29,000 in December of 2016, compared to 8,000 in December 2015. Although this provides a great opportunity for growth in the industry, it also provides a new set of challenges for management which has been furiously acquiring firms across the world. Canopy recently purchased a Hershey's chocolate factory which it will convert into a growth and storage factory, pending health Canada approval. This will add around 15% of total capacity and allow Canopy to better meet growing demand.
Inventory shortages have been a problem for all of Canada's licensed medical marijuana producers and analysts believe a bigger imbalance could be coming as the legalization of recreational marijuana is looming near. Legislation is expected this spring however finalization of the roll out will not occur until early 2019. Canopy has planned for this as they will begin Tweed sales at recreational locations across Canada. Currently, medical marijuana is only available through mail orders but that is expected to change in the near future. Linton has stated that he has more confidence meeting customer demands in the future as the company has restocked on Feb. 1st having learned their lesson from last quarter.
A shining star during this earning report was a day that received $1 million dollars in sales, which is more that what the company had made in full quarters just a few years ago. There is no denying that the company is growing at a rapid pace, but we believe the current valuation is still far too high for a company that has not proven to be the absolute leader in the Canadian market.
On a positive note, the company has reported that the cost of sales is lower than expected. The average selling price was $7.36 per gram while the average cost was $2.47 per gram which was lower than analyst predictions at $2.75. This may be a signal of strong cost management which will become increasingly important as competition increases in the industry.
Takeaway
We believe volatility will continue. Even on a strong earning call stock prices have plunged 8%. We recommend to hold off until a 40-50% correction occurs before taking any long positions in the stock.
Disclosure: I/we have no positions in any stocks mentioned, and no plans to initiate any positions within the next 72 hours.
I wrote this article myself, and it expresses my own opinions. I am not receiving compensation for it (other than from Seeking Alpha). I have no business relationship with any company whose stock is mentioned in this article.