Thesis
Cambrex Corporations (NYSE:CBM) has displayed tremendous growth. Despite the heat on the pharmaceutical industry, they are in a good position as they produce generics. They are a high risk, potentially high reward pure growth play.
About The Company
Cambrex provides products and services for the development and commercialization of new and generic therapeutics. They operate in North America, Europe, and Asia. Their products can be divided into three categories. These are: Innovator, Generics, and Controlled Substances. A breakdown of their product offerings is shown in Figure 1. Cambrex is focused on development and manufacture of small molecule active pharmaceutical ingredients. Throughout the article, these will be referred to as APIs. Figure 2 expands on the Innovator segment as this is their largest.
Figure 1: Cambrex Product Mix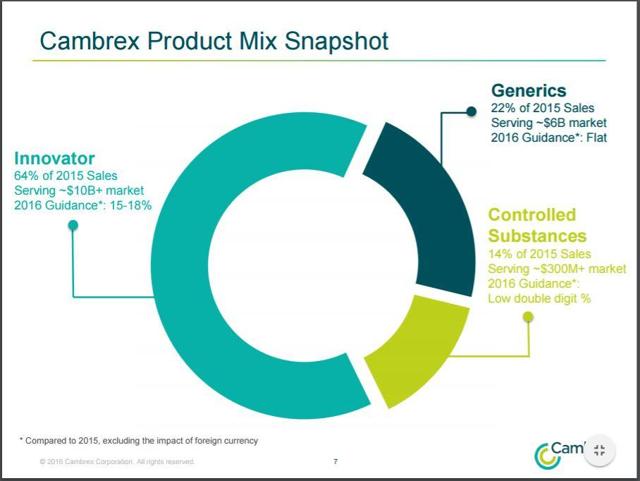 Source: Cambrex Investor Presentation
Figure 2: Innovator Expansion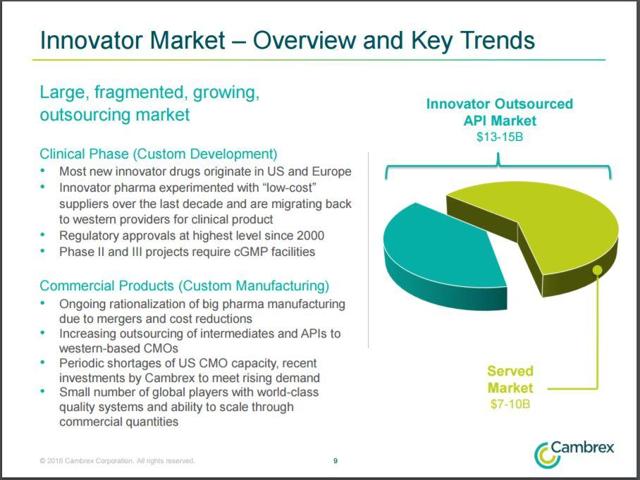 Source: Cambrex Investor Presentation
What I Like
I like their growth and relative anonymity. I like their financials and I like that they offer generic and scheduled substances. Finally, I like how they are positioned for potential sociopolitical conflict. First is growth. Sales grew 14% from 2015 to $491 million and EBITDA grew 20% to $154 million. Guidance calls for net revenues to increase 9-11% and for adj. EBITDA to increase 9-13%. Growth also transferred to earnings. Their quarterly GAAP diluted earnings growth YoY is 117%. Their full Q4 2016 earnings report is available here. I would recommend reading it as it is extremely impressive. Despite their rapid growth they have a P/E of 21. Their revenue and profit growth from 2010 to 2016 is shown in Figure 2. It gets better too, Cambrex has zero debt.
Figure 3: Revenue and Profit Growth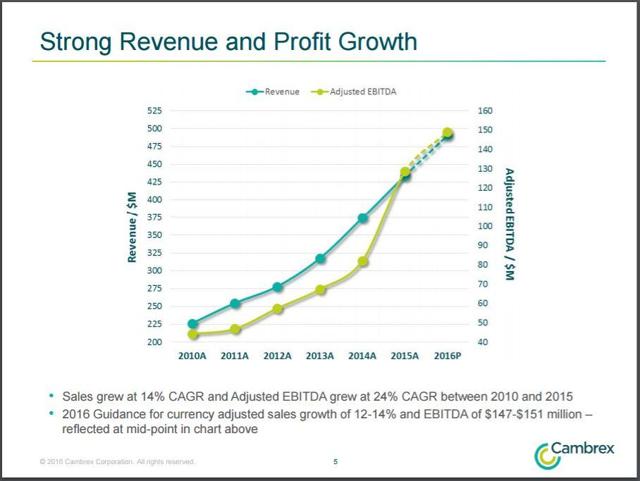 Source: Cambrex Investor Presentation
You may think that this sounds too good to be true. However, it is my opinion that they are just unknown. Their volume is low at 320,000 shares per day and nearly 95% of shares are held by institutions, mutual funds, or insiders. They are a small cap stock with a market cap of $1.7B. They beat on earnings, they beat on revenue, they have a very high return on assets, investment, and equity. They consistently expand their margins. They have a lot of opportunity to continue this.
Opportunity and Drivers
Small molecule APIs have a very high approval rate. Cambrex specializes in these. In their largest segment, Innovator, they focus on Custom Development and Manufacturing. This segments main driver is higher demand for outsourced development and manufacture of drugs. Currently they produce 30-35 products annually with 3-5 year contracts. Secondly, there is growing demand for generic prescriptions as the fight to reduce cost rages on. Cambrex is aggressively developing more generic drugs with 13 APIs in development and more under technical and economical evaluation. They have a target of ten new product launches annually. In their scheduled drug segment, they have key existing relationships with marketers of controlled substances. There is little competition and strong growth. Schedule II APIs must be manufactured. This means there can be no low cost competition. Cambrex serves 50% of the controlled substance market. A breakdown of drivers is shown in Figure 3.
Figure 3: Growth and Drivers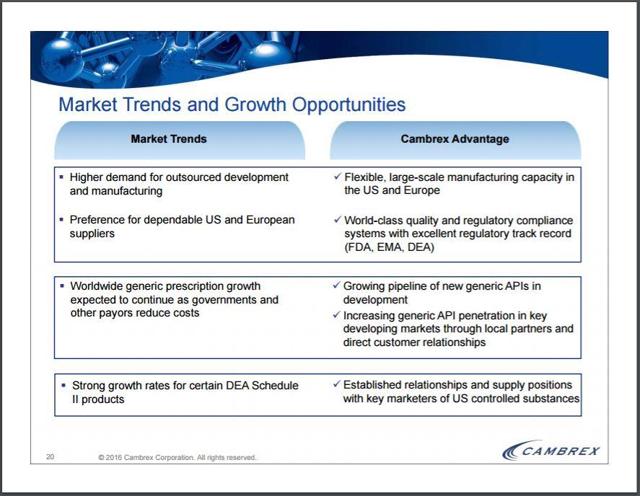 Source: Baird Healthcare Conference
Risks
The clear largest risk is sociopolitical. Over the past coupe years the headlines have been painted with stories of drug price increases. From Martin Shkreli to Mylan and their epi-pen, there is no shortage of bad press. Recently, President Trump met with pharmaceutical executives and called drug prices "astronomical" and told the pharma execs they were "getting away with murder". He told them he would fight to lower taxes but he wanted them to produce their drugs here. In fact, this is not a risk to Cambrex but a benefit. Cambrex already has flexible large-scale manufacturing capacity in the US. They list it as one of their advantages in the Baird Presentation. There is a risk in their generic segment. Five products make up 38% of their revenue while 60 products make up the other 62%. This dependence on their five power drugs means that if contracts expire they could lose a substantial chunk of revenue. No other risks seem to jump out even when reviewing their 10-K.
Final Thoughts
I am hesitant to recommend this as a screaming buy. I keep looking for something I don't like but I just can't find one. They have impressive growth. Their P/E is not outrageous by any means. They exceed their guidance, they beat on everything. I see nothing but improvement on all fronts. I also see limited risk especially when faced with the potential reward. Know that this is a speculative play in an unknown stock but I believe it has high potential to reward its investors.
Disclosure: I am/we are long CBM.
I wrote this article myself, and it expresses my own opinions. I am not receiving compensation for it (other than from Seeking Alpha). I have no business relationship with any company whose stock is mentioned in this article.