Dextera Surgical (NASDAQ:DXTR) is a very small ($10.3M market cap) medical device manufacturer with a very interesting product roll-out that has the potential to radically alter the company's attractiveness to investors. Prior to August 2016, Dextera was previously named Vascular Innovations, Inc. and later Cardica, Inc., both money-losing entities racking up more than $210M in combined cumulative losses. Dextera is reinventing itself to be a surgical stapler manufacturer, transitioning away from being a cardiac products manufacturer. I believe Dextera has reached an inflection point.
Dextera has now invented and introduced a manual surgical stapling device called MicroCutter 5/80 whose features are said to make it a preferred approach for video-assisted lung surgery, called VATS.

According to management comments spoken during the Q2 2017 earnings conference call, lung surgery to remove tumors of the lung was traditionally practiced using an 8" open incision into the patient's chest. Open surgery traditionally utilized sutures to stop blood flow. Recovery from open surgery is long and painful, requiring a lengthy, ~7-day stay in a hospital. The modern use of video endoscopes and trocars subsequently enabled a minimally invasive surgery alternative called video-assisted thoracic surgery, or VATS, in which the surgeon utilizes an array of five 12mm+ incisions (ports) to access the lungs and perform a lobectomy, then suturing with trocars, or stapling with a 12mm stapler to stop blood flow.
While VATS is less disruptive to the patient, it still requires a ~5-day stay in a hospital. Both alternatives, open and five-port VATS, are said to be painful with a slow recovery as the result of trauma to the patient's rib cage - connective tissue between ribs must be cut and ribs partially removed or stretched apart. Now, an even less invasive VATS procedure called "micro lobectomy" has been enabled by an innovation in surgical stapling technology. Dextera's new MicroCutter 5/80 stapler is smaller in diameter than traditional staplers, just 5mm, and articulates enough so that just a single 5mm incision between the ribs (and one below the ribs) can be now used instead of the five-incision technique.
Early adopting surgeons have been able to practice MicroCutter-enabled VATS lobectomies that allow a patient to leave the hospital in a much shorter period of time, in as little as one day, with an average stay of three days. This surgeon's web site describes the surgery. So, Dextera's new stapler isn't just a cool toy, it creates economic savings for hospitals because the patient can be discharged more quickly. Obviously, patients also prefer to be discharged from the hospital quickly, and desire less pain during recovery, as seen in this video testimonial.
Surgical staplers are the quintessential razor/razor blade business model.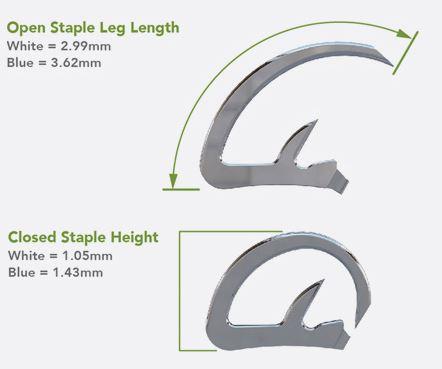 One sells a stapling device to the hospital, thereafter hospitals purchase cartridges of staples in a recurring fashion. 38 surgeons in both the US and the EU are said to be utilizing Dextera's MicroCutter 5/80 now, with plans to double surgeon adoption by June 2017. Dextera has described a $250M market size for its stapling device in just the US, so I estimate ROW to be 2-3X the US market size. Dextera is presently manufacturing 80 manually controlled staplers a week to meet existing demand, which, along with 4-5 staple cartridges, have an ASP of $1,000. The company plans to increase production capacity to 120 staplers/week by the end of March 2017. One can infer by the increase in production that sales prospects are improving, as evidenced by the hiring of direct sales reps in the US and broadening distributor partnerships in the EU.
During the most recent earning conference call, sales of the MicroCutter were projected to be $400-500K in Q3, growing to $700-800K in Q4, for a total of $1.4-1.6M in FY2017. Extrapolating its revenue growth based upon recent history and management's prediction for the remainder of this fiscal year, I've created this three-year forward looking table:

In this projection, I've estimated revenue to increase 30% sequentially. Gross profit starts at 50% and increases as manufacturing expertise and supply chain efficiency are optimized.
Further brightening future sales growth prospects, Dextera is also co-developing the use of its stapler for robotic applications with Intuitive Surgical (NASDAQ:ISRG). Intuitive has already provided engineering development funding to co-develop a "proof of concept", entering into agreements whereby it will manufacture its own version of the Dextera's stapler for use on the DaVinci robot, while Dextera will provide the staple cartridge. However, recurring revenue from its collaboration with Intuitive isn't imminent, according to comments made during the Q2 earnings conference call. Dextera is to receive additional non-recurring funding for the development of the staple cartridge used by the DaVinci in the next phase of the co-development project.
If my revenue and margin projections are correct and SGA+R&D remain constant, Dextera should be cash flow neutral in late 2018 because it also has a legacy cardiac surgery product line (Dextera was formally named Cardica) that already contributes $.5-.6M revenue quarterly. However, given that the company presently expends ~$1M/mo for SGA+R&D, it needs to raise about $10M to defray my estimate of an additional 18 months of operating losses. Fortunately, Dextera only owes $4M in debt today, due in September 2018 (to its Japanese distributor, who incidentally feels that Dextera is presently in default). Dextera has a very limited amount of cash on hand today and will have to strengthen the balance sheet very shortly, likely within the next couple of months. For this reason, Dextera announced that it has enlisted JMP Securities to assist it with funding options. In a new development, JMP has also been asked to assist in an additional option - a potential sale of the company.
Applying a Multiple
Should JMP locate a buyer for the company, the multiple could be in the range of 7X sales based upon Covidien's 2009 acquisition of Power Medical Interventions, another surgical stapler manufacturer, for $65M (2.08/share + assumption of debt ~1.52/share). PMI had $9M in sales at the time it was acquired during the worst of the Great Recession. The link describes the purchase. Interestingly, Dextera's VP of worldwide sales and marketing was previously at PMI.
Upside Sales Potential Not Forecast in the Table
Expand the use of MicroCutter's "Intended Use" beyond lung and general surgery to include liver surgery. Dextera anticipates FDA to respond to its request this quarter. This would open up sales of MicroCutter to a different surgeon population.
Intuitive's introduction of MicroCutter and subsequent sales, which is unlikely before 2018. Dextera will receive an engineering purchase order to develop the stapling cartridge, which should help investors better understand when to anticipate the receipt of recurring revenue.
Japan and Canada. Dextera has a distributor in Japan which must receive regulatory approval before it can sell the MicroCutter 5/80. Likewise, Dextera plans to submit the MicroCutter 5/80 to Health Canada for approvals. Both countries had previously approved predicate devices from Dextera, which may expedite regulatory approval.
Top 3 Things that Could Go Wrong in 2017
Cannot raise cash, or do so by diluting present shareholders by 50% (very possible).
Quality of hemostasis (stopping blood flow) isn't adequate. Management is presently enrolling patients in a study named "MATCH" to document statistical outcomes.
A larger, well-established company matches the performance of MicroCutter and sales cannot grow (if so, competitor's product development would be secretive).
Summary
Dextera is expected to rapidly grow through the broadening commercialization of its MicroCutter stapling device, however, shareholders may see the stock price fall as a result of raising badly needed capital.
I can speculate on three ways that JMP may be helping to allow Dextera to bridge the next ~18 months: 1) Raise cash with associated warrants that cause shareholder dilution; 2) sale of the Cardica product line to raise part of the cash that is required; and 3) sell the entire company, perhaps to a private equity concern that has the patience to wait until late 2018.
Regardless of the funding approach management selects to enable the company to bridge the next 18 months, in my opinion, Dextera will likely be acquired before the end of 2018, perhaps sooner if it continues to execute and an acquiring company forecasts similar sales and gross margin projections for MicroCutter. Even if present shareholders are to be diluted by 50% to raise $10M in 2017, should Dextera realize a 7x trailing sales valuation by late 2018, the company could fetch $2.20 share ($39.4M/17.8M shares). As such, I consider the present stock price of ~$1.15 acceptable for an opening position in anticipation that Dextera has finally figured out how to be profitable and will be acquired as a result.
Disclosure: I am/we are long DXTR.
I wrote this article myself, and it expresses my own opinions. I am not receiving compensation for it. I have no business relationship with any company whose stock is mentioned in this article.
Additional disclosure: Images used in this article were copied from Dextura's website solely to assist readers' understanding of the company's products and are their property. The information and data presented in this article were obtained from the company's publicly available presentations, filings and sources believed to be reliable, but have not been independently verified. Therefore, the author cannot guarantee their accuracy or predict investment outcomes. Please do your own research. Hire your own credentialed advisor to help determine if this article is relevant to your goals. I am not responsible for the investment decisions you make.
Editor's Note: This article covers one or more stocks trading at less than $1 per share and/or with less than a $100 million market cap. Please be aware of the risks associated with these stocks.